Fact Checked
Sheridan keeping Aussies happy in the bedroom
There's more than one way to spruce it up in the bedroom. Tried decking out your oasis with fabrics like velvet, silk, or Egyptian cotton? Or perhaps you can't resist a cheeky print on your pillowcase to show off your personality? Our recent survey revealed a handful of Aussies (10%) even iron their sheets!
To help you wake up on the right side of the bed with the right bed linen, we asked more than 1,400 Australians for their feedback on the bed sheets, doona covers and pillow cases they have purchased and used in the last two years. Respondents compared brands on comfort and softness, expected fit, ease of clean, durability, value for money and overall satisfaction. Brands which met the minimum required survey sample size of 30 responses are featured in our results.
Our first ever bed linen review found Aussies prefer to sleep and wake up in Sheridan bed sheets! It earned five-star ratings for overall satisfaction and the majority of research categories.
Best Bed Linen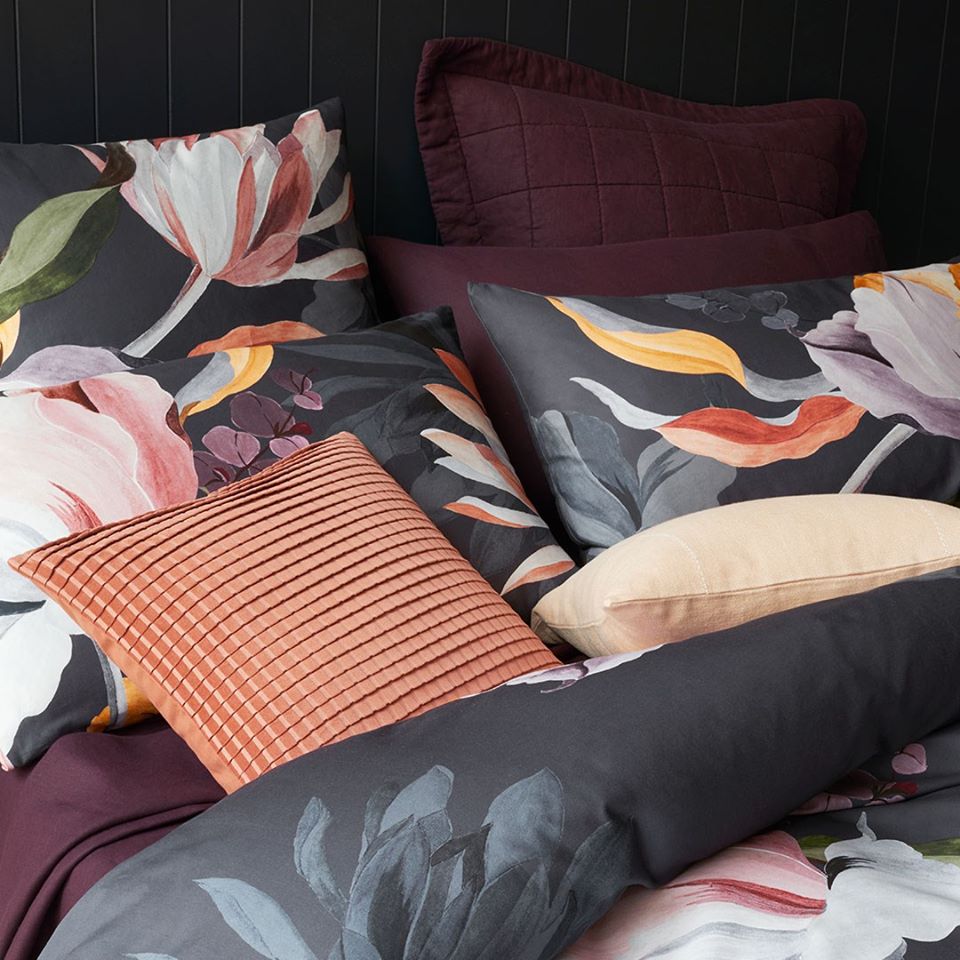 Here are the best bed linen brands in Australia, as rated by consumers in Canstar Blue's 2020 review:
Sheridan
Pillow Talk
IKEA
Kmart
Target
Bed Bath N' Table
Spotlight
Big W
Adairs
Sheridan was the only brand to score five-star reviews for overall satisfaction, comfort, fit, ease of clean and durability. However, it got only three stars for value for money. Kmart picked up the top gong for best bang for your buck after scoring five stars on value, but ultimately landed on four stars for overall satisfaction, alongside Pillow Talk, IKEA, Target and Bed Bath N' Table. Spotlight, Big W and Adairs rounded out the results on three stars overall.
Bed Linen
Sheridan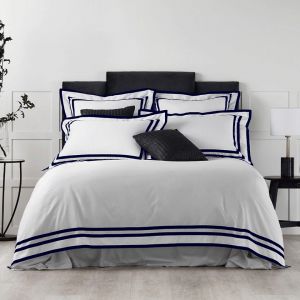 Sheridan has been one of Australia's most iconic home and lifestyle brands for more than 50 years. Focusing on quality, craftmanship and artistry, the brand produces a high-end range of products for the home, in addition to loungewear and beach essentials such as towels and tote bags. There's also a collection for babies and kids, offering everything from baby blankets and pillows to toys and storage supplies.
Sheridan's extensive bed linen range includes quilt covers, pillow cases and shams, sheet sets, individual flat and fitted sheets, bed covers, bed spreads and coverlets. These are generally available for anywhere between the $40 to $100 mark. But if you're shopping in the kids' department, expect to pay up to $400 for bed linen. There are a few size options available, including King Single (40cm), Queen (50cm) and standard tailored options. A few fabric options include Egyptian cotton, sateen, Tencel lyocell and organic cotton.
Sheridan came out number one in our first ever bed linen review, rating best for comfort and softness, fit, ease of clean, durability and overall satisfaction. Although, it took a dip in the value for money category where it got three stars.
Pillow Talk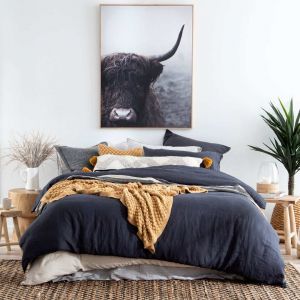 Pillow Talk has plenty of brands to help you get comfy, including its own Aspire, Habitat and MUSE. These typically start to retail from $29.95 for a pair of bamboo cotton pillow cases. And for those looking to treat themselves, products from these three brands can cost up to $695. This can get you a silk quilt for a Super King bed. Sizes available include Double bed, King bed, King Single bed, Queen, Queen/King bed, Queen bed and Single/King Single bed. There's also a cot range available for the youngest sleepers in the family.
There's similarly just as much variety in terms of pillow case types. These include options for sham pillows, body pillows, tri-jumbo pillows, Queen-size pillows and King-size pillows. You can also find something for a tailored pillow. For bed sheets, majority of the fabric types available include cotton or linen (or cotton and linen hybrids). Although there are a couple of bamboo and cotton options from Habitat which usually sell for $89 to $229.
Pillow Talk laid down a smooth four-star rating for overall satisfaction and across the board.
IKEA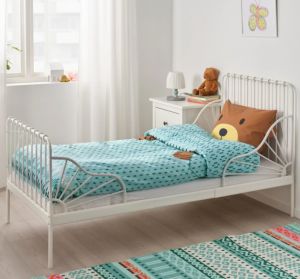 If you're tired of accidentally unbuttoning the end of your quilt cover, IKEA offers several duvet covers which come with a zipper closing instead. See? There's more to this Swedish furniture haven than meatballs and flat packs. Products from the bedding range cost anywhere between $2.99 for a basic small pillowcase and reach up to $139 for a King-size four-piece sheet set. When it comes to sizing, IKEA lists its sizing as Single, Double, Double/Queen, Queen and King.
There's also a bed linen collection for your little ones. According to the brand, all cot beddings are made from natural fabrics that are chemical-free. Prices vary between $6 and $35. Similarly, to the grown-up's range, this line includes different fitted sheets, four-piece bed linen sets, quilt covers, pillow cases and cot skirts. For the fussiest shoppers, IKEA additionally stocks children's bed linen. It offers plenty of fun prints and quilt cover and pillow case sets, for anywhere between $9 and $40.
IKEA matched with Pillow Talk and achieved four stars in all categories, including durability, comfort and softness, fit, ease of clean, value for money and overall satisfaction.
Kmart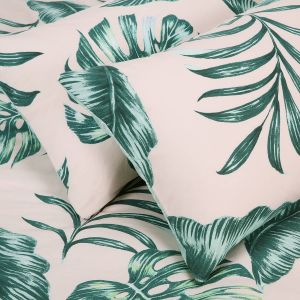 Is the price of a pillowcase or bed sheet from a high-end brand causing you to duck under the cover? Kmart keeps everything cheap and cheerful, with most items in the bedding collection ranging from $17 to $72. There's a variety of styles to choose from, including quilt cover sets with a trendy ombre design. Pillow cases are even more affordable, typically starting from $4 for a standard 225 thread count pillow case and reaching up to $15 for a pair of pillow cases made from European cotton. You can also find options for U-shape pillows and body pillows.
Bamboo bed sheets can be pretty affordable at Kmart, costing up to $59 for bamboo cotton sheet sets. Other budget-friendly 'luxury' alternatives available include several Australian-grown cotton sheet sets. Sizes available include Double, Queen, Single, King and King Single.
Kmart was the only brand to achieve a five-star rating for value for money and the sole retailer to beat this year's winner in any category. It rated four stars in most categories, including overall satisfaction, but scored just three stars for durability and comfort.
Target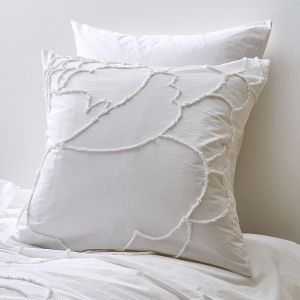 On par with Kmart, Target offers a large range of fairly affordable bed linen. The majority of the retailer's collection is made up of its own line. Quilt covers start from $15 and cost up to $149. The size range also includes Single bed, Double bed, Queen bed, King bed and Super King bed. Target's line of bed sheets also checks out at a cheap $12-$27. The majority of these options feature a simple design and are made from cotton or polyester cotton.
For pillow cases, bargain hunters can sleep happy with products varying between just $8 and $20. There's plenty of stylish designs to choose from, including a colourful range of stripes, floral prints, leopard prints and pillow cases with textured detailing.
Target earned four stars for overall satisfaction and in the majority of categories, except for durability where it landed on three stars.
Bed Bath N' Table
Need bed linen in sizes other than a Single or Double? Bed Bath N' Table has plenty of options to choose from, with the brand also offering King Single, Deep King and Super King to its list of sizes. Brands available in store include Cotton House, Harlequin, Morgan & Finch, Morris & Co, Sanderson and Scion. The retailer also offers furniture, home décor and apparel.
The cheapest piece of bed linen is a Morgan & Finch pillow case retailing for $14.99, although a linen and cotton sheet set from the same brand will set you back a hefty $349.95 at least. Luckily, you can save a few bucks on a bunch of items from Bed Bath N' Table by signing up to its rewards program to receive 15% off certain full price sheets, quilts, pillows and other bedroom and home essentials.
Bed Bath N' Table impressed shoppers in many of the categories we considered, including comfort, durability and overall satisfaction. But it suffered a slight wrinkle in the value for money department where it got three stars.
Spotlight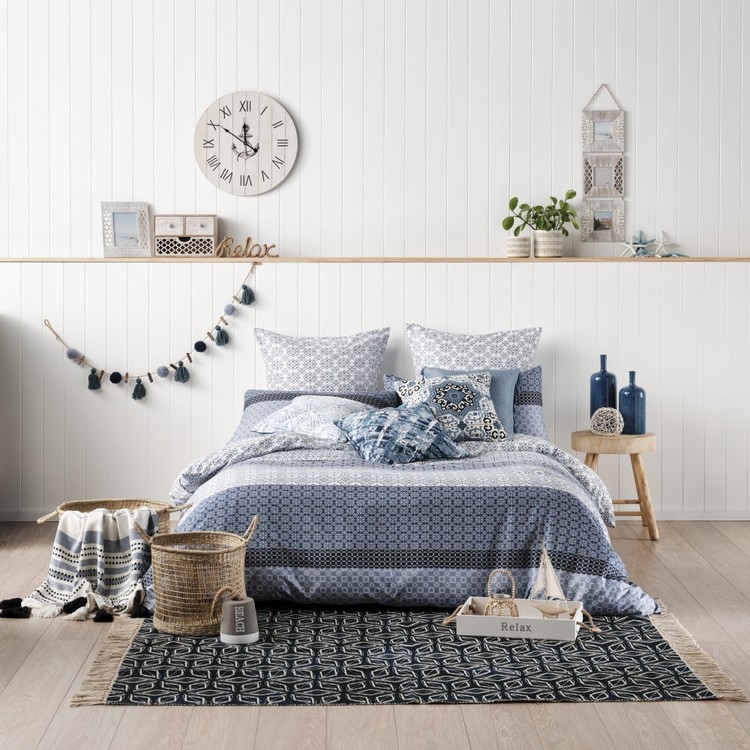 Spotlight takes on more than just bed linen. It offers a wide selection of curtains and blinds, servingware, furniture and décor, as well as craft supplies and fabrics to help turn your house into a home. The retailer even stocks clothes irons and cleaning essentials! There's a huge range of brands to look out for, such as Nautica, Logan & Mason, Dri Glo, Brampton House, KOO and Ombre Home.
When it comes to bed linen, you can find cheap pillowcases for just $3 and quilt covers starting at $15. Sheet sets cost at least $16 depending on the size, although VIP members can pick up a similar sized set for half price (or potentially more). The VIP Club is free to join, similarly to other rewards programs. Spotlight offers plenty of affordable options and is relatively inexpensive compared to some retailers. The item with the biggest price tag is a 1000-thread count cotton sheet set by KOO Elite, usually valued at $300.
Spotlight achieved four stars in most categories, including value for money and comfort, but ultimately ended on three stars for overall satisfaction.
Big W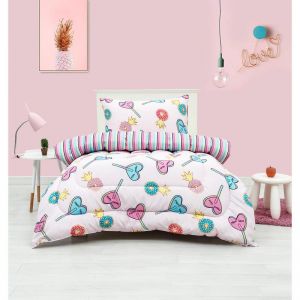 Big W showcases Brilliant Basics and House & Home, two offshoot brands, in addition to Tontine, Jason, Disney, Marvel and Barbie to name a few. Both collections are affordable bedding ranging in price between $5 and $99, giving Aussies a much cheaper alternative. Although the range of sizes is slightly smaller than other retailers, with only Single, Double, Queen, King and King Single options to choose from.
If you can't find something in store, Big W provides pick-up and home delivery options, although keep in mind that some products can only be purchased for home delivery.
Big W impressed when it came to value for money and fit, scoring four stars in both categories, but ended on three stars overall.
Adairs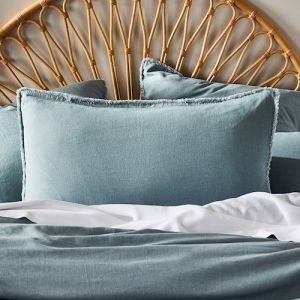 Adairs offers a wide selection of products for the bedroom and nursery, as well as the laundry, bathroom and anywhere else in the home. When it comes to bed linen, the retailer offers quilt covers and coverlets, sheets, flannelettes, pillow cases, valances and bed spreads. There are several collections to check out. These include Vintage Washed Linen, Bamboo Linen, Ultra Soft Jersey, Pure Silk, Stonewashed Cotton, Bamboo Cotton and Worlds Softest Cotton. Prices start from just $14.99 for pillow cases with cute and clever prints, with more expensive items costing up to around $1,000 for pure silk sheet sets.
If you're a fan of shopping for the home, Adairs offers exclusive benefits to members of the Linen Lovers program. But unlike other rewards programs, this comes with a $19.95 fee for a two-year membership. Some of the perks include 10% off discounts on full price items and 5% off sale items, with opportunities to even score 45% off discounts during certain exclusive offers. There's also free standard shipping, free returns and an extended return period of up 90 days. It's also worth mentioning Adairs offers buy now, pay later services including Afterpay and ZipPay as well as UniDays for students.
Adairs rounded out the results on three stars for overall satisfaction and all other research categories, including value for money, comfort and durability.
When should you wash your bedsheets?
One big question people are itching to know the answer to is: When should you actually wash your sheets? According to Koala, experts recommend washing sheets once per week or every two weeks. But it depends on factors like lifestyle as well as your body. After all, we all shed millions of skin cells every day. Plus, there's sweat to add into the mix, as well as pet fur, dirt and pollen.
Bed linen facts
Ever had a doona cover which managed to keep most of your body nice and warm, but left your toes out in the cold? Or tried squeezing a Single-size doona cover over a Super King bed? Ending up with the wrong bed linen can be a nightmare. It's no wonder a whopping 62% of our survey respondents own multiple sets, while one in four (28%) admit to regularly updating or upgrading their collection. In fact, Australians spend just over $100 on average when it comes to bed linen.
Not sure what to bring home? Here are the most popular bed linen types our survey respondents had recently bought:
Cotton: 58%
Linen: 12%
Flannelette: 9%
Bamboo: 5%
Polyester or synthetic: 5%
Wool: 3%
Silk: 3%
About the author of this page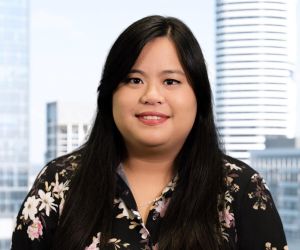 This report was written by Canstar Blue's home & lifestyle journalist, Tahnee-Jae Lopez-Vito. She's an expert on household appliances, grooming products and all things grocery and shopping. In addition to translating our expert research into consumer-friendly ratings reports, Tahnee spends her time helping consumers make better-informed purchase decisions on all manner of consumer goods and services, while highlighting the best deals and anything you need to be aware of.