Bosisto's has the edge in multipurpose cleaner ratings
Many of us work hard to keep our homes spick and span, but it doesn't require countless hours of elbow grease to keep on top of things. From the kitchen to the bathroom and everywhere in between, a little regular cleaning should keep your home nice and healthy, as long as you have the right cleaner! Take a walk down your local supermarket cleaning aisle and you'll see more space dedicated to multipurpose cleaners than any other type of household cleaner. Why? Because most of us like to have at least one bottle within easy reach at home to take care of spills, both large and small. So, which are the highest-rated brands in the eyes of consumers?
To find out, we surveyed more than 1,900 Aussies for their feedback on the multipurpose cleaning products they've purchased and used in the last six months. Survey respondents rated brands on various drivers of satisfaction − namely effectiveness, ease of use, smell, packaging design, environmental friendliness and value for money. No fewer than 14 different brands received the minimum required survey sample size (30 responses) to be included in the final ratings, but only one brand earned five stars for overall satisfaction – Bosisto's!
Best Multipurpose Cleaners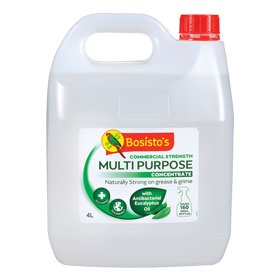 Here are the best multipurpose cleaners in Australia, as rated by consumers in Canstar Blue's latest review:
Bosisto's
ALDI Power Force
Gumption
ALDI Green Action
Earth Choice
Strike
Organic Choice
Ajax
Pine O Cleen
Dettol
Coles Ultra
White King
Windex
Jif
Bosisto's was the only brand to be awarded five-star reviews in the majority of categories, including effectiveness, ease of use, smell, environmental friendliness, packaging design and overall satisfaction.
However, runner-up ALDI Power Force got the edge over our ratings winner in the bang for your buck category, with a stellar five-star rating. Bosisto's received a solid four-star rating for value for money.
Tthe majority of entries, including big-name brands like Pine O Cleen, Dettol, Gumption, White King and Windex, were rated four stars for overall satisfaction. Jif rounded out the results with three stars overall.
How to find a good multipurpose cleaner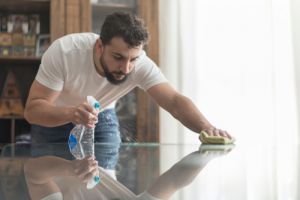 Our survey suggests that big-name brands aren't necessarily the best, when it comes to multipurpose cleaners at least. While this year's winner Bosisto's is well-regarded for its naturally-derived cleaning products, made with essential oils, instead of harsh synthetic chemicals; runner-up ALDI Power Force is a supermarket label offering basic cleaning products suited for everyday use. ALDI Green Action was also rated in the top five, after Gumption which has long been a favourite in Aussie households.
Our survey shows Aussies are split evenly between brand loyalty and sticking to what's the cheapest, with 34% of survey respondents admitting they always buy the same brand, while 29% always go for the option that's best for their bottom line.
What do we really want from a multipurpose cleaner? Our research identified the following drivers of overall satisfaction:
Effectiveness: 33%
Ease of use: 18%
Value for money: 18%
Packaging design: 14%
Smell: 10%
Environmental friendliness: 6%
Effectiveness is naturally the biggest factor for consumers when it comes to multipurpose cleaners, followed by ease of use and value for money. When it comes to which type of multipurpose cleaner is best, our survey found that 75% of respondents had picked up a spray bottle option as their last purchase, followed by wipes (6%).
Multipurpose Cleaners
Here is an overview of the 14 brands in this year's multipurpose cleaner review.
Bosisto's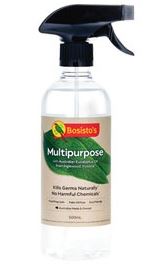 Bosisto's has harnessed the natural germ-killing, anti-fungal and deodorising power of essential oils to manufacture a wide range of naturally-derived products to suit every health and household need. The brand offers 100% pure pharmaceutical-grade oils, water soluble solutions and cleaning sprays, as well as therapeutic products. Bosisto's offers several options of multipurpose cleaners, including Bosisto's Multipurpose Cleaner in a 500ml spray bottle and 4L bottle, as well as Bosisto's Antibacterial Solutions with tea tree or lavender oil and more.
Bosisto's was rated five stars for overall satisfaction and in the majority of research categories.
ALDI Power Force
Budget grocery chain ALDI is earning a solid reputation for its household cleaning products and its range of multipurpose cleaners is clearly no exception. The first of ALDI's multipurpose cleaner brands is Power Force. It's a hypoallergenic spray in a range of fragrances, such as Lemon Zest and Orange Tang.
This year, it earned five stars for value for money and four stars for overall customer satisfaction.
Gumption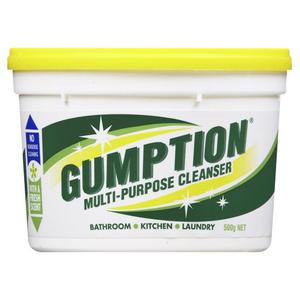 Gumption has arguably been the go-to multipurpose paste cleaner for over 60 years. It's a staple cleaning product in every Aussie household, thanks to its unique soap formulation containing abrasive beads to break down and lift stains, grease and grime. Gumption can be used on most hard surfaces like stone bench tops, laminates, stove tops, baths, tiles, ovens and even stainless-steel sinks.
Gumption received a solid four-star rating for effectiveness, value for money, packaging design and overall satisfaction.
ALDI Green Action

ALDI is a favourite with many consumers for a variety of products, from multigrain bread to ice cream. In the multipurpose cleaner space, ALDI offers a Green Action Eucalyptus spray. It comes in a 500ml bottle and is claimed to be specifically formulated to be environmentally friendly, whilst not compromising on performance. It's stated to be made from plant-derived ingredients, phosphate-free, safe to use in septic tanks, packaged in recyclable material and biodegradable.
ALDI Green Action was rated four stars across all research categories.
Earth Choice

Part of the Nature's Organics group, the Earth Choice multipurpose spray contains no chlorine or ammonia, and its ingredients are plant-based. It's also safe for grey water and septic tanks, with the bottle made from 100% recycled PET plastic.
Earth Choice performed relatively well again this year, scoring a solid four stars across the board.
Strike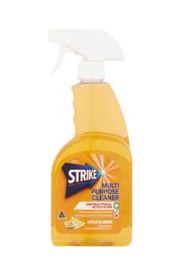 Strike is a budget brand of household cleaning products, exclusive to Woolworths. The Strike multipurpose cleaner comes in a spray bottle, in two scents − Citrus Blossom and Pomegranate & Vanilla. Both options typically check out for under $2 for 750ml.
Strike scored a four-star rating for overall satisfaction and in the majority of categories, except environmental friendliness where it got three stars.
Organic Choice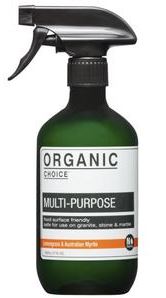 Organic Choice is a palm-oil free brand owned by Aware Environmental. It offers a multipurpose cleaner trigger spray (500ml) and multipurpose wipes (100 pack). These come with a zesty citrus fragrance of organic essential oils. Its wipes are stated to be formulated to remove food stains, tough oil, fat and grease, leaving a 'streak-free' finish on your surface whether it's granite, stone or marble. All products are SLES & SLS free, surface-safe, non-toxic, plant-based and readily biodegradable.
Organic Choice was rated four stars overall, but received only three stars for value for money.
Ajax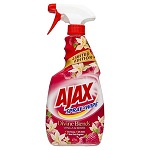 A brand in Colgate-Palmolive's swag, Ajax has a large range of products and also features strongly for multipurpose cleaners. Ajax comes with Lemon, Lavender & Citrus, plus Vanilla & Berries scents for its sprays, with more traditional cream cleansers and powder cleansers also available. But for maximum convenience, Ajax also has the Spray n' Wipe formula with its single-use multipurpose wipes.
The brand achieved a solid four stars in most categories, with three stars on environmental friendliness and value for money.
Pine O Cleen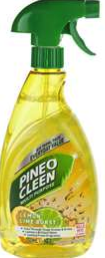 Pine O Cleen offers disinfectant liquid, sprays and wipes within its range. These are claimed to kill up to 99.9% of germs and come in a variety of scents, including Lemon Lime, Lavender and Eucalyptus, just to name a few.
Its multipurpose cleaners achieved four stars for overall satisfaction, as well as for most other variables, but got three stars on environmental friendliness and value for money.
Dettol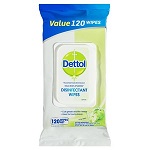 Perhaps best-known for its soaps and sanitisers, Dettol also comes up reasonably strong for its surface multipurpose cleaner. Its Lime & Mint scent helped it to earn four stars for smell, with the brand also earning four stars across most other categories, but three stars for environmental friendliness and value. In addition to its easy-spray multipurpose cleaner, Dettol also boasts some attractive, disinfectant multipurpose cleaning wipes in a Crisp Apple scent.
Dettol was rated three and four stars across the board.
Coles Ultra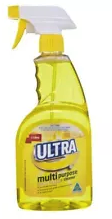 Supermarket giant Coles offers trigger sprays, cream cleaners and wipes in its line-up. The Coles lemon scented multipurpose cleaners offer a more affordable alternative to the big-name brands. There's also an orchid-scented spray available for those looking for a floral smell.
Private label Coles Ultra obtained four stars overall and in the majority of categories, except environmental friendliness for which it got three stars.
White King

Best-known for its powerful bathroom and laundry bleaches, White King also has a multipurpose cleaner in its wide range. The thick multipurpose bleach gel is said to be a hospital-grade disinfectant designed for a range of surfaces.
White King was rated four stars overall and three stars for value for money, smell and environmental friendliness.
Windex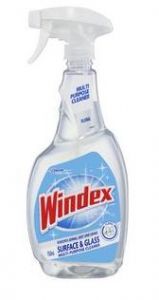 Windex is best-known for its window and glass cleaning products, but it also produces a multipurpose cleaning spray. The Windex Surface & Glass Multi-Purpose Cleaner is suitable for most surfaces, leaving a streak-free shine, according to the brand.
It received four stars for overall satisfaction this year, as well as for effectiveness, ease of use and packaging design.
Jif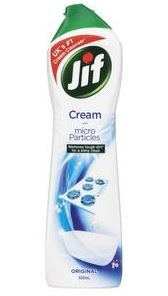 Jif represents a fairly solid all-rounder. However, its multipurpose cleaners are all creams rather than sprays and tend to leave a residue behind after cleaning. This may or may not have led to the brand being rated three stars for ease of use and in the majority of categories.
Jif did get a solid four-star rating for effectiveness, but had to settle for three stars in all other categories.
Other Cleaner Ratings
About the author of this page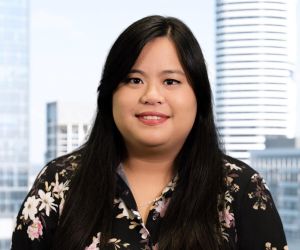 This report was written by Canstar Blue's home & lifestyle journalist, Tahnee-Jae Lopez-Vito. She's an expert on household appliances, grooming products and all things grocery and shopping. In addition to translating our expert research into consumer-friendly ratings reports, Tahnee spends her time helping consumers make better-informed purchase decisions on all manner of consumer goods and services, while highlighting the best deals and anything you need to be aware of.
Online Grocery Shopping Reviews
Picture credits: FotoAndalucia/shutterstock.com