Fact Checked
Hot stuff: Target rated best for electric blankets
If you're someone who really feels the cold at night, then an electric blanket could be your best friend. Electric blankets are very adept at keeping you toasty during the cooler months, are much cheaper than an air conditioner or portable heater, and are much more convenient than wearing 40 jumpers to bed! But not all electric blankets will leave you with that warm, fuzzy feeling when the temperature drops at night. So, which brand do Aussies trust to keep their toes warm at night? That's what our report aims to find out.
Canstar Blue has once again sought out the opinions of hundreds of Australian consumers to find out exactly what they think of the electric blanket(s) they've recently bought and used based on a number of important factors, including performance & reliability, ease of use, additional features, ease of care, value for money, as well as overall satisfaction. The idea is to give you as much information as possible about the compared brands, so you're better educated about your options the next time you go shopping for a new blanket.
In our 2020 electric blanket ratings, Target proved that budget brands are back in vogue, after knocking consecutive winner Sunbeam off the top spot. Aussie consumers rated good ol' Target five stars in almost every category and for overall satisfaction.
Best Electric Blankets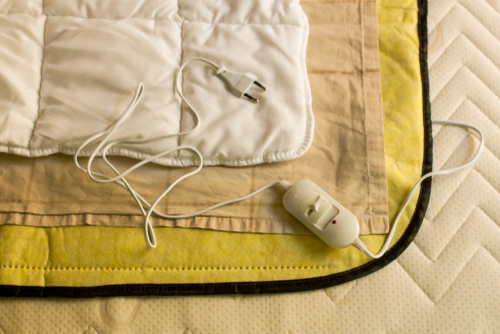 Here are the best electric blankets in Australia, as rated by consumers in Canstar Blue's latest review:
Target
Sunbeam
Kmart
Jason
Target was rated best for electric blankets, after earning five-star reviews for performance & reliability, ease of use, additional features, value for money and overall satisfaction.
Last year's winner Sunbeam managed to get the edge over Target on the ease of care front with five stars and also received full marks for ease of use and performance & reliability, alongside Jason.
Read on as we review what each of these brands, and others, have to offer between the sheets. We'll also look at some of the factors worth considering when you decide which electric blanket will be best for your needs and budget.
Electric Blanket Reviews
Target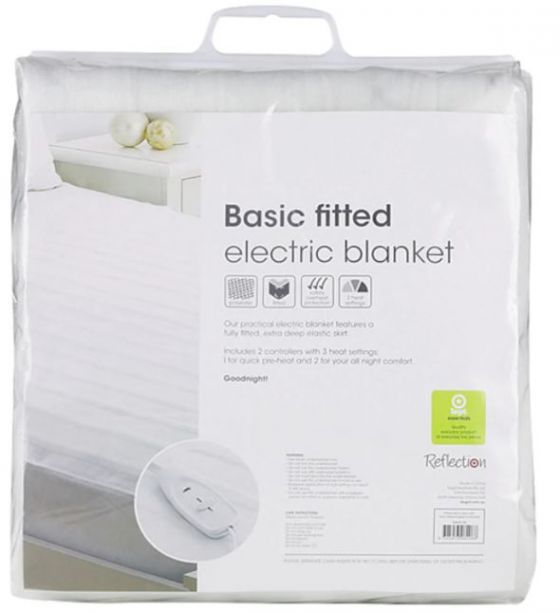 Target's homewares department features a wide range of essentials, from pillows to bed sheets, as well as a line of electric blankets. Similarly to stablemate Kmart, also owned by Wesfarmers, Target's electric blankets are seasonal purchases, so you may not find them in store all year round. The department store offers three electric blankets with prices starting from just $15-$25 and maxing out at $60 for its king-sized blankets. The options include a standard fitted blanket by Sunbeam, a fleecy fitted blanket, and a multizone fitted blanket. Sizes include single, king single, double, queen and king bed.
Target will typically give you 60 days to return your items for a full refund or exchange, although there are some exclusions.
Target was rated five stars for performance & reliability, ease of use, additional features, value for money and overall satisfaction. It got four stars for ease of care.
Sunbeam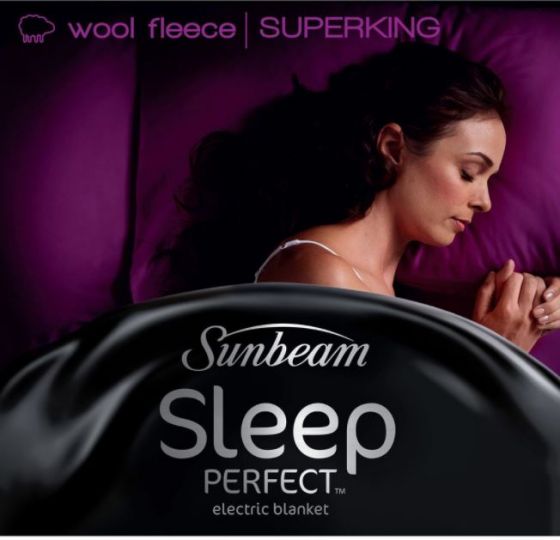 The brand Sunbeam began in Australia in 1902, selling a range of consumer appliances with the main focus on kitchen products, including coffee machines. In terms of electric blankets, the Sunbeam website displays more than 25 different options to choose from, sorted by size and type. Construction finishes include polycotton quilt and Australian wool fleece. Prices range from $64.95 for the Sleep Express Boost Single Bed Fitted Heated Blanket, up to $469 for the more advanced king-sized models like the one pictured.
Sunbeam electric blankets generally have a five-year limited warranty, unless stated otherwise.
Sunbeam achieved five stars for ease of care, performance & reliability and ease of use. It got four stars in the remaining categories and for overall satisfaction.
Kmart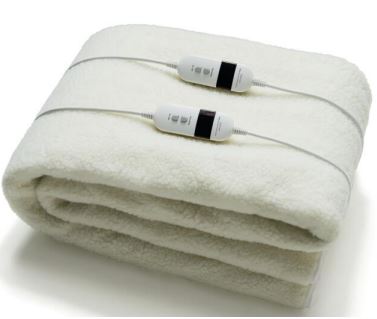 The cheap and cheerful department store specialising in cheap homewares also offers electric blankets for Aussie consumers, although with a small selection of models available. Sizes for its fitted electric blankets range from single to king, including a king single option. Expect budget-friendly prices from only $22 for the single, all the way up to $55 for the king size. There's also a fleecy electric blanket in a queen size (pictured), retailing for $55. These are a seasonal buy only, so you'll need to be quick to get your hands on these blankets.
Kmart electric blankets generally have a one-year warranty, unless stated otherwise.
Kmart was rated four stars for overall satisfaction, ease of use, performance & reliability and value for money. It got three stars for additional features and ease of care.
Jason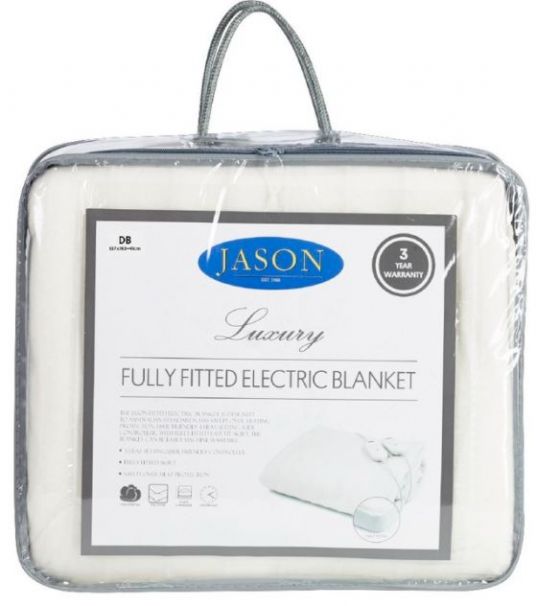 Founded in 1948, Jason is an Australian-owned brand offering a number of electric blankets, as well as heated throws. The Jason fitted electric blanket is said to be designed to Australian standards and has safety overheat protection. It features a 3-heat setting controller and a fully fitted skirt, plus it's machine washable. Other electric blankets from Jason feature 7-heat settings and electronic LED displays with auto-off timers. Prices start from $35 with its most expensive variant – the bamboo fully fitted electric blanket – being priced at $259.
For online purchases made through the Jason website, any exchanges and returns on full-priced items must be made within 10 days of purchase. Discounted items can only be exchanged.
Jason rounded up the scores with a five-star rating for performance & reliability and four stars for ease of use. It got three stars everywhere else.
Other Electric Blanket Brands
As evident from our ratings, the electric blanket industry isn't a huge one, and there are only a handful of major manufacturers as a result. Here is a review of some other major brands to consider:
Breville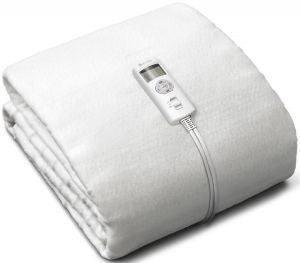 Another Australian manufacturer Breville, founded back in 1932, offers a number of small home appliances including microwaves, blenders and heated blankets. It has a modest range, with many of the blankets including Breville's BodyZone heat technology. This is said to provide individual heat settings for both your upper and lower body. Prices start from around the $150 mark for the single fitted blanket and max out at $300 for the BodyZone king quilted fitted heated blanket.

Kambrook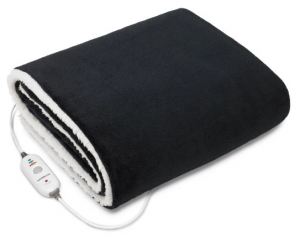 Kambrook was founded in Australia in 1964 and is now owned by the Breville Group. It offers a large range of products from microwaves and blenders to heaters and vacuums. You might find a few similar features that are available in the Breville range such as Kambrook electric blankets also being machine washable. Other specs include thermoguard overheat protection and three-hour automatic shut off for safety. Prices start from as low as $70, and go up to $110 for Kambrook's Day Dreamer Reversible Plush Heated Throw.

Bambi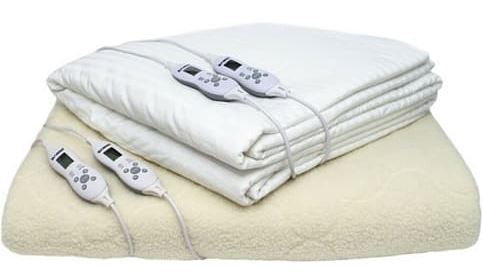 Bambi is another Australian-based company, specialising in wool products including quilts, pillows, mattresses and of course electric blankets. It offers two styles of electric blankets, a pure cotton electric blanket and fleecy options, with prices ranging between $110 and $300, depending on your bed size. Bambi's fleecy electric blanket has a removable cover and you can also expect a 10-hour timer, overheat safeguard technology and LCD display controller.

Dimplex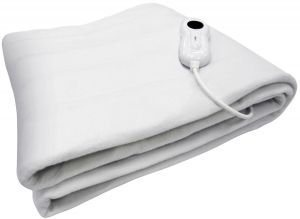 Dimplex was founded in 1973 and is best-known for providing Aussies with a range of portable heating and air conditioning appliances. It's also a big player in the world of electric blankets. Expect features such as 12-hour timers and detachable controls to ensure its electric blankets are machine washable. The more advanced models are boasted for their micro fleece material and various heat settings. Dimplex electric blankets range in price from $70 to $210 for a king size pillow top electric blanket.
Dimplex electric blankets generally have a two-year warranty, unless stated otherwise.

Goldair
Goldair has specialised in home appliances for 30 years, particularly heating and cooling products. It offers a large range of electric blankets and most of them deliver numerous heat and timer settings. Expect detachable controllers, making the blankets machine washable.The Goldair range is relatively cheap when compared to some other brands, costing between $25 and $149 for the more advanced model.
Goldair electric blankets generally have a two-year warranty, unless stated otherwise.

What should I look for in an electric blanket?
In addition to finding out which brands of electric blankets are keeping Aussies warm and snug at night; our research also identified the following drivers of customer satisfaction in order of importance:
Value for money: 35%
Performance & reliability: 32%
Ease of use: 26%
Additional features: 4%
Ease of care: 3%
Value for money and performance & reliability were the most important drivers of satisfaction for those who have purchased an electric blanket in the last two years, followed by ease of use. On average, Aussies spend $93 on their electric blankets, our survey found, which isn't an insignificant amount of money. Therefore, it would be wise to explore your options first to ensure you find the one that ticks all your boxes and will last you for years to come.
Here are some of the other key findings from our 2020 survey:
How do electric blankets work?
Electric blankets are placed between your mattress and your sheets and heat up to keep you warm at night. They do this by heating an integrated heating device that spreads the warmth throughout the areas covered. This heat is distributed by carbon wires spread out in the fabric. For those with double or queen size beds, there are some electric blankets that come with dual controllers, to allow those on both sides of the bed to set their preferred temperatures.
Most above-average-quality electric blankets will have a number of different heat settings you can choose from, ranging anywhere from 1-3 to 1-10. The heat setting is adjusted by using the controller, which can either hang loose or be attached to the mattress itself. Most people find that the highest heat setting is more than enough to keep nice and snug, and could even feel too hot. The general consensus is that the lower settings are perfect for keeping you just warm enough to survive those winter nights.
What sizes do electric blankets come in?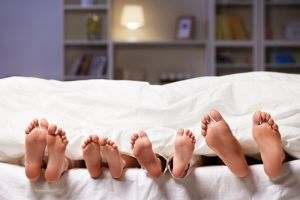 Electric blankets come in different forms depending on what size bed you have. There are single options, dual options for those who sleep in the same bed, and even children's electric blankets (which also happen to be waterproof). According to Appliances Online, the dimensions of electric blankets fall within the following ranges:
Width (mm): 900 – 2,000
Length (mm): 1,380 – 2,030
So, if you're tall, you might want to make sure you're getting one on the larger end of the scale! Otherwise your feet will still be cold – and nobody likes cold feet.
Fitted vs non-fitted electric blankets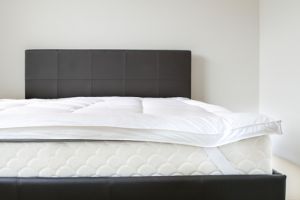 When it comes to deciding whether to go with a fitted or non-fitted option, consider the following points:
Fitted electric blankets: are contoured to the shape of your mattress. They remain flat during the night and are generally not as noticeable as non-fitted blankets as they feel the same as the mattress beneath them. Again, you need to make sure that it fits your bed's dimensions if you choose a fitted electric blanket.
Non-fitted blankets: are also referred to as 'tie-down' blankets. They are called this because they do not fit around the corners of your mattress, but are rather tied down on top of your mattress and will generally only cover a portion of it. Non-fitted blankets have the advantage of being cheaper and easier to put on, but don't give the same level of comfort.
Electric throw blankets
Electric throw blankets are just what they sound like – electric blankets that you can carry with you and use around the home, as long as you have access to a power socket. They resemble a traditional blanket and can be perfect for those rainy days where you just want to sit on the couch and watch TV. They also have the advantage of being generally cheaper than other heating methods, as they only need to heat a certain space.
How much do electric blankets cost?
Electric blankets in Australia can cost as little as $20, with the majority priced around the $150 mark. These are obviously for the standard models, while the more advanced ones can cost as much as $300. These expensive blankets generally come with more advanced features and higher-quality cotton, but you'd have to determine for yourself if the difference in money is worth the difference in experience.
The initial purchase cost is not the only thing to consider when you buy an electric blanket, because you'll also need to know how energy-efficient they are, as electric blankets can have a big impact on electricity bills. As you would expect, the more expensive electric blankets are often the most energy efficient.

Are electric blankets energy efficient?
Generally, electric blankets consume very little energy. According to EnergyAustralia, electric blankets consume an average of just four cents worth of electricity an hour, which is much less than other forms of space heaters. In addition, 14% of survey respondents said they use their electric blanket around the house, not just in the bedroom (e.g. sitting on the couch), making it a versatile tool to keep you warm. However, 9% of respondents also said they've noticed an increase in their electricity bills since buying one. Remember that running costs will vary depending on your energy tariff.
For a three-month season (i.e. winter) you can expect to pay about $15 in power costs for one electric blanket, which will be more if you have multiple running. This figure could be less if your blanket has an energy-saving mode, so really, based on these figures, you'd be mad not to get one!
If you don't have a timer on yours, turn the electric blanket onto a high-ish setting about an hour or so before you go to bed, then turn it off when you're ready to sleep. This will ensure that your bed stays warm for a while after you sleep, and saves power from not being on all night.
Are electric blankets safe?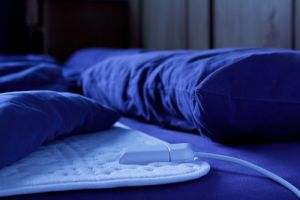 Generally, yes, electric blankets are safe – so long as you take care of them and use them properly. One in four users (26%) said they worry about leaving their electric blanket on for long periods of time, with 16% stating they researched safety warnings around electric blankets before making a purchase decision.
All electric blankets sold in Australia must adhere to Australian Standards, which are safety measures that all electric blanket manufacturers must adhere to. While it's probable that the one you're looking at qualifies, it can't hurt to check.
EnergyAustralia recommends replacing your electric blankets every 10 years, or less if you don't tightly roll them up during summer when they're not being used. After every season when you take them off your bed, check them for bent wiring, scorch marks, worn patches or other general signs of damage. If you see any, replace the blanket. It's best not to take chances, even though an accident is unlikely.
Make sure that you monitor your children's usage. For young children in particular, it's probably best if you set the temperature for them, due to the controls involved. Also, being children, they can forget to turn them off (although plenty of adults do that too!).
Most importantly of all, try to avoid leaving them on all night if you can. It's unnecessary, as they are very good at retaining heat, and being constantly heated can wear them out faster. In addition, a lot of electric blankets that meet the required standards turn themselves off if they start to overheat, so try to get one of these models if you can.
Electric blanket features to look for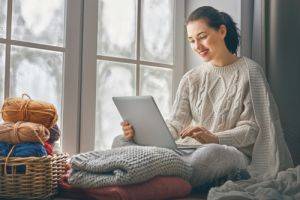 If you're thinking of buying an electric blanket that's a little fancier, you'll find some that come with a variety of different features. We've already mentioned blankets with dual controls, 1-10 temperature settings and overheat settings, but there are plenty more that could make your sleep a much better experience.
Extra-warm foot zone: Who doesn't like their feet being toasty warm? Some blankets come with these warm foot zones that focus more of their heat into the bottom of the blanket, to keep those tootsies nice and comfortable. Our survey found 25% of respondents had an electric blanket with 'zones' (i.e. different temperatures in different areas).
Illuminated screens: If you forget to turn your blanket off before going to sleep, it can be awkward fumbling around in the dark trying to find the controls. That's why certain models come with controls that have an LCD screen that makes it easy to see in the dark, but remains dim enough to not keep you awake.
Timers: While there are some who feel that it isn't a good idea to have an electric blanket that can turn on when you're not home, there shouldn't be any danger as long as you put it on a low temperature. Timers can be extremely convenient, as you can set them to come on just before you're ready to go to bed, so you don't have to do it yourself. Who even likes using their hands anyway?
Removable controls: Separating the controls from the electric blanket itself means you can safely wash it like you would any other blanket. However, you need to check the instructions that came with your purchase to see if your blanket is machine washable.
About the author of this page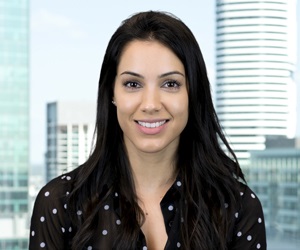 This report was written by Canstar Blue's Home & Lifestyle Content Lead, Megan Birot. She's an expert on household appliances, health & beauty products, as well as all things grocery and shopping. When she's not writing up our research-based ratings reports, Megan spends her time helping consumers make better purchase decisions, whether it's at the supermarket, other retailers, or online, highlighting the best deals and flagging anything you need to be aware of.
Picture credits: F8 studio/shutterstock.com, AboutLife/shutterstock.com, ST Design Studio/shutterstock.com, Prystai/shutterstock.com, MPIX/shutterstock.com, Agenturfotografin/shutterstock.com, Yuganov Konstantin/shutterstock.com