Fact Checked
How we rate paper towels
When it comes to cleaning up, paper towels are a staple for many Aussie households. Whether it's to wipe down the kitchen bench, clean up the BBQ, or even check the engine oil, there are plenty of good uses for the humble paper towel both inside and outside the home. It might also be on your packing list for camping trips and picnics! So, with paper towels playing such an important role, you'll want to find a quality product, so you don't end up using the whole roll for one spill! Buying 'cheap' might not mean you're buying an inferior product but buying the most expensive may not guarantee the best value for money either. To find out which paper towels are keeping Aussies happy when doing the most unpleasant tasks (cleaning), Canstar Blue has compared the top brands in the market.
---
Find more detailed information on our ratings methodology.
---
Top Paper Towel Brand ─ Viva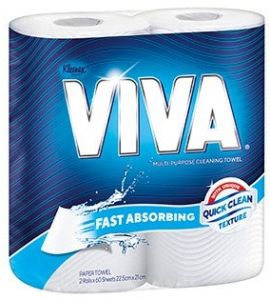 Viva cleaning towels are boasted for being both absorbent and durable ─ ideal for a wide range of cleaning jobs including stovetops and benchtops, greasy BBQs, gunky bathrooms, muddy boots, and more. Viva paper towels are available in different lengths, including 60 sheets for VIVA Regular, 90 sheets for VIVA SELECT-A-SIZE, 120 sheets for VIVA Double Length, and 180 sheets for VIVA SELECT-A-SIZE Double Length. Viva is a Kimberly-Clark brand, which also owns essential and personal care brands like Kleenex and Huggies. Prices start from $4 for a regular 60-sheet pack.
Viva rated five stars for absorption, quality and durability, effectiveness, and overall satisfaction. It got four stars for value for money.
What to consider when buying paper towels
When it comes to choosing the brand of paper towels to go with, our research revealed that about a third of Aussies (29%) always buy the same brand. Other key findings from our research included:
Key drivers of satisfaction
When it comes to buying paper towels, there are a few key factors that will make or break the paper towel (literally). Our survey identified the following drivers of customer satisfaction when it comes to paper towels:
Quality & durability: 29%
Absorption: 25%
Effectiveness: 24%
Value for money: 22%
Strength and quality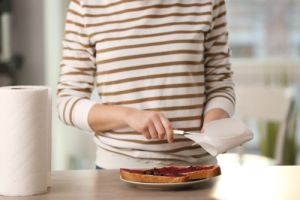 The strength and quality of a paper towel is the most important factor affecting customer satisfaction. If you've ever tried to wipe up a greasy grill on a BBQ and half of the paper towel got left behind – doubling the cleaning you needed to do – you'd also value the quality and durability of paper towels.
Absorption
Many brands boast fast absorption times, but whether they live up to these claims is another matter. That's why we survey customers to find out which are really living up to their expectations. There's not much point in using a paper towel that fails to soak up liquids or clean up spills, especially if you need to use almost half a roll each time.
Effectiveness
It's all well and good to find paper towels that can dry your hands and absorb water quickly, but you don't want to have to use half a roll to clean up pasta sauce on your stovetop. Be sure to buy a product that's absorbent on not just liquids, but also grease, grime, and other gunk. You may have to try a few brands to find one you're happy with, as did 49% of shoppers we surveyed.
Value for money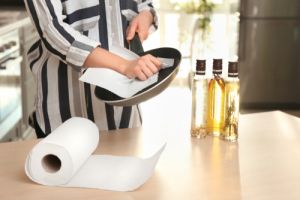 Getting good value for money is also important, which makes sense considering how many rolls you'd go through in a lifetime. However, buying the cheapest brand might not always get the job done. According to our review, a quarter of survey respondents (25%) typically buy the cheapest brand of paper towels, although buying the cheap stuff doesn't always equate to value for money if the product doesn't soak up spills properly, tears too easily and requires twice the recommend amount to get the job done. That isn't to say that all cheap brands are a flop though, but it's something you might like to keep in mind.
Which paper towel should you buy?
Viva has topped our paper towel ratings for the fifth year in a row, which gives credibility to the brand. If how well a paper towel can absorb a big spill is the most important factor to you, then Viva, Quilton, Handee, and ALDI Confidence might be the brands to consider, according to our review. But, if you're on a budget, you may like to look at supermarket branded options like ALDI Confidence which was rated to provide the best value for money. At the end of the day, it's important to compare a range of brands, as you'll want a paper towel that gets the job done every time.
Meet our consumer experts
---
Megan Birot: Home & Lifestyle Editor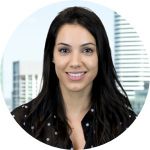 Megan is Canstar Blue's Home & Lifestyle Editor, leading the team that focuses on consumer products and services, ranging from supermarkets and groceries to home and personal appliances and retail stores. She interprets Canstar Blue's bespoke research on the thousands of brands that we compare, rate and review, to help shoppers make better purchasing decisions.
Samantha Howse: Consumer Research Specialist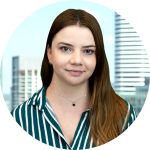 Samantha Howse is Canstar Blue's Consumer Research Specialist, coordinating the consumer research program behind our customer satisfaction awards across Canstar and Canstar Blue in Australia and New Zealand. Sam has earned a Bachelor of Business (Marketing) from Griffith University and, with seven years in market research and 2 years in marketing, she is experienced in survey design, implementation and analysis, coupled with an understanding of marketing principles and best practice.