ALDI Tandil Ultra scrubs up best in dishwashing liquid ratings
When you're tucking into a delicious meal, the last thing you're thinking of is the dishes. But when the final mouthful is done, the mountain of plates and cutlery still needs attention, potentially spoiling your appetite for dessert! While many of us will turn to our trusty dishwasher to take care of business, some of us may stick to the more traditional way of cleaning – handwashing. As a result, dishwashing liquid is a staple in many homes, but just which one do you turn to for squeaky clean dishes?
To find out which dishwashing liquid washes up best, we surveyed more than 2,200 Australians on the dishwashing liquids they purchased and used in the last three months. Respondents were asked to rate brands on their effectiveness, final result, scent, ease of use, environmental friendliness, value for money and overall satisfaction. Those which met the minimum required survey sample size of 30 responses are featured in our results.
ALDI took the lead once again, but this time the discount supermarket outshined the competition with its private label Tandil Ultra.
Best Dishwashing Liquids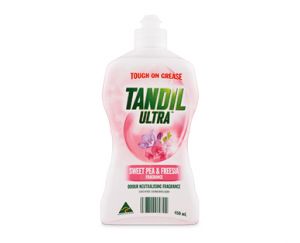 Here are the best dishwashing liquids in Australia, as rated by consumers in Canstar Blue's 2020 review:
ALDI Tandil Ultra
Palmolive
Earth Choice
Morning Fresh
ALDI Unamat
Fairy
Coles Ultra
Woolworths Essentials
Shine
ALDI Green Action
Aussies rated ALDI Tandil Ultra best in our latest review, scoring it five stars for effectiveness, final result, ease of use and overall satisfaction.
Most other rated brands landed on four stars for overall customer satisfaction, while Woolworths Essentials, Shine and ALDI Green Action ended on three stars overall.
Notably, this year's winner wasn't the only brand to impress consumers. Runner-up Palmolive and Morning Fresh both managed to beat ALDI Tandil Ultra on scent and also received full marks for their effectiveness. Palmolive also did well on final result and ease of use.
Meanwhile, Earth Choice won the green vote and was rated best for eco-friendliness. ALDI Unamat achieved a similar result for value for money.
Dishwashing Liquids
ALDI Tandil Ultra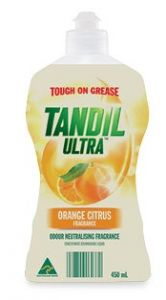 Aimed to give more bang for your buck, ALDI Tandil Ultra is said to be 'ultra-concentrated' to help you use less product and make the most out of each bottle. It's also described as being tough on grease, phosphate-free and filled with a supposedly odour-neutralising fragrance. Tandil Ultra can be picked up for around $1.59 for a 450ml bottle, with the brand stated to be greywater safe, coming in a recyclable bottle. Various options include lemon antibac, lemon & lime, orange, power soak 'n' clean and 'sweet pea & freesia'.
ALDI Tandil Ultra rated best for overall satisfaction and earned an additional five stars for effectiveness, final result and ease of use. The supermarket brand also got four stars for value for money, scent and environmental friendliness.
Palmolive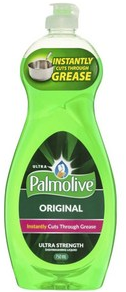 It seems only a natural progression for one of the longest-running soap companies in Australia to turn its hand to cleaning our dirty dishes as well. The Palmolive product range covers the regular formulas, ultra-concentrates, 'fusion clean' baking soda combos for tough cleaning, as well as 'divine blends' for those who want to feel like they're in a cloud of perfume while scrubbing pots and pans. Palmolive dishwashing liquid is said to easily lift grease, grime and other food stains. The brand also claims the product is specially formulated to leave your hands feeling soft.
Palmolive earned a five-star rating for most categories, including effectiveness, final result, scent and ease of use. It landed on four stars everywhere else.
Earth Choice

Arguably the biggest eco-friendly option on the market, Earth Choice dishwashing liquids are all claimed to be plant-based, and both greywater and septic system safe. Earth Choice also boasts its dishwashing liquids as being biodegradable, cruelty-free accredited, and packaged in fully recycled bottles. Earth Choice also remains one of the most affordable choices and comes in plenty of fruity scents, plus a fragrance-free option for those with sensitive skin.
Earth Choice rated best for environmental friendliness and scored four stars in the remaining categories, including final result, value for money and overall satisfaction.
Morning Fresh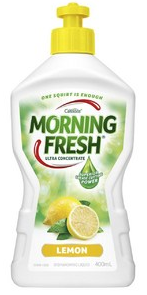 Morning Fresh offers one of the largest ranges of dishwashing liquids of any brand. This includes regular, ultimate, advanced, antibacterial and eco formulas, with the latter said to be made of plant-based, biodegradable and septic tank safe ingredients, packaged in a recycled bottle. Across the range, all the usual original, lemon, lime and fragrance-free scent choices are covered, plus orange and tea tree, jasmine, white tea and eucalyptus. The bottles can be found in a range of sizes, from a handy 350ml bottle, up to a bulk-buy 5L pack.
Morning Fresh earned five-star reviews for effectiveness and scent, and ended on four stars for overall satisfaction and everywhere else.
ALDI Unamat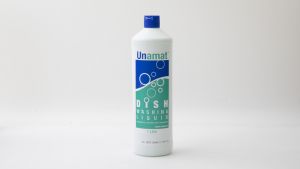 ALDI Unamat is generally the cheapest dishwashing option at ALDI, typically available for less than $1 for a 1L bottle. And while you may not expect such a cheap choice to be especially eco-friendly, the Unamat formula is said to be phosphate-free, greywater safe and biodegradable.
ALDI Unamat rated best for value for money, and scored four stars everywhere else. The only exception was scent, where it scored three stars.
Fairy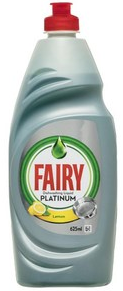 It's been washing dishes for over a century, and Fairy still keeps it old-school simple, with two different dishwashing liquid formulas to pick from – Regular, in original or lemon scents, or Platinum in a lemon scent. Fairy is also working towards helping fight back against pollution by using 25% post-consumer recycled material in its packaging, with the aim of moving this up to 100% renewable or recycled packaging in the future.
Fairy landed on four stars for most areas, such as effectiveness, final result and overall satisfaction. The only exception was value for money, where it got three stars.
Coles Ultra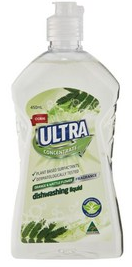 Coles Ultra is the supermarket's own range of household cleaning products. Coles Ultra comes in 450ml and 900ml bottles, with the choice of a lemon or lime scent. There's also a sensitive skin option. It also offers limited-edition fragrances from time to time.
Coles Ultra achieved a respectable four stars for value for money, scent and overall satisfaction. It also got three stars everywhere else.
Woolworths Essentials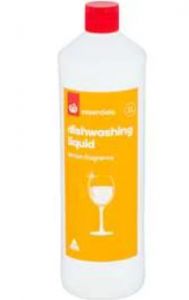 If you're just after a simple and super cheap option, Woolworths Essentials doesn't make it any easier than this. The supermarket home brand currently only offers the Essentials Dishwashing liquid in a lime scent, with a 1L bottle costing just under $1.
Woolworths Essentials earned four stars for value for money, but ultimately ended on three stars for the remaining categories.
Shine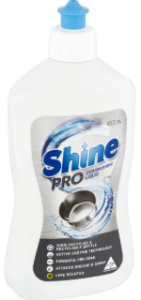 Offering a number of options for supermarket shoppers to choose from, Shine dishwashing liquid comes in 450ml and 900ml capacities. They come in a few fragrances including lemon, lime and peony & lychee varieties. Shine is also available in 'Shine Pro', which includes active enzyme technology to cut down on grease.
Shine impressed when it came to value for money, achieving a four-star rating for the category. It scored three stars for overall satisfaction and the remaining categories, including effectiveness and final result.
ALDI Green Action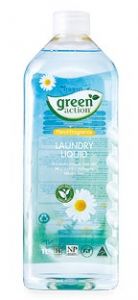 Another option for those who shop at ALDI is its Green Action dishwashing liquid. ALDI Green Action is claimed to be made from biodegradable, plant-based surfactants and is phosphate-free. It's also suitable for greywater and septic systems. You can pick up a recyclable PET plastic bottle in a choice of lemongrass & kaffir lime, pomegranate & mango, or vanilla scent.
ALDI Green Action achieved a four-star rating for value for money, scent and environmental friendliness. It ended on three stars for effectiveness, final result, ease of use and overall satisfaction.
Which dishwashing liquid should I use?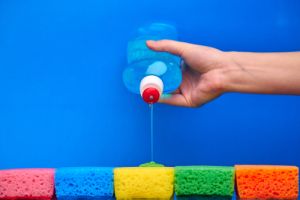 While the dishes are often just another chore to tick off the to-do list, you'll want a dishwashing liquid that actually does the job, otherwise you'll have to use a lot more elbow grease! With plenty of options available, choosing one to put in the shopping trolley will likely come down to personal preference, such as one that leaves your dishes smelling fresh, or perhaps you'll prefer to find an option that's gentle on your skin, or on your budget! Whatever your decision, if you're left slaving over the sink every time you need a clean plate, it might be time to switch.
Our latest survey shows that two-fifths (41%) of consumers stick to the same brand of dishwashing liquid, with one in three (34%) having tried more than one type of product to find out which works best. Only 19% of shoppers grab the cheapest label on the shelf.
When it comes to washing up, it seems many Aussies have a good habit of cleaning their dishes immediately after every meal (43%). Meanwhile, one in four (25%) people prefer to do it all at once, at the end of the day. The sink can also get pretty soapy, with 21% admitting to using too much dishwashing liquid. It's no wonder a similar amount of people find concentrated liquids to be a better buy (27%).
About the author of this page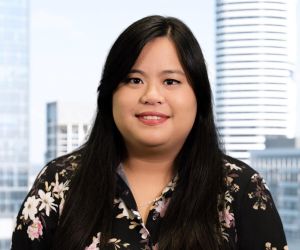 This report was written by Canstar Blue's home & lifestyle journalist, Tahnee-Jae Lopez-Vito. She's an expert on household appliances, grooming products and all things grocery and shopping. In addition to translating our expert research into consumer-friendly ratings reports, Tahnee spends her time helping consumers make better-informed purchase decisions on all manner of consumer goods and services, while highlighting the best deals and anything you need to be aware of.
Photo Credit: VADL/shutterstock.com