ALDI goes from No.2 to No.1 in toilet paper ratings
Toilet paper isn't a very luxurious item on your shopping list, but it's a necessary one, especially if you don't want to be stuck in that awkward situation where you run out at the time you need it most. There seems to be two options when it comes to toilet paper – the 'cheap and nasty', or 'lush and pricey'. But with supermarket private labels now seriously competing with big name brands, plus the growth in demand for recycled toilet paper, picking up a 'cheap' pack doesn't always mean that you're buying an inferior product. Likewise, buying the most expensive brand doesn't always mean you're getting the best value for money. That's why we want to help you find the best toilet paper at the right price.
To get things rolling, we've surveyed more than 2,400 Aussies on the toilet paper they've bought and used in the last month. Consumers rated their brand of choice on its softness, strength & quality, packaging options and overall satisfaction. The idea is to give you a good idea of which brands scrub up best, so you'll have an easier decision to make when you next stock up. So, which brand ended up number one?
ALDI Confidence has floated to top spot as the only brand to earn the maximum five stars for overall satisfaction, making last year's winner Quilton drop down to 'number two' place on four stars. The two brands basically switched positions from last year's results. ALDI recorded top marks for strength & quality, packaging options, value for money and overall satisfaction, while achieving a respectable four stars for softness.
Best-Rated Toilet Papers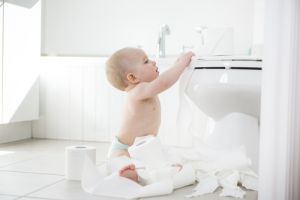 The nine brands in our latest toilet paper review were rated in the following order for overall customer satisfaction:
1st ALDI Confidence
2nd Quilton
3rd Coles So Soft
4th Sorbent
5th Kleenex
6th Woolworths Select
7th Woolworths Essentials
8th Coles
9th Coles 100% Recycled
ALDI Confidence was a solid performer in our latest ratings, being the only brand to achieve a five-star rating for overall satisfaction. Quilton, Coles So Soft, Sorbent, Kleenex, Woolworths Select and Woolworths Essentials followed behind on four stars, while Coles and Coles 100% Recycled scored just three stars.
While ALDI Confidence proved to be the pick of the pack among Aussies, some other brands also deserve a mention. Quilton similarly came up smelling like roses with five-star ratings for softness, strength & quality and packaging options, and Kleenex was the only other brand to earn five stars on softness. These two brands similarly joined ALDI Confidence and Sorbent in receiving top marks on packaging options.
Let's now consider what each of the nine brands in our latest review have to offer.
Top Toilet Papers
ALDI Confidence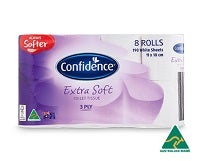 From the home of hidden supermarket bargains, ALDI Confidence toilet paper comes in three different varieties. The standard 3-ply toilet tissue comes in packs of 4 or 24. ALDI Confidence Hypoallergenic is a 2-ply toilet tissue sold in packs of 12 rolls of 260 sheets. For a little extra comfort, the 4-ply Hypoallergenic Quilted Softness toilet tissue comes in packs of eight rolls of 140 sheets. All are FSC Mix certified and Australian made.
In our latest ratings, ALDI Confidence proved why it managed to rise from second place last year by earning five stars across all categories except softness.
Quilton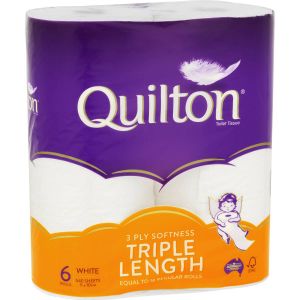 Australian-owned and made, Quilton toilet paper is manufactured by ABC Tissue from local and imported materials in mills in Sydney, Brisbane and Perth. All Quilton packaging is recyclable in Australia as part of the REDcycle program – take your soft plastic wrappings to a participating Woolworths or Coles store with REDcycle collection bins. Quilton is also Forest Stewardship Council certified, and the brand's Ecoply toilet paper is said to be manufactured in Brisbane from high quality waste paper involving a de-inking process that doesn't use bleach so that all wastewater can be recycled.
The original 3-ply comes in rolls of 180 sheets, but if you really hate changing the roll regularly then you can also buy double length (360 sheets) and even triple length (540 sheets) rolls. The Quilton King Size variety has sheets 25% larger than the standard size, in rolls of 175. For extra luxury, the Quilton Gold range is a 4-ply toilet paper available in original and shea butter. Finally, the eco-conscious can choose Quilton Ecoply, a 3-ply toilet paper with a 100% recycled middle layer in rolls of 190 sheets.
Quilton achieved five stars in most categories, namely softness, strength & quality and packaging options. It achieved three stars on value for money and four stars for overall satisfaction.
Coles So Soft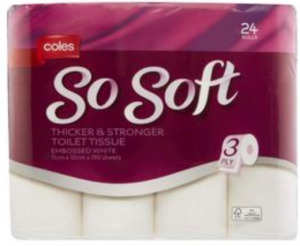 Coles So Soft is the more premium of the supermarket giant's private labels – still cheap but a bit more comfortable than the very budget 2-ply. Coles So Soft is a 3-ply toilet paper (with each roll containing 190 sheets) and 4-ply for additional thickness. So Soft is sold in packs of 4, 8 or 24 rolls. The sheets are the traditional white colour, but with embossed patterns.
Coles So Soft got a solid four stars across all categories: softness, strength & quality, packaging options, value for money and overall satisfaction.
Sorbent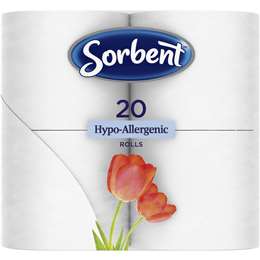 An Australian brand owned by Asaleo Care, Sorbent produces two types of toilet paper, both 2-ply. Sorbent Silky White comes in a choice of a regular roll, with 180 sheets in packs of 4, 12, 20 or 24, or King Size with 33% larger sheets than its regular toilet paper in packs of four. Sorbent Hypo-Allergenic contains no inks, dyes or fragrances, and is dermatologically tested to be safe for sensitive skin. This variety comes in rolls of 180 sheets, in packs of 12 or 20 rolls. It's also stated to be made from sustainably sourced materials.
Sorbent earned a four-star rating for overall satisfaction, plus softness and strength & quality. It got five stars for packaging options and three stars on value for money.
Kleenex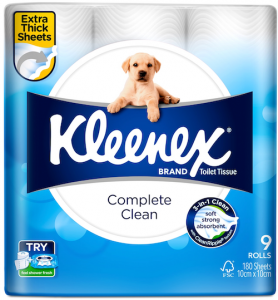 Another brand famous for its packaging and advertisement featuring cuddly Labrador puppies, Kleenex has a few different toilet paper products. Kleenex Complete Clean – designed with a unique CleanRipple texture – is available in packs of 4, 9, 16, 18, 24 or 32, with 180 sheets. The packaging for packs of more than 18 include carry handles. There is also a long roll version of the Complete Clean toilet paper, with 270 sheets per roll (50% more than the standard rolls), available in pack of 12.
For a 'luxurious' experience, Kleenex Softest offers embossed toilet paper infused with a choice of shea butter or aloe vera. These lightly scented rolls come in packs of six rolls of 150 sheets.
Kleenex recorded four-star ratings for strength & quality and overall satisfaction, while achieving five stars for softness and packaging options. It received three stars on value for money.
Woolworths Select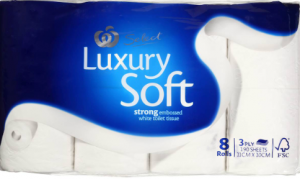 The higher tier of Woolworths' private labels, Woolworths Select Luxury Soft is a 3-ply toilet paper, offered in standard rolls of 190 sheets in packs of 4, 8 or 24 rolls. For those who want to reduce the hassle of changing rolls, Woolworths Select offers double-length rolls (380 sheets) in packs of four. Luxury Soft is FSC Mix certified, meaning the wood used is from FSC-certified material, recycled material, or controlled wood.
Woolworths Select got four stars for packaging options, value for money and overall satisfaction. It received three stars for softness and strength & quality.
Woolworths Essentials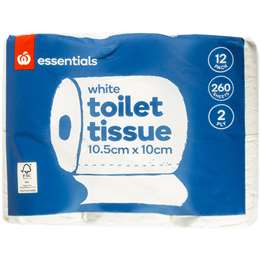 As Woolworths' budget brand, Woolworths Essentials toilet paper keeps things simple to save you money. Woolworths Essentials toilet paper includes two options – a 2-ply roll of 260 sheets, sold in packs of 12, or a 1-ply roll of 1,000 sheets, sold individually. The 2-ply toilet paper is FSC Mix certified while the 1-ply toilet paper is FSC Recycled certified, meaning it's made entirely from recycled material.
Woolworths Essentials got four stars for packaging options, value for money and overall satisfaction. It received three-star ratings for softness and strength & quality.
Coles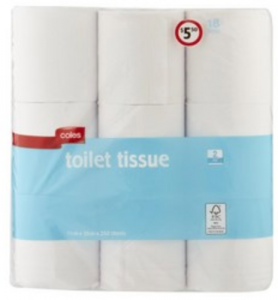 For tight budgets, Coles 2-ply toilet paper offers an affordable option with FSC certification. Coles 2-ply comes in rolls of 260 sheets, available in packs of 6 or 18 rolls. There's also a 12 pack of 100% recycled toilet tissue. It's simple stuff designed to get the job done without costly extra frills and padding.
Coles maintained the same score since our last toilet paper ratings, achieving three stars for overall satisfaction and across all other categories.
Coles 100% Recycled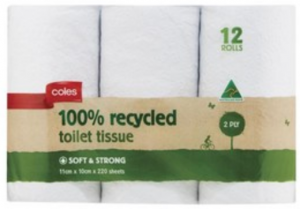 Coles also sells 2-ply recycled toilet paper through its Coles 100% Recycled range, which is available in 12 rolls of 220 sheets. It's sold at the same price of the brand's own 2-ply option, and might be a suitable budget alternative for anyone searching for recyclable toilet paper.
Coles 100% Recycled achieved a solid three-star rating for most categories, except packaging options in which it got two stars.
What to consider when buying toilet paper?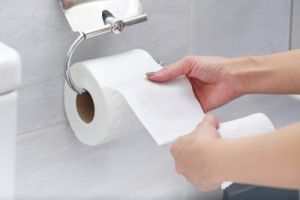 In addition to finding out which brands are keeping Aussies happiest in the bathroom, our research also identified the following drivers of satisfaction when it comes to toilet paper:
Softness: 34%
Strength and quality: 34%
Value for money: 29%
Packaging options: 4%
It seems that once consumers find a toilet paper they get on with, it's difficult to wipe away their favourite brand from the shopping list. Four out of ten survey respondents (42%) tend to buy in bulk, while the same percentage of Aussies always buy the same brand.
While almost a third of people (32%) usually buy whichever brand is cheapest, our results also show that it's more than just price that keeps everyone happy. After softness, the strength and quality of toilet paper has been found to be one of the biggest drivers of satisfaction. It makes sense, considering one in four consumers (25%) said they'd choose recycled toilet paper if the quality was better and a fifth (19%) purchase the thickest ply toilet paper possible.
Aussie toilet habits
To conclude our review, here are some of the light-hearted outcomes from our survey.
Scrunchers vs folders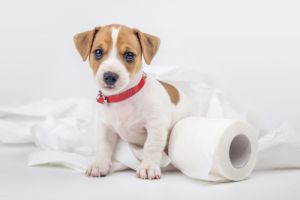 The age-old debate – should you scrunch up your toilet paper or fold it up before wiping? Scrunchers argue that their method gives better grip and keeps your hand further away from the 'danger zone', while proponents of folding claim that they are more efficient and can cover more ground… Both sides have good arguments, but which way is best? According to our survey, the answer is clear – fold it. Most Aussies (67%) said that they fold their toilet paper, while only 25% scrunch (and 8% were unsure).
Roll over or under?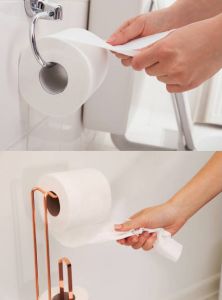 Another toilet paper debate – and one that can cause some 'serious tension' in households – is toilet paper roll orientation. When you put a new roll on the holder, do you position it so that it rolls over the top, or underneath from the bottom? We found that most Australians roll toilet paper over the top (63%), while a good chunk of respondents don't have a preference (21%). Only 12% of people are dedicated under side rollers.
Texting on the toilet
Going to the bathroom is not anyone's favourite pastime. That explains why almost one in four (23%) adults said they usually take their phone with them to the toilet – it's reasonable to prefer to play games or browse Facebook rather than stare blankly at the back of a door. Unfortunately though, taking your mobile phone into the bathroom is risky business as 7% of people admitted to having accidentally dropped their device into the toilet bowl. If this stinky situation happens to you, you might be able to salvage your phone by immediately dunking it into a bowl full of rice to draw out the moisture – hopefully before it does any damage.
About the author of this page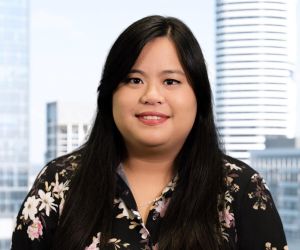 This report was written by Canstar Blue's home & lifestyle journalist, Tahnee-Jae Lopez-Vito. She's an expert on household appliances, grooming products and all things grocery and shopping. In addition to translating our expert research into consumer-friendly ratings reports, Tahnee spends her time helping consumers make better-informed purchase decisions on all manner of consumer goods and services, while highlighting the best deals and anything you need to be aware of.
Picture credits: Lopolo/Shutterstock.com, Zyn Chakrapong/Shutterstock.com, Smit/Shutterstock.com