ALDI Trimat washes up best in laundry powder ratings
While doing the laundry comes with risks – such as shrinking clothes or accidentally turning your favourite white shirt a different colour – it is a necessary chore to keep us looking and feeling fresh. For some, the washing machine is a mystery, with many of us sticking to the tried and true method of the regular wash for everything, while others venture out to different wash settings for a more appropriate clean. Even if you're a washing veteran, choosing the best laundry detergent for your needs can feel like guesswork.
Choosing between laundry liquid and powder is the first hurdle to get over, and for those who stand by powder as their favoured laundry weapon of choice, there are plenty of options to narrow down when it comes to finding the best brand for your needs and budget.
In our latest survey on the subject, 46% of respondents said they always buy the same brand of laundry powder, while 28% simply stock up on whichever is on special or happens to be cheapest when they go shopping.
With 18% of respondents stating that washing is done every day of the week in their household, finding a washing powder that does the job the first time, every time, can cut down on the washing frequency, as well as help to reduce electricity bills. So which brand cleans up best in Aussie homes? To find out, we've surveyed more than 1,200 adults and asked them for their feedback on their laundry powder of choice. Respondents compared and rated brands on important factors such as scent, quality of clean, value for money and so on. Those which met the minimum required survey sample size of 30 responses are included in our results above.
So, which brands cleaned up well and which got washed away? In 2020, ALDI Trimat was rated best for overall satisfaction.
Best Laundry Powder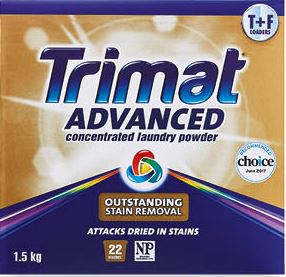 Here are the best laundry powders in Australia, as rated by consumers in Canstar Blue's latest review:
Trimat (ALDI)
Almat (ALDI)
Earth Choice
Biozet Attack
Omo
Fab
Surf
Radiant
Duo
Cold Power
Coles Ultra
Coles
ALDI Trimat topped our laundry powder ratings, being the only brand to earn five-star reviews in the majority of categories, namely quality of clean, feel of clothes after wash, scent, packaging design, value for money and overall satisfaction. ALDI Almat managed to claim second place with a four-star streak across the board.
Meanwhile, third-place winner Earth Choice managed to get the green vote, scoring the only five-star rating for eco-friendliness, while Fab also received full marks for scent, alongside ALDI Trimat. All in all, most rated brands rounded out the results on four stars for overall customer satisfaction, except for Coles' brands which finished on three stars overall.
If you're not sure what's on offer in terms of scent, detergents for sensitive skin or those that will whip white shirts back into looking brand new, read on to find out which brand may be the best fit for your home.
Top Laundry Powders
ALDI Trimat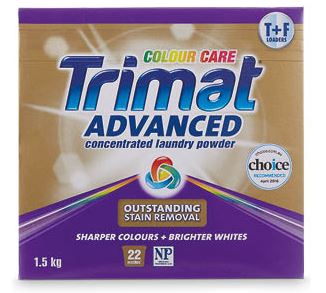 ALDI Trimat is the discount supermarket's very own 'everyday' laundry range, which includes laundry liquids and powders in regular, sensitive, 'colour care' and concentrate varieties. ALDI claims its Trimat range was developed with concentrated formulations that require less packaging and doses – to save you money and help the Earth at the same time.
Suitable for both front load washing machines and top loader models, ALDI Trimat contains pre-treaters to help boost whites and colours, with no phosphates for a more environmentally sustainable wash. ALDI Trimat liquid detergents come in 1L bottles and will cost you just $3.99 at the checkout. Laundry powders come in 1.5kg packs for $5.79.
ALDI Trimat topped our 2020 laundry powder ratings, after Aussies gave it five-star reviews for quality of clean, feel of clothes after wash, scent, packaging design, value for money and overall satisfaction. It got four stars for environmental friendliness.
ALDI Almat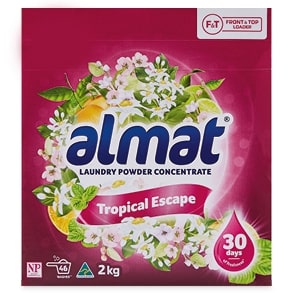 With ALDI now a popular option for the household grocery shop, the German chain offers a range of laundry powders for you to pack your trolley with. Almat laundry powder is one of the cheaper options in comparison to other ALDI brands, with a 2kg pack priced under $5, while a 4kg value pack will set you back less than $10.
Suitable for top and front loaders, plus high-efficiency top loader machines, Almat is also available in a number of scents, including 'spicy temptations', 'soft sensation' and 'tropical escape', making your clothes and fabrics feel and smell fresh. Containing triple enzyme action for greater stain removal, Almat is said to be phosphate-free for increased environmental sustainability.
In our 2020 results, ALDI Almat was rated four stars across all drivers of satisfaction.
Earth Choice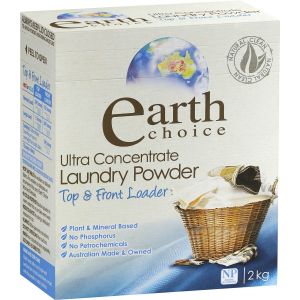 Earth Choice produces an extensive range of household cleaners, and whether it's for the washing machine, dishwasher or the bathroom, the brand is a common feature on supermarket shelves, with parent company Nature's Organics starting back in the 1950s. It's based on plant-based ingredients, biodegradable surfactants and sustainable packaging, with Earth Choice the only brand to score five stars for environmental friendliness.
Designed for both front and top loaders, Earth Choice laundry powder comes in a concentrated formula. Available in store in 1kg and 2kg boxes, that cost between $5 and $10, Earth Choice's laundry powder is stated to be greywater safe as it's phosphate-free and low in sodium.
Earth Choice was rated best for environmental friendliness, and four stars in the majority of categories, except value for money where it landed on three stars.
Biozet Attack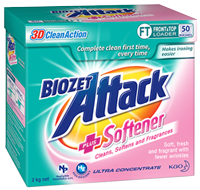 Biozet Attack offers multiple laundry powders, including 'regular' for general washing, 'rapid' for those who often use the quick wash setting, as well as 'plus softener' to help make those blankets and jumpers comfier. Its powders are also said to contain patented micro-capsules (called AirBurst Technology) which contain an air bubble, designed to dissolve quickly when in contact with water.
Available at most supermarkets and general retailers, Biozet Attack is available in 1kg, 2kg, 4kg and 6kg packages, depending on which variety you go for. Most products are suitable for both front and top load machines, but it's best to check the packaging before you put it in your shopping basket.
Biozet Attack earned four stars for overall satisfaction, quality of clean, feel of clothes after wash and packaging design, but was rated three stars for all other variables.
Omo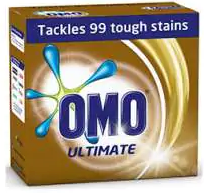 Like Surf, Omo is owned by global consumer goods company Unilever. Omo's current range contains the traditional Omo powder, Omo 'sensitive' and Omo 'ultimate' for tough stains. Its sensitive powder is said to be dermatologically tested and contains no dyes or perfumes. In addition, Omo's ultimate range is claimed to tackle 48-hour dried-in stains with built-in pre-treaters.
Available in 1kg, 2kg and 5kg boxes, Omo may be one of the more expensive powders on the market, with the 1kg option setting you back close to $10, depending on where you shop. The range is suitable for all types of washing machines.
Omo received four stars for quality of clean, feel of clothes after wash, scent, packaging design and overall satisfaction.
Fab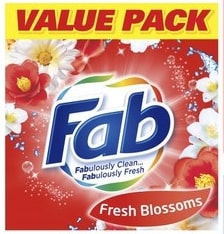 For many, Fab would be one of the first brands to come to mind when it comes to doing the laundry, operating around the globe for decades. Owned by German company Henkel, Fab delivers a range of powders and liquids to take care of all your washing needs.
Split into the Core Range and Fragrance Temptations, Fab offers a number of powder types for different washes. Available in 1kg, 1.8kg, 2kg and 4kg value packs, Fab laundry powders are suitable for both front and top load machines. It offers a range of different aromas for you to try, including frangipani, 'sublime velvet' and 'sunshine fresh'.
Fab was rated five stars for scent and four stars in the majority of categories, except eco-friendliness where it got three stars.
Surf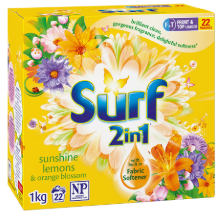 Owned by consumer goods giant Unilever, Surf has been on the market since the early 1950s, offering a large number of liquids and powders for all of your washing needs. Today's range, aptly named the '2in1', contains a built-in fabric softener and is available in a range of different scents, including herbal extracts, lavender, lemons & oranges, as well as tropical to suit your personal preferences.
The range is said to help remove bad odours and provide long-lasting freshness. Available for purchase in 1kg, 2kg and 4kg boxes, all detergents are compatible for both front and top loaders. A 2kg box will set you back around $7, while its 4kg pack retails for around $13.
Surf earned a solid four-star rating for most drivers of satisfaction, including value for money and overall satisfaction. It got three stars for environmental friendliness.
Radiant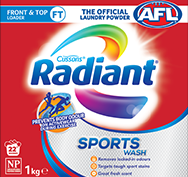 Owned by British company PZ Cussons, Radiant has been around for more than 25 years now, offering a wide range of laundry products, including liquids and powders. Available at all supermarkets, as well as other retailers such as Big W and Target, Radiant has a variety of powders for all clothes types, and is available in up to 9kg packages.
Suitable for top and front load washing machines, Radiant offers a number of powder types for different washes. With a range that includes a 'sports wash' for any grass stains, 'brilliant whites' wash for fresher whites, 'no sort' powder for those who chuck all their clothes in the one wash, as well as a Sensitive wash for those with allergies and sensitive skin, Radiant has most washing needs covered.
In this year's review, Radiant was rated four stars for quality of cleaning, feel of clothes after wash, scent, value for money and overall satisfaction.
Duo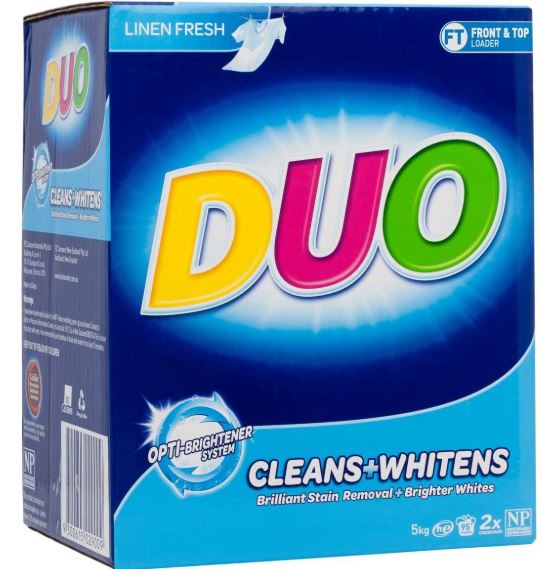 Duo is another popular brand of laundry powder, suitable for both front and top loading washing machines. All Duo products are claimed to contain a concentrated formula that features an 'opti-brightener' system that breaks down stains and lifts out dirt from your clothes. Duo's range includes a 'Cleans & Whitens' option in a fresh linen scent, a fragrance-free 'Cleans & Cares' powder and a 'Cleans & Softener' option in an 'exotic tiger lily' scent. Duo is sold in most supermarkets and chemists, in either 1kg, 2kg or 5kg varieties (up to 95 washes).
Duo received four stars for overall satisfaction and in the majority of categories. It got three stars for scent and packaging design.
Cold Power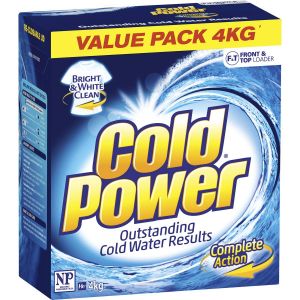 Owned by German company Henkel, Cold Power began life in the United States in the 1960s before its global expansion. In today's Aussie supermarkets, Cold Power is available in 900g, 2kg and 4kg packages, depending on the variety you're after. Cold Power comes in 'sensitive', '2in1' and 'complete action' powders, along with special products that contain fabric softener for a more complete wash.
On the higher end of the price spectrum, Cold Power is suitable for both front and top loader machines. Expect to pay around $16 for its 2kg box and around $20 for the 4kg option. Its sensitive powder is said to be perfume-free and contain no added phosphate or dyes, and has been dermatologically tested, making it ideal for those with sensitive skin.
Cold Power achieved four stars for quality of clean, feel of clothes after wash, scent and overall satisfaction.
Coles Ultra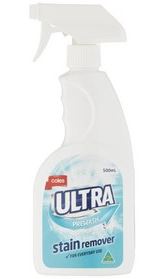 With a couple of laundry detergents available, supermarket giant Coles has a few options for shoppers as they cruise down the aisle. Available in a 1kg package, Coles Ultra laundry powder will set you back around $4, making it a worthwhile look for households on a budget.
Coles Ultra laundry powders are said to be suitable for both front and top loading washing machines, providing up to 22 washes with the 1kg pack. While it doesn't focus on different fragrances, it offers 'concentrated' and 'sensitive' varieties, with the sensitive option said to be tough on stains but gentle on the skin.
In 2020, Coles Ultra was rated three stars across the board.
Coles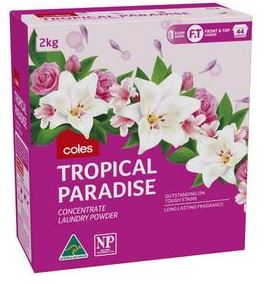 Coles' other budget line of everyday products also offers washing detergents, for both front and top loaders. Products from the range include the 'lemon fresh' hot and cold wash laundry powder ($3.70) and the 'tropical paradise' concentrate powder ($5.50).
Coles rounded up the results with four stars for value for money and three stars everywhere else.
Which laundry powder should I buy?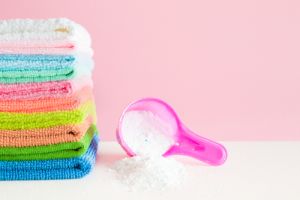 While for some of us, the only factor that influences which laundry powder we buy is the price tag, for others, picking a laundry detergent is crucial to feeling and smelling fresh. With brands offering a range of powders to tackle any workload, households can also breathe a sigh of relief when it comes to things like skin allergies and sensitivity, with plenty of brands offering allergen-free powders for extra comfort and peace of mind.
With most laundry powders now developed to work with both front and top loader washing machines, which product you decide to buy will be determined by factors such as price, scent, and your particular stance on environmental sustainability. Most brands will have ingredients information on their websites, so it doesn't hurt to do your own research before your next grocery shop.
Our ratings are based on the real-world experiences of Aussie consumers who have bought and used the brands in our 2020 review. The supermarket cleaning aisle can be a tough one to navigate, with so many laundry detergents on sale, so we hope our review proves helpful in narrowing your search.
About the author of this page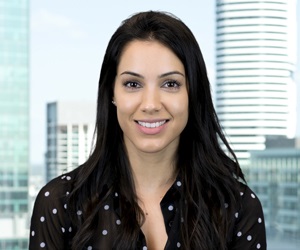 This report was written by Canstar Blue's Home & Lifestyle Content Lead, Megan Birot. She's an expert on household appliances, health & beauty products, as well as all things grocery and shopping. When she's not writing up our research-based ratings reports, Megan spends her time helping consumers make better purchase decisions, whether it's at the supermarket, other retailers, or online, highlighting the best deals and flagging anything you need to be aware of.