Fact Checked
Aussies snuggle up with Huggie in fabric softener ratings
Want fluffy towels and cuddly pyjamas? Well, you've come to the right place to review some of the biggest brands of fabric softeners you'll find on the supermarket shelves. They may not be for everyone, but fabric softeners can be a great way to keep your clothes and fabrics smelling and feeling fresh. In fact, almost half of our survey respondents (48%) use fabric softener with every wash!
To make sense of all the fluff, we asked more than 1,200 consumers about the fabric softener(s) they've purchased and used in the last six months. Respondents rated brands on the softness of clothes achieved, scent, environmental friendliness, packaging design, value for money and overall satisfaction. Those which received the minimum survey sample size of 30 responses are compared in our report.
Aussies wrapped their arms around Huggie in our latest review, rating it best for overall satisfaction, scent, and softness.
Best Fabric Softeners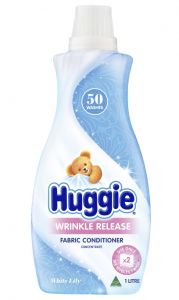 Here are the best brands of fabric softeners in Australia, as rated by consumers in Canstar Blue's latest review:
Huggie
ALDI Anco Soft
Earth Choice
Comfort
Soften
Fluffy
Cuddly
Woolworths Essentials
Coles
Our survey respondents warmed up to Huggie the most, being the only brand to achieve a five-star rating for overall customer satisfaction. Most other brands landed on four stars for overall satisfaction, except for Coles which ended on three stars.
Supermarket-branded labels ALDI Anco Soft and Woolworths Essentials were two brands that managed to spin things around, both achieving a five-star rating for value for money. Earth Choice also got full marks for environmental friendliness, similar to Comfort and Cuddly when it came to packaging design.
What to consider when buying fabric softener
In addition to finding out which brands Aussies love most, our research also identified the key drivers of customer satisfaction when purchasing fabric softener:
Softness of clothes: 30%
Value for money: 21%
Scent: 20%
Packaging design: 16%
Environmental friendliness: 14%
Compared to last year, it looks like more people now prefer to have their load come out soft (up from 24%) rather than smelling great (down from 25%). Another factor that climbed up the priority list was value for money, suggesting that a growing number of people are searching for something that won't leave them (and their wallet) hang out to dry. But which fabric softener gives you bang for your buck? Almost one in five survey respondents (19%) said they usually choose the largest container, while a third (32%) tend to pick up the cheapest product or whichever is on sale. Brand loyalty also continues to be big with many Aussies, with 33% of people still choosing to buy the same label each time.
Let's now dive into each of these factors in detail and reveal which brands came out on top by absolute score.
Softness of clothes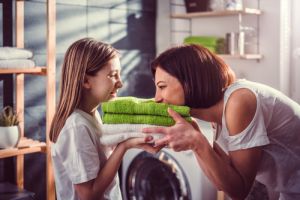 One of the primary reasons that most people use fabric softener (it's even in the name) is to make clothes and bedding feel soft and comfortable. The active ingredients in fabric softener are apparently designed to lubricate fabric fibres and reduce static, which is said to create more space between the fibres and thus makes them feel softer.
Huggie placed number one when it came to getting the softest results, earning five stars, while the majority of other brands achieved four stars. Coles and Woolworths Essentials rounded up the scores for the category on three stars each.
Value for money
Fabric softener isn't a necessity, it's a luxury that can make your clothes and bedding more pleasant to wear and smell. With this in mind, it's important for many consumers to weigh up the added cost of using a particular fabric softener versus its potential benefits. As mentioned before, a third of survey respondents (32%) usually buy whichever brand is the cheapest or on special, so getting good value for money is a pretty important factor. Two in five (48%) people also indicated they use fabric softener with every wash, so the cost will add up in the long run.
Supermarket brands Woolworths Essentials and ALDI Anco Soft rated best for value for money, both earning an impressive five-star review for the category. Most other brands ended on four stars, except for Huggie and Cuddly which got three stars each.
Scent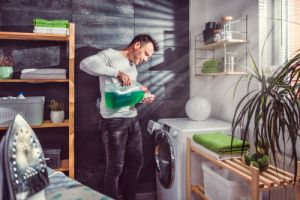 Aside from having soft clothes, you'll naturally want them to smell fresh. Our survey found scent to be the third biggest driver of customer satisfaction in fabric softener. However, the appeal of the scents on offer can vary considerably.
Huggie was rated the best for scent, having achieved five stars for the category. Comfort and Fluffy followed behind on four stars, similar to most of the other brands. The only exception was Coles, which got three stars.
Packaging design
It may seem superficial, but the packaging of fabric softener can be important – beyond aesthetics, being convenient to use and having all of the necessary information presented clearly are factors for consumers to consider when deciding which bottle to bring home from the shops.
Comfort and Cuddly ranked on top for packaging design. All but three brands finished on four stars. The exceptions include Soften, Coles, and Woolworths Essentials, which got three stars.
Environmental friendliness
Whatever goes into the laundry will either come out as clean clothes or be washed away with the wastewater. Our survey shows that many consumers are concerned about how much damage the products they use in the laundry room can cause to the environment, whether it's used as greywater in the garden, goes into a delicate septic system, or goes back into the environment through the drain. The level of plastic waste involved in packaging is also a big issue.
Earth Choice remains the only brand to have achieved a five-star rating for environmental friendliness. Most other brands scored four stars, except for Coles and Fluffy which rated three stars.
Where do you put fabric softener in a washing machine?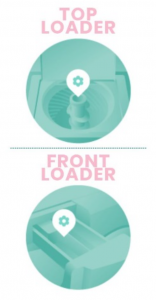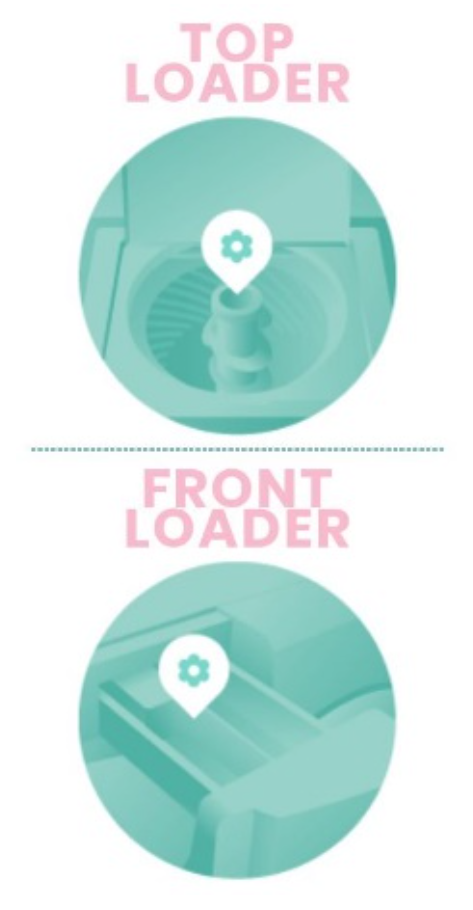 Where you add your fabric softener will depend on the type of washing machine you have – top loader or front loader.
For a top load washing machine, fabric softeners can be added to the dispensing unit, typically found at the top section of an agitator. For top loaders without an agitator, there is typically a fabric softener drawer in another area or you can dilute it and add it to the final rinse.
For a front load washing machine, fabric softeners can be added to the dispensing unit only. It's often marked with a flower and is typically the smaller compartment in the detergent drawer.
Picture courtesy of Cuddly.
Why use fabric softener?
Fabric softener works in a similar way to using conditioner in your hair! Generally, fabric softeners are claimed to smooth, condition and nourish fibres with a protective formula, while also helping to soften and freshen your load. In addition, it aims to reduce static electricity and make ironing easier, so you can use it for most garments and fabrics – not just sheets and towels. However, it's important to check the care label on your clothes before you use it.
When NOT to use fabric softener
For those with sensitive skin, including young children, fabric softener is not recommended. Perfumes in fabric softeners are also not ideal for people with asthma or eczema. In some cases, fabric softener has been claimed to reduce the absorbency of towels and can damage certain types of fabrics such as silk, synthetic clothing and linen.
About the author of this page
This report was written by Canstar Blue's home & lifestyle journalist, Tahnee-Jae Lopez-Vito. She's an expert on household appliances, grooming products and all things grocery and shopping. In addition to translating our expert research into consumer-friendly ratings reports, Tahnee spends her time helping consumers make better-informed purchase decisions on all manner of consumer goods and services, while highlighting the best deals and anything you need to be aware of.
Picture credits: Zivica Kerkez/Shutterstock.com.