Huggie softens up the competition in fabric softener ratings
Want fluffy towels and cuddly jimjams, well you've come to the right place to review some of the biggest brands of fabric softener you'll find in Australia. They may not be for everyone, but fabric softeners can be a great way to keep your clothes and fabrics smelling and feeling their very best. The freshness comes at a cost though, so how much would you be willing to pay for super-soft and huggable laundry results?
Every year, Canstar Blue surveys thousands of households around the country to find out how they rate the fabric softener they use. Consumers gave us their feedback on factors including the softness of their clothes, scent and value for money, with their experiences forming our customer satisfaction ratings. So, which brand topped the results table in 2018? The aptly-named Huggie.
Huggie took top spot in this year's review, scoring five stars on overall satisfaction, softness of clothes, packaging design and scent. It got four stars for environmental friendliness and three stars on value for money.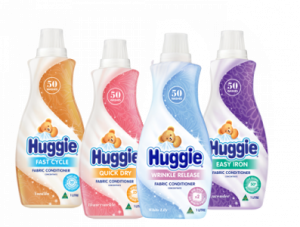 The eight brands to feature in our fabric softener review were rated in the following order for overall customer satisfaction:
1

st

Huggie

2

nd

Earth Choice

3

rd

ALDI Anco

4

th

Cuddly

5

th

Fluffy

6

th

Comfort

7

th

Woolworths Essentials

8

th

Coles
Earth Choice, ALDI Anco, Cuddly and Fluffy received four stars for overall satisfaction, while Comfort, Woolworths Essentials and Coles had to settle for three. Other results of note include ALDI Anco being the only brand to achieve five stars on value for money, while Earth Choice was the only one to receive five stars on environmental friendliness.
Brand loyalty is big with fabric softener – 51% of respondents to our survey stated they always use the same brand. But it's never too late to consider a switch if you're not getting the super-cuddly clothes and warm fuzzy feeling you expect, so let's explore what's important when choosing a fabric softener.
What to consider when buying fabric softener
In addition to finding out which brands Aussies love most, our research also identified the key drivers of customer satisfaction when purchasing fabric softener:
Let's dive into each of these factors in detail below:
Softness of clothes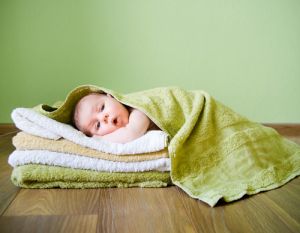 The primary reason that most people use fabric softener (it's even in the name) is to make clothes and bedding feel soft and comfortable. The active ingredients in fabric softener are apparently designed to lubricate fabric fibres and reduce static, which creates more space between the fibres and thus makes them feel softer. It stands to reason that some formulas can do a better job of this than others though.
The only fabric softener rated five stars for softness of clothes in our review was the overall winner, the fittingly-named Huggie. Most of the rest scored a still respectable four stars, while trailing behind were Woolworths Essentials and Coles on three stars.
Value for money
Fabric softener isn't a necessity, it's a luxury that can make your clothes and bedding more pleasant to wear and smell. With this in mind, it's important for many consumers to weigh up the added cost of using a particular fabric softener versus its potential benefits. Half of survey respondents (49%) said they tend to buy whichever brand is cheapest or on special when they go shopping, so getting good value for money is quite an important factor. More than two in five (44%) also indicated they use fabric softener with every wash, so the cost will add up in the long run.
Budget grocery powerhouse ALDI has topped the value for money ratings this year, with its Anco brand taking out five stars. It was tough for many brands to win over customers on value for money, with more than half of brands receiving just three stars.
Packaging design
It may seem superficial, but the packaging of fabric softener can be important – beyond aesthetics, being convenient to use and having all of the necessary information presented clearly are factors for consumers to consider when deciding which bottle to bring home from the shops.
Overall winner Huggie was the sole recipient of five stars for packaging design, with the rest securing either three or four stars.
Scent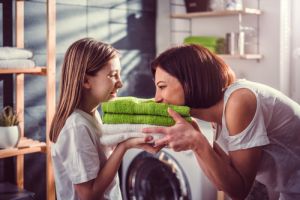 As well as having soft clothes, you'll naturally want them to smell, natural. Our survey found scent to be the fourth greatest driver of customer satisfaction for fabric softener. However, the appeal of the scents on offer can vary considerably.
Our review again placed Huggie on top for scent, with ALDI Anco, Cuddly, Fluffy and Comfort tying for second place with four stars apiece. The rest had to make do with three stars.
Environmental friendliness
Whatever goes into the laundry will either come out as clean clothes or be washed away with the waste water. Many consumers are concerned about how much damage the products they use in the laundry room may cause to the environment, whether it's used as greywater on the garden, goes into a delicate septic system, or goes back into the environment through the drain. The level of plastic waste involved in packaging is also a big issue.
The only five-star rated fabric softener brand for environmental friendliness this year was Earth Choice, which is greywater and septic system safe, biodegradable and comes in recycled or recyclable packaging. Huggie scored four stars and the rest just three.
Where do you put fabric softener in a washing machine?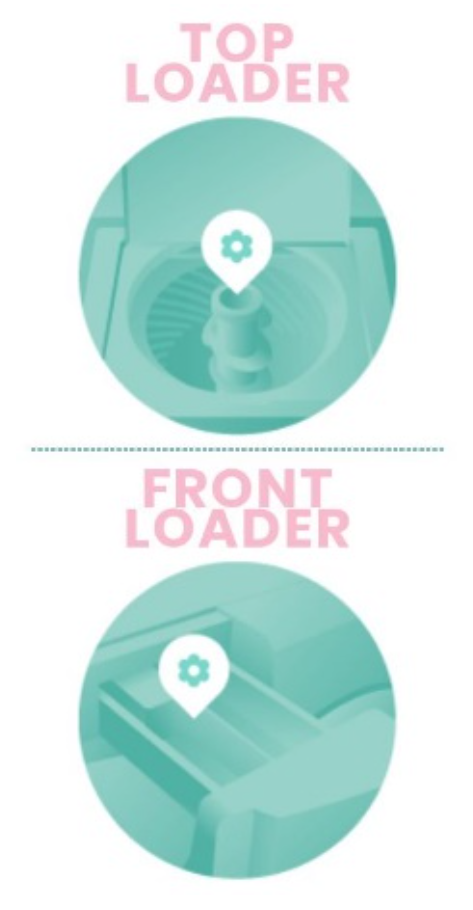 Where you add your fabric softener will depend on the type of washing machine you have – top loader or front loader.
For a top load washing machine, fabric softeners can be added to the dispensing unit, typically found at the top section of an agitator. For units without an agitator, there is typically a fabric softener drawer in another area or your can dilute it and add it to the final rinse.

For a front load washing machine, fabric softeners can be added to the dispensing unit only. It's often marked with a flower and is typically the smaller compartment in the detergent drawer.
Picture courtesy of Cuddly.
Why use fabric softener?
Fabric softener works in a similar way to using conditioner in your hair! Generally, fabric softeners are claimed to smooth, condition and nourish fibres with a protective formula, while also helping to soften and freshen your load. In addition, it aims to reduce static electricity and make ironing easier, so you can use it for most garments and fabrics – not just sheets and towels. However, it's important to check the care label on your clothes before you use it. 
When NOT to use fabric softener
For those with sensitive skin, including young children, fabric softener is not recommended. Perfumes in fabric softeners are also not ideal for people with asthma or eczema. In some cases, fabric softener can reduce the absorbency of towels and can damage certain types of fabrics such as silk, synthetic clothing and linen.