Comfort deemed to make your clothes the comfiest
Fluffy, Huggie, Comfort, Cuddly – it sounds like the cast of a children's television show. But in fact, these are some of the biggest brands of fabric softener you'll find in Australia. They may not be for everyone, but fabric softeners can be a great way to keep your clothes and fabrics smelling and feeling their very best. The freshness comes at a cost, so how much would you be willing to pay for super-soft laundry results?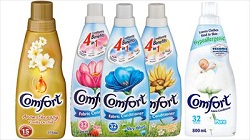 Every year, Canstar Blue surveys thousands of households around the country to find out how they rate the fabric softener they use. Ousting two-time winner ALDI Anco, Comfort has this year taken out top marks in overall customer satisfaction, as well as out-performing all the other rated brands for softness of clothes, scent and packaging design. It received only three stars on value for money, but consumers clearly see the 'value' in splashing out on quality. The only other category in which Comfort didn't come out on top was environmental friendliness, which unsurprisingly was taken out by Earth Choice.
Brands from Coles, Woolworths and ALDI also appeared in the ratings, alongside big name brands Cuddly, Fluffy, Huggie and Earth Choice. Other notable results included:
ALDI Anco and Coles Smart Buy tied for first place on value of money, with five stars each
Seven of nine brands received at least four stars on softness of clothes. The two brands that received three stars were Coles Smart Buy and Woolworths Essentials
Fabric softener isn't a necessity, it's a luxury that makes your clothes and bedding much more pleasant to wear and smell. However, comfort and aesthetics are perfectly valid values to hold as a consumer – and they're popular qualities to pursue. Half of survey respondents (50%) said they use fabric softener with every wash.
Brand loyalty is big with fabric softener – 49% of respondents said they always use the same brand. However, it's never too late to consider a switch, so let's explore what's important when choosing a fabric softener.
You may also be interested in:
Softness of clothes
The primary reason people use fabric softener (it's even in the name) is to make clothes and bedding feel soft and comfortable. The active ingredients are designed to lubricate fabric fibres and reduce static, which creates more space between the fibres and thus makes them feel softer. It stands to reason that some formulas can do a better job of this than others. The only brand rated five stars for softness of clothes was the overall winner and aptly named Comfort. Most of the rest scored a still respectable four stars, while trailing behind were Coles Smart Buy and Woolworths Homebrand on three stars.
Scent
As well as having soft clothes, you'll naturally want them to smell – natural. Our research found scent to be the second greatest driver of customer satisfaction for fabric softener. However, the appeal of the scents on offer can vary considerably. Our review again placed Comfort on top for scent, with ALDI Anco, Cuddly and Fluffy tying for second with four stars apiece. The rest have to make do with three stars.
Value for money
Given that fabric softener is an unnecessary luxury, it's important for many consumers to weigh up the added cost of using a particular fabric softener versus its benefits. Close to half of survey respondents (46%) said that they tend to buy whichever brand is cheapest or on special when they go shopping, so perceived value for money is quite an important factor. Budget grocery powerhouse ALDI has topped the value for money ratings this year, with its Anco brand taking out five stars, as well as budget-friendly Coles Smart Buy. It was tough for many brands to win over customers on value for money, with more than half of brands receiving just three stars.
Packaging design
It may seem superficial, but packaging can be important – beyond aesthetics, being convenient to use and having all of the necessary information presented clearly are factors for consumers to consider when deciding which bottle to bring home from the shops. Overall winner Comfort was the sole recipient of five stars for packaging design, with all the rest receiving four stars but for Coles Smart Buy and Woolworths Essentials.
Environmental friendliness
Whatever goes into the laundry will either come out as clean clothes, or be washed away with the waste water. Some consumers are concerned about how much damage the products they use in the laundry room may cause to the environment, whether it's used as greywater on the garden, goes into a delicate septic system, or goes out into the environment through the drain. The amount of waste involved in packaging is also a big issue. The only five-star rated fabric softener brand for environmental friendliness this year was Earth Choice, which is greywater and septic system safe, biodegradable, and comes in fully recycled or recyclable packaging.