Kleenex nothing to sneeze at in tissue ratings
Facial tissues have come a long old way since the humble handkerchief! Think hypo-allergenic, lavender, eucalyptus and Aloe Vera fusions, giving consumers plenty of choice for their nose-y needs. Tissues are certainly a supermarket staple for many Australians. And besides the big-name brands, there are also a number of homebrand alternatives, so what's best? Is it worth spending more on the named brands, or do the supermarket labels tick all the boxes? This is exactly what our customer review aims to find out.
We've surveyed more than 2,400 shoppers and asked about their recent purchase of tissues to identify which brands make up the perfect blend of quality and price. Consumers rated their brand of choice on a number of key factors, including strength & quality, softness, packaging design, value for money, and overall satisfaction. So, which brand topped the results in 2019?
After losing its place to Quilton last year, Kleenex has reclaimed top spot in this year's tissue review with five stars for overall customer satisfaction, strength & quality, softness and packaging design, plus three stars on value for money.
Best-Rated Tissues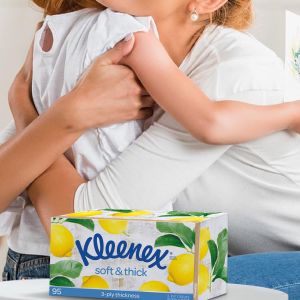 The seven brands to feature in our 2019 tissues review were rated in the following order for overall customer satisfaction:
1st Kleenex
2nd Quilton
3rd ALDI Confidence
4th Sorbent
5th Coles
6th Woolworths Select
7th Symphony
Last year's winner Quilton had to settle for second place this time, with ALDI Confidence and Sorbent coming in close behind, all with four stars for overall satisfaction. Supermarket labels Woolworths Select and Coles, alongside Symphony, received three stars overall.
Other results of note included ALDI Confidence being the only brand to get five stars on value for money, while also receiving five stars for packaging design, alongside this year's winner and Quilton. Quilton also received top marks on strength & quality, while Kleenex earned the sole five-star rating for softness.
Read on for an overview of the seven brands in our ratings, followed by what to consider when buying facial tissues.
Top Tissue Brands
Kleenex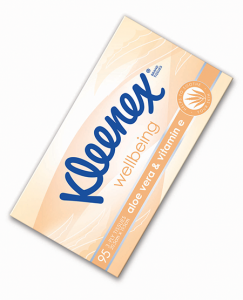 Kleenex has been around since the 1920s, launching in Australia the following decade. Kleenex offers various lines of tissues, including its 'Wellbeing' tissues in three options – Aloe Vera, Eucalyptus and Lavender scented tissues – while the Everyday range features three-ply thickness. It also has To Go packs for when you're out and about with a Slim Pocket Pack designed to fit in – you guessed it – your pocket! Plus, you'll also find anti-bacterial Wet Wipes within the range.
Kleenex 3ply Aloe Vera & Vitamin E Facial Tissues (95 pack)
Kleenex 2ply Everyday Facial Tissues (200 pack)
Kleenex 3ply Large & Thick Tissues (95 pack)
Kleenex 4ply Aloe Vera Pocket Pack Tissues (6 pack of 9 tissues)
Kleenex 3ply Slim Wallet Pack Tissues (6 pack of 8 tissues)
Kleenex was rated five stars for overall satisfaction in 2019, as well as for strength & quality, softness, plus packaging design. However, it got three stars in regards to value for money.
Quilton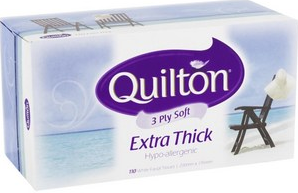 Quilton offers a range of two, three and four-ply facial tissues, claiming to not just be for your nose but ideal for make-up removal, mopping up small spills, and wiping away any tears. You might like to take these with you if you're watching a rom-com at the movies! Its two-ply line is a hypo-allergenic option, designed for those who suffer from mild skin irritations. Quilton also has two Aloe Vera infused choices in either three or four-ply, claimed to help reduce redness and dry skin. In addition, for blocked noses, you'll find Eucalyptus infused three-ply tissues.
Quilton 3ply Facial Tissue White (55 pack)
Quilton 3ply Facial Tissues Soft White (95 pack)
Quilton 2ply Tissue Hypo-allergenic (250 pack)
Quilton Gold 4ply Tissues Aloe Vera (100 pack)
Quilton 3ply Eucalyptus (95 pack)
Quilton received four stars for overall satisfaction and softness, as well as achieving five stars on both strength and packaging design. However, it was also rated three stars for value for money.
ALDI Confidence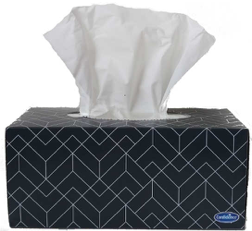 The German supermarket is a favourite for many household staples, including multigrain bread and long life milk. Its facial tissues come packed in a number of fairly funky and modern designs, with each pack containing 224 two-ply white facial tissues. The range also features Aloe Vera and Vitamin E infused tissues, claimed to be hypoallergenic.
ALDI Confidence 3ply Facial Tissues (120 pack)
ALDI Confidence 3ply Tissues Aloe Vera & Vitamin E (120 pack)
ALDI Confidence received four stars for overall satisfaction and strength, with five stars on value for money and packaging design. However, it was rated just three stars on softness.
Sorbent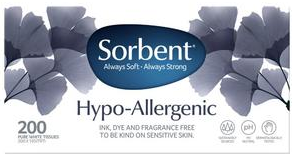 Sorbent launched in Australia in 1952 and provides toilet paper, wipes and facial tissues in its range. Sorbent's facial tissues are available in Soft White, Thick & Large, Hypo-allergenic and Velvet, stated to offer something for every member of the family. Its hypo-allergenic facial tissues come in a 200 pack and are claimed to be dermatologically tested for use on sensitive skin with no additives, inks, dyes or perfumes.
Sorbent Facial Tissues Thick & Large White (95 pack)
Sorbent Facial Tissues 4ply Pocket Pack (6 pack)
Sorbent Facial Tissue Thick & Large Frangipani & Vitamin E (90 pack)
Sorbent Tissue Gold Cube (60 pack)
Sorbent Thick and Large Facial Tissues (95 Pack)
In our 2019 review, Sorbent scored four stars for overall satisfaction and all other categories, except value for money where it received three stars.
Coles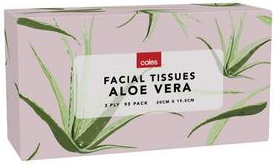 Coles facial tissues are stated to be packed in Australia from imported ingredients. Its range consists of a 224 pack of two-ply white tissues, a 95 pack of three-ply tissues enhanced with Aloe Vera, a 95 pack of eucalyptus infused facial tissues, and a standard 90 pack of two-ply white facial tissues. You might also find a limited edition lavender infused option (95 pack).
Coles White Facial Tissues (224 pack)
Coles Aloe Vera Facial Tissues (95 pack)
Coles Eucalyptus Facial Tissues (95 pack)
Coles White Facial 90 Tissues (90 pack)
This year, Coles was rated three stars overall and in most other research categories, except value for money where it received four stars.
Woolworths Select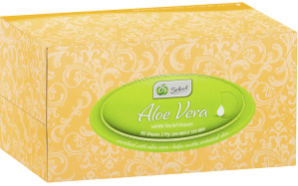 Supermarket giant Woolworths offers its line of facial tissues under the 'Select' brand. Woolworths Select Facial Tissues feature an Aloe Vera infused option in three-ply (95 pack). Woolworths states the Aloe Vera is a natural ingredient that's designed to help soothe irritated skin.
Woolworths Select Facial Tissues Aloe Vera White 3ply (95 pack)
Woolworths Select received three stars for overall satisfaction, but achieved four stars on value for money. It was rated three stars for all other variables – strength & quality, softness and packaging design.
Symphony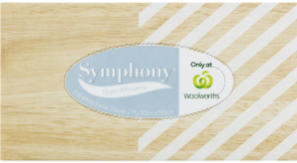 Symphony tissues are available at Woolworths. Its range is said to be soft to the touch yet two-ply strong and low lint. According to Symphony, it uses recycled waste paper for its packaging wherever possible, with no chlorine used in its tissue making process. It has a number of trendy box designs and three pack varieties.
Symphony 2ply Facial Tissue (228 pack)
Symphony Facial Tissues White 3 pack (228 tissues each)
Symphony scored three stars for overall satisfaction, as well as in all other areas – strength & quality, softness, packaging design and value for money.
You may also be interested in:
What to consider when buying facial tissues
As well as revealing which tissue brands are highest rated, our research identified the following drivers of customer satisfaction when it comes to facial tissues:
Strength and quality: 41%
Value for money: 26%
Softness: 23%
Packaging design: 10%
Before we dive into each of these factors below, our research also identified the following interesting findings:
Strength & Quality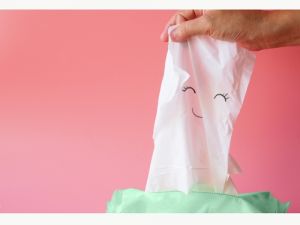 Tissues may be a relatively low-cost grocery item, but shoppers have high expectations about quality. More than half (54%) of survey respondents told us they've tried more than one brand, and it makes sense – there are plenty of options out there, making it easy to switch when one brand doesn't live up to expectations.
Value for money
It seems clear from these findings that strength & quality is the aim of the game, although consumers are still very conscious of price. At the high-end, you could easily spend $3 on a jumbo box from a major label, while homebrand tissues from Coles, Woolworths and ALDI all cost under $1. Just under a third (28%) of survey respondents said they generally buy the cheapest brand.
Swapping some big-name brands for private labels is a simple and easy way to cut your overall grocery costs, but when it comes to tissues, you'll have to ask yourself whether or not the extra quality is worth paying for.
Softness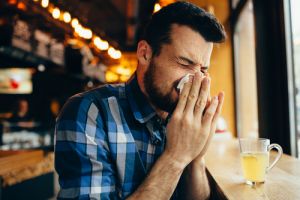 Softness was the third greatest driver of customer satisfaction, according to our research, with many brands boasting "extra-soft" tissues. It might not all be just marketing, with 26% of survey respondents indicating they notice a difference between normal tissues and specially marked 'soft' tissues. So, it may be worth investing in extra soft tissues, as the only thing worse than having a cold is having a tissue that feels like you're blowing your nose into sand paper.
Packaging design
While the packaging design shouldn't impact the tissue itself, it's nice to have a nice-looking box sitting on the table to blend in with your home décor. Most brands come in a variety of colours and designs, as well as something fun for the kids, featuring movie characters they know and love. While it might be just a simple thing, it can make a big difference.
Which tissues should I buy?
Ultimately, the tissue brand you buy will depend on your budget and preferences. If you have sensitive skin, you may opt for a brand that specifically targets this, while those looking to save a dollar or two might find themselves scanning for the cheapest option in the aisle.
Tissues are a staple whether you're at home or out and about, so having them stocked is a must! Each brand also features a range of sizes whether you need a jumbo box or a small packet to fit in your back pocket. We hope this guide has provided a helpful insight into what Aussies think of the tissue brands available from your local supermarket.
About the author of this page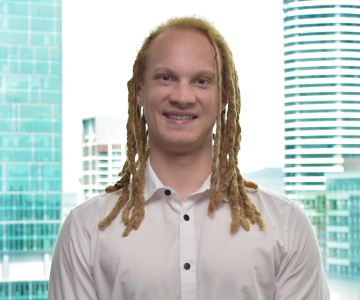 This report was written by Canstar Blue's Content Projects Lead, Dean Heckscher. He's our resident expert on all things automotive, health & fitness, streaming and more. Dean is also one of Canstar Blue's customer research report producers, helping to turn complicated subjects into easily-digestible information for our readers. He's passionate about helping consumers make better-informed purchase decisions on all manner of consumer goods and services.
Online Grocery Shopping Reviews
Picture credits: little star/shutterstock.com, SG SHOT/shutterstock.com