No Vac finishes with a clean win in carpet cleaner ratings
Knocked a glass of red wine onto your gorgeous new carpet? Returned home to see that your pet pooch has left an unwelcome present while you were away? The living room is often the setting for some of the most frustrating and agonisingly messy accidents that occur in the home. Considering it can be the hub of the home, it's no surprise that things like this might happen – all you can do is to be prepared for when the time eventually comes. That means having a top-notch carpet cleaner on hand to save the day. But which carpet cleaners are best-prepared to help you out?
To see which carpet cleaner Aussies consider as their go-to solution for their regular cleans, as well as those occasional emergencies, we've again surveyed more than 1,200 adults who have recently bought and used a cleaning product in the last six months. They rated brands on effectiveness, ease of use, smell, environmental friendliness, packaging design, value for money and overall satisfaction. Brands which met the minimum required sample size of 30 responses are featured in the final results.
This year, No Vac bumped up to  top spot after receiving the only five-star rating for overall satisfaction. It also earned full marks in the majority of other categories, including effectiveness, ease of use, smell and packaging design.
Best Carpet Cleaners
Here are the best brands for carpet cleaners in Australia, as rated by consumers in Canstar Blue's latest review.
No Vac
Vanish
Carpet Power (OzKleen)
Britex
Strike
No Vac is clearly helping households forget about the plate of nachos that dropped onto the carpet a few months back. Since finishing in second place last year, the brand has moved into number one spot with five stars across most categories. The majority of the other brands featured in our ratings achieved full marks in different areas, but ultimately landed on a respectable four stars overall.
Carpet Power and Britex proved to be particularly impressive in terms of effectiveness, each receiving five stars in the category. Carpet Power also managed to get the same result for packaging design, alongside Strike and No Vac. And despite ending at the bottom, Strike still struck gold when it scored the single five-star rating for value for money.
How to find a good carpet cleaner
Carpet cleaners will usually only see the light of day when they're desperately needed after an accident, so it stands to reason that you'll want a product that doesn't let you down. But carpet cleaners are some of the most-costly cleaning products you can buy, so you'll also want to make sure you're getting bang for your buck. Some carpet cleaners are also notoriously complicated to use, and will only work if their instructions are closely followed, meaning product design and ease of use are important considerations. Our research identified the following drivers of customer satisfaction:
Effectiveness: 46%
Value for money: 21%
Smell: 15%
Ease of use: 12%
Packaging design: 4%
Environmental friendliness: 3%
Our survey shows nearly half of shoppers (47%) have tried multiple multiple carpet cleaners, with one in three (30%) likely to recommend their product to friends and family. The results also revealed that many Aussies are creatures of habit. One in four (26%) people stick to the same brand of carpet cleaner, while others buy whichever is the cheapest or on special (25%).
Carpet Cleaners Compared
No Vac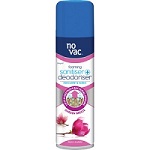 With No Vac, it's all about making carpets smell good again, whether you've just witnessed a horror spill or you're just looking to freshen things up a little! It offers a range of different fragrances for around the home, including 'Garden Breeze', 'Purifying Breeze' and 'Linen Breeze'. The cleaning process seems nice and straight forward – just spray a light foam over the carpet after vacuuming and leave it to dry. No Vac claims its quick-drying foam penetrates deep into carpet fibres, instantly neutralising odours. But if your carpet cleaning needs are a little more urgent, No Vac also has an 'Instant Spot & Spray Remover' that is stated to eliminate both old and new stains without the need for rubbing, scrubbing or vacuuming.
No Vac achieved a near clean sweep, with five stars for effectiveness, smell, ease of use, packaging design and overall satisfaction. It got three stars on value for money and environmental friendliness.
Vanish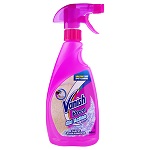 Part of the Vanish family of cleaning products, Vanish carpet cleaner offers a three-step solution. There is the power foam, which acts as a deodoriser and freshens up the place. Then it's the powder solution for a deeper clean to remove tough dirt and dust. After these processes, stains can be removed with the 'Preen Oxi Action' spray bottle. You can't really miss Vanish on supermarket shelves because of its bright pink branding.
Vanish has clearly cleaned up its act since last year, moving up a couple spots to second place. It landed on four stars in most categories, including effectiveness and value for money.
Carpet Power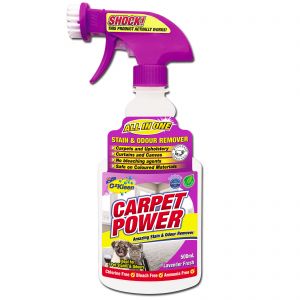 For a product that can work on carpet (including wool carpet) as well as a variety of materials, OzKleen Carpet Power is designed to additionally clean clothing, upholstery and other different fabrics, including silk. To remove nasty smells, Carpet Power contains a fresh lavender fragrance and a surfactant claimed to target bad odours. It's also stated to use microencapsulation technology to make sure any germs that come along with the odours are also eliminated.
The trigger spray bottle comes in a standard 500ml size, with 3L and 15L options also available online.
OzKleen Carpet Power achieved five stars for effectiveness and packaging design, and four stars for most of the remaining categories, including overall satisfaction. The only exceptions were ease of use and environmental friendliness, where it ended on three.
Britex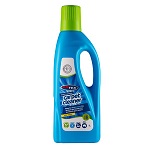 Britex is a powerhouse in all things carpet cleaning, allowing you to not only rent a professional-grade carpet cleaning machine, but pick up cleaning products if you're after something smaller. The specialist cleaning company delivers a swag of solutions to see you right through, from the initial carpet soaking to the finishing touches. Britex also has a range of spot stain removers, odour blasters and urine removers, allowing customers to tackle any problem.
Britex impressed when it came to effectiveness, as the only brand to achieve five stars in this area. It achieved four stars everywhere else, except ease of use and packaging design where it got three stars.
Strike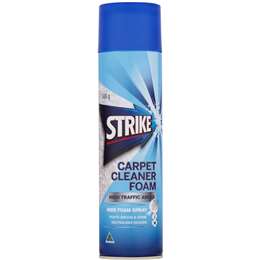 For an affordable carpet cleaner, Strike hits the mark with its range of household cleaning products. Strike Carpet Cleaner is designed to work on grease and grime, and neutralise bad odours with its wide foam spray. The product comes in a 500g can and is exclusively available from Woolworths.
Strike rounded up the results on four stars. But it still did well when it came to value for money and packaging design, where it got a five-star rating for each category. Strike also got three stars for smell.
Other carpet cleaners
While our latest ratings featured five major brands, there's still plenty of products out there worth considering. Here are a couple:
Dr Beckmann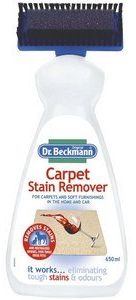 Dr Beckmann is serious about cleaning and offers a number of products to help you tackle laundry, textile and household mess. Its Carpet Stain Remover is boasted for its Oxi-powered formula, with a brush head attachment available to get right into the carpet and remove any tough stains and odours from upholstery and carpets. It's stated to be a tool for the home or the car and might be useful for pet owners.
Orange Power
Orange Power is another brand working to make the task of cleaning carpets short and sweet. The Aussie-owned and made company uses only natural ingredients – including actual orange peel. On the supermarket shelf, shoppers can expect to find a carpet and upholstery cleaner, as well as a 'Sticky Spot and Goo Dissolver'.
Other Cleaner Ratings
About the author of this page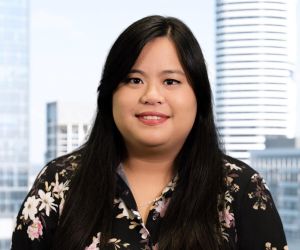 This report was written by Canstar Blue's home & lifestyle journalist, Tahnee-Jae Lopez-Vito. She's an expert on household appliances, grooming products and all things grocery and shopping. In addition to translating our expert research into consumer-friendly ratings reports, Tahnee spends her time helping consumers make better-informed purchase decisions on all manner of consumer goods and services, while highlighting the best deals and anything you need to be aware of.
Online Grocery Shopping Reviews
Picture credits: Syda Productions/shutterstock.com