Dr Beckmann prescribed for carpet cleaner emergencies
The living room is often the setting for some of the most frustrating and agonisingly messy accidents that occur in the home. Considering it can be the hub of the home, it's no surprise that at some point, someone knocks over their glass, drops their plate of food, or just squishes their muddy shoes into your gorgeous new carpet. It might even be you! That fact is that accidents will always happen – all you can do is to be prepared for when the time eventually comes. That means having a top-notch carpet cleaner on hand to save the day. But which carpet cleaners are best-prepared to help you out?
Regardless of whether you're the most fastidious homeowner in Australia, or a household with five young children who all like to make a mess when they play, the reality is that your carpet is going to need cleaning at some point. That's why we've surveyed hundreds of adults across the country to find out which carpet cleaners may be the go-to for those regular cleans, as well as those occasional accident emergencies. In 2019, Dr Beckmann was found to scrub up best for carpet cleaners, as the only brand to achieve five-star reviews on effectiveness, value for money and overall customer satisfaction. It also got top marks for ease of use, with four stars on packaging design, smell and environmental friendliness.
Best-Rated Carpet Cleaners
Five major brands were included in Canstar Blue's 2019 review of carpet cleaners. They were rated in the following order for overall customer satisfaction:
1st Dr Beckmann
2nd No Vac
3rd Britex
4th Vanish
5th Orange Power
As a good carpet cleaner can be the difference between being reminded about the plate of nachos you dropped a few months back and wowing guests as they come through the door, it may prove handy to know what other consumers think of their carpet cleaner before you next visit the supermarket.
With Dr Beckmann taking out the top spot with multiple five-star ratings, No Vac received four stars for overall satisfaction, while Britex, Vanish and Orange Power were left on three stars overall. There were a number of noteworthy results this year, with most brands receiving at least one five-star rating. No Vac got top marks for ease of use and smell, while Vanish was rated five stars for packaging design. Orange rated well for packaging design, smell and environmental friendliness.
How to find a good carpet cleaner
Carpet cleaners will usually only see the light of day when they're desperately needed after an accident, so it stands to reason that you'll want a product that doesn't let you down. But carpet cleaners are some of the most-costly cleaning products you can buy, so you'll also want to make sure you're getting bang for your buck. Some carpet cleaners are also notoriously complicated to use, and will only work if their instructions are closely followed, meaning product design and ease of use are important considerations. Our research identified the following drivers of customer satisfaction:
Effectiveness: 51%
Value for money: 23%
Packaging design: 8%
Environmental friendliness: 6%
Smell: 5%
Value for money was the second most important factor in our review, with our survey finding that 49% of consumers buy the cheapest brand or brand on special, while 48% always buy the same brand. 56% opted for cleaning products that didn't irritate or trigger allergies, while 79% of all respondents stated that they had tried multiple carpet cleaners.
Carpet Cleaners Compared
Here is an overview of the five brands in this year's carpet cleaner review, in order of their ranking.
Dr Beckmann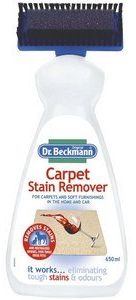 Dr Beckmann is serious about cleaning and offers a number of products to help you tackle laundry, textile and household mess. Its Carpet Stain Remover is boasted for its Oxi-powered formula, with a brush head attachment available to get right into the carpet and remove any tough stains and odours from upholstery and carpets. It's stated to be a tool for the home or the car and might be useful for pet owners. Dr Beckmann was a standout performer this year, scoring five stars for overall satisfaction, as well as effectiveness, value for money and ease of use. It got four stars in all other categories.
No Vac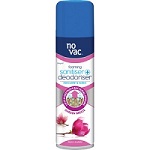 With No Vac, it's all about making carpets smell good again, whether you've just witnessed a horror spill or you're just looking to freshen things up a little! It offers a range of different fragrances for around the home, including 'Garden Breeze', 'Purifying Breeze' and 'Linen Breeze'. The cleaning process seems nice and straight forward – just spray a light foam over the carpet after vacuuming and leave it to dry. No Vac claims its quick-drying foam penetrates deep into carpet fibres, instantly neutralising odours. But if your carpet cleaning needs are a little more urgent, No Vac also has an 'Instant Spot & Spray Remover' that is stated to eliminate both old and new stains without the need for rubbing, scrubbing or vacuuming. Last year's winner, No Vac got four stars for overall satisfaction in 2019, as well as most other categories, but achieved five stars for ease of use and smell.
Britex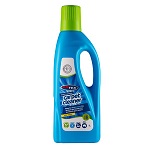 Britex is a powerhouse in all things carpet cleaning, allowing you to not only rent a professional-grade carpet cleaning machine, but pick up cleaning products if you're after something smaller. The specialist cleaning company delivers a swag of solutions to see you right through, from the initial carpet soaking to the finishing touches. Britex also has a range of spot stain removers, odour blasters and urine removers, allowing customers to tackle any problem. Britex scored three stars for overall satisfaction, as well as for packaging, ease of use and smell. It was four stars on effectiveness, value for money and environmental friendliness.
Vanish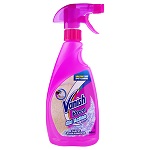 Part of the Vanish family of cleaning products, Vanish carpet cleaner offers a three-step solution. There is the power foam, which acts as a deodoriser and freshens up the place. Then it's the powder solution for a deeper clean to remove tough dirt and dust. After these processes, stains can be removed with the 'Preen Oxi Action' spray bottle. You can't really miss Vanish on supermarket shelves because of its bright pink branding. Vanish was a bit of a mixed bag in this year's review, receiving just three stars for overall satisfaction, as well as on value for money and environmental friendliness. However, it got five stars on packaging and four stars for effectiveness and ease of use.
Orange Power
Aussie-owned and made – and all-natural – Orange Power was rated three stars for overall satisfaction this year, but earned top marks for packaging design, environmental friendliness and smell. It was four stars on value for money and ease of use. It uses only natural ingredients – including actual orange peel – but you wouldn't really expect anything else from a product by a company called 'Orange Power'. On the supermarket shelf, shoppers can expect to find a carpet and upholstery cleaner, as well as a 'Sticky Spot and Goo Dissolver'.
Other Cleaner Ratings
About the author of this page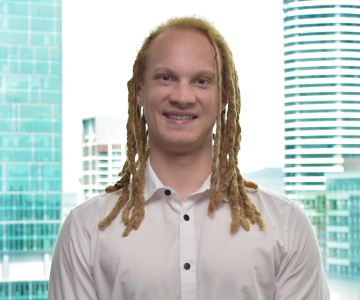 This report was written by Canstar Blue's Content Projects Lead, Dean Heckscher. He's our resident expert on all things automotive, health & fitness, streaming and more. Dean is also one of Canstar Blue's customer research report producers, helping to turn complicated subjects into easily-digestible information for our readers. He's passionate about helping consumers make better-informed purchase decisions on all manner of consumer goods and services.
Online Grocery Shopping Reviews
Picture credits: Syda Productions/shutterstock.com