Fact Checked
Bosisto's & Pine O Cleen scrub up as best floor cleaners
If there's an area of your home that usually gets overlooked when it comes to regular cleaning, there's a good chance it's the floor. It may be directly under your feet, but how often do you really think about it? We're all so concerned about benchtops, sinks and kitchen appliances that we often forget about one of the greatest harbourers of dirt and bacteria – the floor! Where do you think that dropped food and mud from your shoes end up? Clean floors are essential to a healthy home, especially if you have young ones that crawl around. So, which floor cleaners will be the best bet for maintaining a clean and healthy floor? Our customer satisfaction ratings can offer a helpful guide.
This year, we surveyed more than 1,100 consumers across Australia for their feedback on the floor cleaners they have purchased and used in the last 12 months. Respondents rated brands on effectiveness, environmental friendliness, ease of use, smell, packaging design, value for money and overall customer satisfaction. Those that received the minimum required survey sample of 30 responses are featured in our results.
Bosisto's & Pine O Cleen finished hand in hand in our latest ratings, each earning five-star reviews for overall satisfaction and in the majority of categories surveyed.
Best Floor Cleaners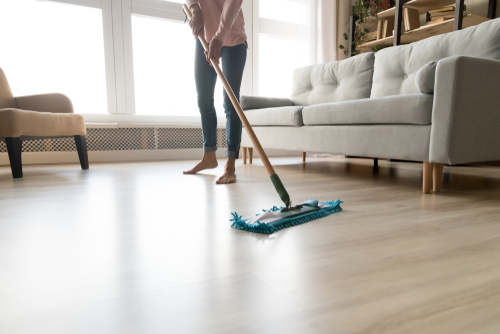 Here are the best floor cleaners in Australia, as rated by consumers in Canstar Blue's latest review:
Bosisto's & Pine O Cleen
Earth Choice
Strike
Handy Andy
ALDI Power Force
Coles Ultra
Dettol
Ajax
This year, Bosisto's & Pine O Cleen share the top spot in our floor cleaner ratings, both achieving five stars for smell, ease of use and overall satisfaction. Bosisto's also got full marks for packaging design, with Pine O Cleen achieving the same for effectiveness.
Earth Choice got the edge over other brands for environmental friendliness, while Strike took the crown for value for money.
How to find a good floor cleaner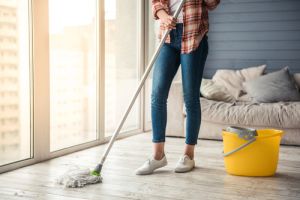 Whether you get on your hands and knees and scrub, or lean on your trusty old mop or steam mop, you will undoubtedly need a floor cleaner that lives up to its dirt-busting promises. This means removing any stubborn stains you can see on the floor – and handling those tiny bacteria particles you can't see. You'll also want a floor cleaner that's easy to use and represents good value for money. Our research this year identified the following drivers of customer satisfaction when it comes to buying a floor cleaner:
Effectiveness: 23%
Value for money: 20%
Ease of use: 17%
Smell: 15%
Packaging design: 14%
Environmental friendliness: 12%
The majority of Aussie households have tried multiple floor cleaners (47%), while one in three (38%) stick to the same brand. Over a third of our respondents even said they would recommend what they use to their friends and family (38%). Interestingly though, fewer people now opt for whichever floor cleaner is the cheapest or on special (27%).
Floor Cleaners
Bosisto's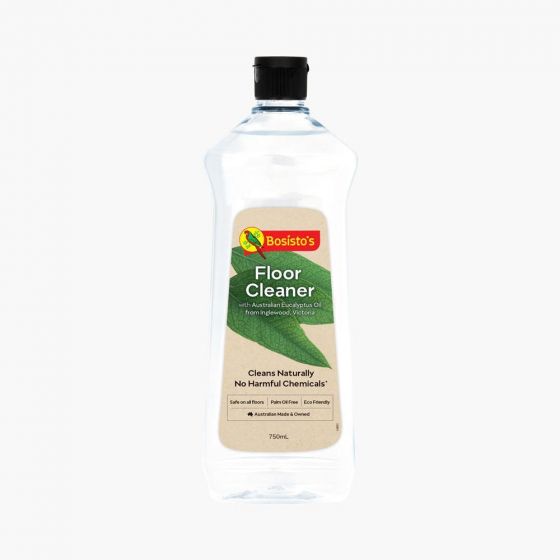 Bosisto's isn't just for soothing colds or freshening your laundry, but also for cleaning your house with natural ingredients. The brand offers a range of natural cleaning products with locally sourced essential oils, primarily eucalyptus oil. Bosisto's range of cleaning products includes three products including a multipurpose cleaner and a bathroom & shower cleaner for $5, and a floor cleaner for $6. Bosisto's products are available to purchase from all major supermarkets including Coles and Woolworths.
Bosisto's rated five stars for smell, ease of use, packaging design, and overall satisfaction. It got four stars for effectiveness, and environmental friendliness, plus three stars for value for money.
Pine O Cleen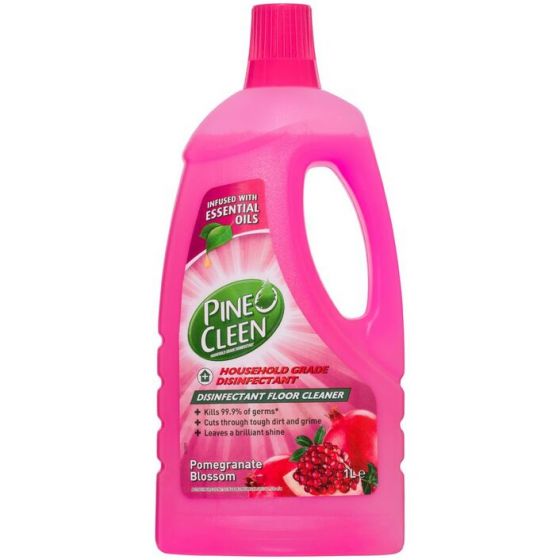 Pine O Cleen is advertised as being an expert in all things benchtops, floors and other surfaces, with a wide range of cleaners that typically fall into the 'multi-purpose' category. Its floor cleaner range includes scents such as Crisp Apple and Pomegranate Blossom which claim to cut through tough dirt and grime on floors and tiles, while supposedly killing 99.9% of germs.
Pine O Cleen rated five stars for effectiveness, ease of use, smell and overall satisfaction. It got four stars for value for money and packaging design, plus three stars for environmental friendliness.
Earth Choice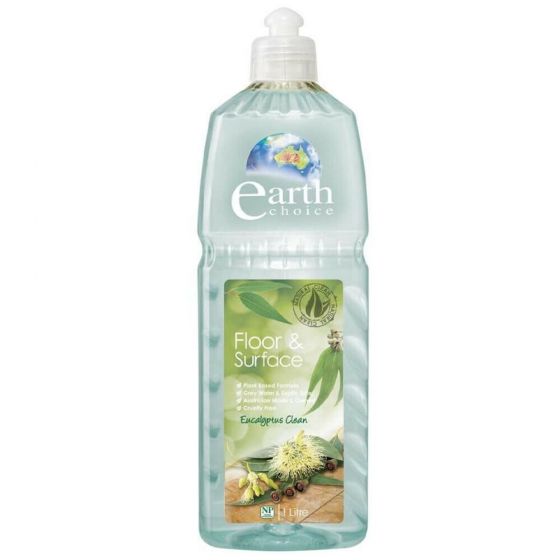 Keeping your home nice and clean doesn't have to come at a cost to the environment, and Earth Choice is certainly a brand of choice for many eco-conscious Aussie consumers. Amongst its armoury of cleaning products is its Floor & Surface cleaner in an attractive bottle made from recycled plastic. It's claimed to see off dirt and grime and leave surfaces streak-free, while also limiting waterway pollution. It can be used undiluted on surfaces or diluted in a bucket for floor cleaning.
Earth Choice achieved an impressive five-star rating for environmental friendliness and four stars in the remaining categories, including effectiveness, value for money and overall satisfaction.
Strike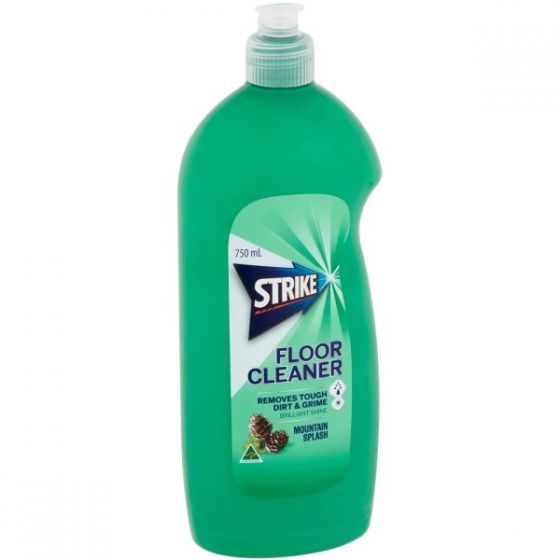 For something that's cheap as chips, the Strike Floor Cleaner knocks pretty much all other brands down on price. The product is exclusive to Woolworths and available for just $2, with each bottle containing 750ml. Although there's not much variety when it comes to scents, currently only offering Mountain Splash.
Strike impressed consumers on its value for money, earning five stars. It got four stars for overall satisfaction and in the majority of categories, except environmental friendliness where it finished on three stars.
Handy Andy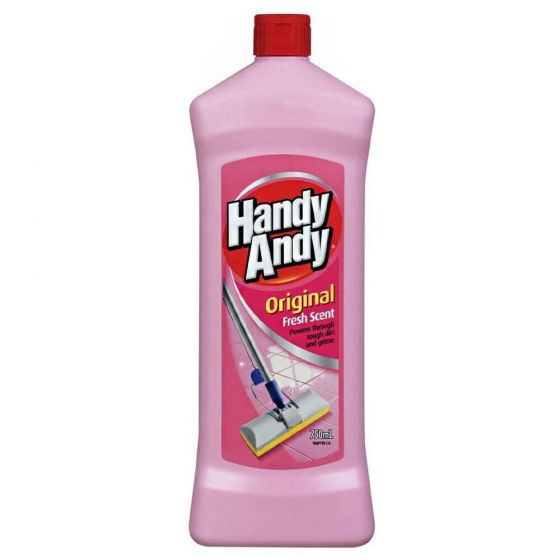 You can still use this product if your name is Steve or Amy and consider yourself pretty useless around the house. A Clorox brand, Handy Andy is a no-frills floor cleaner that comes in a 750ml bottle. The bright pink branding on its Original Fresh Scent option means you can't miss it on supermarket shelves. The Handy Andy Clorox All Purpose Green Cleaner comes in a leafy green bottle.
Handy Andy achieved a four-star rating for effectiveness, ease of use and overall satisfaction. It got three stars in the remaining areas.
ALDI Power Force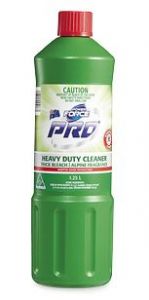 Discount supermarket chain ALDI flexes as one of the leading brands when it comes to floor cleaners. It offers the Power Force Pro Heavy Duty Cleaner in a couple of scents − Original, Citrus and Wooden − each sold in a 1.25L bottle for $2.19. The homebrand product is marketed as a hospital-grade disinfectant and contains supposedly powerful and thick bleach to remove dirt, mould and odours.
ALDI Power Force earned four stars for smell, ease of use, value for money and overall satisfaction. It got three stars everywhere else.
Coles Ultra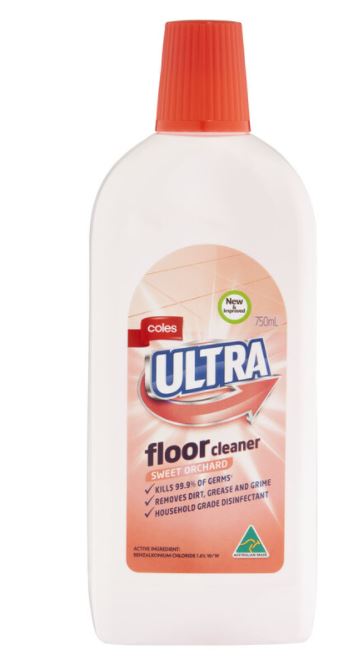 Coles has a range of budget-oriented floor cleaners, including its no-frills liquid cleaner, as well as some floor wipes made for easy spill clean-ups. Similarly to Woolies' Strike, Coles' Ultra floor cleaners check out at an affordable $2 for a 750ml product or $2.30 for a 1.25L bottle.
Coles Ultra earned a respectable four-star rating in several areas, including effectiveness, ease of use, and overall satisfaction. It got three stars for environmental friendliness and everywhere else.
Dettol
Dettol is arguably best-known for its Glen 20 sprays and antibacterial gels, although boasts a wide range of trigger sprays and wipes to help keep areas of your home looking and feeling clean. When it comes to specific floor-cleaning products, Dettol has its 'Floor Cleaning System'– basically large wipes that are claimed to kill 99.9% of the germs you're likely to find on the floor.
Dettol ended on four stars overall, as well as for effectiveness and ease of use. It got three stars in the remaining categories.
Ajax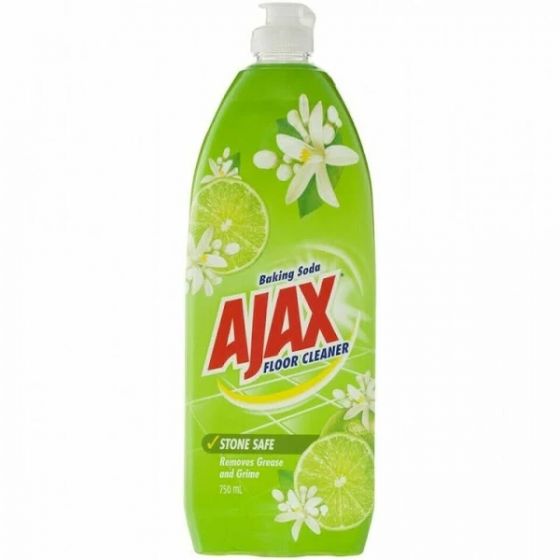 Walk into a supermarket almost anywhere in the world and you'll probably find a few bottles of Ajax. It's a global brand with an extensive range of cleaning products for your bathroom, kitchen and everything in between. The Ajax floor cleaner is available in a lemon or lime scent and is infused with baking soda– a natural ingredient known for effectively cleaning stone surfaces.
Ajax rounded up the scores on three stars for overall satisfaction, and across the board.
Other Cleaner Ratings
About the author of this page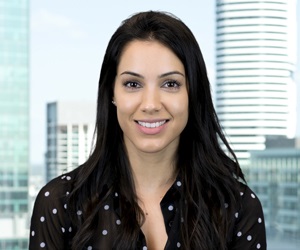 This report was written by Canstar Blue's Home & Lifestyle Content Lead, Megan Birot. She's an expert on household appliances, health & beauty products, as well as all things grocery and shopping. When she's not writing up our research-based ratings reports, Megan spends her time helping consumers make better purchase decisions, whether it's at the supermarket, other retailers, or online, highlighting the best deals and flagging anything you need to be aware of.
Online Grocery Shopping Reviews
Picture credits: VGstockstudio/shutterstock.com, Fizkes / Shutterstock.com.