ALDI Powerforce is a powerhouse in oven cleaner ratings
There aren't many household chores that evoke quite the same sense of dread as cleaning the oven, particularly if you don't have a self-cleaning model. But there are a few things you can do to make the job a little easier, including regular cleaning, and cleaning with the right tools. We can't make you pull out your rubber gloves every couple of months, but we can help you find the best oven cleaner for your needs with our annual customer reviews and ratings. We've surveyed more than 900 consumers across Australia to find out which oven cleaners are scrubbing up best in kitchens, with brands rated on their effectiveness, value for money and ease of use (among other things) to help you pick the right one for you.
The idea is to make the choice of which oven cleaner to buy a little easier, with our ratings reflecting the real-world experiences of consumers just like you. So, what did we find? Well, for the first time, ALDI has sprung to the top of the oven-cleaning table, as the only brand to score five stars for overall satisfaction. Its 'Powerforce' oven cleaner also got five-star reviews in all other categories, with the one exception of smell, where it rated three stars, but that hasn't stopped Aussies from using and recommending it. After all, you don't really expect an oven cleaner to smell nice, do you?
Best-Rated Oven Cleaners
The six brands in Canstar Blue's 2019 oven cleaners review were rated in the following order for overall customer satisfaction:
1st ALDI Powerforce
2nd Jif
3rd Mr Muscle
4th OzKleen
5th Easy Off
6th Selleys
Jif, Mr Muscle and OzKleen all received four stars for overall satisfaction, while Easy Off and Selleys got three stars. Other noteworthy results this year go to Mr Muscle, OzKleen and Selleys, who were all rated five stars for cleaning effectiveness, along with this year's winner. Smell was a tough factor to win over consumers for oven cleaners, however, with no brand earning higher than a four in this category, with most scoring only two stars. That said, this rated variable was noted to be the least important driver of satisfaction in the research, meaning oven cleaners can be forgiven for smelling a bit funky…
How to find a good oven cleaner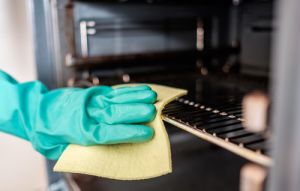 Picking the best oven cleaner for your needs and budget is no easy feat. Not only will you find numerous products on supermarket shelves, but it also tends to be the most expensive type of household cleaner. There are more factors to consider than you may realise, especially things like product design and ease of use – because there's little point having an effective oven cleaner if you can't use it properly. To offer a guide on what to look for, our research identified the following drivers of overall satisfaction:
Effectiveness: 37%
Value for money: 25%
Ease of use: 19%
Environmental friendliness: 11%
Packaging design: 5%
Smell: 4%
Effectiveness was the most important factor behind customer satisfaction identified from our review, followed by value for money. You will naturally want an oven cleaner that does the job, but you won't want to pay more than you have to. Our survey found that 48% of consumers tend to buy the cheapest brand of oven cleaner, while 49% always buy the same brand. Interestingly, 65% of survey respondents stated they trust the supermarket label cleaning products to do a good job, with 74% also trying natural cleaners such as vinegar or bicarb soda to take of business.
In addition, 54% of respondents use gloves or protective gear when cleaning, while more than half (55%) buy cleaning products that don't trigger allergies or irritations. 80% have tried multiple oven cleaners, with 86% wishing they had a self-cleaning oven. Considering how much of an effort cleaning the oven can be, it's not surprising!
Oven Cleaners Compared
Here is an overview of the six brands in this year's oven cleaner review, in order of their ranking.
ALDI Powerforce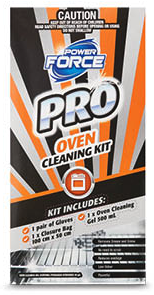 ALDI Powerforce is evidently winning over Aussie consumers, with the supermarket brand scoring five stars across all but one research category this year, the exception being smell. ALDI comes to the oven cleaning game with an interesting alternative to the old 'spray and wipe' or cream formulas – instead offering a complete oven 'cleaning kit', which includes a pair of gloves, oven cleaning gel and a closure bag. The closure bag is designed to help make cleaning easier by allowing users to cover the racks and trays in the cleaning gel, then pop them into the bag to soak in. After that, simply rinse them out, and the oven is ready for dinner time.
Jif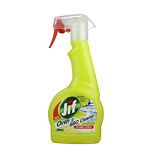 A global brand from the Unilever Corporation, Jif's most standout product for cleaning ovens is probably the 500mL Oven and Barbeque Spray, with its fume-free application. Jif has also been commonly-known for its oven 'creams', but it seems these products are currently hard to come by in Australia. Jif got four stars for overall satisfaction and most other categories. However, it rated just three stars for ease of use and packaging design.
Mr Muscle

A famous brand in the cleaning aisle, Mr Muscle's oven cleaner range includes two varieties, a heavy-duty option, as well as an odourless option. Its heavy-duty option is boasted for a unique self-scouring foam formula to emulsify baked on messes, while the odourless oven cleaner is claimed to have a non-caustic formula with no fumes. Jif rated top marks for effectiveness, which is arguably one of the most important factors. However, it fell short on environmental friendliness and smell, scoring just two stars in both categories, with the remainder of the variables on four stars, including overall satisfaction.
OzKleen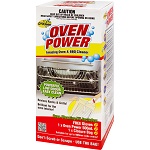 OzKleen is proudly Australian, manufacturing all its products in SE Queensland. OzKleen offers an oven 'power kit', similar to ALDI, featuring a closure bag, where racks and trays are popped in and smothered in 'Oven Power' for four hours, or overnight. After that, it's a simple rinse with hot water and detergent and you're on your way. For inside the oven, you simply smear the product and leave it for the same time period, before wiping down. OzKleen got four stars for overall satisfaction, with the same mark on value for money. It also received five stars on effectiveness, but just two stars on smell and three stars for all other rated variables.
Easy Off

Famous for its 'Bam' cleaning products and TV commercials, Easy Off also boasts a supposedly high-powered spray oven cleaner. The brand claims this requires no scrubbing and insists the spray can work on a warm oven in five minutes, while a cold one takes half an hour. Evidently, Aussie consumers were fairly pleased with its effectiveness, value for money and ease of use, rating Easy Off four stars in these categories. However, it had to settle for three stars on overall customer satisfaction this year, with two stars for environmental friendliness and smell.
Selleys
Perhaps best known for its DIY products like liquid nails and sealants, Selleys also makes a range of cleaners. Part of the Dulux group, Selleys has its fingers in all kinds of home improvement pies – oven cleaners included. There are three key products in the line-up – a heavy-duty gel, a spray cleaner, and wipes for easy and regular cleaning. Selleys earned three stars overall satisfaction, value for money and packaging design, as well as a two-star rating for smell. However, it was additionally rated four stars for ease of use and five stars for effectiveness.
Other Cleaner Ratings
About the author of this page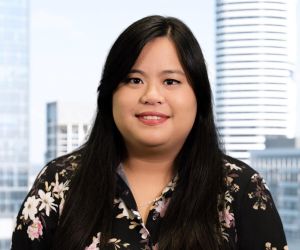 This report was written by Canstar Blue's home & lifestyle journalist, Tahnee-Jae Lopez-Vito. She's an expert on household appliances, grooming products and all things grocery and shopping. In addition to translating our expert research into consumer-friendly ratings reports, Tahnee spends her time helping consumers make better-informed purchase decisions on all manner of consumer goods and services, while highlighting the best deals and anything you need to be aware of.
Online Grocery Shopping Reviews
Picture credits: Iurii Stepanov/shutterstock.com