First there was David and Goliath, then Tom and Jerry and the heart-pumping chase between Road Runner and Wile E. Coyote. These days, there's nothing hotter than satisfying those late-night cravings or whipping up quick family dinners by chucking a few chips and nuggets in an air fryer and have it ready within a few minutes. But is the new opponent really better than the old school oven? Or does the air fryer still have lots of catching up to do?
In this guide, we step into the ring to take a closer look at the biggest battle facing Aussie kitchens for the past couple of years ─ air fryers vs ovens. Which is healthier? Is there much of a price difference? Is it worth having both?
What's the difference between air fryers and ovens?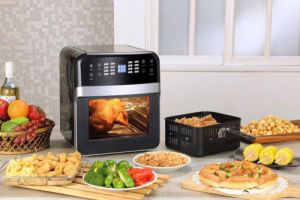 Air fryers and convection ovens (or ovens with a convection setting) essentially work the same the way, with both using powerful fans to spread hot air to heat your food. Except, the countertop alternative is designed to circulate the hot air around more quickly, with its comparatively small size also making it possible to cook within a short amount of time.
The two appliances are designed to be multifunctional. So generally, you should be able to roast, grill, bake and toast meals regardless of price. If you're willing to spend extra, both types of unit can give you added luxuries like rotisserie functionality and the ability to dehydrate food.
The reason why we're comparing air fryers to convection ovens is because a convection oven similarly uses a fan and an exhaust system to cook food, which isn't the case with a regular, conventional oven. This type of unit is also said to speed up the process by directing the air towards the food, instead of just existing as a large, hot container.

What's the cost difference?
Air fryers are significantly cheaper than ovens, which is unsurprising given it contains a much smaller cooking capacity. These can typically fit around 1.2L to 12L worth of food, with prices starting from just under $100 and reach up to $500. Alternatively, the standard oven capacity generally sits at 80L and models usually retail between $750 and $2,300.
Of course, there are always exceptions. Stores like Kmart and Bunnings, as well as online retailers such as Kogan, have recently started to sell cheap air fryers at a fraction of the price. This includes products from big-name brands including Philips and Tefal.

Cheapest air fryers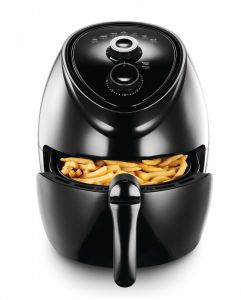 It's worth noting that air fryers from Bunnings are available exclusively online, so you can't check these out in-store. Plus, the products made available through the store's MarketLink. This means the items are sold and delivered by Bunnings Trusted Sellers, not Bunnings itself. Some of the third-party sellers include KG Electronic and Kitchen Warehouse. Here are some budget-friendly options on the market.
| Model | Retailer | Price |
| --- | --- | --- |
| Kmart 1.5L Air Fryer | Kmart | $49* |
| Kogan 4.2L Digital Low Fat 1400W Air Fryer | Kogan | $79.99* |
| Kmart 5.3L Air Fryer | Kmart | $89* |
| Heller 1350W 4L Air Fryer | Bunnings | $99* |
| Kmart 3-in-1 Air Fryer Oven | Kmart | $129* |
| Healthy Choice 1400W 5L Digital 5L Digital Electric Air Fryer | Bunnings | $118* |
| Tefal 4.2L Easy Fry Deluxe Air Fryer | Bunnings | $199.95* |
| Cuisinart 17L Express Convection Oven Air Fryer | Bunnings | $389.95* |
*Prices taken from respective retailers, correct as of July 2020.

Cheapest ovens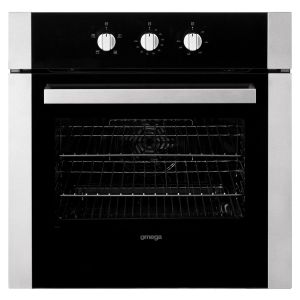 While ovens have a bigger price tag, high-end air fryers can still be expensive. If you shop around, you'll find there are built-in ovens on the market that cost a fraction of the price, or retail for an extra $100 to $200 compared to the pricier air fryers. We've listed a few below.
| Model | Retailer | Price |
| --- | --- | --- |
| Kogan 60cm Electric Built-in Oven | Kogan | $349* |
| EuroChef 60cm Stainless Forced Electric Wall Oven | Kogan | $479* |
| Euro Appliances 60cm Built-in Oven | Appliances Online | $639* |
| Omega 60cm Built-in Oven OO654X | Appliances Online | $679* |
| Haier 60cm Built-in Oven | Appliances Online | $689* |
*Prices taken from respective retailers, correct as of July 2020.

Air fryers vs ovens: What's healthier?
Which appliance can help you eat healthier? Here are a couple of factors to think about.
Both air fryers and ovens can cook without oil
A big reason why the air fryer has been dubbed as a healthier way of cooking is because it doesn't require oil at all, which isn't always the case when using a frying pan. But obviously, there are certain types of food like frozen fish or chips that similarly don't need any oil when cooked using either an air fryer or an oven. Both of these appliances also have grilling as a basic feature, offering another way to avoid greasy fingers.
Healthy cooking functions
Many appliance brands are also plugging the demand for healthy home cooking, by offering a wide range of steam ovens and steam combination ovens. You can usually find a model for just over $1,600, with higher-end units generally costing around $5,000.
Steam cooking has been a popular cooking method to staying lean. It's claimed to keep your veggies nutrient-rich, so you can still enjoy flavourful dishes without losing any of the vitamins. Unfortunately, this feature isn't included in air fryers, unless you're out to get a multicooker which happens to have air frying as one of the functions.
Air fryers vs ovens: Which can bake better?
When baking, the circulation of hot air has been claimed to be especially useful when making cookies because you don't need to toss and turn that sweet, doughy goodness in order to ensure an even bake. Convection heating also provides a pretty ideal environment for pies and pastries, since it can melt fat and produce steam to help the dough rise. In this case, everyone wins.
But if you're planning on whipping up a cake, bread, or basically anything born from batter, then you're better off sticking to a regular oven. The hot air created by the fan can cause your food to slightly tipple over or rise unevenly.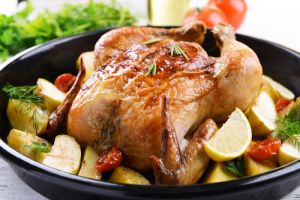 Should I get an air fryer or an oven?
Here are a few aspects to think about when deciding what's best for you.
Price
Features
Kitchen space
Price
If you're not keen on spending more than $300 on a new appliance, an air fryer has a few nifty functions to help in the kitchen. The fact that it doesn't require much oil might also mean saving a few extra bucks on groceries in the long run, so it's a win-win for your wallet.
But if you're willing to put your hard-earned cash on a high-end model, then it's worth checking out different types of ovens as well as air fryers. A bigger price tag usually means more features, not just capacity. Although the cost of air fryers usually fluctuates depending on the number of functions, with many multicookers also often stocked under the same category. So, you're likely to find a basic 17L model for much cheaper than a 5L air fryer with all the bells and whistles.
Features
Without a doubt, ovens knock it out of the park when it comes to features. This also includes models from brands like Westinghouse, which contain air frying functionality in addition to things like pyrolytic self-cleaning and grilling. The large capacity is also ideal for cooking hearty, family-sized meals.
Kitchen space
Depending on which model you get, an air fryer can still take up a decent amount of bench space. But it's a convenient option if your kitchen doesn't have much room for many appliances, especially bulky white goods. Plus, air fryers perform many of the same basic functions as ovens, so they can prove a much more practical cooking solution to anyone who'd rather use the oven for storage.