Fact Checked
Everyone is always looking for the best and newest appliance, but does it always pay off? Air fryers are a handy appliance that can whip up your favourite snacks in an instant in comparison to cooking in an oven. However, ovens can offer more functionality to cook your favourite sweet treats like cakes and cookies. So which will it be? Read on to find out more about both appliances in this Canstar Blue guide. 
What is an air fryer?
An air fryer is a relatively new appliance that circulates air to cook food to the same consistency as deep frying. It's a healthier option compared to deep frying in oil and takes less time to cook foods like chips, chicken, nuggets and more. 
What's the difference between an air fryer and an oven?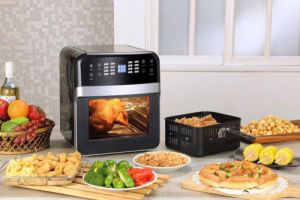 Air fryers and convection ovens (or ovens with a convection setting) essentially work the same way, with both using powerful fans to spread hot air to heat your food. Except, air fryers are designed to circulate the hot air around more quickly, with its comparatively small size also making it possible to cook within a short amount of time.
The two appliances are designed to be multifunctional. So generally, you should be able to roast, grill, bake and toast meals regardless of price. If you're willing to spend extra, both types of units can give you added luxuries like rotisserie functionality and the ability to dehydrate food.
---
Read more: How to use an air fryer (beginners & seasoned cooks edition)
---
How much does an air fryer cost?
Air fryers generally retail from $150 to around $550 for higher end models. Cheaper brands of air fryers will sit around the $150 to $200 mark and will have the basic features and a smaller capacity, whereas more expensive models will have a larger capacity and more functions and accessories. 
How much does an oven cost?
There are plenty of types of ovens to choose from, including convection ovens, steam ovens and pyrolytic ovens. Ovens are generally the more expensive choice with basic models starting at around $500 and some models reaching upwards of $12,000. More expensive models will have a significantly larger capacity and have capabilities like self cleaning, steaming and more.    
---
Read more: What you can & can't cook in an air fryer
---
Is an air fryer healthier than an oven?
Air frying is a healthier alternative to deep frying food, however it is not necessarily healthier than cooking foods in the oven. What can be deemed 'healthier' can come down to a number of factors like what it is you're cooking for example. Frying foods in an air fryer can have similar results to cooking the same food in a convection fan-forced oven. If you're uncertain about what is healthier it is best to speak to a healthcare professional about what may be the best for your diet.  
Factors to consider when choosing between an air fryer and an oven
Like with purchasing any appliance, there are a number of factors to take into consideration –  particularly if you're choosing between two different ones. 
Price:

Price plays a big role in decision making when purchasing and the same can be said for ovens and air fryers. Ovens are significantly more expensive but can offer additional features that air fryers can't. However, air fryers are cheaper and can cook food faster, so it comes down to your budget preference. 

Features:

Ovens generally have more features than an air fryer meaning you can do things like bake cakes, steam foods and much more. Some ovens even offer air frying functionality making them an ideal choice as far as features go. 

Space:

Air fryers are a more compact appliance and can be moved around the kitchen easily making them an easy choice as far as space goes. Ovens are bulkier and take up more room but can be integrated into your kitchen by wall mounting them. 
Choosing an appliance
Whether you're an oven purist or want the newest, niftier appliance you can't go wrong with either appliance. Before diving head first into a purchase it's important to consider all factors and weigh up the best choice for your home. If you're still not certain about which one to buy, compare air fryer brands below. 
Original Author: Tahnee-Jae Lopez-Vito