Fact Checked
We all want fresh laundry and there's nothing better than freshly washed sheets or blankets. But which kind of laundry detergent should you be using to get that fluffy clean blanket feel? Laundry powder and laundry liquid can serve very different purposes and give different results. Read on to find out more about each and which may be an ideal choice for you.   
Laundry Liquid
Liquid detergent is fairly self-explanatory, it's a laundry detergent that is liquid as opposed to powder. Liquid detergent can be a standard laundry detergent but you can also find many pre-wash or fabric softener liquids that can be used alongside a standard detergent.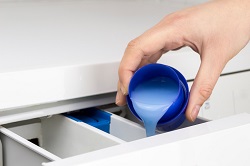 Laundry liquid pros and cons
Like any product, laundry liquid has a number of pros and cons to help buyers make a decision. Some of the pros and cons include: 
Pros:
Tend to perform better on greasy stains and soiling from food or the body. 

Can be more delicate on fabrics as opposed to powder due to no dissolving needed.

Easier to use in general compared to powder.

Produces more environmentally friendly greywater which is kinder on the environment.
Cons: 
Bleaches and other chemicals are harder to stabilise in liquid detergent, potentially sacrificing a deep cleaning ability.

Most come in a plastic bottle that is tougher to recycle.

Fragrances used in laundry liquids are more susceptible to break down over time, giving it a shorter shelf life. 
Laundry liquid cost
Laundry liquid will tend to cost from $10 to upwards of $20 depending on the brand and size of the bottle. You can find entry level brands will offer basic laundry liquid but you will miss out on added ingredients to help with the cleaning of your clothes. You can buy laundry liquid at shops like Woolworths, Aldi and Coles. 
Laundry Powder
Laundry powder is a powdered version of a washing detergent and offers a few different benefits from its liquid version. It's a stronger everyday performer as far as washing detergent goes, able to lift tougher stains from different fabrics.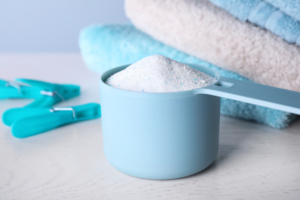 Laundry powder pros and cons
While laundry powder has a number of benefits, it does come with its drawbacks that come down to some preferential choices. Their pros and cons include:
Pros: 
Tougher on harsher stains like dirt and blood. 

Carries more bleaching and brightening ingredients due to a more controlled concentrate. 

Easy to use in a washing machine with a simple scoop.

Almost all packaging can be recycled or repurposed making it fairly environmentally friendly.
Cons: 
Possibility of white powdery residue leftover after a wash, particularly during cold washes.

If being used for pre-treatment soaking or use, can be messier and requires more steps to dissolve.
Laundry powder cost
Laundry powder is generally the cheaper option of the two detergent types and there are more bulk options to choose from so you're getting more bang for your buck. Laundry powder will generally cost you $10 to $15 for packs around the 2kg mark from stores like Aldi making it the cheaper choice for your laundry if you're choosing purely on price. 
Is liquid or powder laundry detergent better?
Like with any purchase, personal preference is a huge determinant for which type of laundry detergent is best for you. While liquid detergent can be simpler to use and softer on fabrics, it may not give the results you're after. On the other hand, laundry powder will get those tough stains out but may also leave some residue behind on colder washes. If you're still uncertain about what type of detergent to choose, compare detergents below to make the right choice.