Beefmaster BBQs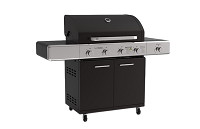 Whether you're a master chef or not, Beefmaster likely has a barbecue for you. It produces a relatively concise range of both built-in and mobile BBQs, with four burners being the status quo. Most are finished in attractive black and stainless steel designs. All Beefmaster BBQs are gas-powered with LPG as standard, but natural gas conversions are also available. This requires a licensed plumber to install the conversion. Beefmaster mobile barbecues start at about $650, while built-in units start at around $550, which is right in-line with what our research suggests people are spending. Beefmaster was rated three stars for overall satisfaction and every other category in our review.
How much do BBQs cost?
Our survey indicates that Aussies spend an average of just under $600 on new BBQs – $579 to be exact. This is obviously a fair hit to the hip pocket, so it pays to get your purchase right. Just over a quarter of respondents said their BBQ was an impulse purchase. Factors that affect the price of BBQs include:
Number of burners
Size of barbecue
Quality of build materials
Extra features (such as storage shelves and hooks, tiered shelves, and side grills)
Aside from cooking some snags and steak, BBQs are often as much of a social statement as they are about cooking food. More than a quarter (28%) of respondents to our survey said they bought a BBQ to impress friends and neighbours. Nearly half said they don't use their barbecue as much as they thought they would, so that $600-odd price tag could in fact be going to waste.
How do I choose the right BBQ?
There are a few questions you'll need to ask yourself to make sure you choose the right barbecue for you, and don't end up wasting money on something you don't need. Our survey indicated some key drivers of satisfaction, listed in order of importance:
Cooking performance
Reliability
Design (i.e. size, shape, aesthetics)
Value for money
Ease of cleaning
Above all, cooking performance is the most important factor in driving BBQ satisfaction. Ease of cleaning was a surprisingly important factor, and it may not be a factor that people consider – until they need to get their hands dirty! 25% of survey respondents admitted they don't clean their BBQ after every use. Ick!
Below is a list of considerations you may want to run through before purchasing a new BBQ.
Portable, freestanding or built-in barbeques
Portable barbecues are great for camping, beach trips, or those with very limited storage space.
Freestanding BBQs can range from the traditional kettle BBQ to a great big heavy-duty grill that takes two strong people to pick up. Some have two or four wheels for manoeuvrability, some just sit on castors, so there's variable ability to move it around. That means you're not trapped with your BBQ in just one place if you like being able to change things around, or want to take it with you if you move house.
Build-in barbecues are designed to be permanently built into your outdoor entertaining area. They look great, but once it's installed you can't move it.
Fuel type
The debate over which produces the better flavour – charcoal or gas – has been ongoing ever since both types existed. If you want to be able to grill without getting a smoky flavour, go with gas – 81% of those we surveyed said they cook with gas.
Charcoal gives that authentic hot coal roasting experience, but produces ashes that can be a pain to clean up.
Gas is faster, more efficient, and easier to control the heat, but has more intricate parts to keep cleaned and maintained.
Natural gas means you've always got access to fuel supply, while with LPG you need to keep getting the gas bottle refilled. However, not all homes have a natural gas connection and you'll need a licensed professional to connect it to your barbecue.
How many BBQ burners do I need?
Consider how much food you'll want to be barbecuing at once. Another way to think about it is to consider how many people you'll usually be cooking for. There's no point in having a massive barbecue just to feed two people.
Charcoal barbecues tend to be smaller, except for many of the spit roast designs. This, combined with the fact that charcoal grills need constant monitoring to keep the heat right, means that to feed a big party you'll be spending most of your time working on the barbecue.
Gas barbecues can have anywhere from 2 to 8 burners. If you'll usually be cooking for only one to three people, a 2 or 3 burner barbecue should do the job. However, if you'll be throwing parties or have a large family to feed, 4 or more burners may be necessary to get everything cooked rather than having to cook lots of little batches.
A hotplate type barbecue, or a grill with a hotplate section, is good for grilling onions, stir fry, or other food that's too small to cook on a regular grill. Alternatively, you can just use a pan or other barbecue-suitable cookware on top of the grill if you'll only need it occasionally.
A side burner may also be helpful if you'll want to cook or heat sauce, soup, or other liquids.
Extra features & accessories
Consider how often you'll need to move the barbecue – if the answer is 'frequently', you should test how easily you can move it before making the purchase. Four wheels make it super easy, but lighter and smaller barbecues often have two wheels at one end with a handle at the other to lift and push/pull.
Side tables can be super handy for keeping food on hand ready to be put on the barbecue, and move cooked food off the grill.
Shelves underneath the barbecue and hooks on the sides make it easier to keep all of your barbecue tools and other bits and pieces together and easily accessible.
Two-tiered grills have an extra grill suspended over the main one, usually for keeping food warm or steaming vegetables.
A rotisserie either built into the barbecue or a removable one is good for slow-roasting meats and vegetables. A rotisserie is a long metal rod suspended horizontally across the grill, slowly rotated, usually by an electric motor, to roast food.
What food can I cook on my BBQ?
You can grill pretty much anything that won't fall, melt or disintegrate through the bars or mesh. Vegetables grilled on a BBQ have a different taste and texture, particularly those that go very well with smoky flavours such as mushrooms and eggplant. Pineapple is a classic barbecue food, as the flames caramelise the sugars for a fresh, sweet and juicy addition to your burgers or kebabs. We asked our survey respondents about their favourite BBQ foods and they reported:
Steaks – 37%
Sausages – 16%
Chops or cutlets – 9%
Kebabs or skewers – 8%
Burgers – 7%
Fresh seafood – 4%
Ribs – 4%
Despite the Aussie stereotype about shrimp, steak is a popular and easy BBQ choice across backyards and decks across the country.