If your lawn resembles anything more than a nature strip, or you live on anything bigger than half an acre, no doubt you've considered purchasing a ride-on mower to help make tackling the lawn a bit easier. Ride-on lawn mowers may be the key weapon for surly groundskeepers and old fellas on acreage, but if you live on anything sizeable, a ride-on mower can be time-saving and even a little fun. But venture into the ride-on market, and you're sure to be met with plenty of options. So which one do you choose? Find out all you need to know about ride-on mowers, and which brands offer them, in this Canstar Blue guide.
Types of Ride-On Lawn Mowers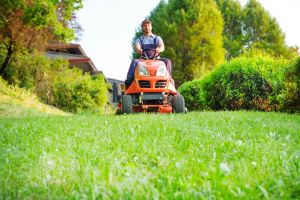 There are three main types of ride-on lawn mower at the hands of the mowing enthusiast – rear engine models, lawn & garden mowers, and 'zero-turn' ride-on mowers. If it's a cheap lawn mower you want, you've come to the wrong page. Find out about ride-on mower types below.
Rear-Engine Ride-On Mowers
Rear-engine mowers are about as basic as you can get in the ride-on mower space, and may also be cheaper. Rear-engine mowers often feature power levels similar to that of higher-end push mowers, and offer the same versatility, except you sit on it. Rear engine mowers usually feature smaller chassis and cutting widths, making them ideal for smaller lawns and sneaking through tight spaces such as gates and fences. Rear-engine ride-ons often lack the grunt of other ride-on types. However, the convenience factor and small frame may make it worthwhile for lawns that aren't so big.
Lawn & Garden Ride-On Mowers
These are probably what first come to mind when you think of ride-on lawn mowers. With an engine at the front, and grass dispersal often to the side, these ride-on mowers are a common staple of any property over one acre in Australia. Compared to rear-engine mowers, there is often more engine power, with much wider cutting widths of 70cm or more to make larger yards get a good chop.
Lawn ride-on mowers are often the smaller of the two, while 'Garden' varieties are often bigger, featuring more power, bigger cutting widths and resembling more a 'tractor' than 'mower'
Zero-Turn Mowers
Perhaps the most peculiar, zero-turn mowers feature super-tight turning circles, with the ability to make a 360° turn possible. Most feature large cutting widths of 100cm or more, making short work of most lawns. Zero-turn mowers also feature higher top speeds, with a lightweight frame and comparatively high power figures. Zero-turn mowers are somewhat of a premium compared to other types and are best suited to manicuring fussy lawns, fields and golf courses. But they do have solid options for those living on a big lot in rural areas, who take a lot of pride in their lawn. Suburban dwellers may not see much use in a zero-turn mower, however.
Features to look for in a ride-on lawn mower
If you know what type of mower you want to buy, you'll probably want to consider some of the features that can either make or break your mowing experience.
Mowing, mulching & catching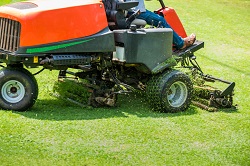 Rather than just spit out grass, some mowers catch it or send it through an on-board mulcher to allow for easy grass recycling. Mowers without this feature aren't necessarily worse-off but it all comes down to what you prefer.
Catching evidently works better for smaller lawns where reaching capacity isn't as much of an issue
Mulching works for bigger yards with finer grass, while discharging works better for coarse grass
Automatic vs Manual
Can't decide between automatic or manual transmission? Like cars, automatic transmissions on mowers are much easier to use. But manual transmissions are still often cheaper. So, you'll have to consider, is it worth the few extra dollars in your pocket for the extra hassle of having to change gears? Just like a car, a manual transmission may suit those who like ultimate control or who find it engaging, but for the vast majority an automatic may get the job done more conveniently.
Hills & Slopes
Weight is a huge factor, as it can not only impact the performance and manoeuvrability of your mower, but it can also impact driver safety. This applies on hills especially, as lawn mowers can weigh in excess of 100kg, and with a rider on top can skew centre of gravity.
If your property is sloped, a zero-turn mower sits lower and hence has a lower centre of gravity, making it safer to transverse hills and uneven terrain
For maximum stability on sloped surfaces, an all-wheel drive model may be a preferred option, but may cost more. However, can you afford to injure yourself in a roll-over accident?
What size ride-on lawn mower do I need?
Ride on mowers come in lots of shapes and sizes, with various cutting widths and engine capabilities. Keep in mind that many mowers still feature specifications in imperial measurements, as many brands cater towards the US market. Lawns half an acre or less may be more suited to a push mower.
Size of Lawn
Mower Size & Type
Price Guide
Up to 1 Acre
·         Lawn ride-on with a 30-42" cutting width

·         Zero-turn with 42" cutting width

$2,000-$5,000
Up to 2 Acres
·         Lawn ride-on with a 46-48" cutting width

·         Zero-turn with 46-48" cutting width

$3,000-$7,000
More Than 2 Acres
·         Ride-ons with 50" or bigger cutting width

·         Zero-turn mowers with a 50-60" cutting width

$7000-$15,000+
Ride-On Lawn Mower Brands
In Australia, there are a number of ride-on mower brands available, each with a number of models available for purchase, from models suited to residential addresses that are just too big for a push mower, through to commercial grade mowers for those after that professional touch. Read on to find out what each brand has available.
John Deere Ride-On Lawn Mowers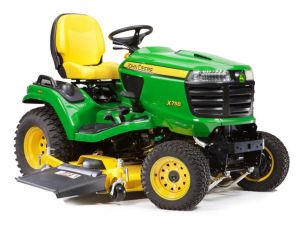 Perhaps synonymous with rugged versatility and the vast American prairies, John Deere features a large range of mowing solutions, with its consumer ride-on catalogue featuring:
100 Series
X300 Select Series
X500 Select Series
X700 Signature Series
ZTrak Zero-Turn Series
As you'd expect, the 100 Series generally offers the most basic functionality, with power figures starting at around 13kW, with the base level S100 model featuring a 42inch cutting width, with the 100 series going up to a 48inch cutting width. The X700 Signature Series features models such as the X738, which includes 4WD for optimal traction, electronic fuel injection for easy starting, 25HP engine, iTorque power system, rubber engine mounts to reduce vibration, 19.7L fuel tank, 54inch cutting width, optional MulchControl attachment as well as six seating settings to ensure you're comfortable while getting through the lawn.
John Deere also offer the ZTrak Zero-Turn ride-on range, which includes the Z300, Z500 and Z700 series, with engine power ranging from 20HP to 25HP, and cutting widths from 42inch to 60inches. Models also include a heavy-duty welded steel frame for those tough conditions, with large caster wheels able for better traction on slopes and uneven ground. You can also adjust the seat for additional comforts, with armrests and other comforts available on the majority of models.
Toro Ride-On Mowers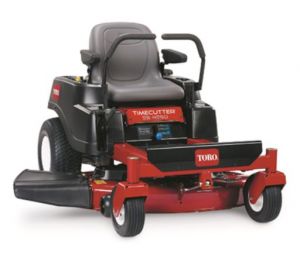 While also offering a number of commercial options, for the residential consumer, Toro specialises in zero-turn mowers, as well as offers a battery-powered option for those who don't need the latest and greatest. Toro's range of ride-on mowers include:
Toro e-Series Ride-On
Toro TimeCutter SS
Toro Timecutter MX
Toro Titan
Toro Z Master
The battery powered e-Series mower features a 30inch cutting width, 72V rechargeable battery that can power the brushless motor for up to two hours, with 10 cutting heights, mulching capabilities and side discharge, high back seat, LED front lights, cup holder and cruise control for equal parts comfort and hard yakka.
The zero-turn range is Toro's bread and butter, with the bulk of its range here. Including the TimeCutter, Titan and Z Master series, each are built to help tackle larger areas and tougher terrains. The TimeCutter series ranges from 32inch to 50inch cutting widths, with the base-level 32inch model also including three speeds, a dual hydrostatic drive system for maximum torque and manoeuvrability, as well as an 11.4L fuel tank to ensure you get the job done.
The Toro Titan range includes model between 48 and 60inch cutting widths, with the larger mowers featuring the MYRIDE suspension system for additional comfort, protective tyre fenders, an 18.9L fuel tank, handcrafted high-back seat and armrests to help you on those long days on the tools. The top-of-the-line Z Master 2000 mower includes a 60inch cutting width, TURBO FORCE cutting deck to tackle the big jobs, USB port, cup holder and storage space to help stay comfy when you're behind the wheel, as well as MYRIDE suspension, 58cm rear wheels to help with steep terrain and plenty of customisable options, including lights, mounts and bags to help get the job done.
Victa Ride-On Mowers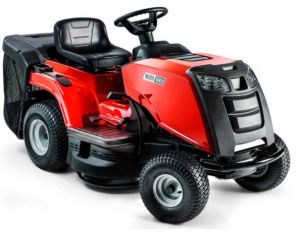 The name synonymous with mowing in Australia, Victa is an Aussie icon and produces a relatively large range of both lawn tractors and zero-turn mowers. They can generally be broken up into three series, including:
The entry-level VRX – the 155 – features a 38inch cutting width and 42cm turning radius, with dual wash ports, electric blade engagement, 6L fuel tank, seven cutting heights and headlights to help you see where you're going. The VRX 175 includes a 210L catcher for when you want to keep on top of the clippings, as well as a 42cm turning radius.
The SPX range includes the 2342, which includes a two-cylinder 23HP engine, 13.3L fuel tank, 42inch cutting width, seven cutting heights, 35cm turning radius, headlights as well as cruise control to help when you've got plenty of yard to get through. And if you're really looking to get that professional finish, the ZRX range may be the one for you, with this range featuring zero-turning radius capabilities. The entry-level 2246 model also includes a 46inch cutting width, armrests, 11.4L fuel tank, adjustable seat, 13 cutting heights and a 22HP engine for equal parts comfort and grunt.
Is a ride-on lawn mower worth buying?
Whether swapping out the push mower for a ride-on mower is dependent on a few factors, including how much money you have to spent, how much lawn you have to cut, and how much time and energy you may save yourself from making the swap. Ride-on mowers certainly make the job more convenient, as you can simply drive around, but you're bank account may take a hit, as ride-on mowers don't come cheap, with even the more basic models setting you back a few thousand dollars. If you're on a bit of land though, a few thousand dollars is more than worth being able to have a bit of free time up your sleeve at the end of the mowing. But if you're still not sure, be sure to look into all of your options beforehand, as you may a brand and model that includes additional features such as mulching capabilities (or even just a cup holder for that well-earned drink), and one that can make quick work of the yard.