ALDI Power Force comes out sparkling as best-rated disinfectant
It's not just muddy shoes we should be worried about bringing inside the house. Various types of bacteria such as E. coli and fecal matter are commonly found under the soles of our shoes, with different types of germs also potentially clinging onto other items we usually take outside, such as backpacks. Airborne bacteria are also common, especially in households with pets or with poor ventilation. Indeed, our homes can be breeding grounds for microbes, which is why it's important to have a good disinfectant on hand to keep surfaces clean and your family healthy. But, which products are worth stocking up on and which are not?
To find out, we surveyed nearly 2,000 Aussies for their feedback on the disinfectants they've purchased and used in the last six months. Respondents compared and rated brands on effectiveness, smell, ease of use, environmental friendliness, packaging design, value for money and overall satisfaction. Those which received the minimum required survey sample size of 30 responses are featured in our results.
In our first ever review of disinfectants, ALDI Power Force wiped away all doubt, to achieve a five-star rating for overall satisfaction. It also achieved full marks for value for money, ease of use and packaging design.
Best-Rated Disinfectants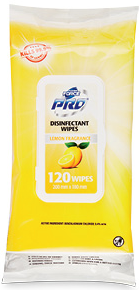 Here are the best disinfectants in Australia, as rated by consumers in Canstar Blue's 2020 review:
ALDI Power Force
Pine O Cleen
Strike
Domestos
Dettol
Dettol Glen 20
White King
Woolworths Homebrand
Coles Ultra
ALDI Power Force muscled its way to the top, receiving the only five-star rating for overall satisfaction as well as for ease of use, value for money and packaging design. Most other brands landed on four stars for customer satisfaction, while rival supermarket picks including Woolworths Homebrand and Coles Ultra rounded out the results on three stars overall.
But, ALDI Power Force wasn't the only one to shine. Pine O Cleen also impressed Aussies with its five-star smell, similar to Domestos which was the only brand to get full marks for effectiveness. White King also earned itself the other half of the crown when it came to ease of use, receiving its own five stars for the category.
Disinfectants
ALDI Power Force 

For affordable cleaning products that won't soak up too much of your hard-earned cash, ALDI Power Force has a couple of options. Available in a 300g can, the Anti Bac Plus Surface Spray Disinfectant is said to be effective against viruses such as Influenza, and can supposedly kill 99.9% of E. coli and S. aureus bacteria. The product is also stated to use odour neutralising technology to remove bad odours.
ALDI Power Force also includes the Pro Heavy-Duty Cleaner, another hospital-grade disinfectant which comes in a 1.25L bottle. Other products include disinfectant wipes and multipurpose cleaners. All items usually cost under $4.
ALDI Power Force was rated best for value for money, packaging design and overall satisfaction. It also scored five stars for ease of use and four stars everywhere else.
Pine O Cleen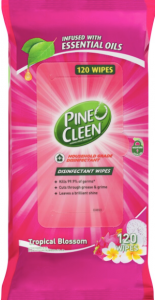 Pine O Cleen 'nose' what's up when it comes to smelling fresh. The brand offers a large selection of disinfectant wipes, floor cleaners and multipurpose cleaners in both spray bottle and wipe varieties. You can usually score these for anywhere between $5.69 and $13.69, with multipacks selling for up to $39.98, for a whopping 540 wipes! There'll be nothing you can't clean.
Pine O Cleen's hospital-grade disinfectants can be used on surfaces such as floors, walls, countertops and tables. They contain 1.5% benzalkonium chloride and are said to kill germs and eliminate grime and dirt. Different scents include lemon, eucalyptus, pine, 'crisp apple', lavender and lemon lime. Products are usually available in 400ml, 500ml, 750ml, 1L and 1.25L. Its wipes alternatively come in packs of 90, 120, 180 and 540.
Pine O Cleen rated best for smell and achieved a respectable four stars in all other areas, including effectiveness, value for money, environmental friendliness and overall satisfaction.
Strike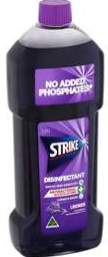 Strike is another easy supermarket pick, with all products exclusively available from Woolworths. From floor cleaners and glass cleaners, to bleach toilet gels and multipurpose disinfectant wipes, Strike has a wide variety of cleaning products to spruce up your home for $4 and under. The brand also sells mops, mop refills, scrubbing brushes and drain cleaners for $10-$12. Plus, there's a few scents to help keep your house smelling fresh, such as 'vanilla & pomegranate', eucalyptus and lavender. Strike spray cleaners usually come in 750ml bottles, while bottled disinfectants are usually available in 500ml, 750ml and 1.25L varieties. Carpet cleaners are additionally sold as either 300g or 500g cans.
Strike received a respectable four-star rating in most categories, including value for money and overall satisfaction. It got three stars for effectiveness, environmental friendliness and packaging design.
Domestos

The Domestos cleaner is an all-rounder, providing a hospital-grade disinfectant designed to kill germs, dirt and mould around your home. This product can be used on most things, including toilets, showers, bathroom surfaces, wastepipes, drains, kitchens and even for soaking nappies! The Domestos disinfectant is typically available for $5.50 and comes in a 1.25L bottle. The brand isn't just stuck on creating household cleaners. Domestos is also working towards improving safe access to a toilet for people around the world. It recently installed a 'see-through-loo' at Bondi Beach to help raise awareness on the importance of sanitation worldwide.
Domestos rated best for effectiveness and scored four stars in most of the remaining categories, including value for money and overall satisfaction. It got three stars for environmental friendliness.
Dettol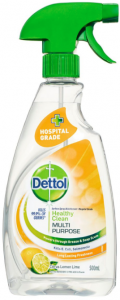 When it comes to anything clean, the brand Dettol just rolls of the tongue. It provides a large variety of household cleaning products, such as multipurpose sprays, disinfectant wipes, washing machine cleaners, laundry sanitisers, kitchen sprays and bathroom sprays. Dettol is also popular for its personal hygiene range, which includes instant hand sanitisers, hand wash, body wash and first aid & antiseptics. Dettol products usually check out for anywhere between $3.60 and $5.
Dettol achieved a clear four-star rating across the board, including for effectiveness, value for money, smell, environmental friendliness and overall satisfaction.
Dettol Glen 20

To leave a bathroom smelling like flowers, or for any other place in the house for that matter, Dettol's Glen 20 Disinfectant Spray is designed to neutralise bad odours and instead instill a fresh, 'country scent'. The product can be used on a variety of surfaces and fabrics.
Dettol Glen 20 is claimed to kill up to 99.9% of germs and viruses, on both hard and soft surfaces. It's also stated to attack mould allergens at the source, in addition to controlling the growth of mould and mildew on hard surfaces. The Dettol Glen 20 Carpet Cuddly Pet Disinfectant Spray is alternatively available, and is especially ideal for anyone looking to get rid of pet odours and dries quickly.
Dettol proved to be a good choice for ease of use, where it rated five stars. It ultimately landed on four stars across most categories, including effectiveness, smell and overall satisfaction. The only exception was value for money where it got three stars.
White King

White King is arguably one of Australia's leading cleaning brands with over 40 products on offer. The brand stocks various disinfectant products for your home, bathroom, toilet, laundry and powerful bleach products. The White King Original Disinfectant Cleaner comes in various concentrations and forms, including a 500ml spray bottle, and 1L and 1.25L bottles. These check out at about $4.60 (1L) in most supermarkets.
White King scored four stars for effectiveness, value for money, ease of use, packaging design and overall satisfaction.
Woolworths Homebrand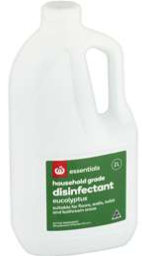 Woolworths' homebrand disinfectant is suitable for floors, walls, toilets and bathroom areas. It comes in a eucalyptus-scented 2L bottle which retails for $1.40. The supermarket also offers a 175g surface disinfectant 'zest burst' spray.
Woolworths was rated four stars for value for money, but landed on three stars everywhere else and overall.
Coles Ultra

Coles Ultra is the supermarket's budget-oriented line of household cleaning products, which includes of course air and surface disinfectants. Coles offers various options including an original surface spray claimed to get rid of odours and kill up to 99.9% of germs ($4), as well as a eucalyptus disinfectant ($2.50) and a hospital-grade disinfectant bleach cleaner to remove tough stains ($2.30).
Coles Ultra followed Woolies' trail, rating four stars for value for money and three stars overall.
Aussies' house cleaning habits
How do Aussies scrub up when it comes to keeping the home clean? Our survey revealed one in three (33%) respondents purchased and used disinfectant more regularly since the onset of COVID-19. A fifth (22%) even changed their habits to now use a disinfectant on a daily basis, with a handful of respondents also saying they usually carry a disinfectant when they leave the house (10%).
When picking the best option on the shelf, two-fifths (40%) of adults said they have tried multiple disinfectants. Although a small portion are worried what they buy isn't strong or effective enough (7%). Fortunately, one in three (35%) are happy enough to recommend their go-to cleaner to their friends and family. For some, it's a matter of staying with the same brand (35%) or just simply steering towards whichever is the cheapest option (24%).
Other Cleaner Ratings
About the author of this page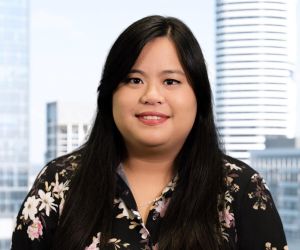 This report was written by Canstar Blue's home & lifestyle journalist, Tahnee-Jae Lopez-Vito. She's an expert on household appliances, grooming products and all things grocery and shopping. In addition to translating our expert research into consumer-friendly ratings reports, Tahnee spends her time helping consumers make better-informed purchase decisions on all manner of consumer goods and services, while highlighting the best deals and anything you need to be aware of.