Stihl proves a cut above the rest in line trimmers review
When it comes to tackling the lawn, a lawn mower sometimes just isn't enough to get that manicured look, particularly if you have tight spaces or plenty of edges to mow around. But instead of getting on your hands and knees with a pair of scissors or secateurs, households have another way to tidy up close to footpaths and trees – the line trimmer.
Known also as a whipper snipper, weed-whacker or weed-whip, the line trimmer is a handy addition to the shed, allowing you to tackle areas where you can't use a lawn mower, or even tackle the whole yard if you only have a small patch to take care of. Generally available in both electric and petrol models, you have plenty of options to choose from for the next time the grass gets away from you. But which model should you spend your hard-earned money on?
Thankfully, Canstar Blue has looked to cut down the amount of time you spend looking, surveying close to 400 Australian adults about their recent line trimmer purchases to see which brands are proving a cut above the rest. In our inaugural line trimmer ratings, lawncare giant Stihl has taken out top spot, earning five-star reviews for maintenance & servicing, reliability & performance, fuel economy/battery life, and most importantly, overall customer satisfaction.
Best-Rated Line Trimmers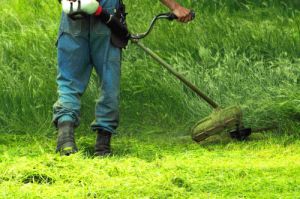 Canstar Blue's 2019 line trimmers review saw five brands compared and rated in the following order for overall customer satisfaction:
1st Stihl
2nd Honda
3rd Ryobi
4th Ozito
5th Makita
Honda, Ryobi and Ozito scored four stars for overall satisfaction, with Makita rated three stars overall. Despite scoring multiple five-star ratings, Stihl wasn't the only brand to perform well in the review. Both Honda and Ryobi were rated five stars for ease of use, with Ryobi also sharing the top spot for value for money with Ozito. So, there's plenty to think about, and budget will likely play a big part in your buying decision.
Read on as we explore what the five brands in our 2019 review have to offer, before going into detail about what you should look for in a good whipper snipper.
Line Trimmer Brands
Stihl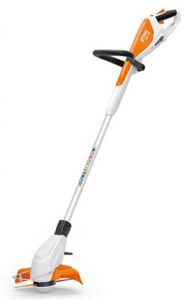 Founded almost 100 years, German brand Stihl is a mainstay with the yard work market, offering a range of products to help with jobs around the house, including chainsaws, pressure cleaners, hand tools, as well as gardening equipment such as hedge trimmers and line trimmers. Offering a wide range of line trimmers, from affordable electric models for small lawns to the Professional Series for those who have plenty of lawn to tackle, Stihl's products are available at Stihl retailers around Australia, as well as at hardware retailers.
Offering a wide variety of battery-powered models, Stihl's electric range weighs in between 2kg to 5kg, making them easy to move around your backyard and into those tight spaces. The FSA 45 introductory model includes features such as a loop handle for easy handling, a charge level indicator to ensure that you're not running on empty, as well as an adjustable mowing unit to help with edge trimming. If you're looking for something a bit more top of the line, the FSA 130 includes a single shoulder harness, variable speed control and a 280mm cutting diameter. Stihl also include corded models, each coming equipped with rubberised handles for comfort and weigh in under 4kg, making them ideal for smaller areas.
If you're after a petrol model, Stihl's Homeowner range may be more your speed. The introductory FS 38 model includes a multi-function handle, allowing you to easily stay in control of the engine output, while more expensive options, such as the FS 55, includes Stihl Easy2Start functionality, which features an additional spring accumulator which in turn places less stress on the starting device, meaning you won't throw your shoulder out when you go to start your whipper snipper.
Rated five stars for maintenance/servicing, reliability & performance, fuel economy/battery life and overall satisfaction, Stihl got four stars for value for money and ease of use.
Honda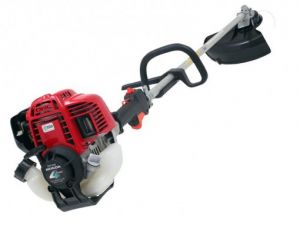 While better-known for its range of two and four-wheel vehicles, Honda has expanded into multiple markets that require an engine, including tools such as lawn mowers and whipper snippers. Available to purchase either through the Honda website or through a hardware or power equipment retailer, Honda line trimmers are generally more expensive than many of its competitors, but may be better-suited for those who have plenty to trim, or are passionate about their lawn care.
Honda's most affordable model, the UMS425 Brush cutter, includes a bent shaft apparently for easier manoeuvrability around the yard, perhaps making it ideal for those with tight spaces or sharp corners. Also featuring a 0.55L fuel tank and four-stroke engine, the UMS425 comes equipped with a loop handle and anti-vibration padding so that you're not left sore after tackling the lawn.
For those looking for something a bit more 'top of the line', the UMK435 may be the best tool for the job, featuring either a loop or bike handle depending on your personal preference, along with a 4-stroke engine, 4-tooth metal blade alongside a heavy duty nylon line head, helping to make short work of your lawn. You can also expect a single shoulder harness for additional comfort, as well as an anti-vibration engine mount to make your time on the tools easier on the body.
In joint-top spot for ease of use, Honda was rated four stars for reliability & performance, maintenance & servicing and overall satisfaction, with three stars for fuel economy/battery life.
Ryobi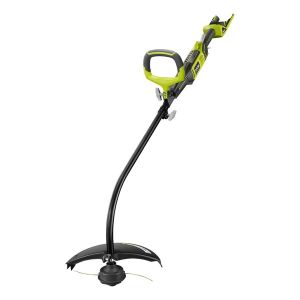 Sold exclusively through Bunnings, Japanese manufacturer Ryobi has been in the power tool market for close to 80 years, offering a wide range of products for any projects you might have in and around the house. When it comes to whipper snippers, Ryobi's range consists of both electric and petrol-fuelled models, with the range split into brush cutters and line trimmers, allowing you to narrow down your search depending on how much lawn you have to tackle.
Ryobi's electric range is further split into 18V and 36V models, with the introductory 18V One+ featuring an adjustable shaft seemingly for easy use and control, a fold out edge guide to give you that manicured look, as well as an auto spool feed to take the guesswork out of sorting out the trimming line. The One+ is also available as a kit, coming with a Fast Charger and 4.0Ah Battery to keep you going during those big jobs. If you're after something with a bit more grunt to it, the 36V Ryobi models may be more your speed, offering a similar output to a 25cc petrol engine. Selected 36V models also come equipped with Expand-It capabilities, allowing you to turn your whipper snipper into six other power tools, including a hedge trimmer and blower, ideal for those looking to tackle all areas of the backyard.
If you're after a petrol line trimmer, Ryobi offers both curved and straight-shaft options, with most models including an easy startup feature to help you get your motor running, while also including a safety clutch for additional user-safety. With a 26cc line trimmer and a 52cc brush cutter available, Ryobi offer petrol models for small and large lawns.
Scoring five stars for value for money and ease of use, Ryobi got four stars for maintenance & servicing, reliability & performance and overall customer satisfaction, with three stars for fuel economy/battery life.
Ozito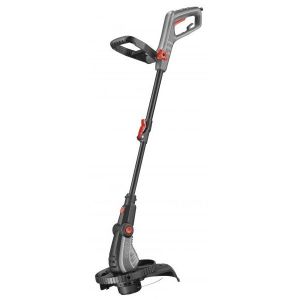 Another brand primarily found in Bunnings, Australian-brand Ozito has been a mainstay within the power tool market, offering hand tools, garden tools and power cleaning options for households to use on DIY projects. Focussing on electric line trimmers, the Ozito range can be purchased individually, or as a package if you're looking to kit out your garden shed.
The bulk of Ozito's range comes in the form of 18V cordless models, with individual whipper snippers or full kits that include chargers and batteries available. The OGT-0185 model includes features such as a 240mm cutting path and adjustable telescopic shaft to easier manoeuvrability, and weighs under 2kg, making it easy to carry around. Another 18V model – the PXCLTK-218 – features a 90-degree rotating head to allow you to edge your lawn, and additionally includes ten trimming blades for optimal cutting height.
For those after something a bit more powerful, Ozito also offers 500W and 600W line trimmers. The 500W model (LTR-529) includes a rotating head and edging wheel to help you spruce up all areas of your yard, while the 600W model (LTR-630) features an automatic line feed and 320mm cutting diameter. All Ozito models come with a three-year replacement warranty, allowing you to attack your backyard with peace of mind.
With four stars for ease of use, fuel economy/battery life and overall satisfaction, Ozito was rated five stars for value for money, but just three stars for maintenance & servicing as well as reliability & performance.
Makita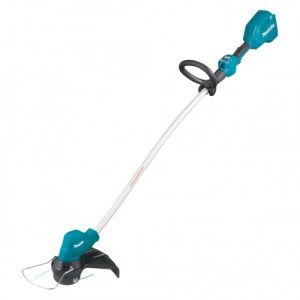 Founded over 100 years ago, Japanese brand Makita produces a variety of power tools, with a focus on electric and cordless models. Its tools are available at hardware retailers including Bunnings, along with a number of other retailers, which can be found via Makita's Retailer Locator available on its website.
With a line-up that primarily consists of 18V models, Makita offers brushless and line trimmers for your yard's needs. Makita's introductory model, the DUR189Z, includes an adjustable shaft with ergonomic curve for easy use and manoeuvrability, with four variable speeds to help you tackle the lawn, whether it only needs a light trim or you're tackling a jungle.
Other Makita whipper snippers include the DUR368AZ Brushless line trimmer, which includes dual 18V power output to tackle bigger jobs, along with a three-stage speed control and reverse switch to remove any tangled grass. It also features a cutting width of 350mm, and weighs about 5kg, making it one of the heavier models in the Makita line-up. Kits are available if you're looking to purchase additional batteries and charging stations, ideal for those who are looking to get plenty done on a sunny Saturday afternoon.
Rounding out the 2019 ratings, Makita was rated four stars for fuel economy/battery life, with three stars in all other research categories, including value for money, ease of use, and overall customer satisfaction.
Other line trimmer brands
There are a few other brands available on the market which didn't qualify for our ratings. These include the following:
Victa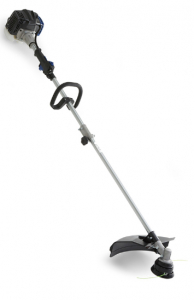 One of Australia's icons, Victa may be more well-known for its range of lawn mowers, but still offers plenty when it comes to giving your yard the full care package. Primarily focussing on petrol models, bent and straight-shaft whipper snippers are available at power tool retailers and Victa wholesalers nationwide.
Included within the range is Victa's Swift Start whipper snippers, available as a straight or bent-shaft variant, which feature Swift-Start to make sure you're off and running easily, with the 2-stroke engine combining with the anti-vibration system to ensure that you're not left sore after the yard work. Both the straight and bent shaft varieties weigh in at over 6kg, but have a cutting width of 400mm, making them some of the largest whipper snippers on the market. Victa also offers various attachments for select models, including a hedge trimmer attachment and pole trimmer attachment to take care of those hard to reach areas of the yard. And if you're looking for a manicured end product, Victa has an edge trimmer attachment to keep your lawn looking fresh.
Husqvarna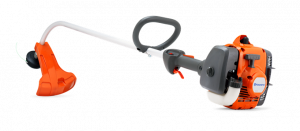 While originally a musket manufacturer, Swedish brand Husqvarna has transitioned into the power tool market, offering a variety of outdoor equipment, including chainsaws, mowers and whipper snippers. Available for purchase at hardware and power tool retailers, Husqvarna's range includes electric and petrol models, with a professional range also available for those who own a lawn care maintenance business.
For the weekend-only warrior, Husqvarna offers a number of models under the 'Occasional Use' banner, including a 122C petrol model which includes Smart Start technology to reduce starter cord resistance, along with a low engine noise of 88 decibels. Also in the Occasional Use line-up is the 115iL trimmer, which weighs in around 3kg for easy use, and additionally features two modes – normal or savE mode, depending on whether you want more power or more runtime. If you're looking for something serious, then the 535LK combi-trimmer may be the model for you, featuring a 1.5kW output, metal skid plate to protect the engine as well as several attachments to take care of any chores you have around the house.
Types of line trimmers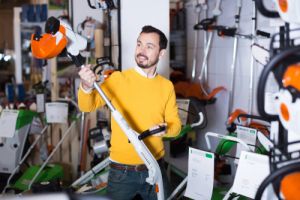 Petrol-fuelled line trimmers are the most common variety available, with 2-stroke and 4-stroke models ready to be used. Most models will have a 25cc engine, although some boast a 50cc engine, helping to make short work of any untidy part of the lawn.
Electric models vary between 18V up to 82V, with both corded and cordless varieties available to suit households with and without external power points. Most cordless models will include a rechargeable battery and charging station, although some sell them separately, so be sure to check before you hit the checkout!
It's all in the shaft
Apart from how they're powered, the biggest difference among whipper snipper brands and models is the type of shaft they have. Whipper snippers are available with either a curved or straight shaft, but what's the difference?
Curved shafts are traditionally shorter and more lightweight than straight shaft models, usually making them easier to control. The trade-off is the reach, as some places may be harder to get to, and you may get an uneven cut if you're not careful.
Straight shafts are the more common variety, with a longer reach and more stable grip, making them handy for those with a big job ahead of them. However, they are heavier, and generally cost more than the curved models.
Brush Cutters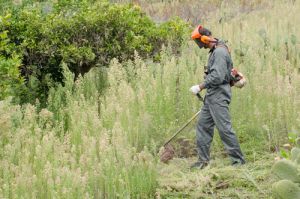 If you're after something a bit heftier, a brush cutter may be more your speed. Essentially a bulkier whipper snipper, brush cutters are generally better suited for clearing larger areas that aren't suitable for lawn mowers, such as those filled with trees, or have plenty of rocks hiding under the grass.
The main difference between brush cutters and whipper snippers is a bigger engine and wider cutting area, with brush cutters similarly available in both 2-stroke and 4-stroke petrol models, together with electrical models. If you've got a large area to tackle, shoulder harnesses and straps are also available, making it easier to carry around.
Most brands offer a 'split-shaft' model, which allows you to replace the cutting head with other power tools, including hedge trimmers and pole pruners
Edge Trimmers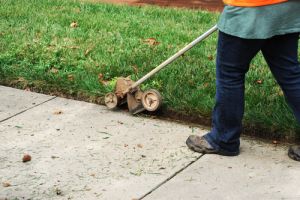 If you've got footpaths or pavers in your yard, an edge trimmer may be a handy option to have, allowing you to cut clean edges around the border of your lawn, giving you the 'edge' over your neighbour's front lawn!
Edge trimmers work similarly to whipper snippers, although feature guiding wheels to ensure that you don't accidently stray off course. Most edge trimmers also include variable height settings and cutting depths to suit your needs and garden. But before you simply turn your whipper snipper on its side, be aware that edge trimmers include specialised grips and guards for increased safety, meaning it may be worth investigating if you're looking to get the most out of your lawn.
Trimmer Cords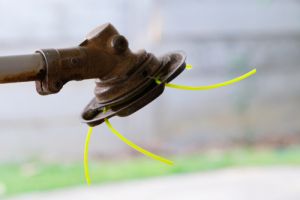 While some trimmers use steel blades to get through tough grass and weeds, most whipper snippers use a trimmer cord, otherwise known as a trimmer line. Found at your local hardware store, a trimmer cord is traditionally made from nylon or plastic, and is available in both pre-cut or full spools.
Generally, a thinner cord will wear quicker, but gives a straighter cut than a thicker cord, making it more ideal for those looking to edge or trim, while thicker line will be more suitable for those looking to go to town with the brush cutter.
Feeding the cord itself can be almost as tough as tackling the lawn, particularly if you find yourself doing it often. Older models required you to hand feed the spool through, while modern ones have something more convenient, including the automatic feed and the bump feed.
The automatic feed works by automatically sending out more cord when you need it, which can take the guesswork out of how much cord you need. While handy for those unsure about cord length, it does add another mechanical part that could potentially break, meaning an automatic feed may cost you additional maintenance costs.
The bump feed works when you 'bump' or press the head of the trimmer against a flat surface, which squeezes a spring and releases cord from the spool. The bump feed uses centrifugal force to pull the string from the spool, which also allows you to control how much cord comes out. However, you'll have to be careful with how hard, and how often, you're bumping the feed, as one bump too many could spell the end of your whipper snipper.
You may also be interested in:
Fun in the sun?
For some, spending time in the sun means hitting the beach, but for others a sunny day means a perfect time for getting the yard work done. In addition to asking survey respondents about their most recent purchases, we also asked them how long they generally use their line trimmers for, with their answers recorded below:
Less than 10 minutes – 6%
Between 10 and 30 minutes – 61%
More than 30 minutes – 31%
With almost half (47%) of survey respondents starting up their line trimmer at least every fortnight, and an additional 34% getting their whipper snipper out on a monthly basis, the brand and type you choose could be the difference between slaving out in the hot sun for longer than you need to, or enjoying the time in the sun followed by a relaxing beer in the shade.
Which line trimmer should I buy?
To get the lawn of your dreams, you'll have to put the work in, which can be made easier with the right tools. While a line trimmer may not be a worthwhile purchase for every lawn, it will come in handy for those with footpaths, trees or other obstacles. To ensure you're not left in a spin, be sure to check out all your options before dipping your green thumb into your wallet.
About the author of this page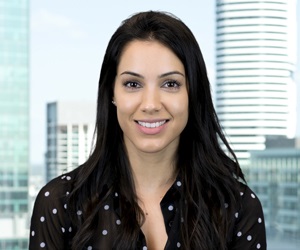 This report was written by Canstar Blue's Home & Lifestyle Content Lead, Megan Birot. She's an expert on household appliances, health & beauty products, as well as all things grocery and shopping. When she's not writing up our research-based ratings reports, Megan spends her time helping consumers make better purchase decisions, whether it's at the supermarket, other retailers, or online, highlighting the best deals and flagging anything you need to be aware of.