Not just hot air: Ozito rated best in leaf blowers review
When it comes to curating the perfect Aussie backyard, there are a lot of elements to consider. There's the mowing, the trimming, the fertilising, the irrigating, and then the 'elements' themselves! But while you can't help it when the weather turns, you can deal with the aftermath with the right tools.
While often overlooked as an essential in the garden shed, the leaf blower can be a useful tool to have, especially if you have plenty of trees around your yard. While the name might imply that it's only good for leaves, the leaf blower can take care of most debris around the yard, making it ideal for cleaning up grass clippings, sticks, bark, and other bits and pieces to give you a fresh look for when you have guests coming over. But when it comes to picking one up for your yard, there's plenty to choose from, meaning it may not be the walk in the park you were expecting.
To help you find a leaf blower that doesn't suck (or does, depending on what you need), Canstar Blue has surveyed more than 300 people who recently purchased a leaf blower, to get their views on their brand of choice. The idea is to give you a helping hand in picking the best leaf blower for your needs, budget and preferences by asking the people who have already 'been there, done that'.
Only two brands received the minimum sample size to be included in our inaugural customer ratings for leaf blowers, with Ozito coming out on top. It rated five stars in all research categories, including overall customer satisfaction.
Best-Rated Leaf Blowers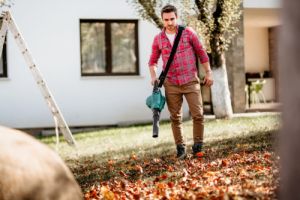 Canstar Blue's 2019 leaf blowers review saw two brands compared and rated in the following order for overall customer satisfaction:
While it was a clean sweep for Ozito in all research categories, it did share the top spot with Ryobi for maintenance/servicing, with both brands earning five stars. However, Ryobi had to settle for four stars in all other areas.
Read on as we explore what the two brands in our 2019 review have to offer, before going into detail about what you should look for in a good leaf blower.
Leaf Blower Brands
Ozito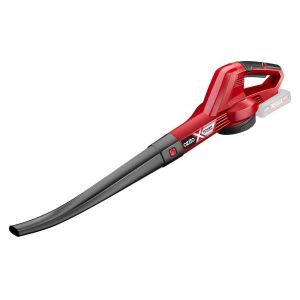 An Australian brand, Ozito offers a wide variety of different power and garden tools, ranging from cordless drills to sanders, from chainsaws to lawn mowers and of course, leaf blowers. Sold exclusively through Bunnings, Ozito's range focusses on electric models, with one of the widest line-ups on the market.
The Power X Change Cordless Blower (PXCBLS-018) comes equipped with a 18V battery, capable of producing 210km/h air speed to make light work of all those leaves and grass clippings, with a Sure Grip Handle for additional comfort, which, partnered with the 1.35kg design, should make for an easy day on the tools. If you're after something with a bit more grunt to it, the Ozito Power X Change Cordless Jet Blower may be the model for you. Featuring two 18V batteries and a Turbo Boost function, it will help make short work on an untidy lawn or driveway.
In addition to traditional leaf blower models, Ozito also offers a number of blower-vacuum options if you're looking to mulch any leaves or clippings that you pick up. Included in the line-up is the 3-in-1 Electric Blower Vacuum-Mulcher, which includes a 45L vacuum bag and a 15:1 mulching ratio, making for a compact pile for you to use on your garden. Weighing in at just over 4kg, the 3-in-1 model also comes equipped with wheels for easy use, as well as a shoulder strap for additional comfort.
In addition to scoring five stars for overall satisfaction, Ozito was rated five stars in all other categories, including value for money, ease of use and reliability.
Ryobi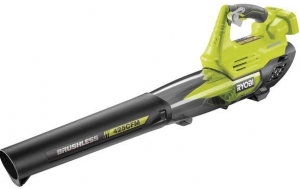 A Japanese brand, Ryobi is well-known within the lawn care and equipment market, offering a wide variety of products, including air compressors, hand tools, as well as line trimmers and leaf blowers. Available exclusively through Bunnings, Ryobi offers primarily electric models, both as individual units and as kits for those looking for a few extras.
For those not looking for the top of the line, the ONE+ blower may be the perfect fit for your garden shed, featuring a Speed Nozzle for controlled airflow, and weighs in at only 1.6kg, ideal for lugging around the yard. However, if you're after the top of the line, Ryobi also offers the 2-stroke Jet Blower, which features a 25cc engine and is capable of producing 225km/h air velocity, suited for those who have plenty to clean up.
For those after a blower-vac, Ryobi offers the 36V Blower, which comes with a 45L bag, with a mulching ratio of 10:1. Ryobi additionally offers the Fixed Tube Blower Vacuum, which features an air velocity of 375km/h and a mulching ratio of 16:1, meaning there's a few options to choose from when it comes to finding a model that will do more than blow the leaves off the lawn.
Despite earning five stars for maintenance/servicing, Ryobi was rated four stars in all other categories, including fuel economy/battery life, reliability and performance, ease of use and overall satisfaction.
Other leaf blower brands
While only two brands qualified for our ratings, there are a number of other brands available on the market for you to choose from. Here are a few of the major brands you'd likely find at your local retailer.
Black & Decker

Known for its range of power tools, Black & Decker also produces a number of garden tools to help you tackle any DIY or lawncare job you have around the house. Primarily available in electric models, a Black & Decker leaf blower can be picked up from hardware and power tool retailers.
The 18V Cordless Leaf Blower is Black & Decker's introductory model, and features a soft grip handle for comfort and control, along with a 209km/h power output to help you clear a path. Weighing in at only 1.7kg, it also features a Power Boost function to help you tackle those bigger jobs, ideal for those who are looking to spruce up the lawn without going overboard. Black & Decker's range includes a 2500W Blower Vac – which features a 40L bag and 310km/h output – as well as a 36V Blower Vac, which comes equipped with a 7:1 mulching ratio, as well as multiple modes if you're looking to switch between power or running time.
Makita
Another familiar face in the power tool and yard equipment market, Japanese brand Makita offers a number of tools and models for Aussies to choose from. Its leaf blower range includes both petrol and electric models, with some suited for smaller backyards, while others are better suited for those looking to clean every corner and crevice.
Makita's range includes 18V and 36V models, with the introductory 18V model including a three-stage air selection to help you breeze through your chores list, as well as an optional vacuum kit available if you're looking to step up your mulching game. Makita's petrol models range between 25cc and 75cc engines, with the more powerful models coming as the backpack variety, making them easier to carry around the yard. With the 75cc leaf blower weighing almost 12kg and providing a 1.9L fuel tank, it's not for the faint of heart, but may be just the ticket if you've got plenty of lawn to tidy.
Bosch

Operating in a number of industries, Bosch's consumer goods range features power tool and gardening equipment, including lawn mowers, hedge trimmers and leaf blowers. While it may not offer the range as some competitors, Bosch may be suitable for those who aren't looking for all the bells and whistles.
Bosch's leaf blower range includes an 18V and 36V cordless model, both of which weigh under 2kg and have an airflow speed of over 200km/h, meaning it still packs a punch despite the lightweight design. The 18V model has a run time of up to 17 minutes, while the 36V could operate for over half an hour, ideal for all but the largest lawns. Bosch additionally offers a number of charging stations and batteries as optional extras if you need a bit of extra juice to tackle a big project.
Types of leaf blowers
While at first glance all leaf blowers look to do the same thing, there are a few differences that you should be aware of before you head on down to your local store. In addition to how they're powered (electric versus petrol models), leaf blowers are also categorised as handheld, backpack or walk behind models, with each suiting different workloads.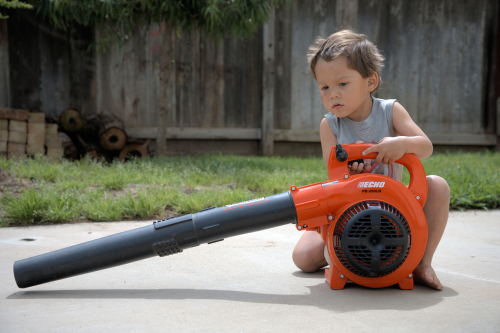 Handheld leaf blower
Handheld models will likely be what you picture when you think of leaf blowers, and what you'd likely see when your over-enthusiastic neighbour gets stuck into their yardwork early on Sunday mornings. Handheld models are just that – handheld – and are generally the lightest option available, but can still pack a punch to help clear any debris.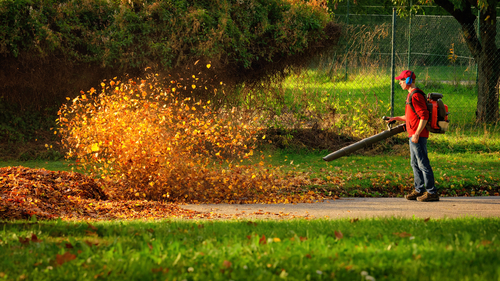 Backpack leaf blower
Backpack models are larger leaf blowers that sit on your back – just like a backpack. These will generally have larger engines, and therefore weigh heavier, meaning putting them on your back is the safest, and most comfortable, way of operating them. You'll generally see these in the arsenal of lawn care businesses, or for those who have plenty of work to do.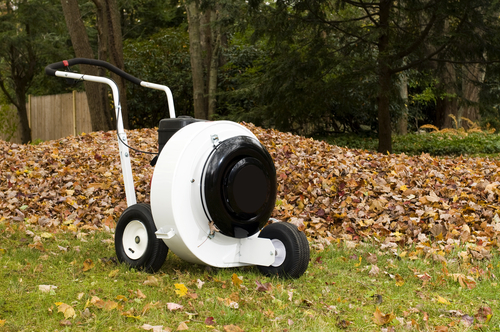 Walk behind leaf blower
As the same suggests, a walk behind leaf blower is a leaf blower that you… walk behind. While not a common variety of leaf blower, these models may be worth looking into if you're not keen on carrying anything, although you may have to pay more if you're after a leaf blower on wheels.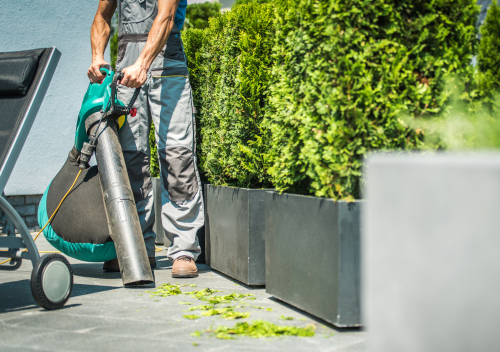 Blower vacuum leaf blower
An offshoot of the handheld leaf blower, instead of blowing the leaves and debris away, the blower vacuum sucks up any leaves or grass clippings into an attached bag, similarly to how a vacuum cleaner works. The benefit of this is that you can then dispose of the leaves, grass clippings or other debris as you like, instead of simply blowing it away, only for it to potentially blow back with any gust of wind. Most models will also include a mulching function, allowing you to mulch leaves into compost to help freshen up your garden.
You may also be interested in:
Which leaf blower should I buy?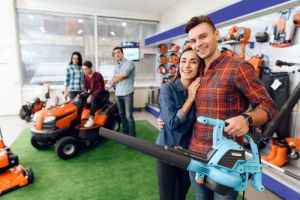 With the lawn a source of pride for many, investing in the right tools can make the weekend chores a breeze, but finding the right tool for the job can be a chore in itself. As with any purchase, which leaf blower you decide to take to the checkout will be dependent on a number of factors, including how big (and messy) your yard is, how often you'll be using the leaf blower, whether or not you'd like a mulching feature, and how much money you're willing to spend.
With survey respondents spending over $150 on their leaf blowers, it's not something that you want to rush into either, as you don't want to blow your budget on a model that doesn't get the job done. But by doing a bit of research in advance, and keeping an eye open for all your options, you can wave goodbye to the raking, and enjoy a well-kept lawn.
About the author of this page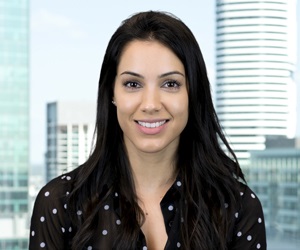 This report was written by Canstar Blue's Home & Lifestyle Content Lead, Megan Birot. She's an expert on household appliances, health & beauty products, as well as all things grocery and shopping. When she's not writing up our research-based ratings reports, Megan spends her time helping consumers make better purchase decisions, whether it's at the supermarket, other retailers, or online, highlighting the best deals and flagging anything you need to be aware of.
Photo Credits: bogdanhoda/shutterstock.com, Smileus/shutterstock.com, Diamond Bitzer/shutterstock.com, rj lerich/shutterstock.com, welcomia/shutterstock.com, VGstockstudio/shutterstock.com