Energy Matters Review and Guide
One of Australia's largest solar-only retailers for residential, commercial and wholesale customers, Energy Matters carries a history of strength. As the sole supplier of solar solutions to the New South Wales Government and reach all around the country, the company has a solid reputation. But does that make it the right match for you?
Energy Matters runs its own solar energy array on the roof of the Melbourne HQ – not just to power the office, but also to test product performance and show customers what solar setups look like in action. In this article, Canstar Blue takes a look at Energy Matter's products and services to help you make an informed decision about purchasing a solar system.
Energy Matters Products
Founded in 2005, Energy Matters is a Clean Energy Council-accredited solar company which uses only CEC accredited solar installers. It offers a minimum 10 year product warranty and 25 year performance guarantee with all grid connect solar panels. While product prices aren't listed online – with Energy Matters instead leading prospective customers to a 'quick quote' form or phone number to receive a quote – its website does provide a lot of detailed information about how solar systems work and the pros and cons of different types.
Home Solar Systems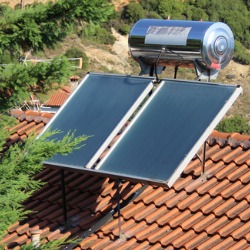 Energy Matters covers the full spectrum of components to put together a solar system, as well as an extensive network of installers across metropolitan and regional areas in every state and territory of Australia.
Solar Panels
Energy Matters uses solar panels produced by REC and JA Solar. Both of these manufacturers have 25 year output guarantees, meaning that the solar panels are guaranteed to still put out at least 80% of their rated output in 25 years' time.
Solar Inverters
These are the centre of the system, necessary for turning the DC current produced by the solar panels into AC current which can be fed into the grid and used by homes. Energy Matters uses inverters from:
Solar Mounting Systems
Energy Matters exclusively uses SunLock, a system for mounting solar panels to rooftops made and designed in Australia. SunLock is owned by its parent company. The product range covers SunLock for pitched and flat roofs, GroundLock for ground-mounted solar panels and PoleLock for pole-mounted solar panels. All of these systems are made from corrosion resistant aluminium and compatible with all major brands of solar panels in Australia.
Battery Systems
Home battery storage is only recently developing significant traction, so it's an exciting time to be looking into home batteries. Energy Matters works with the following reputable battery producers:
Energy Monitoring
An important element of taking control over your electricity usage and generation is being able to accurately track it. The Flex Energy Monitor, produced by Energy Matters' parent company, is a device that can work with all solar power systems to both track your home electricity usage and your home solar system's electricity output. The Flex Energy Monitor is available in both 3G and Wi-Fi versions, and sends automated email alerts as well as storing data in secure cloud storage so you can access all of your information from anywhere with internet.
You may also be interested in:
Solar Hot Water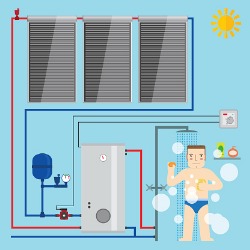 There are three types of hot water systems to choose from:
Flat plate solar collectors involve copper pipes running through a glass covered panel which absorbs heat. The heat transfers to water running through the pipes, with the heated water kept stored in a tank on the roof.
Evacuated tube solar collectors are made of an array of glass tubes, each with a vacuum layer within which also includes an absorber plate. Heat absorbed is transferred to a copper heat pipe, which is pumped into an insulated storage tank below.
Heat pump systems don't require the use of panels or anything mounted on rooftop. Instead, they work by extracting heat from the air outside the unit, and transferring it to the water stored inside. This method works effectively even in very cold conditions, and is particularly useful where traditional solar hot water collectors are impractical or undesirable.
Some of the hot water kit and component brands stocked by Energy Matters include:
Apricus
Bosch
Quantum
Rinnai
Kelvinator
Chromagen
Stiebel Eltron
Siddons
Solar for Businesses
Businesses looking to utilise their roof space (if they have 200m2 or more) can install solar systems to source more independent and eco-friendly electricity. Energy Matters offer financing options for businesses looking to add solar infrastructure to their property.
Off-Grid Solar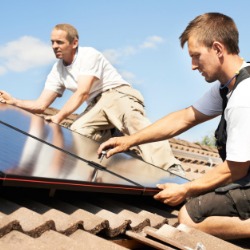 The cheapest types of solar installations are on grid, meaning that they are designed to work in conjunction with the electricity grid. On grid solar systems feed electricity back into the grid when production is greater than use, and switch to using grid supply when solar generation isn't enough to meet demand.
Off grid systems are more expensive, as they're designed to supply power completely independently of the solar grid. They involve more powerful systems and larger battery storage.
Whether or not this is a better long-term economical solution depends on your specific circumstances – you can contact Energy Matters for advice as well as updates on what government rebates and subsidies are available in your area.
Why Energy Matters?
Energy Matters claims to focus on providing quality, reliable products and installations for long-term investments in renewable energy. While it isn't so helpful in terms of providing lots of prices for you to compare without making an enquiry, it does provide quite a bit of detailed information about solar technology. Energy Matters has won a number of technology, business and energy awards and is a member of the Clean Energy Council.
Want to know more about Energy Matters?
Find out more about the products and services offered by Energy Matters on the company's website. It may be worth keeping an eye out on their specials pages, as they do provide some offers which can vary by state. For pricing information, you'll need to request a quote through their online form, email, or customer service phone number.
Getting solar installed is the first step; the second is to find an energy company that can help you make the most out of your investment – we've surveyed customer satisfaction for major solar companies in Australia as a guide to help you find your solar solution.