Australian parents are spending an increasing amount on prams, with many determined to outdo their family and friends.
A new Canstar Blue study has found that more than a third of parents think it's important to own an expensive pram, with average spending rising by more than $130 in the last 12 months.
"Mums and dads often like to show off their new babies, and for some it's about showing off the things they buy for them too," said Head of Canstar Blue, Megan Doyle.
"Becoming a parent is a proud and exciting time in anyone's life, and mums and dads have their own ways of expressing their emotions, whether it's posting pictures of their baby on Facebook or spending a fortune on things for them.
"All parents want to do a great job, and some will want everyone to know they're doing a great job. It seems some mums and dads see buying an expensive pram and spending lots of money on their child as a way of proving how good a parent they are."
The research found that average spending on prams has increased from $425 to $559 over the last 12 months, while the number of parents who admit that they wanted to buy a better pram than their family or friends has increased from 23% to 27%.
The number of mums and dads who think you need a good pram to be a good parent has also increased, from 30% to 35%. The number who say they envy parents who have a better pram has remained the same, at 33%.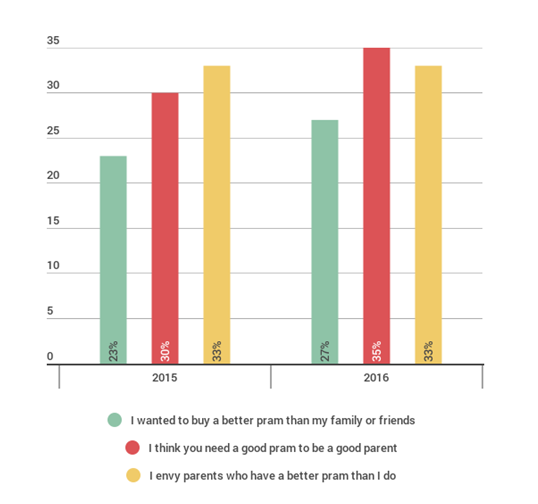 "Of course, owning an expensive pram is not a sign of being a good parent, but some parents seem to think it creates that impression," said Mrs Doyle.
"However, it's not all about pram envy and giving the impression that you're a great mum or dad. There will obviously be those who buy the high-end prams simply because they think they're the best quality, and have all the features they want. But it does seem that, for many, brand plays an important part in choosing a pram."
This year's survey, of more than 800 parents, found that one in four (25%) spent more than $1,000 on their child's pram. But not everyone was happy with the high price, as 29% of respondents admitted to arguing with their partner over how much they would spend.
Which brands do Aussie parents rate highest?
Parents who took part in the survey also rated the brand of pram they own across a range of criteria, forming Canstar Blue's 2016 customer satisfaction ratings for prams and strollers.
Prams and strollers were rated on factors including handling & steering, flexibility, ease of folding and value for money.
Baby Jogger was the highest rated, leading nine other brands for overall satisfaction.
About the survey
Canstar Blue surveyed a total of 1,300 parents in July 2016. The findings above are based on the responses of 800 parents who have purchased a new pram in the last three years. The definition of a 'pram' used for this survey was: "A pram allows a comfortable lying position and is usually designed for newborn babies/infants that cannot sit up."