Top Pram & Stroller Brand – UPPAbaby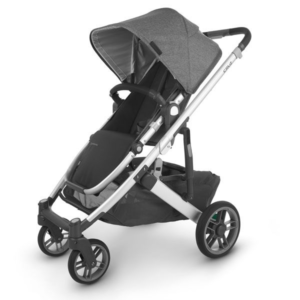 UPPAbaby are an American baby product company who have been producing prams, strollers and accompanying accessories since 2006. Its lines of strollers include the Vista V2, Cruz V2, Ridge and Minu V2 as well as accessories like carrycots, travel bags and pram seat liners. Its products are said to help you adjust to a new life as a parent while appealing to the sense of style you've always had.   
UPPAbaby achieved five stars for overall satisfaction, durability, ease of use, features & functionality, and design, with four stars for value for money. 
Types of prams & strollers
With plenty of variety in the market, it can be a tough gig finding a pram or stroller suitable for your bundle of joy, and to make it easy for you to navigate streets, public spaces as well as getting it in and out of the car. So, what types of prams and strollers are available on the market?
Umbrella stroller/pram: traditionally a smaller, more lightweight model. These are easy to fold away and store, and generally come with handle hooks and a sunshade, similar to an umbrella.
Jogger stroller/pram: a stroller or pram specifically designed for fit parents in mind, these models generally have larger wheels and better suspension to counter any bumps on the footpath.
Double stroller/pram: consisting of two seats, double prams come in side-by-side or tandem models, depending on where you want to seat your children.
Full-sized stroller/pram: one of the largest types of models you can pick up, full-sized prams and strollers are designed to last you years as your little one grows up.
Travel system: a pram or stroller with a removable car seat installed, allowing you to easily transition from the car to the stroller.
Prams and strollers are also available in three and four-wheel varieties. This is definitely another aspect to consider, in addition to regular factors like weight, stability, and transportability.
What's the difference between prams & strollers?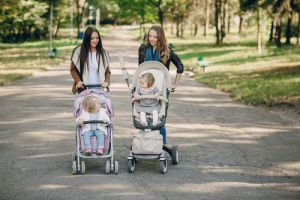 A 'pram' is generally designed for younger infants and is short for 'perambulator'. Meanwhile, 'strollers' are more basic in design and offer a convenient place for older infants to sit. Prams feature soft flat bottoms and large canopies that allow the baby to lie flat. Prams also tend to feature larger wheels and provide a much more 'complete' package, lending to higher prices.
Strollers, on the other hand, might be better for toddlers who want to see more of the real world, rather than just sleep. That's why strollers are usually the last step before kids start walking fully on their own. Strollers are also typically smaller and more portable, making it easier to store in cars, at home, or even while on-the-go.
Of course, you don't necessarily have to choose one type over the other as many brands come with 'hybrids' that can configure the seating to either a pram-style or stroller-style. One type isn't necessarily better than the other, but considering your child's age might end up making the decision a little clearer. Convertible units which allow you to switch from a pram into a stroller, and vice-versa, are the most popular among our survey respondents. Most people we surveyed bought a convertible model (46%), while the number of people who use a pram (27%) or a stroller (23%) remained similar on both sides.
Picture credits: Oleggg/Shutterstock.com.