Baby Jogger sets the pace for prams & strollers
Knowing what to expect when you're expecting can save a lot of headaches, and if there's one thing that is for certain, preparing for the big arrival can be a costly experience. Forget nappies and wipes for a second – a pram or stroller can be a massive financial outlay, and new parents might be shocked at just how much they can cost. Parents who have been around the block before and are preparing for another arrival may also be shocked at the cost of upgrading to a new model. Whatever your parental experience, you'll want a pram or stroller that lives up to the hype – and there is a lot of hype!
To help you decide which pram brand is best, Canstar Blue has surveyed more than 800 parents to seek their feedback on the prams and strollers they have recently purchased and used, and their opinions are reflected by the star ratings you see above. For the second successive year, Baby Jogger has taken out top spot and dominated in most research categories, achieving five stars for handling & steering, flexibility and ease of folding, among others. Topping the ratings table for two years in a row is a great result for Baby Jogger. If you're shopping around for a new pram or stroller, you will surely have heard the name – and now you know exactly how it lives up to its reputation in the eyes of Aussie parents.
Five-star ratings were pretty scarce for brands other than Baby Jogger, but some notable top marks included:
Bugaboo: Five stars for flexibility
Maclaren: Five stars for warranty
Valco Baby: Five stars on value for money and storage compartments
Buying a pram or stroller isn't a cheap endeavour. Our survey respondents reported an average expenditure of over $420 on their new pram or stroller, but there are many models out there that can cost double or even triple that!
Survey respondents who bought a Baby Jogger pram or stroller reported a higher-than-average expenditure, with $626 spent. This higher price didn't deter parents though, as brands need to do more than just offer a cheap price. Sometimes the extra cost is worth it!
Prams & strollers – more than just for carting kids around
Prams & strollers are often as much of a social statement as a place for your child to sit. There's a bit of 'keeping up with the Joneses' with other parents and many mums and dads reading will have no doubt analysed other pram purchases while out and about at the park.
'Pram jealousy' is a thing; 28% of survey respondents said they envy parents who have a better pram than they do
32% think you need a good pram to be a good parent, while 33% said they would feel embarrassed pushing their child in a cheap or poor quality pram
25% spent more than $1,000 on their pram, while a similar number of couples argued over how much they should spend on their pram
Evidently, a pram or stroller is more than just a cart to push your child around in – it's a talking point, a point of jealously, an argument-starter and sometimes a very expensive item!
What's the difference between prams & strollers?
A pram is generally designed for younger infants, and is short for 'perambulator', while strollers are more basic in design and often merely a convenient place for an older infant to sit. Prams feature soft flat bottoms, and large canopies allowing the baby to lie flat. Prams often feature larger wheels and are a much more 'complete' package, lending to higher prices.
Average pram expenditure reported was just under $566, as opposed to just over $277 for strollers
Strollers, on the other hand, may be best for toddlers who want to see more of the real world, rather than just merely sleep. Strollers are usually the last step before kids start walking fully on their own. Strollers are also often smaller and more portable, lending themselves to storage in regular car boots and the like. Of course, you don't necessarily have to choose one type over the other as many brands come with 'hybrids' that can configure seating to either pram-style or stroller-style. One type isn't necessarily better than the other, but considering your child's age is probably the most important factor in your decision. It seems hybrids are in trend!
What should I look for in a pram or stroller?
A pram or stroller should be high on your 'to buy' list if you're expecting a child, or if your child is approaching toddlerhood, warranting the purchase of a stroller. Prams & strollers need to be more than just reasonably priced, as our survey found. We identified the following drivers of parent satisfaction in order of importance:
Handling & steering: 30%
Value for money: 22%
Ease of folding: 14%
Weight & size: 14%
Flexibility (e.g. multiple seating positions): 9%
Warranty: 6%
Storage compartments (e.g. pockets, drink holders): 4%
Handling and steering is evidently the biggest factor affecting parent satisfaction. If you've ever gone for a walk with a cumbersome pram, you'd know that it can be a workout in itself! Weight and size play into this as well, but having a pram or stroller that handles well can take the stress off your body and also leave your child in better comfort, without being jerked around!
Pram & Stroller Brands
To help you along with your decision-making, here is an overview of the 12 brands that have featured in our 2017 pram & stroller review. They all achieved the minimum sample size of 30 required to be included in our ratings. There are other brands out there, but it's fair to assume these brands are the biggest in Australia.
Baby Jogger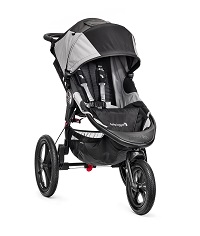 Active people who become parents can struggle to manage their adventures while lugging along their little one. That's why, in 1984, Baby Jogger was founded by a father who wanted a stroller capable of enduring long distance use over all kinds of surfaces. It's important to note that not all Baby Jogger strollers are suitable for jogging – there are various different models for different needs. The range covers various terrains and uses, so you can take baby along with you on even the most active and adventurous pursuits. Pictured is Baby Jogger's summit X3 model, claiming 'exceptional performance on any terrain'. The brand is also well-known for prams that can be folded with just one hand, meaning you can easily hold your little one and pack the car at the same time. Baby Jogger is certainly a premium brand, which is reflected in its price tags, ranging from as low as under $400 up to more than $1,000. However, it seems to have lived up to its promise to Aussie parents, rating five stars in almost all research categories in 2017, including handling & steering and ease of folding.
Bugaboo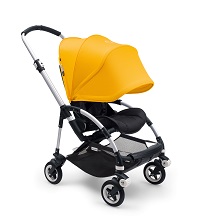 With a proclaimed mission 'to help you move freely', Bugaboo offers a number of different strollers and luggage systems to help you explore the world in comfort and style. Bugaboo's chief designer and co-founder turned their childhood obsession with wheels into true passion for getting people out and about. The company endeavours to produce products its customers happily take out on adventures and get them well-worn and even muddy as they live without limits. The range of strollers to suit different lifestyles includes the Bee (urban), the Cameleon (all in one) the Donkey (convertible) and the Buffalo (for all terrains). Pictured is the Bugaboo 'bee 5' which is apparently 'the most comfortable and stylish compact pram' in the line-up. The brand had a mixed performance in this year's review – four stars across most categories, with just three stars on value for money and ease of folding, yet five stars for flexibility.
Maclaren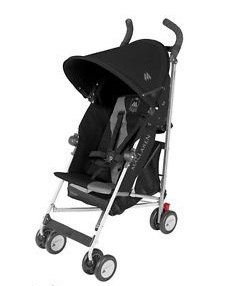 The international, high-end pram brand describes its aesthetic as 'timeless, but not traditional'. The company's mission is apparently to create the 'world's best pram'. The very first Maclaren was crafted by a famous aviation engineer seeking a lightweight folding stroller design for his daughter and her baby. This was in fact the world's first folding stroller. The resulting company remains focused on helping active families. There are a wide range of stroller designs to choose from in both single and double configurations. Maclaren promises a very high standard, with all prams including a lifetime warranty. In this year's ratings, Maclaren enjoyed a solid performance, with four stars in most areas except for three stars in flexibility and five stars for warranty – the only brand to reach top marks in this category. Pictured is the Maclaren Triumph stroller.
Mother's Choice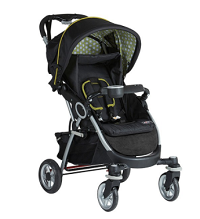 Part of Dorel Australia – one of the largest suppliers and designers of nursery products in the country – Mother's Choice describes itself as a brand for mums looking for a great deal on practical, accessible products without worrying about being trendy. Mother's Choice covers a range of furniture and transport gear for babies and toddlers, including car seats, cots and highchairs to keep baby comfortable, whether it be during naptime, while eating dinner, or while out and about. The current stroller range keeps things simple with two models. The Citrus four-wheel newborn stroller (pictured) is said to be suitable for newborns up to a maximum weight of 17kg, while the Wilton three-wheel stroller offers three different recline positions, a removable child tray with cup holder, and a viewing window in the hood so that you can keep an eye on your little rug rat. Mother's Choice received four stars all round in our 2017 ratings, except for three stars for ease of folding and flexibility.
Mountain Buggy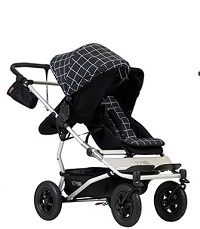 Beginning in New Zealand for mountain-climbing mums and dads, Mountain Buggy is said to be an all-terrain luxury stroller brand that can help you take your parenting to new heights. The company claims to adhere to high standards of performance, safety and engineering with a personal touch. Mountain Buggy offers a range of strollers in single and double configuration, plus carrycots compatible with buggies to transform into bassinet-style prams. The Mountain Buggy Duet twin stroller (pictured) is no wider than a single buggy, with each seat able to be independently reclined so that you can have your toddler facing forward to watch the world go by while keeping your newborn lying down and facing you for that special connection. In our 2017 ratings, Mountain Buggy earned four stars in every category but value for money and flexibility, in which it received three stars.
Steelcraft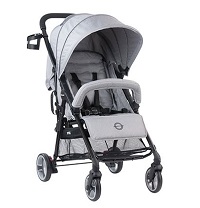 A brand under Britax – a baby travel and furniture company probably best-known for its child car seats – Steelcraft strollers are said to be travel-friendly thanks to their lightweight quick-fold design. Look out for features such as recline, extendable sun canopy, peek-a-boo window and storage space. Steelcraft uses high-performance fabrics and offers stylish editions of its diverse offerings, which includes umbrella strollers and reverse handle strollers (which allow parents to have their child facing either forward or backwards). Steelcraft had a solid performance in our 2017 review, with four stars in every category, making it a reliable but just short of outstanding choice on all metrics. Pictured is the Steelcraft 'Sprint' stroller, said to make travelling with your little one simple and easy.
Valco Baby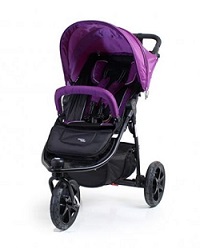 Covering a quite diverse range of prams and strollers across single and double configurations, Valco Baby is an Australian family baby care company serving Aussie families for nearly 50 years. Most strollers feature bumper bars, retractable canopies and soft, thick padding to keep your little one safe and comfy. Many are also customisable, with add-ons such as an external bassinet and the 'sports pack' with more rugged clip-on wheels for more adventurous trips out with baby. The designs cover all kinds of needs as well as all kinds of styles, to suit your lifestyle preferences. In this year's ratings, Valco Baby scored four stars across the board except for two outstanding five star achievements – the only brand to reach five stars on value for money, and one of two brands to reach five stars for storage compartments (tying with overall winner Baby Jogger). Valco Baby is a previous winner of our pram & stroller ratings. Pictured is its Tri Mode X model.
Combi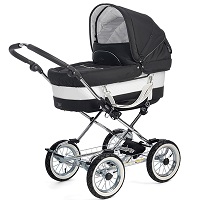 With a variety of pram and stroller solutions for different kinds of parents, Combi is a smooth, modern brand with plenty of features and optional add-ons to choose from. Combi prams are designed to be easy to use, with quick folding mechanisms and lightweight frames. The handles are reversible and the retractable cover keeps your little one protected from sun and rain alike. Designs range from strollers to bassinet-style prams (such as the model pictured), with many able to convert between different orientations. Combi was rated three stars overall and across most categories in our 2017 review, with four star ratings for weight & size and warranty.
iCandy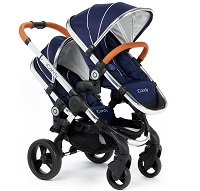 The British high-end pram brand touts strong, lightweight aluminium frames combined with stylish designs. As well as pushchairs, iCandy produces other baby furniture (such as highchairs and carrycots) and accessories such as parasols and seat liners. iCandy claims to be about more than the product itself – focused on long-term development and testing to achieve high quality, safety and functionality, it says. The range covers single configuration prams, plus a variety of double configurations, foregoing the traditional side-by-side models. Despite being a high-end brand with high prices to match, iCandy rated just three stars in most research categories, with the exception of storage compartments where it earned four stars. Pictured is iCandy's 'Peach Blossom' pram.
Kmart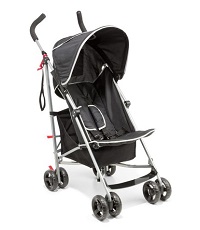 Making parenting affordable, Kmart covers a range of equipment to get you and the little one about town. Currently there are three different stroller models to choose from, starting from a cheap and basic $20 upright flat fold stroller (for ages 6 months and up) in a choice of teal, black or red. Next is the $39 umbrella fold stroller, with a canopy, padded safety harness and shopping basket. Kmart's most expensive stroller (pictured) is still just $59, with front swivel wheels and tether strap plus all of the features of the $39 model. Kmart strollers were rated three stars overall, four stars on value for money and weight & size, but just two stars each for flexibility and storage compartments. This suggests that Kmart could be a solid choice for the budget-conscious who can forego the extra frills and features included with pricier brands.
Love N Care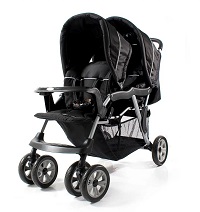 This Australian baby care company produces a huge range of products, mostly across furniture and transport needs for raising fresh little family members. Uniquely, the Love N Care 'Hi Rise Tandem' can carry two children in the same vertical space – rather than a wide, side-by-side configuration, this model suspends one seat above the other. As it's a convertible model, the extra seat unit can be easily removed when one child graduates out of the stroller, or added to a single egg stroller later when you have your second child. The full range covers a diverse set of styles and needs, in multiple colours and with accessories such as carry-cots, for parents to get their children out and about the world with ease. In this year's parent ratings, Love N Care performed consistently with three stars across all categories.
Target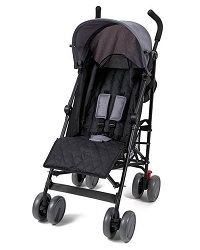 Keeping it simple, Target offers four different strollers, including a simple upright buggy for $25 and a traditional hooded stroller for $89. The buggy is designed to be lightweight and compact for easy storage and those quick little trips. It's suitable for children aged 6 months and up, with a maximum weight of 15kg. The stroller (pictured) is said to be more comfortable, with quilted padding and front swivel wheels, but still designed lightweight for convenient movement and transport. It's suitable straight from birth. Like its budget competitor Kmart, Target rated three stars overall, plus four stars on value for money, weight & size and ease of folding, but just two stars for flexibility and storage compartments.