Combi Strollers Review & Guide
With all the tears and tantrums, sometimes parenthood can feel like a losing battle. But Combi thinks parenting is a team game, creating products that support both baby and parent. While the brand only offers a handful of prams, including the Combi Urban Walker and Combi Well Carry, these pack plenty of versatile features.
Combi prams are stated to last for years, with adjustable safety harnesses and long seats made to adapt to the child's growing body, as well as ensure the durability of the pram. Each push chair also includes a large lockable UV resistant canopy to protect your little one from the elements so you can safely enjoy the outdoors, regardless of the weather.
If you're short on space, Combi prams are said to be small enough to fit in small cars or tight closet spaces. The push chairs are also described as a lightweight companion, easily transportable on public transport and to carry around for day-to-day errands. Each push chair also provides high handle bars to accommodate taller parents, and padded curved handles to make it easier to move the pram around with one hand.
To help you see what Combi has to offer, we've listed the different products and their features.
Range of Combi Prams
Whether you need a lightweight pram to take as a carry-on, or whether you just need a push chair light enough to take up and down stairs without asking a stranger for help, Combi provides baby products to suit a range of needs. The different prams include:
Combi Urban Walker
Combi Well Carry
Combi Urban Walker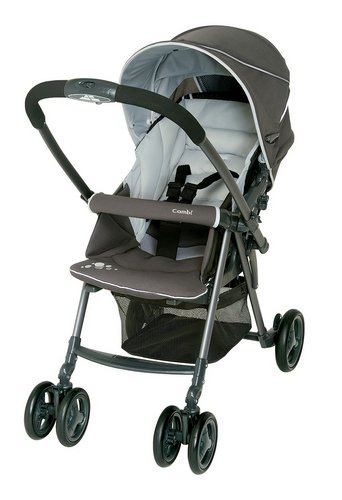 If you're searching for a lightweight pushchair with the features of a larger pram, Combi's Urban Walker may be one for you.
For safety, the Urban Walker features a five-point safety harness with rounded edges so it won't irritate the child's skin. There is also a flexible front safety bar to keep the baby safe whenever they get a little bit too excited, and won't get hurt if they bite or kick the bar. For storage, the Combi pram features a large basket which can be accessed whether the seat is upright or fully reclined. If you're tight on space, the Urban Walker is compact enough to fit in small cars and narrow hallways.
With the seat designed extra-long, the push chair is created to accommodate your baby as it grows. The safety harness also has a wide crotch harness as well as adjustable shoulder and waist straps. Featuring front suspension and lockable swivel wheels, the push chair is stated to ensure the ride is smooth for both parent and baby – even on uneven surfaces.
Since parents come in all shapes and sizes, the Urban Walker has hand-operated brakes and high handle bars to suit the tallest parents and so you don't have to fumble for the brakes with your feet. The curve of the handle is also claimed to make it easier to push the pram with just one hand. There is similarly a reversible handle so you can transition the pram from forward facing mode to parent facing mode. A Peekaboo window is available in both modes, and can be either clipped up or left down.
Combi Well Carry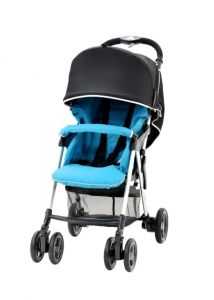 For families who love to travel or spend most of their days outdoors, Combi's Well Carry pram is an ideal lightweight solution. Weighing 6.2kgs, the push chair is suitable for public transport and a perfect carry-on. It's also said to be easily transportable up and down stairs, or in and out of cars. The one-hand open and fold function similarly makes the pram easier to set up and pack up, especially with Well Carry prams featuring a self-stand fold design.
Similar to the Urban Walker, the Well Carry pram is suitable for confined spaces and busy shopping centres. It similarly features a large basket to offer plenty of room for all the important things you'll need for your day out, as well extra room for treats to bring home.
Created to last for years to come, the Well Carry is suitable for newborns and children who weigh up to 20kg. The push chair also includes an extendable seat which is said to provide babies additional support and prevent sagging after years of use. The pram similarly provides a drawstring which allows you to recline the seat in various positions without needing to click the pram in place, unlike many other prams and strollers on the market. And since Combi aims to ensure a comfortable experience for both baby and parent, the Well Carry has a high curved handle bar which is claimed to help tall parents move around easily with one hand.
Is Combi the right pram choice for me?
Combi's prams are ideal for families who are constantly on-the-go and need a lightweight and compact solution. The brand currently offers just two push chairs, the Urban Walker and the Well Carry, as well as rain covers.
The Urban Walker and Well Carry share many of the same features, including a five-point safety harness, front safety bar, front suspension, hand brakes and high handle bars. Designed to accommodate as the child grows, Combi's push chairs are suitable for newborns and can carry children who weigh up to 20kg. While the extra-long seat is a common feature said to support the child for years, the safety harness includes a wide crotch harness as well as adjustable shoulder and waist straps to adapt to the child as they grow.
But unlike the Well Carry, the Urban Walker has a reversible handle which allows the pram to alternate between forward facing and parent facing mode. And since the push chair is designed with the features of a larger pram, the Urban Walker has a larger canopy to offer more protection than the Well Carry.
Focusing on versatility, Combi also claims to keep parents' comfort in mind by including high curved handle bars to accommodate taller mums and dads. The prams also include a handbrake to keep controls within convenient reach, and lockable swivel wheels to make sure the pram is manageable on uneven ground. Each push chair can also be set up and packed up with one hand, and has a stand fold design to ensure it can keep itself upright.
With so many products on the market, shopping for the right pram can be a tough task. That's why Canstar Blue has plenty of reviews and ratings to help you compare. Hit the link below to get started.
About the author of this page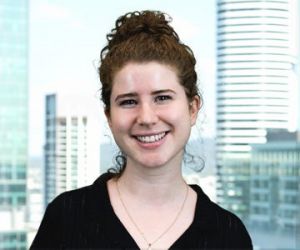 This report was written by Canstar Blue's Content Producer Luciana Lawe Davies. She writes about streaming, appliances and consumer products and services. Luciana enjoys bringing readers the best in what's on TV and at the shops, including the best deals and latest reviews.