iCandy Strollers Review & Guide
Whether you're craving one-hand quick fold action, or smooth maneuverability, iCandy provides a range of stylish and versatile strollers to suit your needs. Inspired by its rich British heritage, the luxury stroller brand aims to create high-quality products with modern designs.
iCandy may be an ideal fit for families searching for a pushchair made to last for years to come. Made using corrosion-resistant aluminium frames, most of the collections allow you to transform your stroller to accommodate new additions to the family. The various collections include Apple 2 Pear, Strawberry 2, Raspberry, Peach 3, Peach 2016 and Peach Jogger. From luxury fleece footmuffs to sun parasols, there are also a number of accessories available.
To help you unwrap your way through the iCandy range, we've listed the strollers currently available and highlighted a number their key features.
Range of iCandy Strollers
From single strollers to double strollers, carrycots and travel systems, iCandy offers a good range of pushchairs to suit you. The various collections include:
Apple 2 Pear
Strawberry 2
Raspberry
Peach 3
Peach 2016
Peach Jogger
Apple 2 Pear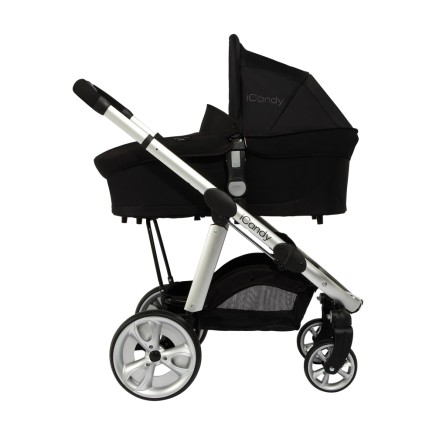 For a pushchair that grows with you, the iCandy Apple 2 travel system can transform into the larger iCandy Pear 2 multi-mode system. The iCandy Apple 2 Pear can switch between a range of functions including carrycot, push chair, tandem twin and travel system.
If you want to keep an eye on your baby, the Apple 2 Pear pushchair offers three reclining positions in both parent-facing and forward-facing mode. If you're a parent to two, iCandy offers a Pip Converter which will allow you to transform your Apple 2 Pear into an Apple 2 Pear tandem twin to fit your two children. Alternatively, you can turn your seat into a 'newborn nest'. Either the pushchair or tandem twin can be turned into a travel system using car seat adaptors, although the adaptors are additional accessories and will cost a bit extra.
Suitable for newborns, the iCandy Apple 2 collection can accommodate two children of varying ages. It features a five-point safety harness as well as all around suspension, quick release rear wheels, lockable front swivel wheels and EVA tyres. When it's time to go home, the unit can be folded with the seat left on. Otherwise, unlike some collections, the seat can be removed with one hand.
This Apple 2 is available in various colours including 'aniseed', 'chilli', 'caviar', 'papaya', 'raspberry blue', 'cookie' and 'cassis'.
Strawberry 2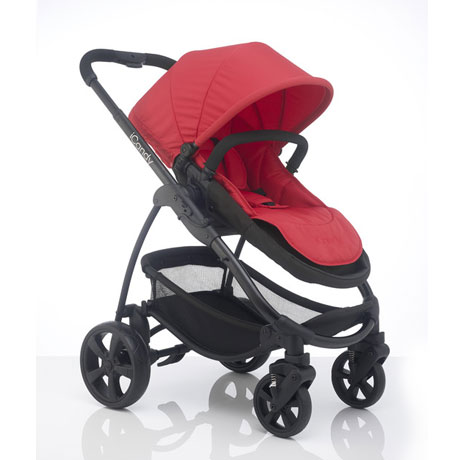 The Strawberry 2 is described as an all-rounder, showcasing unique features like iCandy's Memory auto alignment and one-hand Step and Stand Fold technology. Unlike many of the other items available, this collection even comes with a lifetime warranty.
For a smooth ride, the Strawberry pushchair features all-around suspension, low profile puncture-proof cushioned rear tyres, and front wheels which can be set to either swivel or locked mode. The seat is said to be suitable for children from the age of 6 months to kids who weigh up to 25kg. Younger children can alternatively use the carrycot.
At the end of the day, the freestanding frame can be folded with the seat attached. The carrycot is said to provide a similar compact fold for convenient storage. The travel system compatible collection may also be an ideal option for parents looking for a pushchair to last for years, with the lightweight frame said to be corrosion resistant.
The flavour pack includes 'lush', 'pacific', 'prism', 'anthracite', 'dune' and 'smoothie'.
Raspberry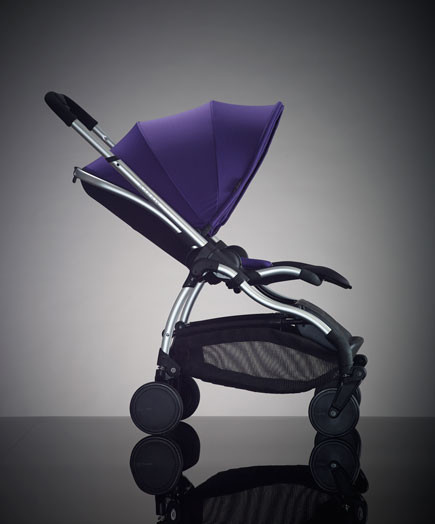 If you're constantly running around town, the iCandy Raspberry range is said to be the ideal lightweight, compact and quick fold solution. Suitable for newborns and toddlers, the Raspberry features 4-wheel independent suspension and a set of new type of tyres claimed to ensure smooth manoeuvrability.  The lightweight pushchair also provides both parent-facing and forward-facing mode, and can shift between three different recline positions. For younger children, the Raspberry pushchair can be converted into a lie-flat position to accommodate newborns without a carrycot. Alternatively, iCandy also offers larger footmuffs to suit older children.
Like many of the pushchairs in the iCandy products range, the Raspberry includes a large storage basket which can carry up to 5kg. For more valuable things, the collection provides a unique storage capsule to safely hold an extra 1kg.
iCandy Peach 3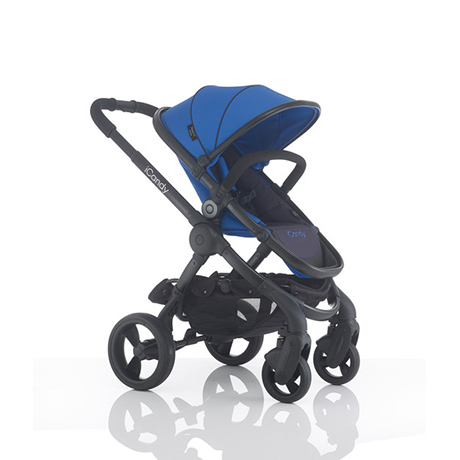 One of the first things parents learn is to never wake a baby. This is why iCandy created the Peach 3, a pushchair designed with one-handed fold function and easy manoeuvrability claimed to help mums and dads parent as smooth as possible. This collection converts into four units, including carrycot, pushchair, 'blossom' and 'blossom twin'.
If you're expecting a new addition to the family, the Peach Blossom can accommodate an extra child or convert the single stroller into the Peach Blossom Twin 3. The Peach Blossom Twin 3 is a double stroller which can fit three children. It comes with three carrycots with raincovers, three upper and lower seats with raincovers and three converter bars. A carrycot is available as an additional accessory, and can be used temporarily or permanently. The carrycot is suitable newborns until they reach the stage where they can support themselves upright or weigh up to 9kg.
The Peach 3 collection includes large, low profile, cushioned tyres, as well as swivelling or fixed front lockable wheels. Since you'll be carrying for extra, the collection also includes an extra-large shopping basket for storage.
The Peach 3 collection is available in various flavours including 'cobalt', 'fuschia', 'jet' and 'truffle'.
iCandy Peach 2016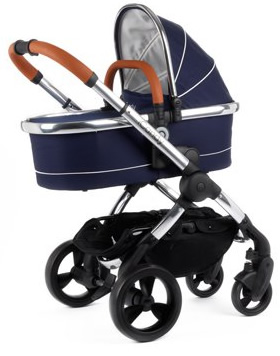 If you're planning on growing your family, the fashion forward Peach 2016 collection can transform into a double travel system and can be converted back to a single pram to accommodate twins, siblings of varying ages, or one child. In any case, the Peach is said to stay the same size. The compact unit can be folded with one hand and features a stand fold design so it can keep it self-upright when stored.
The collection also includes unique elevators which allow you to move the single seat or carrycot up closer towards you, which is claimed to assist with the child's learning and development. When it's time to eat, the elevators can similarly bring the child closer toward the table.
Unlike other prams in the iCandy range, the Peach features a one-touch buckle which allows you to quickly adjust the 5-point safety harness. It includes puncture-poof EVA tyres and all round suspension, which is said to ensure a smooth ride for your child.
iCandy Peach Jogger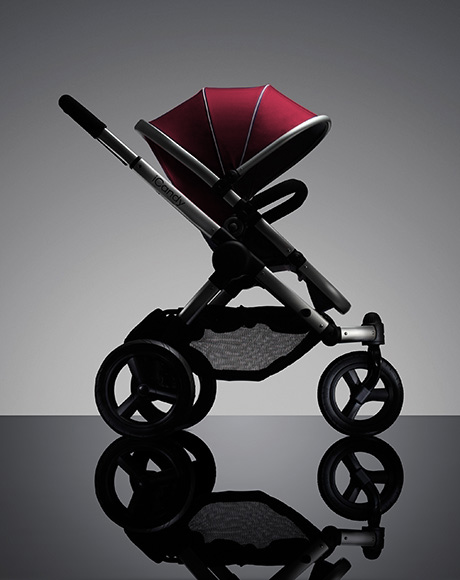 For active families who love to take adventures, the iCandy Peach Jogger collection is claimed to be one of the smallest folded joggers on the market. Featuring air-filled tyres, the Peach Jogger can travel on a range of terrains and includes a rain cover so you can enjoy the outdoors in rain or shine. The unit also comes with a pump, which can be found in a special compartment in the shopping basket.
iCandy offers a jogger carrycot as an additional accessory for newborns and babies who need a carrycot for overnight travel. Suitable for little explorers who still need help to sit up, or weigh up to 9kg, the accessory is said to provide good ventilation as it features feet to keep the base from touching a cold surface. When it's time to go home, the iCandy Peach Jogger pushchair can even transform into a travel system using car seat adaptors from the iCandy range.
The iCandy Peach Jogger is available in 'blackberry', 'glacier' and 'cranberry'.
Does iCandy offer a sweet deal?
Originally created as a fashion company in 1933, iCandy is a high-end stroller brand which has provided a range of stylish lightweight, compact and multifunctional pushchairs for years. The range of collections includes Apple 2 Pear, Strawberry 2, Raspberry, Peach 3, Peach 2016 and Peach Jogger.
If you're looking for versatility and durability, iCandy's strollers can easily transform from carrycots to pushchairs and convert single strollers into double strollers. Certain collections, like the Peach 3, can even accommodate three children in a double stroller. Parents can also adjust the handle to a more comfortable height in collections like Apple 2 Pear and switch accessories to suit children of different ages. Various products, including the Strawberry 2 collection, also provide universal accessories like bumper bars.
If none of iCandy's pushchairs tickle your tastebuds, or match your budget, keep checking Canstar Blue's website for plenty of ratings and reviews on a range of prams and stroller brands.
About the author of this page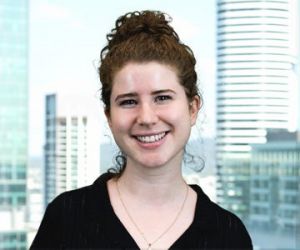 This report was written by Canstar Blue's Content Producer Luciana Lawe Davies. She writes about streaming, appliances and consumer products and services. Luciana enjoys bringing readers the best in what's on TV and at the shops, including the best deals and latest reviews.