Steelcraft Strollers Review & Guide
Steelcraft is a brand under Britax, a baby travel and furniture company which claims to take pride in creating safe products that continue to roll as your family grows. From travel-friendly options to travel system compatible strollers, Steelcraft provides a range of products to suit your needs. These include travel system strollers, lightweight strollers, reverse handle strollers, and umbrella strollers and twin strollers. There are also accessories like the Agile Child Tray and Strider CLICK & GO Unity Receivers which are tailor-made to suit certain strollers.
Many of the products feature a one-lift fold, allowing mums and dads to pack up the Steelcraft stroller just by pressing a button conveniently located on the support bar and lifting the folding triggers. This is said to not only make folding easy, but make sure the frame is secured during use. Another common feature is the one-link brake, which similarly locks both wheels with one push.
To help guide you in the right direction, we've compiled a list of the various strollers currently on offer from Steelcraft and highlighted their different features.
Steelcraft Range of Strollers
Steelcraft provides a number of strollers to suit families of all shapes and sizes. These include:
Travel System strollers
Lightweight strollers
Reverse handle strollers
Umbrella strollers
Twin strollers
Travel System Strollers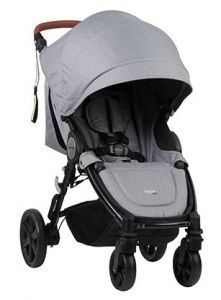 For busy families on-the-go, the Steelcraft Agile Elite and the Steelcraft Agile 4 apparently make life easier with their one-lift fold and Agile Sure Lock which is said to ensure the frame is quickly secured in place during use. The full recline backrest with the Steelcraft Agile Elite apparently makes this stroller ideal for newborns, with the 22kg weight capacity also likely to suit sleeping toddlers. For the fashion conscious, the Strider Compact Deluxe Edition features Thermo5 high-performance fabric. It also has a linen look fabric as well as leather look handle and armbars. As part of Steelcraft's 10 year anniversary, the stroller will also be available in the dark chambray colour in various Baby Bunting stores.
Due to the weight capacity, the stroller is said to be suitable for newborns and can last for a few years. While the stroller seat is said to carry 20kg, the second seat has a weight capacity of 17kg while the bassinet is claimed to hold up to 9kg.
If you're planning on growing your family, the Flexx is a single stroller which can be transformed into a tandem stroller. This can be done by using a second seat, bassinette, or baby capsule. But the Tandem Pack will cost extra. As the name suggests, the Flexx is said to contain flexible features to suit a range of parents and children. It comes with a telescopic handle which can be adjusted to suit 11 different height positions, and a reversible seat which can be adjusted to four different positions.
For space, the Flexx includes a storage basket which can extend once the stroller is set to Tandem mode. When it's time to pack up, the stroller can fold with the seat attached in either forward facing or parent facing mode. Capable of being pushed with one hand, the stroller has quick four wheel bearings and four wheel suspension for a smooth ride. The brake can also be locked on both wheels with one push, which is said to prevent the stroller catching your toes.
Lightweight Strollers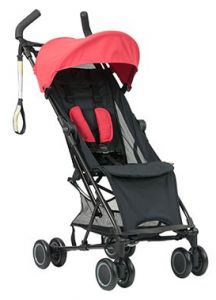 Whether you're going for a quick trip to the shops or preparing for a big family trip overseas, Steelcraft provide a few lightweight options. Weighing in at only 4.9kg, this Steelcraft Britax Holiday Stroller is the lightest in the collection and can fit in a car boot or overhead locker. The Steelcraft Sprint is only a little bit heavier at 5.2kg and has the same features as the Steelcraft Britax Holiday, but also includes a large shopping basket and cup holder.
Alternatively, the Steelcraft Zapo is the heaviest stroller in the lightweight range but is still said to fold small enough to fit in the boot with extra room to spare.
Each of these strollers are claimed to have a quick folding system and lockable front swivel wheels to help move around level terrains, although can be locked to prevent the stroller from slipping when on uneven ground.
Reversible Handle Strollers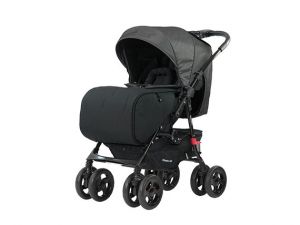 If you want to keep an eye on your little one, there are a couple of reversible handle strollers which allow you to interchange between forward facing and parent facing mode.
Both the Steelcraft Agile Plus and Steelcraft Acclaim Reverse Handle stroller feature wheels which can be locked to prevent the stroller rolling away, especially on uneven terrain. The Acclaim also has a five point harness to make sure your child stays secure.  But while all the wheels on the Steelcraft Acclaim are lockable, only the front swivel wheels on the Steelcraft Agile Plus can be locked. Although parents can apply the brakes in either reverse or baby facing position, thanks to the smart hand-operated brake on the Steelcraft Agile Plus.
For storage, the Steelcraft Acclaim Reverse Handle Stroller contains a shopping basket with a zip opening to keep your belongings safe and easily accessible. Alternatively, the Steelcraft Agile Plus Reverse Handle Stroller has a large basket and canopy pocket.
Umbrella Strollers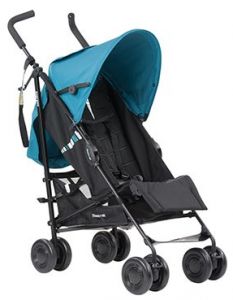 Said to be ideal for newborns, the Steelcraft Express Layback Stroller is a compact and fairly lightweight stroller which can adjust to a fully reclined position. It also includes an adjustable and removable canopy with a peek-a-boo window so that you can keep an eye on them and make sure they're protected from the elements. This is suitable for newborns and children who weigh up to 17kg. Like many of the other products from the Steelcraft line, the front swivel wheels on this stroller can be locked to help you move around easier but also stay in place when you need it to.
Twin Strollers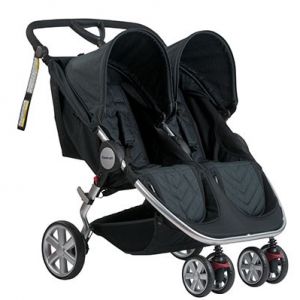 If you're a parent of two, the Steelcraft Agile Twin Travel System is a quick fold travel system stroller which can carry two children of varying ages. Each seat is said to hold up to 20kg, with an extra 6kg available in the basket. The stroller includes the Agile Sure Lock, which is claimed to secure the frame while it's in use, and a one-link brake to ensure both wheels are locked with one push. The Steelcraft Agile Twin Travel System can be used to transition the baby from the stroller to the car and already includes the adaptors needed. A Baby Capsule from the Steelcraft collection can also be added.
The stroller is suitable for newborns and children who weigh up to 20kg, with 6kg for the basket.
Is Steelcraft the pram and stroller brand for me?
The Steelcraft collection is an ideal brand for on-the-go parents, especially with many of the products described as lightweight and travel system compatible. While items like the Steelcraft Britax Holiday Stroller make perfect carry-on options, items including the Steelcraft Sprint Stroller and Steelcraft Agile Twin Travel System offer a similar lightweight option but provide more practical features like child trays and cup holders to help with day-to-day tasks.
Most of the strollers are ideal for newborns. But the weight capacity of each stroller can extend to toddlers, with accessories for products like the Steelcraft Agile Twin Travel System also available to accommodate children of varying ages in one stroller.
Welcoming a baby into the family can be an exciting and hectic time, especially when you're trying to find the perfect stroller in time for the arrival. Make sure you're getting the right stroller by reviewing your options with Canstar Blue. Hit the link below to see our latest customer satisfaction ratings.
About the author of this page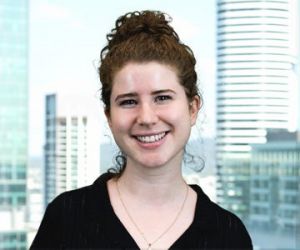 This report was written by Canstar Blue's Content Producer Luciana Lawe Davies. She writes about streaming, appliances and consumer products and services. Luciana enjoys bringing readers the best in what's on TV and at the shops, including the best deals and latest reviews.