Fact Checked
Dr. Oetker Ristorante the hot favourite in frozen pizza ratings
Frozen pizza is often an underrated addition to the shopping list, with the tasty option a handy meal for households that are rushed off their feet, or those who aren't confident in their culinary abilities. With the versatility to feed a small army, frozen pizzas are also generally cheaper than most takeaway pizzas, making them easier on the budget as well.
While they may not be the go-to option for those looking to make good on their New Year's resolution, having a pizza in the freezer in case of 'emergencies' can give households peace of mind after a long day at work. And when it comes to choosing the pizza to stock up on, consumers aren't short of options and flavours. But where can you find the best quality and value? That's where Canstar Blue comes into play.
In the second year of our frozen pizza reviews, we surveyed more than 600 adults to find out which is the best-rated in Australia. Respondents rated brands on factors including variety, ease of preparing, taste & quality of ingredients, value for money and overall satisfaction.
Dr. Oetker is clearly continuing to make Aussie tastebuds happy since our inaugural frozen pizza ratings last year, with its Italian-style pizza range Dr. Oetker Ristorante coming out on top this year. The brand achieved the only five-star ratings for overall satisfaction and ease of preparing, while also earning top marks for variety and taste & quality of ingredients. It got a respectable four stars on value for money.
Best Frozen Pizza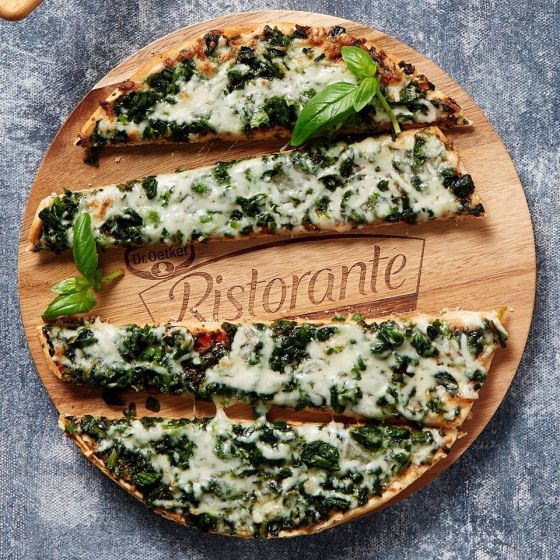 The five brands included in our 2020 frozen pizza review were rated in the following order for overall customer satisfaction:
Dr. Oetker Ristorante
Dr. Oetker Papa Giuseppi's
McCain
Woolworths
Coles
Dr. Oetker impressed consumers for the second year in a row, with its two frozen pizza ranges taking out the top two spots for overall customer satisfaction. McCain, Woolworths and Coles all rated three stars overall, but McCain did achieve top marks for variety, with Woolworths the only brand to get five stars on value.
Frozen Pizzas
Dr. Oetker Ristorante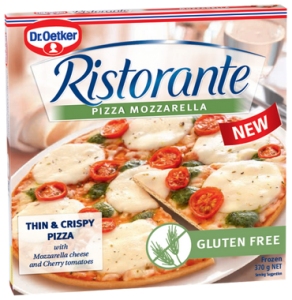 Want the "Real Italian Pizzeria Taste at home"? You might want to try heading to your local supermarket before booking a ticket to Rome because Dr. Oetker Ristorante claims to have a frozen pizza range that's just as good. Dr. Oetker Ristorante offers a variety of tasty flavours such as Ristorante Funghi, Ristorante Gluten Free Mozzarella, Ristorante Hawaii, Ristorante Pepperoni, Ristorante Quattro Formaggi and who could forget Ristorante Spinaci?
A Dr. Oetker Ristorante frozen pizza typically costs $7.50, with the weight of the different pizzas varying between 310g and 390g.
The Dr. Oetker Ristorante line achieved five stars for overall satisfaction. The brand also earned five stars for variety, ease of preparing and taste & quality of ingredients, while also getting four stars on value for money.
Dr. Oetker Papa Giuseppi's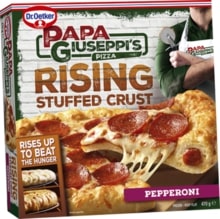 The second frozen pizza range under the Dr. Oetker brand, Dr. Oetker Papa Giuseppi's features a variety of deep pan pizzas, stuffed crust pizzas, pizza pies and paninis. The Rising Stuffed Crust range includes a tomato sauce stuffed crust and several topping flavours like four cheese, pepperoni and supreme. For a slice that's crispy on the outside and soft inside, the Deep Pan line offers BBQ meatlovers and Hawaiian flavours.
Oetker Papa Giuseppi's rated five stars for taste & quality of ingredients, and scored four stars on variety, ease of preparing and overall satisfaction. It also got three stars for value for money.
McCain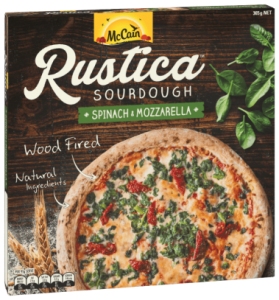 A Canadian company, McCain has long been a favourite for Australian households, with the catchphrase 'Ah McCain, you've done it again' a common saying in the early 2000s. Offering anything and everything within the frozen food section of your local supermarket, McCain's frozen pizza range includes plenty of options for a busy household. With Family Pizzas, Ultra-Thin Pizzas, Flavour Boss, Rustica, Slices, Singles, Pizza Go! and even Pizza Bases, McCain does it all. Family Pizzas (500g) will cost you $7.00, while both the Ultra-Thin and Rustica options will scan through for $7.50.
McCain scored three-star ratings on value for money and overall satisfaction, although it was one of only two brands to achieve top marks for variety. It got four stars for taste & quality of ingredients and ease of preparing.
Woolworths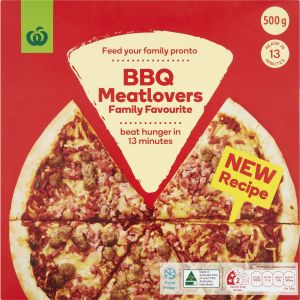 As with most grocery lines, Woolworths offers Aussies its own range of frozen pizzas. The brand offers flavours including Hawaiian and BBQ Meat Lovers, with the size of each pizza being 500g. A Woolworths pizza will set you back just more than $3.00 at the checkout, which makes the supermarket among one of the most affordable options.
Woolworths was the best-rated frozen pizza brand when it comes to value for money, receiving the only five-star rating for the category. It achieved four stars on ease of preparing and taste & quality of ingredients, with three stars for variety and overall satisfaction.
Coles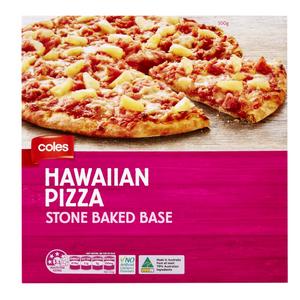 Not to be outdone by Woolworths, Coles also has its own range of frozen pizzas, each available for the same price of $3.30. It offers slightly more flavours to choose from, including classics such as Hawaiian, BBQ Meat Lovers, Supreme, Margherita and Pepperoni. Most pizzas weigh 500g, except the Margherita which weighs 470g.
Rounding out the results, Coles was rated three stars for overall satisfaction and all other categories with the exception of value for money, for which it got four stars.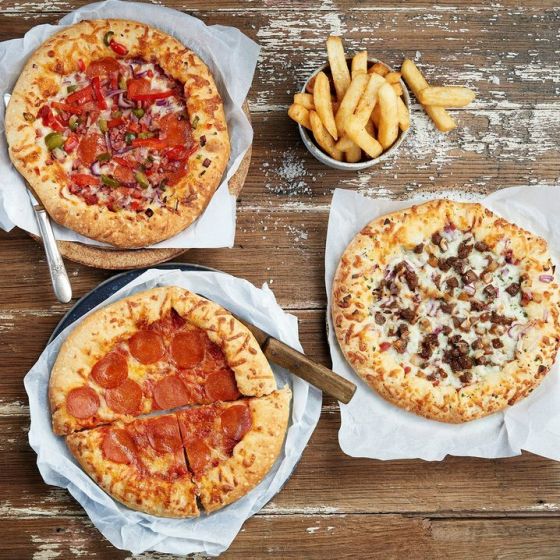 What to consider when buying frozen pizza
Get a pizza this! Frozen pizzas are a popular option for many households – but it seems fewer people are taking a slice, with the number of Aussies who say they eat it at least once a week dropping from almost two in five people (38%) to 31% since our last survey. And if people are craving a pepperoni pizza, or even a Hawaiian pizza, one in ten respondents (13%) said they buy what they think is the healthiest option on offer.
One in four (27%) consumers admit to enjoying a frozen pizza when they don't have time to cook, while nearly one in five (19%) say they only grab a slice when they're dining alone.
Here are some other interesting insights from our survey:
Which frozen pizza should I buy?
While frozen pizza may not be the first thing you think of when you do the grocery shopping, there's no doubting it can be a lifesaver when it comes to getting dinner on the table in a hurry. There's certainly a convenience factor when it comes to frozen pizza. But which brand and flavour you end up putting in your shopping trolley will come down to your personal preference, as some prefer the cheap and cheerful pizza and garlic bread combo from the supermarket chains, while others may prefer a bit more substance to their pizzas, and are happy to fork out a bit of extra cash for a larger meal.
About the author of this page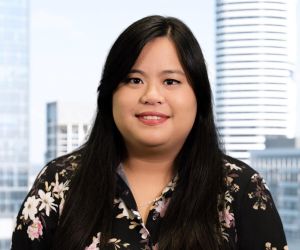 This report was written by Canstar Blue's home & lifestyle journalist, Tahnee-Jae Lopez-Vito. She's an expert on household appliances, grooming products and all things grocery and shopping. In addition to translating our expert research into consumer-friendly ratings reports, Tahnee spends her time helping consumers make better-informed purchase decisions on all manner of consumer goods and services, while highlighting the best deals and anything you need to be aware of.