Cooking can be pretty time consuming. It takes more than just the time preparing the food – there's also finding interesting new recipes, planning out your week's meals, and of course buying all the ingredients you need. But buying pre-prepared meals just isn't the same as making your own home-cooked meal.
There are plenty of services that deliver boxes of fresh produce to your front door, but you can easily run into the problem of not knowing what to do with it all. Meal kit delivery services like HelloFresh take fresh food delivery a step further.
HelloFresh delivers a box of fresh produce with everything you need, in the right quantities, for you to prepare meals based on their recipes. Could HelloFresh be your secret ingredient for cooking fresh, fun, and healthy food?
What is HelloFresh?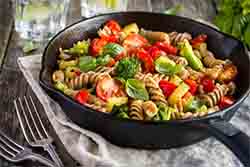 HelloFresh is a food delivery service which puts together boxes of fresh ingredients to go along with their own recipes. It's is marketed as a way to make healthy home cooking easier. The menu changes weekly, aiming to offer new and interesting recipes that aren't too complicated for the average home cook.
HelloFresh is a relatively new company but has quickly spread across the world from its origins in Germany back in 2011. It's now one of the biggest players in the rapidly growing market for fresh produce delivery services. Currently HelloFresh delivers to major metro and rural cities in the eastern side of Australia, with plans to expand further.
How does HelloFresh work?
Each week, delivery boxes contain ingredients for a new set of recipes. Your box will have everything you need to prepare the meals, except for any assumed pantry items (e.g. oil, salt & pepper, soy sauce, white wine vinegar, egg, milk). Recipes are posted online a week prior, with notice given to subscribers of what ingredients are assumed to already be in your fridge or pantry. That gives you time to buy any staples you don't yet have.
There are three types of boxes to choose from:
'Classic Box' – comes in either three or five meal packs to feed either 2 or 4 people
'Veggie Box' – makes three meals to feed either 2 or 4 vegetarians
'Family Box' – makes four meals to feed 2 adults and 2-3 kids
If you're not keen on the upcoming week's menu, you can simply pause your subscription for a week. You're not locked into any regular contract or subscription length, so you can make any changes or cancellations you like up until the deadline.
Can HelloFresh work for special dietary needs?
While HelloFresh caters well to vegetarians, you're out of luck if you have any other dietary requirements. Each ingredient is separately packaged, so if something turns up that you can't eat you could always just not use that particular item. However, this is probably not viable for those with ethical or religious oppositions to certain foods.
How much does HelloFresh cost?
To use HelloFresh, you'll need to sign up to a subscription, which can be changed, paused or cancelled without charge up until a certain time before delivery. The cost depends on which box you choose and for how many meals and people, ranging from $8.75 to $11.66 per meal, with free delivery. If you're not sure but want to give it a go, you can order a one-off sample box. However, these are priced higher than the subscription equivalent, at $9.37 to $13.33 per meal.
Subscription Box Costs:
Box Type

2 People
4 People
3 Meals
5 Meals
3 Meals
4 Meals
5 Meals
Classic
$69.95
$109.95
$124.95
–
$189.95
Veggie
$64.95
–
$109.95
–
–
Family
–
–
–
$139.95
–
Trial Box Costs:
Box Type

2 People
4 People
3 Meals
5 Meals
3 Meals
4 Meals
5 Meals
Trial Classic
$79.95
$109.95
$134.95
–
$199.95
Trial Veggie
$74.95
–
$129.95
–
–
Trial Family
–
–
–
$149.95
–
Source: HelloFresh website
When ordering a food box, you can also add a fruit box or juice box. Fruit boxes contain a week's supply of fresh seasonal fruit, for $24.95 (small) or $35.95 (medium). Juice boxes contain fresh seasonal fruit and vegetables suitable for juicing and making smoothies, such as apples, ginger, kale, and beetroots, for $19.95.
Is HelloFresh good value?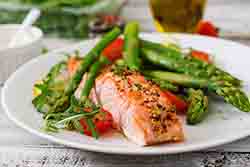 There are two main elements to HelloFresh – the home delivered produce, and the meal planning. While you could probably buy the ingredients yourself cheaper from supermarkets, it does cost you extra time. When you're very busy and would rather have one less thing on your to-do list, it may be worth the cost. If you're on a tight budget, however, this may be an expensive choice.
Healthy home cooking usually requires taking the time to find new recipes and figure out what you need to make them. It can be a lot easier to try making new things when the recipes and correct ingredient quantities are provided for you. HelloFresh claims that they take care to plan interesting recipes that aren't too complex or demanding, which may be a valuable part of the package for cooks who want to expand their horizons.
Busy people often end up just eating at restaurants or getting takeaway more often, because of all the time and effort required to plan and prepare meals at home. HelloFresh may be a good middle ground. It takes out a lot of the steps, leaving you able to enjoy cooking and keeping up your kitchen skills without the prep work.
This still requires you to keep a good schedule, though. If you're not diligent and don't use your ingredients within the recommended time frame, they can go bad and end up just being a waste of money. Given the expense, HelloFresh may work as an incentive to form better time management habits.
Should I use HelloFresh?
If you're busy or otherwise find yourself struggling to regularly cook healthy meals at home, HelloFresh may be a helpful tool.
As the boxes are designed for either two or four people, they may not work for individuals. You could just halve the recipes and have the same meal twice in a week, but it may be difficult to get through all of the fresh ingredients before they expire.
Fussy eaters or those with special dietary requirements (other than vegetarianism) will have a hard time with HelloFresh too. Having to throw out any ingredients you can't eat is a waste of money and could end up undoing the time savings if you need to go buy substitute ingredients. That being said, if you're looking for an easy way to expand your cooking repertoire or make home cooking more convenient, HelloFresh may be worth a go.