Supermarket Christmas Awards 2020

Fact Checked
Christmas is an important time of the year for the supermarkets, but it's an even more important time for Australian consumers who want the best food for their festive feasts.
That's why Canstar Blue produces an annual review of supermarket Christmas food products, inviting more than 1,800 shoppers to report their satisfaction with the leg ham, turkey, Christmas pudding, pavlova and fruit mince pies they purchased in the lead-up to the big day.
"The festive season is an important time for most Aussie families and people of all faiths and convictions, so these ratings are about finding out which supermarket got it right for Christmas," said Canstar Blue, Home & Lifestyle Editor, Megan Birot.
"While the Christmas food shop includes so many different items – and people will have their own preferences – we wanted to focus specifically on the products that really make an Aussie Christmas, and allow consumers to reflect on the value they got from their purchases. It may help them make a better decision on where to spend their festive dollar next year."
Survey respondents were asked to identify which Christmas foods they had purchased – and from where – and then rate their satisfaction with the products on a scale of 1 to 10. The ratings include feedback from Coles, Woolworths, ALDI, IGA, Costco and Foodland, although not all supermarket chains are represented in all categories.
The supermarket with the highest satisfaction score in each category takes out the award. In our third year of rating Christmas supermarket products, this is what we found.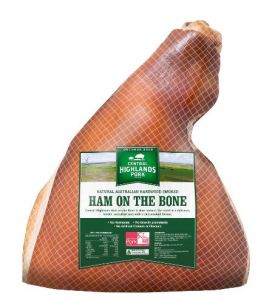 Leg Ham Award Winner – Costco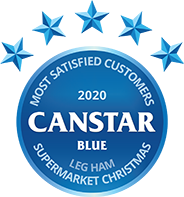 Costco has brought home the bacon after becoming the best-rated supermarket for Christmas ham, receiving a five-star review for overall satisfaction, as well as for taste, value for money and freshness. IGA came in second with four stars overall, similar to ALDI in third place as well as Woolworths and Coles which finished fourth and fifth respectively. Foodland ultimately wrapped up the scores on three stars for overall satisfaction.
It's worth mentioning that when it comes to getting bang for your buck, ALDI joined Costco with full marks for value for money.
Outside the results, we found that more Aussies are enjoying ham outside the Christmas period, with the portion of people who generally don't eat ham during the rest of the year continuously dropping (from 22% to now 19%). During the festive season, however, most households appear to be stuffing their trolleys a little too much, with 15% of consumers throwing away leftover ham. Meanwhile, 8% of shoppers said they didn't buy enough.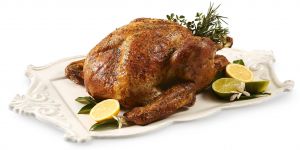 Turkey Award Winner – ALDI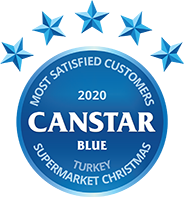 ALDI carved out its second consecutive win for Christmas turkey, receiving a five-star review for overall satisfaction, as well as for taste, freshness and value for money. Woolworths and Coles followed behind in second and third place respectively with four stars. The remaining supermarkets scored three stars for overall satisfaction, with Foodland in fourth, Costco in fifth and IGA landing sixth place.  Noteworthy mentions also go to Woolworths and Coles, which matched ALDI's five-star rating for freshness.
Unlike leg ham, our survey revealed more Aussie consumers prefer to gobble up the Christmas chook during the merry season rather than the rest of the year (35%). And when it's time to cook, one in five (21%) opt for a pre-stuffed turkey. Quality also appeared to be the most important purchase decision factor (42%), ahead of cost (31%) and size (25%).
Christmas Pudding Award Winner – ALDI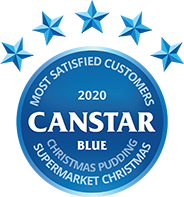 Undefeated, ALDI now marks its third year as the best-rated supermarket for Christmas pudding. Runner-up Coles scooped up a four-star review for overall satisfaction, alongside Woolworths, Costco, and Foodland. Finally, IGA settled in sixth place with three stars for overall satisfaction.
There's no doubt that Christmas pudding divides opinion, but of those surveyed, a whopping 66% of Aussies said they enjoy eating the fruity treat. But many families came prepared with a backup plan, with 22% purchasing multiple puddings for the big day.
Whether you like Christmas pudding or not, they can be certainly hard to finish – as 12% of respondents found out, throwing out leftovers.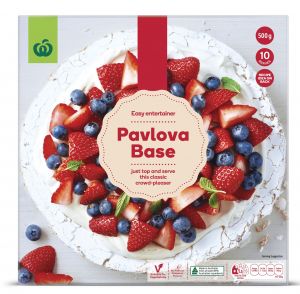 Pavlova Base Award Winner – Woolworths & Coles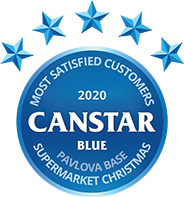 Woolworths and Coles were rated best for pavlova, adding the cherry on top with five stars for overall satisfaction, as well as for taste, freshness and value for money. Foodland, ALDI, and Costco whipped up four stars in second to fourth place, while IGA got three stars overall. It's worth noting that German supermarket ALDI additionally scored a five-star review for value for money.
Pavlova is a dessert staple all year-round, with nearly three in five (73%) survey respondents giving it the thumbs up. A handful of people even admitted to passing off a store-bought pavlova base as their own before (13%).

Fruit Mince Pies Award Winner – ALDI & Foodland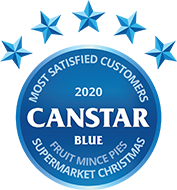 Three must be a lucky number for ALDI, with the supermarket chain rating best for fruit mince pies for the third year in a row. But this time, it's joined by Foodland which also impressed with a five-star review for overall satisfaction. Costco came in second with four stars, alongside Woolworths in third and Coles in fourth place. IGA rounded up the scores on three stars for overall satisfaction.
Like Christmas pudding, fruit mince pies are another tasty Christmas treat that divide the nation. But of those surveyed, a whopping 87% said they enjoy eating fruit mince pies, with 13% of respondents opting for the gluten-free range.
You may also be interested in:
About the author of this page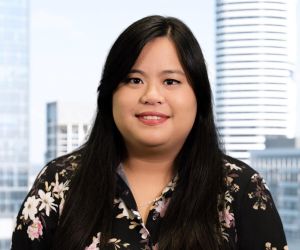 This report was written by Canstar Blue's home & lifestyle journalist, Tahnee-Jae Lopez-Vito. She's an expert on household appliances, grooming products and all things grocery and shopping. In addition to translating our expert research into consumer-friendly ratings reports, Tahnee spends her time helping consumers make better-informed purchase decisions on all manner of consumer goods and services, while highlighting the best deals and anything you need to be aware of.
Frequently Asked Questions
Canstar Blue surveyed 3,000 Australian adults across a range of categories to measure and track customer satisfaction, via ISO 26362 accredited research panels managed by Qualtrics. The outcomes reported are the results from customers within the survey group who have purchased and eaten supermarket branded food for Christmas festivities or holiday entertaining (note: this refers to supermarkets' own brand products, not name-brand products purchased in a supermarket and not products purchased from an independent butcher, deli, baker, etc.) – in this case, 1,848 people.
Brands must have received at least 30 responses to be included. Results are comparative and it should be noted that brands receiving three stars have still achieved a satisfaction measure of at least six out of 10. Not all brands available in the market have been compared in this survey. The ratings table is first sorted by star ratings and then by mean overall satisfaction. A rated brand may receive a 'N/A' (Not Applicable) rating if it does not receive the minimum number of responses for that criteria.
Here are the previous winners of Canstar Blue's Christmas supermarket awards:
2019
Best Leg Ham: Woolworths
Best Turkey: ALDI
Best Christmas Pudding: ALDI
Best Pavlova Base: Woolworths
Best Fruit Mince Pies: ALDI
2018
Best Leg Ham: ALDI
Best Turkey: IGA
Best Christmas Pudding: ALDI
Best Pavlova Base: ALDI
Best Fruit Mince Pies: ALDI