Bounce Protein Supplement Review
Since it began in the garage of a couple in a coastal town in Australia, Bounce's range of balls and bars have expanded to include a wide variety of products and flavours, and can be found around the world. The focus is on making healthy snacks that promote smarter living and healthier lifestyles, and Bounce emphasises that all their products are proudly made in Australia and have 'no junk' added to them. While it's range may not fit the bill of traditional protein supplement brands, if you're looking for a protein snack, or you're just interested in what Bounce has on offer, find out all you need to know in this Canstar Blue guide.
Bounce Protein Supplements
With a more holistic approach to health than simply putting on muscle in the gym, Bounce primarily offers supplements in the form of balls and bars to help those looking for that little of energy throughout the day or after a workout. Check out Bounce's range of supplements below.

What protein balls does Bounce offer?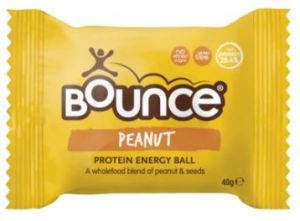 The OG of the Bounce range, its protein balls are split into whey protein balls and plant protein balls. Here's an overview of Bounce's protein balls at the time of writing:
Bounce Whey Protein Balls: Bounce's selection of whey protein balls come in a range of flavours, including lemon coconut, maple pecan, coconut macadamia, cashew caramel, cacao mint, peanut, almond and cacao raspberry. Each flavour varies slightly in its ingredients, however some common highlights are that they are high in protein (between 8g to 14g per serve), gluten free and contain no refined sugar. They can be purchased online in a box of 12, with individual balls also available to purchase in stores.
Bounce Plant-Based Protein Balls: Coming in three flavours – almond butter, cacao nut butter and peanut butter cacao – all of Bounce's plant protein balls are vegan, making them ideal for those following a plant-based, vegan or clean eating diet. They use vegan protein and are largely nut based, offering around 8g to 10g of protein per serve, and are also free of gluten and refined sugars. They can be purchased online in a box of 12, with individual balls also available to purchase in stores.
What protein bars does Bounce offer?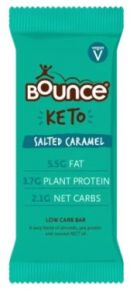 Bounce offers two types of protein bars – including the Keto Low Carb and Brekkie ranges – to suit various lifestyles and diet requirements, although you may wish to look elsewhere if you're after a large protein serving. Here is a breakdown of each protein bar range that Bounce currently has on offer:
Keto Low Carb Bar: Bounce's selection of Keto Low Carb bars are all plant-based and come in three flavours: coconut shortbread, salted caramel and almond vanilla. They range from 5g to 7g of good fats and 2g to 4g of plant protein, and are also gluten free and have no refined sugars. You can purchase them online in boxes of 12, or individually in store.
Brekkie Bar: While potentially not the first option to turn to if you're after a big protein hit, Bounce Brekkie Bars combine fruit and nuts for a high fibre bar that doubles as brekkie on the go. There are four flavours to choose from: hazelnut cacao, apricot almond, coconut goji, banana pecan. The Brekkie Bars have between 8g and 10g of fibre, 5g to 7g of protein, and are gluten and refined sugar free. You can purchase Bounce Brekkie Bare online in a box of 12, or individually in store.
What protein shakes does Bounce offer?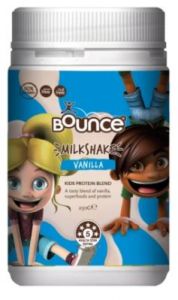 While not protein shakes in the traditional sense, Bounce has a range of milkshake powders designed for kids between the ages of two and 10 to help promote general health and wellbeing for active and growing kids. Boasting a combination of superfoods and protein blends, the powder just needs to be mixed with milk and it comes in either Vanilla or Cacao flavour. Bounce also says that its superfood milkshakes for kids are a natural source of protein and are gluten and nut free.
Bounce Shipping and Returns Policy
According to the Bounce website, all orders under $49 will incur a $8 shipping fee, while orders over $49 qualifying for free shipping. All orders are shipped within 24 hours when placed on business days, with delivery taking anywhere between two and nine business days, depending on your location. Bounce will only replace products that are faulty or damaged. You can return your faulty or damaged products by notifying Bounce via its website.
Bounce products are also available in-store through a number of retailers that can be located via the Bounce website.
Should I choose Bounce protein supplements?

The Bounce range of bars, balls and shakes are not your usual protein supplements, instead falling into a healthy snacking alternative. While its products are high in protein, fats and fibre, they are generally aimed at children or adults who are looking to boost their diet and support healthy choices, rather than those wanting to gain muscle at the gym.
If you are looking for traditional protein shakes and supplements, Bounce may not be the best fit for you, but if you're looking for healthy snack substitutes that are plant-based and free from gluten and refined sugars, Bounce has a wide variety of products and flavours to suit a range of ages and tastes. If you're not sure about which protein supplements you should be taking, or even what's simply out there, head on over to our protein supplements ratings page to get the full scoop.
Photo Credit: Dusan Petkovic/shutterstock.com, Bounce
About the author of this page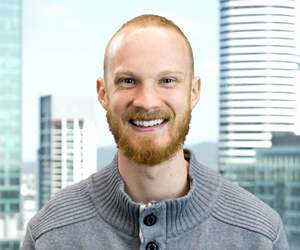 This report was written by Canstar Blue's Site Editor, Dean Heckscher. He's our resident expert on all things automotive, health & fitness, streaming and more. Dean is also one of Canstar Blue's customer research report producers, helping to turn complicated subjects into easily-digestible information for our readers. He's passionate about helping consumers make better-informed purchase decisions on all manner of consumer goods and services.