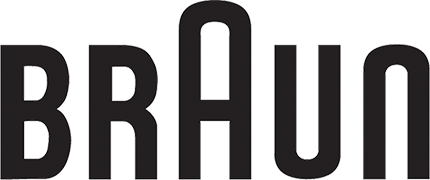 Review of Braun electric shavers
If you're coming out of winter with a scraggly beard or with legs that aren't at your desired smoothness then an electric shaver is probably up your alley. Not only are they easier to use than traditional razors, they are more convenient, too. One such brand to deliver a brilliant suite of electric shavers is Braun, the German personal grooming giant.
What shavers does Braun offer?
Braun has a remarkable seven different categories of men's shavers and two different categories for women. Let's see what Braun offers men exactly, before going onto the options for women. If you need some help deciding which Braun electric shaver is best for you. Watch this video from Braun and you'll have a better idea.
Braun Men's Shavers
Like with a lot of things, men get a lot more choice when it comes to shavers. As mentioned, Braun offers men seven different categories of shavers. The men's categories are:
Series 9
Series 7
Series 5
Series 3
Series 1
CoolTec
WaterFlex
Let's now have a closer look at some of the standout Braun products.
Series 9
This is the mac-daddy of Braun's shaver line-up. There are three models, and Braun has packed in some impressive features in this foil shaver, such as:
SyncroSonic blade technology with 40,000 cross-cutting actions a minute
Titanium-coated trimmer
Six shaving elements – HyperLift & Cut trimmer, Direct & Cut trimmer, a protective skinguard, 2x Opti-Foils, 10-directional flexible shaving system
A Clean and Charge station, that lubricates, dries and charges the shaver
Braun claims that the Series 9 is the "world's most efficient and comfortable shaver, proven on 3-day beards". This is of course reflected in the price. Overall you can expect to pay around $600-$700 for a Series 9, which makes it a serious bit of kit for shaving.
Series 7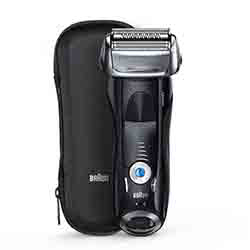 The next step down the Braun totem pole – but not necessarily in quality – is the Series 7 line-up. These shavers have some impressive features, which include the following:
Smart shaving with Braun's 'Sonic' technology that adapts to your beard by sensing the hair density and providing extra power when needed
Five shaving modes to accommodate different skin types and sensitivities.
Four shaving elements compromising of two Opti-Foils for safe, close shaving, an ActiveLift trimmer to capture lying-flat hairs, protective skin guard for smoother skin, and an eight-directional flexible shaving system
A MacroMotion 40° pivoting head to fit around the contours of your face. Cutting elements are also suspended to accommodate fine contours
The Series 7 impressive range of features also means that you're paying around $450 retail price. The Series 7 is for the shaving enthusiast looking for a great trimmer at a mid-high end price.
Series 5
Coming in at the mid-range of Braun's range of shavers, the Series 5 offers a good compromise between features and price; it's a powerful shaver that likely won't damage the budget. Its key features are:
'FlexMotionTec' heads with flexible cutting elements to match the contours of your face, and maintains maximum contact to ensure a smoother shave. This can allow for less skin irritation and less pressure shaving.
Its foil and blade system is made up of 'UltraActiveLift' to combat stubborn hairs, and the two crosshair blades aid in close shaving.
A precision trimmer that pops out is ideal for sideburns and mustache trimming.
The lithium-ion battery full-charged gets you a 45-minute run time.
Retailing around $300-$400, the Series 5 shavers are offered at a price a lot more palatable to the average consumer, but still offer solid shaving capabilities.
Series 3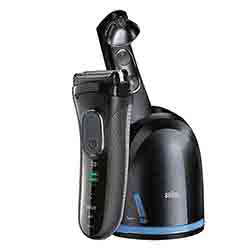 The Series 3 shavers may be cheaper in price, but they don't skimp on powerful shaving. The Series 3 key features are:
MicroComb technology – two rows of evenly-spaced grooves with an independently moving middle trimmer. Think of it like a blade sandwich that catches and feeds more hair.
The Triple Action Cutting System features a middle trimmer, with two foils either side of it for protected, effective shaving.
The three independent cutting elements are flexible to allow for close, contoured shaving
100 per cent waterproof allows you to shave in the shower and wash easily
Clean and Charge station for lubrication, disinfection and for convenient charging
Precision mode for the mustache and tricky areas
45 minute run time from a full charge
The Series 3 costs around $250, which offers a good compromise between price and features that's much more appealing for many people.
Series 1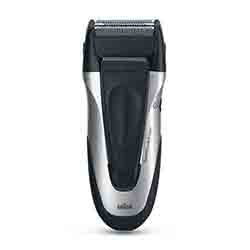 As the most basic of Braun's 'Series' shavers, the Series 1 offers cheap shaving that won't leave your face feeling raw. Its features include:
Three cutting elements – two foils and an integrated middle trimmer for more effective shaving
Floating foil to allow for flexible following of facial contours
30 minutes run time from a full charge
100 per cent waterproof for use in the shower, and for easy washing
Slide-out trimmer for precision trimming
Braun's Series 1 is for those on a budget who still want a close shave. Overall you can expect to pay around $50 for one of these shavers, which is a nice price indeed.
CoolTec Shavers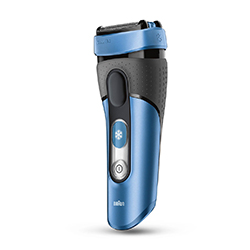 As the name suggests, CoolTec shavers work to deliver a cool sensation to your face. Through the 'Active Cooling Technology', the CoolTec shaver comes to life to significantly reduce razor burn.
Braun claims this shaver is endorsed by dermatologists for its gentle treatment of skin. That doesn't mean it's a dud shaver though. It packs in three shaving elements – two SensoBlades and a middle trimmer – for seamless shaving. It's also waterproof and features a 3-action cleaning station to both disinfect and charge the shaver.
Expect a 45 minute running time from a full charge. Retailing for around $230-$270, the CoolTec shavers offer adequate shaving with a handy cooling feature.
WaterFlex Shavers
If you've had a watershed moment and feel like you need to shave in the shower, then these Waterflex electric shavers could be for you. The Waterflex is waterproof to allow for shower shaving, and cleaning. They feature a 33° pivoting head to accommodate facial contours without too much pressure. This can maximise skin contact, leaving your skin feeling fresher. It also has three elements of cutting – a middle trimmer and two OptiBlades for a close shave. You'll get 50 minutes running time from an hour's charge. Expect to pay about $200 for this handy shaver that's as versatile as the day is long.
Braun Women's Shavers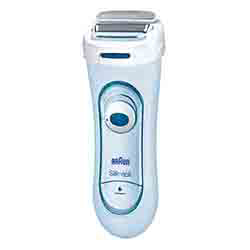 Added as somewhat of a footnote by Braun, these shavers focus on comfort and effortless shaving of more sensitive areas, such as the bikini line, legs and underarms. There are two models in the line-up – the 'Silk-epil' shaver, and the 'Silk-epil' bikini styler. The shaver has four different attachments, meaning it's suitable for a variety of different shaving uses, and the unit is waterproof allowing you to easily clean and use in the shower. It's also battery operated.
The bikini styler is suited to the more nitpicky areas, such as the eyebrows and bikini lines – it's a pen-sized trimmer that's convenient to use. For the shaver expect to pay around $65, and for the trimmer around $35. Women aren't left out of the picture, but for more powerful shaving you may even want to look at the men's shavers.
Are Braun shavers worth the money?
Braun's line-up is truly impressive, with a range to suit most budgets. Overall expect to pay anywhere from $50 all the way up to $650 for the most expensive, and advanced shavers. As you'd expect, the more expensive shavers offer the most technology to make shaving a snap, and the cheapest are the most 'no-frills' kinds. We suspect the best compromise is found with the Series 3 and 5 shavers for the men.
As for the women, there is a bit lacking in the range, but what Braun does offer is gentle yet effective shaving and trimming ideal for more sensitive areas. These range in price from about $35 to $65, which means the 'lady shavers' are pretty solid value-for-money.
Overall, Braun's line-up is comprehensive at a range to suit a lot of budgets. Dig a little deeper and we suspect you'll be able to find a shaver for you from the German personal grooming giant.
About the author of this page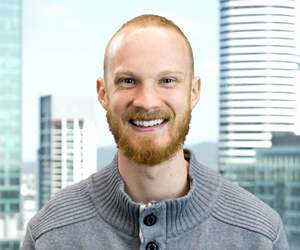 This report was written by Canstar Blue's Content Projects Lead, Dean Heckscher. He's our resident expert on all things automotive, health & fitness, streaming and more. Dean is also one of Canstar Blue's customer research report producers, helping to turn complicated subjects into easily-digestible information for our readers. He's passionate about helping consumers make better-informed purchase decisions on all manner of consumer goods and services.