Braun shows its strength in electric shavers review
Whether it's on your face or on your legs, sometimes we just don't want hair there. Keeping your skin smooth and trimmed can be tricky – it can be hard to get your skin completely smooth with a dodgy shaver, not to mention that the wrong shaver for you can irritate your skin. When it's part of your regular grooming routine, it can pay to invest in a reliable, long-lasting tool. That being said, price doesn't necessarily correlate with performance – in our ratings cheaper brands have outperformed some higher priced brands. To find out which electric shavers are impressing most, Canstar Blue has once again surveyed hundreds of men and women across Australia.
In this year's review, Aussies who chose Braun electric shavers were overwhelmingly the most satisfied with their purchase, giving the brand top marks in every single ratings category. That's a very impressive performance on its own, but it's even more so given that this time no other brand managed to achieve any five star ratings. Braun's win was no close shave.
Other notable results include:
Philips in second place was the sole recipient of a four star overall satisfaction. It was also the only brand to receive four stars for comfort.
Kmart notably came second on value for money, as the only brand to be rated four stars in this category.
Is an electric shaver worth the extra cost compared to manual razors? Our survey respondents thought so – 77% consider their electric shaver easier to use than a manual shaver. Some brands and models offer more features and extras along with their shavers – we strongly encourage you to compare your options in detail to find the best shaver for your skin. Read on for an overview of the five leading brands in this year's review to help you decide which might be best for your needs and budget.
Top Electric Shaver Brands
Braun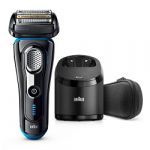 The Braun shavers range is mostly designed for men, although there are a couple of women's shavers available, too.Braun only produces foil shavers (i.e. those that shave in straight lines) as the company believes this movement is the most efficient. There are nine different models of men's electric shavers ranging from affordable through to expensive high end, high tech tools. Notable features to look out for include Braun's Sonic Technology, which automatically increases power in areas that are more difficult to shave. Some models include clip-on blades to double as hair clippers, while higher tier models have multiple modes such as 'sensitive' and 'turbo'. All Braun shavers are waterproof up to five meters.
In the women's range, there are two options – the Braun Silk-epil Lady Shaver and the Braun Silk-epil Bikini Styler. The Lady Shaver includes a vibrating exfoliation attachment for an added smoothing step, while the foil and trimmer are floating for a close and comfortable shave.
In a major improvement on last year's ratings, Braun has taken out top marks with five stars for overall satisfaction, as well as for every single ratings category.
Philips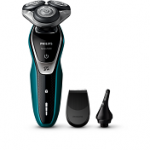 Philips offers a wide range of shavers in both foil and rotary designs, across budget to high end price points. Philips offers four 'lady shavers' products under the SatinShave line, comprising the SatinShave Essential, SatinShave Advanced (single foil) and SatinShave Prestige (dual foil), with the Prestige coming in a choice of two different sets.
For men's shaving, Philips offers a huge range types of rotary electric shavers in dry only and wet & dry designs, as well as a handy travel shaver. Star Wars fans might choose to wield the force of the special edition Star Wars design electric shavers, inspired by Stormtroopers, BB-8, Captain Phasma and more. In addition, the Philips double-ended body groomers have a foil shaver at one end and clippers down at the other, for shaving and grooming all over.
Last year's winner has been bested by Braun this time around. In this year's ratings, Philips received four stars for overall customer satisfaction and across all other categories except value for money, in which it received three stars.
Kmart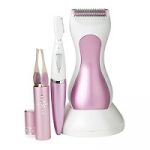 Well-loved for its cheap and cheerful home goods, Kmart offers a bargain $25 electric shaver to keep you neat and tidy without cleaning out the bank account. The Kmart Ladies Grooming Set, in a matching white and metallic purple colour palette, comes with a rechargeable shaver, charging stand, battery operated eyebrow trimmer, battery operated tweezers with LED light and carry case, and a cleaning brush.
In our customer satisfaction ratings, Kmart received three stars for performance, ease of use, reliability and comfort in addition to overall satisfaction. It rated better in the remaining categories, achieving four stars for closeness of shave, value for money, and ease of cleaning.
Panasonic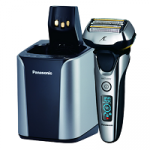 Panasonic produces foil shavers marketed towards men, from affordable up to high end tools. The most affordable model offers a double foil and trimmer attachment, while at the top end shaver sets include a multi-dimensional pivot head with five blades and sensor to automatically adjust motor speed to match beard density. Many of the more expensive models also include a dock which includes an automatic cleaning system. All Panasonic shavers are suitable for wet and dry use.
Panasonic received three stars for overall customer satisfaction in our latest review and the same score across all ratings categories.
Remington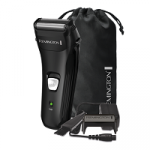 Remington offers foil shavers marketed towards both men and women, and rotary shavers for men. In the women's range, there are four options. At the most affordable, the Beauty Shave Cordless Shaver comes with a choice of fuchsia and purple, for simple shaving with a flexible foil. Next, there are three Smooth & Silky shavers. The Smooth & Silky Effortless Glide includes a massaging strip and two flexible foils, while the Smooth & Silky Cordless Wet/Dry with hypoallergenic foils plus a bikini comb to trim hair. At the high end, the Smooth & Silky Ultimate Shave & Trim has an aloe vera moisturising and massaging strip, hypoallergenic titanium foils, and a separate bikini trimmer.
Moving on to men's shavers, there are 13 different rotary shavers to choose from, including compact Quick Shave designs up to sets including waterproof Bluetooth speakers. There are then four different foil shavers all with dual foils on pivoting heads.
Remington received a mix of three and four star results across this year's ratings categories. It received three stars for overall satisfaction as well as closeness of shave, value for money and comfort. Its better performances were in performance, ease of use, reliability, and ease of cleaning, attracting four stars.