Fact Checked
Braun shaves the day in electric shaver ratings
Whether it's on your face or on your legs, sometimes we just don't want hair there! Keeping your skin smooth and trimmed can be tricky – it can be hard to get your skin completely smooth with a dodgy shaver, not to mention that the wrong shaver could irritate your skin. When it's part of your regular grooming routine, it pays to invest in a reliable, long-lasting tool. That being said, does price correlate with performance, or can some cheaper brands rival top-of-the-range models?
To find out, we've again surveyed more than 500 Aussies for their feedback on the electric shavers they've bought or been gifted (and obviously used) within the last three years. Respondents were asked to compare and rate brands on their performance and reliability, comfort, ease of use, value for money and overall satisfaction. Those which met the minimum required survey sample size of 30 responses were included in the results.
This year's review featured five major brands, but only Braun was rated best, scoring five-star ratings for performance and reliability, comfort, ease of use and overall satisfaction.
Best Electric Shavers
Here are the best electric shavers in Australia, as rated by consumers in Canstar Blue's latest review:
Braun
Philips
Gillette
Remington
Panasonic
Braun was the only brand to receive the nod of approval from consumers for overall satisfaction. It also achieved five stars for comfort, ease of use and performance and reliability, but landed on four stars for value for money. Meanwhile, last year's winner Philips received five star-ratings for comfort and value for money, making it the only brand to beat this year's winner in any category. Remington also landed full marks for ease of use.
Philips, Gillette and Remington finished on four stars for overall satisfaction, as Panasonic bottomed out on three stars.
Electric Shavers
Braun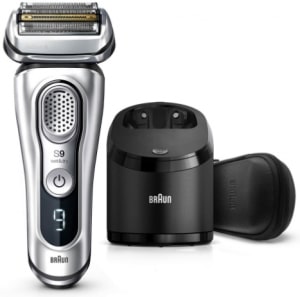 Braun's range of electric shavers is predominantly designed for men, although there are still a couple of women's shavers available, too. Braun only produces foil shavers (i.e. those that shave in straight lines) as the company believes this movement is the most efficient. In the women's line, there are two options – the Braun Silk-épil Lady Shaver and Braun Silk-épil 3-in-1 Trimmer. The Lady Shaver includes an exfoliation attachment for an added smoothing step, while the multi-purpose trimmer is shaped like a pen and designed for detailed styling. Expect these prices for the female shavers:
Braun Silk- épil Lady Shaver: $65 RRP*
Braun Silk- épil 3-in-1 Trimmer: $35 RRP*
For men, there are several models of electric shavers ranging from affordable to high-end. Notable features include Braun's Sonic Technology, which is said to automatically increase power in areas that are more difficult to shave. Higher tier products have multiple modes such as 'sensitive' and 'turbo'. Most Braun shavers are wet and dry models, which means you can take them with you in the shower to save time and avoid making a mess of the bathroom sink. Prices range from $99 to $649 in the men's range. Here are some models below:
Braun Series 9 Wet & Dry Shaver, Clean & Charge Station, Leather Travel Case: $649 RRP*
Braun Series 7 Men's Electric Foil Shaver, Wet & Dry, Pop Up Precision Trimmer, Travel Case (Black): $449 RRP*
Braun Series 3 310s Wet & Dry Electric Shaver: $99 RRP*
Braun toppled last year's winner Philips to take the top spot for best electric shavers. It achieved five stars overall and in the majority of categories, except value for money where it landed on four stars.

Philips

Philips offers a wide range of shavers in both foil and rotary designs, across budget and high-end price points. Philips provides multiple 'lady shavers' under the SatinShave line, comprising of the SatinShave Essential (single foil), the SatinShave Advantage (single foil) and SatinShave Prestige (dual foil), with the 'Prestige' coming in a choice of three different sets. They start at about $40 and work their way up to around $120. Here are some models you'll find in the female range:
Philips SatinShave Prestige Wet & Dry Electric Shaver BRL170/00: $109 RRP*
Philips SatinShave Essential Wet & Dry Electric Shaver HP6342/00: $49.95 RRP*
Philips SatinShave Electric Shaver HP6342/00: $29.95 RRP*
For men's shaving, Philips offers a huge range of rotary electric shavers in dry, plus wet and dry designs, as well as a handy travel shaver. The Philips double-ended body groomers have a foil shaver at the one end and clippers at the other, for shaving and grooming all over. Expect heftier prices for the men's range, from $35 up to as much as $700. Here are some models from the men's range:
Philips Shaver S9000 Prestige Electric Shaver SP9860: $499 RRP*
Philips Shaver Series 5000 Wet & Dry Electric Shaver S5380: $109 RRP*
Philips 1000 Series S1110 Electric Shaver: $59.95 RRP*
Philips dropped to second place in our latest ratings, scoring five stars for comfort and value for money, but four stars for overall satisfaction, ease of use and performance & reliability.

Gillette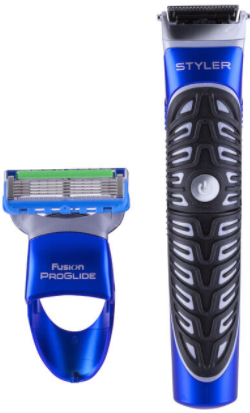 Gillette is a one-stop-shop for men's grooming. The brand stocks shaving sets, face and body shaving products, as well as the latest technology of custom razors. Plus, its website offers tips on how to nail different shaving styles and more. However, the brand only has two electric shavers ─ the All Purpose Gillette Styler, which has a body hair and beard trimmer as well as a traditional razor. It's water resistant, complete with three exchangeable combs and powered by what the brand calls 'Braun-engineered technology'.
Then, you've got the Gillette Fusion5 ProGlide Power Styler which comes with a razor and three interchangeable heads to trim, shave and edge your way to style. Both are available from Gillette directly or the Shaver Shop.
Gillette All Purpose Styler: $29.99 RRP*
Fusion5 ProGlide Power Styler: $29.99 RRP*
Gillette was rated four stars for overall satisfaction, comfort and performance & reliability, but landed on three stars for value for money and ease of use.

Remington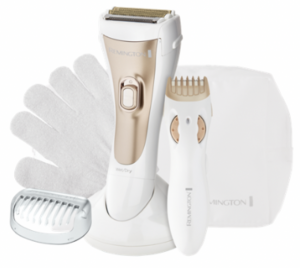 Remington offers foil shavers marketed towards both men and women, plus rotary shavers for the men. In the women's range, there are six options. At the most affordable, the Beauty Shave Cordless Shaver comes with a choice of fuchsia and purple, for simple shaving with a flexible foil. Next, there's the Remington Effortless Glide shaver which includes a massaging strip and two flexible foils, and the Remington Cordless Wet & Dry which features hypoallergenic foils to reduce skin irritation.
At the high-end, the Remington Ultimate Shave & Trim has an aloe vera moisturising and massaging strip, hypoallergenic titanium foils, and a separate bikini trimmer. Overall, you can expect models to cost from around $20 to around $80 in the female range:
Remington Ultimate Shave & Trim Shaver WDF4839AU: $79.95 RRP*
Remington Effortless Glide Shaver WDF4819AU: $29.95 RRP*
Remington Beauty Shave Cordless Shaver WSF4814FAU: $19.95 RRP*
Moving on to men's shavers, there are eight different rotary shavers to choose from, including compact Quick Shave designs and Power Shaver Packs which include a pop-up trimmer. Plus, there are three different foil electric shavers with dual foils. Its Ultimate Series F9 Foil Shaver is arguably the standout model with a four-blade cutting system, designed for a different purpose to ensure a close shave in less strokes and less noise. Expect Pivot & Flex Technology to ensure close contact over facial contours for a precise and comfortable shave. In addition, this model is stated to cut shaving time by supposedly 33%. Some models from the range include:
Remington Ultimate Series Rx5 Head Shaver HC7000AU: $109 RRP*
Remington Quick Shave Pro Rotary Shaver XR1415AU: $99.95 RRP*
Remington Power Series R3 Rotary Shaver R3500AU: 69.95 RRP*
Remington received five stars for ease of use and four stars in the remaining categories, including for value for money and overall satisfaction.

Panasonic
Panasonic produces foil shavers marketed towards men, from affordable up to high-end tools. The most affordable option offers a double foil and trimmer attachment, while at the top end, shaver sets include a multi-dimensional pivot head with five blades and sensor to automatically adjust the motor speed and match beard density. Many of the more expensive shavers come with a dock containing an automatic cleaning system, with all Panasonic shavers suitable for wet and dry use.
Panasonic claims it has taken the Japanese art of making sharp, strong swords and applied this to create its latest Multi-Flex 5-Blade Rechargeable Shaver (ES-LV9Q), including 30 degree-angle nano polished blades and a new suspension mechanism to improve the head movement in five directions. Panasonic's line-up includes:
Panasonic Multi-Flex 5-Blade Rechargeable Shaver ES-LV67: $499.95 RRP*
Panasonic 3-in-1 Hybrid Rechargeable Shaver ES-LL41: $329.95 RRP*
Panasonic 2-Blade Rechargeable Wet & Dry Shaver ES-RW30C: $159.95 RRP*
Panasonic rounded out our 2020 ratings on three stars overall and across the board, but didn't receive the minimum required survey sample size for value for money to be given a rating.

Other electric shaver brands
While this year's ratings only featured five brands, that doesn't mean there aren't other alternatives out there. You might also want to consider manufacturers mentioned in out previous ratings, such as Kmart.
Kmart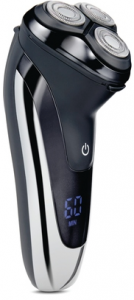 Well-loved for its cheap and cheerful home goods, Kmart offers a bargain on electric shavers. There are just two options in this range – two for men and another for the ladies. Kmart's electric shavers might help keep you neat and tidy without cleaning out the bank account.
The Kmart Ladies Travel Personal Shaver is stated to give a close shave to keep you looking neat for when you're on the move. It comes with an integrated cutter head and a super-thin steel net, plus a cleaning brush. It's also claimed to be water resistant with a body contour pivoting head. In addition, it can comb and trim simultaneously.
For the gents, Kmart has a rechargeable rotary shaver with 360-degree floating shaver heads and a pop-up trimmer. With just two hours of charging, you'll get 45 minutes of run-time. It also offers a water-resistant foil shaver with a slide up runner, two foils, plus one middle cutter. Here's Kmart product range:
Kmart Foil Shaver: $29 RRP*
Kmart Rechargeable Rotary Shaver: $25 RRP*
Kmart Travel Personal Shaver (Pink): $10 RRP*
What features should I look out for in an electric shaver?
There are a few features you'll need to pay attention to when buying a new electric shaver. They include:
Performance (i.e. blade precision and motor quality)
Comfort (i.e. blade quality and technology)
Ease of use (i.e. usability, ergonomics and other features)
If you've found an electric shaver that ticks all the boxes along with your budget, then you might just have yourself a new companion. Let's now explore the above features in detail.
Performance
Choosing an electric shaver with a quality motor and blades is important. Look out for an adequate motor that won't leave you wanting. You'd also want to make sure the unit provides a close shave with less irritation, which is essential if you have particularly sensitive skin. Generally, the mantra of 'buy the best you can afford' works here.
Comfort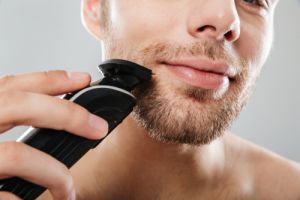 From a comfort perspective, the quality of the rotary blades or foil heads should be the first thing to look at. Traditional shaving involves using sharp blades, which come at a risk, whereas electric shavers are aimed to be more comfortable to use, plus decrease irritation and cuts, while still ensuring a relatively close shave. Many quality blades also self-sharpen, but keep an eye out for rusty blades on budget-oriented models – no one wants that running on their skin!
Ease of use
With so many options on offer, you should expect a unit that's easy to use. If it isn't, you probably won't enjoy using it, or get the results you'd like. Plus, after you've finished, you'll want something that is easy to clean. Electric shavers often go one further and are waterproof, or at least able to be rinsed under the tap. Easy-clean features will also make your overall shaving experience much more pleasant, and proper cleaning can extend the life of your shaver.
How do I maintain my electric shaver?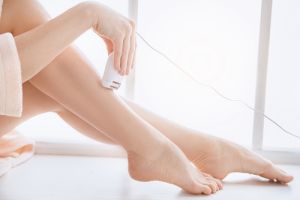 Like any appliance, electric shavers require proper maintenance. Taking care of the blades first and foremost is crucial, though overall maintenance can have your shaver performing better for longer. There are three main aspects to maintaining your electric shaver – they are:
Cleaning the blades
Oiling and lubricating
Spraying and disinfecting
Cleaning the blades
Build-up of hair, dead skin, dirt and any other nasty things decrease the longevity of your electric shaver, so proper care is vital to prolong its lifespan. Most grooming kits come with a cleaning brush, otherwise a clean toothbrush, some soap and hot water should do the trick. Ensure that all parts are completely dry before you assemble it back together. While it might sound pedantic, cleaning your electric shaver after every use ensures your blades' performance is not compromised.
Oiling and lubricating
It pays to oil and lubricate the blades to ensure they perform at an optimal level. A single drop on each foil can make a world of difference. Many brands include a small bottle; however, you can also top it up with any shaver oil.
Similar to oiling your blades, lubricating them from time to time helps to ensure their longevity. Lubricant is a bit more 'heavy-duty' than oil and is important for rarely-used blades. Lubricate your blades before putting the shaver to action, which is a proactive way to ensure you get the best results from your blades.
Spraying and disinfecting
It's also important to disinfect your shaver's blades using commonly-found blade spray. Disinfecting your own personal shaver is simply good hygiene. You can spray every few uses to ensure you're not subjecting your face or other body parts to a germy nightmare.
Are electric shavers worth the money?
Is an electric shaver worth the extra cost compared to manual razors? Our survey respondents think so – 46% consider their electric shaver easier to use than a manual shaver. Some brands and models offer more features and extras, so it may prove worthwhile to compare your options to find the best shaver for your skin, and which one leaves you looking your best.
About the author of this page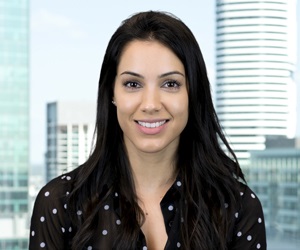 This report was written by Canstar Blue's Home & Lifestyle Content Lead, Megan Birot. She's an expert on household appliances, health & beauty products, as well as all things grocery and shopping. When she's not writing up our research-based ratings reports, Megan spends her time helping consumers make better purchase decisions, whether it's at the supermarket, other retailers, or online, highlighting the best deals and flagging anything you need to be aware of.
Picture credits: LightField Studios/shutterstock.com, Dean Drobot/shutterstock.com, Dima Sidelnikov/shutterstock.com, Mitch Shark/shutterstock.com.
*Prices taken from respective retailers and current as of April 2020.