Review of Hamilton sunscreen
Hamilton is a truly home-grown Australian suncare brand, claiming expertise in UV protection for dry and sensitive skin. With more than 80 years of protecting Aussie skin from the harsh sun under its belt, what can Hamilton offer for your sun safety? Find out in this review by Canstar Blue.
In the late 1920s, a young Adelaide chemist experimented with a new sunburn formula which also prevented UV damage to the skin. A decade and a lot of hard work later, the chemist established 'Hamilton Laboratories' to make the product available to the general public.
Three generations later, Hamilton remains one of Australia's favourite brands of sunscreen. All Hamilton sunscreens offer broad-spectrum UVA/UVB protection and utilise the brand's 'dry-touch technology' to feel comfortable on the skin.
What can Hamilton do to keep you and your family sun safe?
Everyday Sunscreen
Hamilton Active Family SPF 50+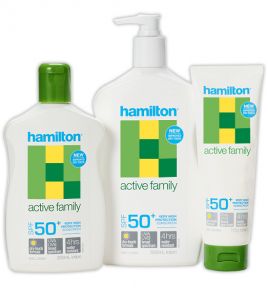 There's no need for a special sports sunscreen when Hamilton's everyday sunscreen already includes sweat resistant properties. It's said to be four hours water resistant and suitable for use on the face and body, making it a real all-rounder sun safety product. The formula also comes in a pump spray, which dries clear and fast and is non-greasy so it doesn't make sand stick to your skin.
Sizes available:
110g tube
250mL bottle
500mL pump pack
200mL clear pump spray
Hamilton Sensitive SPF 50+
To keep sensitive skin sun-safe, Hamilton produces an everyday sunscreen which is low irritant and more friendly for those with allergies. The formula is free from fragrance, lanolin and colours and can be used on both the body and the face. It's also 4 hours water resistant.
Sizes available:
Face Sunscreen
Hamilton Everyday Face SPF 50+
With limited time and energy in the morning to spend on getting ready for the day, it can be easy to ignore sun protection in your routine. The Hamilton Everyday Face sunscreen combines broad spectrum sunscreen with moisturiser and foundation to streamline skincare into one easy application. The sheer tint provides a light, matte finish which also helps keep skin healthy and hydrated. The formula is free from fragrance, PABA and lanolin so it's suitable for sensitive skin.
Sizes available:
Kids Sunscreen
Hamilton Baby & Toddler SPF 50+
With all of the benefits of Hamilton's everyday sunscreen but designed to be comfortable on young, sensitive skin, the Hamilton Baby & Toddler SPF 50+ sunscreen uniquely comes in a roll on bottle to make it easier for children to keep sun safe habits. The formula is 4 hours water resistant and free from fragrance, lanolin and colours. It can be used on the body and face.
Sizes available:
50mL roll on
250mL bottle
After Sun Care
Hamilton Sunburn Relief & Repair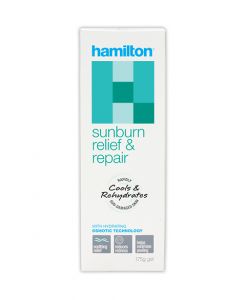 When despite your best efforts you miss a spot or don't reapply often enough and end up with burnt skin, managing the burn can help reduce pain and discomfort as it heals. Hamilton produces an odourless, non-sticky gel that is said to increase skin hydration by up to 80% within an hour according to the results of clinical trials. The gel gives a soothing quick cool effect, and reduces redness, peeling, and irritation. It can be used anywhere on the body or face, as it doesn't stain clothes.
Sizes available:
Should I use Hamilton sunscreen?
The entire Hamilton sunscreen range offers very high SPF 50+ protection against damaging UV rays, meaning optimal sun protection. The brand is also good at focusing on sun protection for those who have sensitive skin or don't like that heavy sunscreen feel. It can be a bit expensive, but you shouldn't necessarily go straight for the cheapest option. Consider sunscreen as an investment in your comfort and safety while living under the sun. If you're looking for an Australian sunscreen brand which offers sun protection for all skin types, Hamilton may be your ideal product.
About the author of this page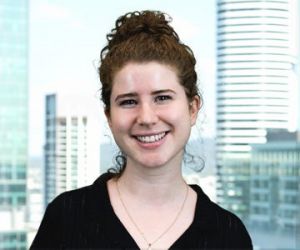 This report was written by Canstar Blue's Content Producer Luciana Lawe Davies. She writes about streaming, appliances and consumer products and services. Luciana enjoys bringing readers the best in what's on TV and at the shops, including the best deals and latest reviews.