Review of Invisible Zinc sunscreen
Zinc sunscreen used to mean smearing a thick opaque white cream across your skin, leaving you looking like a ghost. However, new developments in sunscreen technology mean you can apply zinc without a trace. Invisible Zinc uses this new zinc oxide formula to produce chemical filter-free UV protection.
Invisible Zinc doesn't contain any chemical UV filters, if that's something you wish to avoid. Instead, their sunscreen products have only one active ingredient – zinc oxide, a physical UV blocker. The zinc oxide forms a reflective layer on the surface of the skin preventing UV rays from passing through and causing damage.
Modern zinc sunscreens can now be made to dry clear just like any other sunscreen, unlike the traditional thick cream that left a visible white or brightly coloured hue to your skin, making you look like some kind of fluorescent ghost. Invisible Zinc uses zinc oxide that has been broken down into micro particles so that it absorbs into the skin with a transparent finish.
Read on to find out what kind of sun protection products Invisible Zinc can offer for your skin.
Everyday Sunscreen
Invisible Zinc 4HR Water Resistant Sunscreen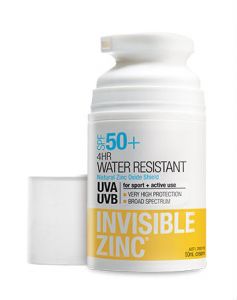 Available in SPF 50+ or 30+, this everyday sunscreen is suitable for all skin types including sensitive skin.  The formula is free from parabens and mineral oils, with a non-greasy feel on the skin after application. The SPF 50+ version is also sweat resistant making it handy for playing sports or enjoying the great outdoors.
Sizes available:
50g cream in airless pump (SPF 50+)
100g cream in airless pump (SPF 30+)
Invisible Zinc Face + Body Sunscreen
Also available in SPF 50 or 30+, this formula contains moisturiser to keep skin soft and healthy. As the name suggests, it's suitable to use on the face as well as the rest of the body, for all skin types. This sunscreen is free from parabens, minerals oils, and PABAs.
Sizes available:
Face Sunscreen
Invisible Zinc Facial Moisturiser SPF 30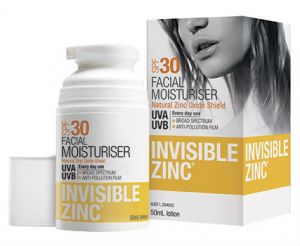 This face cream is not just a moisturiser combined with sunscreen – it actually fulfils three different purposes. The Invisible Zinc Facial Moisturiser contains an anti-pollution film which helps to keep pollutants such as smoke and chemicals in the air from getting into your skin. It feels just like applying a daily moisturiser rather than a conventional sunscreen, absorbing easily with a non-greasy feel on the skin. This formula is suitable for all skin types including sensitive skin.
Sizes available:
50mL lotion in airless pump
Invisible Zinc Tinted Daywear SPF 30+
It can be a hassle layering up your face with different products to keep your skin healthy and looking its best. The Invisible Zinc Tinted Daywear combines sunscreen, moisturiser and foundation into one product, streamlining your daily face care routine. The light, non-greasy formula has a sheer tint to provide light coverage and a more even complexion. It's also four hours water resistant. This hydrating skincare solution is suitable for all skin types, and available in light and medium tints.
Sizes available:
20g cream in tube
50g cream in tube
Kids Sunscreen
Invisible Zinc Junior Clip-on Cream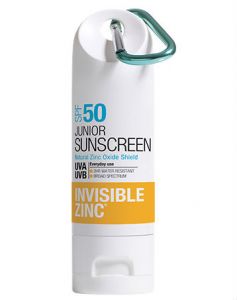 With a choice of SPF 30+ or 50 formulas, this kid-friendly sunscreen is said to be specially formulated to be low-irritant for sensitive young skin. The handy carabiner clip makes it easy to keep UV protection on hand, whether you carry it in a backpack, baby bag, or school bag. No more sunscreen lost to the depths of the bottom of the bag with all the crumbs and lost pens. The paraben-free formula is two hours water resistant, to keep children's skin sun safe no matter where they're playing.
Sizes available:
60g cream in bottle with carabiner
Should I use Invisible Zinc sunscreen?
Invisible Zinc is one of the major brands offering sunscreens with only zinc oxide as the active ingredient. This makes it a brand worth investigating if you're looking to avoid chemical blockers. This is particularly useful for people with sensitive skin that may react to ingredients in chemical formulas.
Some other brands produce combination sunscreens which use both physical UV blockers (usually zinc oxide) and chemical UV absorbers. While zinc oxide is quite good at deflecting both UVA and UVB rays, it's worth comparing the ingredients of different types of sunscreen to decide which offers the best UV protection for your skin.
Invisible Zinc can get quite pricey.  Invisible Zinc sunscreens are more expensive by volume than some conventional sunscreens with the same SPF. However, if you suffer reactions from chemical sunscreens or simply like the texture of Invisible Zinc's products, it can be worth giving it a try to keep your skin safe in the sun.
About the author of this page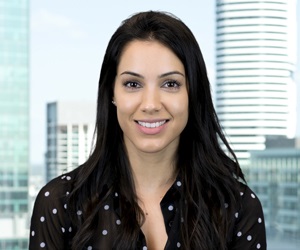 This report was written by Canstar Blue's Home & Lifestyle Content Lead, Megan Birot. She's an expert on household appliances, health & beauty products, as well as all things grocery and shopping. When she's not writing up our research-based ratings reports, Megan spends her time helping consumers make better purchase decisions, whether it's at the supermarket, other retailers, or online, highlighting the best deals and flagging anything you need to be aware of.