IsoWhey Weight Loss Shakes Review & Guide
When hunger strikes, are you someone who tends to reach for those quick, sugar-filled options at a convenience store or fast-food outlet? IsoWhey says its weight loss products can help you ditch the drive-through (and the kilos) with its range of convenient snacks and easy to prepare shakes. But is it the best weight loss shake for you?
What is IsoWhey?
Being busy doesn't mean your weight loss journey needs to suffer. IsoWhey is an Australian-owned brand which aims to "promote healthy choices" for people looking to lead a healthier lifestyle. The products are apparently formulated to ensure people receive "a nutritious and healthy option when nutrition could be improved during various health and life stages".
The health and wellbeing brand is sold in more than 3,000 pharmacies and health food stores across Australia. IsoWhey Weight Management is one of two brands, with the other being IsoWhey Clinical Nutrition. The weight management range is said to be scientifically formulated by qualified healthcare practitioners to ensure you get what they believe is the "right balance" of pure whey protein and other ingredients. It offers a mix of shakes, snacks and meal replacements.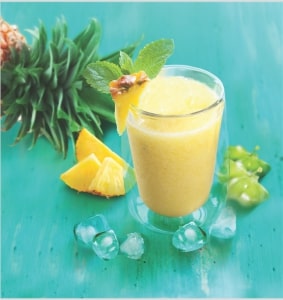 Range of IsoWhey weight loss shakes
The IsoWhey Weight Loss Shake is described as being "much more than a protein powder". The brand claims the formula supports healthy fat loss and digestive health, and uses the "highest grade whey protein" to keep you feeling fuller for longer as well as maintain muscle mass while you lose weight. IsoWhey products like the IsoWhey Weight Loss Shake is designed to be used with the IsoWhey Healthy Living Programs, which incorporate healthy eating plans and regular exercise.
Other options in the Isowhey range include Keto snacks and probiotic chocolate. Specific formulas for children, people aged over 55 years, and those who need a diabetic-friendly formula are also available.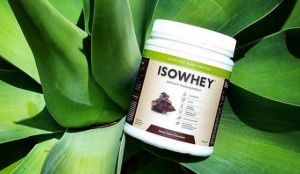 IsoWhey Weight Loss Shakes
The IsoWhey Weight Loss Shake is said to contain probiotics for intestinal balance, digestive enzymes for digestive health, and a low GI fibre called Litesse to minimise cravings and support probiotic. It similarly features Alkaline SeaGreens, which the brand says is a 'multinutrient' and source of iodine, iron, calcium and potassium. Plus, this weight loss shake is advertised as being fortified with some 12 vitamins and 11 minerals.
If you have any food intolerances or allergies, the IsoWhey Weight Loss Shake is claimed to be gluten-free and made with less than 1g of lactose per serve. The brand also claims the IsoWhey Weight Loss Shake is naturally sweetened with xylitol and doesn't include any artificial flavours, preservatives or sweeteners.
This weight loss shake is intended to be consumed once or twice daily. Flavours include Classic Coffee, Ivory Coast Chocolate, Madagascan Vanilla, Strawberry Smoothie, Salted Caramel and Banana Smoothie. The cost of an IsoWhey Weight Loss Shake varies between sizes:
10 sachets per box: $19.95
448g tub: $34.95
672g tub: $49.95
21 sachets per box: $52.95
28kg tub: $85.95
IsoWhey Weight Loss Shake Sachets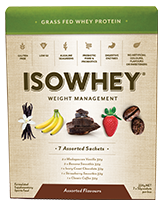 Can't decide on which flavour to get and looking for a meal replacement that's portable and suitable for taking on the go? IsoWhey Weight Loss Shake Sachets use the same formula to the regular IsoWhey Weight Loss Shake and come with a variety of the same flavours available for the brand's weight loss shake range. The prices are as followed:
7 sachets per box: $19.95
10 sachets per box: $19.95
14 sachets per box: $24.95
Is IsoWhey worth the money?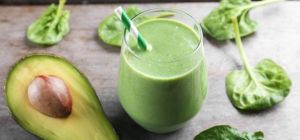 IsoWhey mixes affordable weight loss shakes with healthy meal plans and regular exercise. But is IsoWhey the way to go? The weight loss shakes from the brand's weight management range are targeted towards people looking to supplement their weight loss journey with what is claimed to be scientifically formulated products made by qualified healthcare practitioners. The IsoWhey Shakes are available in 448g, 672g or 1.28kg tubs. Sachets are alternatively on offer.
If you're looking for something affordable, IsoWhey's weight management range caters to a variety of budgets by offering its weight loss shakes in different sizes and price points. And the option to choose between tubs and sachets might also be something worth considering when deciding on which brand best suits your needs. To make sure you're getting the best weight loss shakes for you, don't forget to check out our ratings from everyday Aussies to compare IsoWhey with a number of other brands on the market.
About the author of this page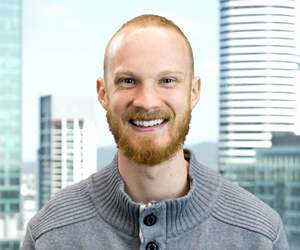 This report was written by Canstar Blue's Site Editor, Dean Heckscher. He's our resident expert on all things automotive, health & fitness, streaming and more. Dean is also one of Canstar Blue's customer research report producers, helping to turn complicated subjects into easily-digestible information for our readers. He's passionate about helping consumers make better-informed purchase decisions on all manner of consumer goods and services.