Review of Le Tan sunscreen
Starting out as an Australian tanning lotion company, increased awareness of the dangers of sunbaking led to Le Tan developing far stronger UV protection products. It seems a little ironic that you can use 'Le Tan' to stop the sun from giving you a tan!
Le Tan covers a broad range of summer skin products, from spray-on tans, to suntan oils, to sunscreen. The Le Tan sun protection line covers a range of protection levels, from SPF 4 up through to SPF 50+. In addition to lotions and sprays, Le Tan also produces sunscreen oil. All products offer broad spectrum UVA/UVB protection, are free from oxybenzones, and are not tested on animals.
The tropical experience of a day at the beach gets a boost with a rich coconut scent added to all but a handful of Le Tan sunscreens. If you don't like coconut, you're out of luck. For the rest of us, it's time to dive in to see what coconut-scented sun protection Le Tan sunscreens can offer to our skin.
Everyday Sunscreen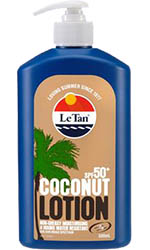 Le Tan's leading sunscreen product is its Coconut Lotion, which comes in SPF 8, 15, 30 and 50+. The formula carries a tropical coconut scent. All formulas offer some degree of water resistance – up to 80min for SPF 8, up to two hours for SPF 15, and up to four hours for SPF 30 and SPF 50+.
Sizes available:
125mL bottle (SPF 8, 15, 30 & 50+)
250mL trigger spray (SPF 30 & 50+)
500mL pump bottle (SPF 50+)
1L pump bottle with handle (SPF50+)
175g aerosol spray (SPF 50+)
Kids Sunscreen
Instead of coconut, the Le Tan Active Kids SPF 50+ formula smells like ice cream. Yum! The non-greasy formula is low-irritant, making it suitable for sensitive skin, and free of parabens and oxybenzone. Up to 4 hours water protection keeps kids sun safe at the beach or pool while added aloe vera and vitamin E helps nourish young skin.
Sizes available:
Sunscreen Oils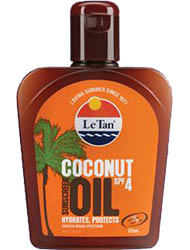 Sunscreen oils offer some UV protection but are ultimately used while deliberately tanning. While it's inadvisable to go looking for a suntan because that brings an increased risk of skin cancer, if you really think it's worth the risk it's better to do it with a little bit of sun protection than none at all.
Le Tan Coconut Oil comes in three different SPF rated formulas for varying degrees of UV protection while tanning – SPF 4, 15, and 30+. These sunscreen oils are moisturising, to keep skin soft and smooth instead of dried out from sun exposure.
Sizes available:
Sports Sunscreen
Le Tan produces two different kinds of sports sunscreens – the Invisible SPF 50+ Sport Spray and the Powder Dry SPF 50+ Sport Lotion. Both formulas are non-greasy, sweat resistant, and up to four hours water resistant. The spray version is one of the few vegan-friendly Le Tan sunscreens, and carries a light coconut scent. The lotion, meanwhile, is fragrance-free with a 'powder dry' finish on your skin.
Sizes available:
110mL tube
200mL pump spray
Zinc Sticks
The iconic colourful stripe across the nose is seemingly here to stay. Le Tan Zinc Sticks SPF 50+ come in a three-pack (coloured blue, yellow and green) to make sun protection colourful and fun. It might get a bit expensive to use as an all-over sunscreen, not to mention leaving you looking a little green.
After Sun Care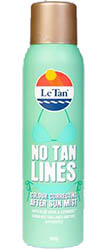 The Le Tan No Tan Lines (100g aerosol) is a spray-on 'colour correcting mist' which also soothes your sunburn. This vegan-friendly formula is a cooling mist which soothes and hydrates skin. Unlike other after sun care products, however, it's also a fake tan spray. The idea is that while soothing burnt skin, it can fill in the gaps in your tan for a more consistent complexion.
Should I use Le Tan sunscreen?
The most important consideration in choosing a sunscreen should always be how well it can protect your skin from UV rays. It's preferable to use a high SPF broad spectrum sunscreen. While you may like the lower SPF sunscreen oils offered by Le Tan, always keep your skin's protection in mind, even if your aim is a nice tan.
The stand-out feature of the Le Tan sunscreen range is the rich coconut scent of most of its products. If smelling good is important for you when wearing sunscreen lotion, Le Tan is certainly nothing to sniff at (or maybe it is). Le Tan sunscreen should also be on the radar of ethically-minded consumers looking to avoid buying products tested on animals.
About the author of this page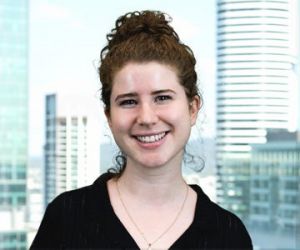 This report was written by Canstar Blue's Content Producer Luciana Lawe Davies. She writes about streaming, appliances and consumer products and services. Luciana enjoys bringing readers the best in what's on TV and at the shops, including the best deals and latest reviews.