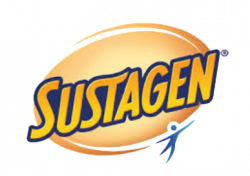 Sustagen Protein Supplements Review
Operating for over 30 years, Sustagen can be found on both supermarket and pharmacy shelves, offering another option for shoppers looking for a source of protein while out on the weekly grocery shop. While not as protein-focused as other competitors may be, Sustagen offers a number of powders and drinks to assist with an active lifestyle. If you're looking to get a bit healthier, or simply take more of an interest in your nutrition, Sustagen may be the brand for you. Read on to find out just what Sustagen has to offer, and which may be the best product for you.
Sustagen Protein Powders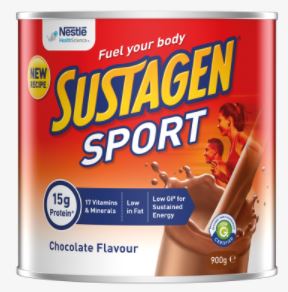 Split into three ranges of formulas, Sustagen offers an option for those either looking to improve general health, or those keen on improving their performance on the sporting field.
Sustagen Sport: Ideal for those with an active lifestyle, Sustagen Sport has the highest protein intake out of Sustagen's range, with just under 15g per 60g serving. With under 1g of fat per serve, Sustagen Sport also includes over 30g of sugar, meaning you'll have to watch your intake, otherwise you might end up going the wrong direction! Despite the sugar intake, Sustagen Sport is also full of vitamins and minerals, and is available in both chocolate and vanilla flavours, and comes in a 900g tin.
Sustagen Optimum: While only containing 10g of protein per 55g serving, Sustagen Optimum offers plenty in terms of additional benefits, including dietary fibre, antioxidants and probiotics to help with body functionality and wellbeing. You'll have to watch out for the fat and carb intake however, with Optimum containing just under 10g of fats and 29g of carbs per serving, meaning it may not be the option to turn to if you're looking for some serious muscle. Available in only vanilla, Optimum can be purchased in 800g tins.
Sustagen Hospital Formula Active: The bulk of Sustagen's range, the Active products comes in a variety of flavours, including chocolate, coffee, strawberry, vanilla, banana and neutral, and is available in a 840g tin. Potentially not the option to turn to if you're serious about putting on some size in the gym, Active may be more suitable for those looking to ensure that they recover after exercising. With just under 14g of protein per 60g serving, Active does also contain up to 30g of sugars as well, meaning it may not be ideal for everyone.
Sustagen Ready to Drink Supplements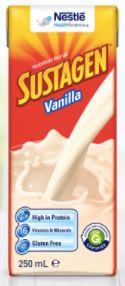 Sustagen Top Up: Available in both vanilla and Dutch chocolate flavours, the Sustagen Top Up variety may prove to be a handy option for those needing a quick fix while out and about. Offering 12.5g of protein per 250ml serving, the Top Up is also packed with 40g of carbs, meaning you may have to watch your intake, depending on your nutritional goals. Similarly packed with plenty of vitamins and minerals as the rest of the Sustagen range, the Top Up range is also gluten free.
Sustagen Shipping and Returns Policy
Sustagen does not currently sell any of its products online, instead opting to sell through supermarkets and pharmacies, with its website outlining which retailers offer particular products.
Should I choose Sustagen protein supplements?
While it may not be the first brand you would think of when it comes to protein supplements, Sustagen does offer another option for those who lead active lifestyles and may not be fully prepared to venture into the local supplement store.
Trying to muscle your way into the supplement market can be a tricky experience, particularly if you're not sure what you need to properly fuel a good workout. With plenty of brands and supplement types available, you wouldn't be the only one daunted by the variety. But if you're looking to start a healthier way of life – or just want to learn more about protein supplements – why not head over to our protein supplement ratings to find out which brand may be the best fit for you.
Photo Credit: Shutterstock, Sustagen
About the author of this page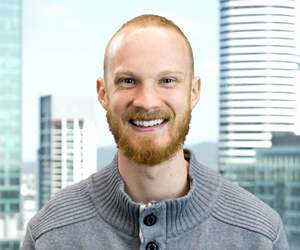 This report was written by Canstar Blue's Site Editor, Dean Heckscher. He's our resident expert on all things automotive, health & fitness, streaming and more. Dean is also one of Canstar Blue's customer research report producers, helping to turn complicated subjects into easily-digestible information for our readers. He's passionate about helping consumers make better-informed purchase decisions on all manner of consumer goods and services.