With summer just around the corner, it seems like the perfect time for ALDI to bring out its pool gear Special Buys.
All types of pool essentials will hit the middle aisle this Wednesday (24 October) in ALDI stores across the country, so let's take a look at what's on offer.
ALDI Inflatable Spa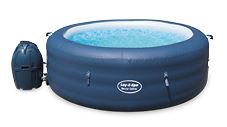 If you've been dreaming of owning a spa but it's just not within your budget, then perhaps an inflatable one might suffice. ALDI's inflatable spa retails for $499 and is claimed to be large enough for four to six adults (inflated size: 1.96m x 60cm).
Its heating and bubbling work together to provide a comfortable massage experience, according to ALDI.
Expect 87 air jets with a soothing 'AirJet' system. In addition, you'll find a power saving system that automatically starts and stops the heating.
It's claimed to have a fast and easy setup, with a pump supplied to inflate the spa (rated residual operating must not exceed 10mA).
It has a maximum heat capability of 40°C and comes with a digitally controlled pump, as well as a soft touch control panel.
It's designed with a PVC-coated nylon cover and safety lock clips, plus a built-in air chamber for insulation. There are two lift handles to help move the spa when its empty and it has an integrated water filtration system. An additional exhaust fitting provides a quick deflation of the spa for easy storage.
ALDI Pool Cleaning Tools
ALDI's Automatic Pool cleaner retails for $99.99 and comes with a one-year warranty. It requires a pump of 0.75hp/550W or flow of 6m³/hr (1600gal/hr) as a minimum to operate.
For scoops, rakes, brushes and vacuum heads, ALDI offers a Telescopic Pool Pole for $19.99. It extends to 3.6m and is stated to suit most pools.
ALDI's 10m Vacuum Pool Hose ($39.99) with hose cuffs has a 38mm diameter that fits all standard vacuum heads and most pool skimmer vacuum plates. It's UV stabilised for longer life and designed with smooth inside walls, claimed to improve waterflow. As another option, ALDI features a 1m universal pool hose for $6.99.
ALDI Pool Scoops and Brushes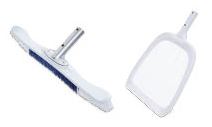 In the pool scoop and brushes space, all of the following tools are $9.99 each:
Heavy Duty Leaf Rake and Leaf Skimmer: both are stated to fit most telescopic poles and are UV resistant
50cm Flexible Wall Brush: features flexible ends to help in cleaning corners and angles in pools, plus fits most telescopic poles up to 32mm in diameter
Stainless Steel Algae Brush: claimed to be ideal for removing stubborn black spots and algae, plus fits most telescopic poles up to 32mm in diameter
ALDI Pool Cover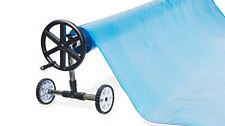 ALDI's pool cover is $189 and comes with an 18-month warranty. It's designed with a 500 micron silver coating and has dimensions of 9.5m x 4.0m.
The reel for the pool cover is sold separately and is also $189. It's said to be ideal for storing pool covers when not in use and can extend to 4.65m. It includes wheels for easy movability, and comes with a one-year warranty.
Other ALDI Special Buys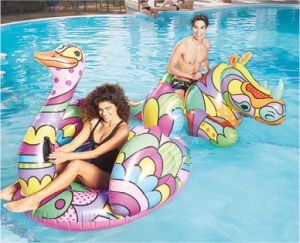 With inflatable pool toys being all the rage last summer, ALDI will also have a range of pool floats and hammocks up for grabs in various colours and designs. Inflatable toys include a giant ostrich or rhino as well as air mats and tubes with silver or pink glitter filling. Prices start from $9.99 and max out at $19.99.
Rechargeable Submersible lights ($19.99/2pk) are also available, ideal for a cool water feature or party buckets with 10 LEDs. There are 12 colour tones with multiple control operations that can be controlled via the remote.
Finally, to help keep your pool in tip top shape, you'll also find ALDI's Water Clarifier (1L), Algaecide (1L), Stabiliser (1.5kg) and pH Buffer (2kg) all at $6.99 each, as well as its 5 in 1 Pool Test Strips for $12.99/2pk.
Original Author: Veronika Hleborodova