King Koil Mattress Review & Guide
If you've been tossing and turning at night, it might be time to replace your old mattress. King Koil by A.H. Beard is a leading bedding brand, boasted for its chiropractor approved mattresses. With beginnings in America, King Koil has expanded globally, and currently makes mattresses here in Australians. These luxury-style mattresses are claimed to have had input from the International Chiropractors Association (ICA) and are endorsed by ICA for its proper spinal alignment. Let's dive into the specs and features, to see if King Koil mattresses are worth the money.
King Koil Mattresses
King Koil produces four categories of mattresses – super firm, firm, medium and plush. There are also various sizes available with most collections including the following sizes – single, long single, king single, double, queen, king and super king. A major differentiating factor between each collection is the type of support system, where King Koil has four main types:
Reflex Max Support System
Reflex Advance Support System
Reflex Plus Support System
Reflex Active Support System
Chiro Tycoon
The key features of the King Koil Chiro Tycoon mattresses are the Aero Quilt and Aero Foam systems, which are designed for the mattress breathability, as well as provide resilience to body impressions. It's also boasted for its breathable stretch knit fabric, which may help to increase comfort. The reflex Max Support System uses 'maximum active' coils, which are claimed to respond to your individual size and shape, and provide the necessary support.
Another system in place is a gel infused memory foam, designed to conform to your body shape and provide pressure relief. It also features a high density premium grade foam edge support, giving you a large sleeping surface with a firm edge.
Chiro Superb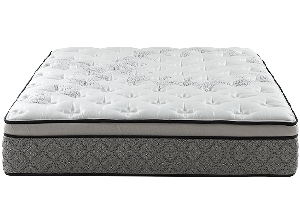 This collection uses the Reflex Plus Support system instead of the Reflex Max that you find with the model above. All other systems in place are equivalent to the Tycoon mattresses including the Aero Quilt, Aero Foam and high density foam edge support systems.
Chiro Valor
Similarly to the Tycoon collection, the Valor mattresses are equipped with the Aero Quilt system for resilience and breathability of the mattress. They're designed with the Reflex Advance Support System, which is said to respond to your individual body size and contour to your shape. It has the gel infused foam for plush conforming support and a high density edge support, so you don't feel like you will fall off the edge.
Luxury
If you're budgeting for a $10,000 mattress, this range may be for you. The King Koil luxury mattresses are boasted for their fine materials and handmade craftsmanship. It's an ultimate luxury sleep surface with its tufted finishes.
The steel coil system featured in this range is stated to absorb the weight of your body. It also has multi layers of padding, gel-responsive latex and an Advanta-Gel for comfort. King Koil boasts Hydra-Performa fibres that are designed to wick away moisture from the mattress.  For the outer-tufted fabrics, King Koil uses silk and wool blends to complete this luxury range.
Carlson
The Carlson collection uses the Aero Quilt system and the memory foam. The foam is said to have little motion transfer when you move to not disturb your partner. It features the Conforma Coil support system, which consists of springs surrounding the perimeter of the mattress, claimed to provide a firm edge. It's stated to be free from CO2 and harmful chemicals, ideal for those who suffer from allergies.
Chiro Comfort
These mattresses are claimed to provide Chiropractic support with the Reflex Active support system. The active coils are spread out in two support areas for the upper and lower body. Another main feature is the multi support zone to provide most support at the heaviest part of the body.
This line of mattresses also includes a hypo allergenic system, endorsed by the National Asthma Council of Australia Sensitive Choice. It's also CO2 free and is equipped with King Koil Ultrashield technology boasted for a healthy sleep option, in particular for those who suffer from allergy and asthma.
Posture Guard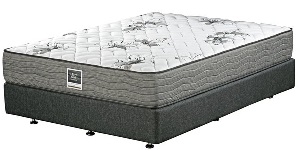 The Posture Guard mattresses use the Reflex Advance Support system. It blends width="300″ height="150″ primary coils that are stated to relieve pressure points, with active coils that are claimed to offer additional cosseting for support. It has a pillow top construction feature on the 'plush' mattress for additional comfort layers, while the 'firm' mattress has a tight top construction so all comfort layers are contained within the mattress.
It's designed with a Performa edge support, which is a high-density premium grade foam, claimed to prevent border breakdown. It's also boasted to help with minimal transfer of your partners movements. The Posture Guard, similarly to other King Koil mattress, is a single sided mattress, so it doesn't require flipping. The recommended retail price for this line is $2,469, sitting in the mid-price range of King Koil mattresses.
Mk2 Pocket Spring Mattress
This collection features a 3-zone Pocket Coil Spring system. It's aimed to help evenly distribute weight and minimize partner disturbance. It utilises an EvoFoam system to increase the breathability of the mattress. The EvoFoam is also claimed to be a clean, green and resilient type of foam that has been approved by the National Asthma Council Australia's Sensitive Choice program. The system further is claimed to offer protection from dust mites, mould and bacteria.
Similarly to other King Koil mattresses, there is an Edge-to-Edge system to provide a larger sleeping area and additional support. The recommended retail price for the Pocket Spring mattress is $1,699.
Should I go home with a King Koil mattress?
King Koil produces a variety of different type of mattresses, whether you're looking to buy a luxury design or simply one that targets chiropractic support. There are different surface support systems from plush to firm and if you're an allergy sufferer, you may like to opt for one of King Koil's mattresses with the Ultrashield technology. King Koil mattresses, however, are not budget buys, so it would be wise to consider what design features you require most. To see how other Aussies compare the leading bedding brands, follow the link below to our mattress ratings page.
About the author of this page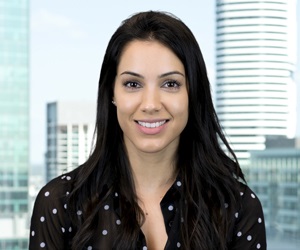 This report was written by Canstar Blue's Home & Lifestyle Content Lead, Megan Birot. She's an expert on household appliances, health & beauty products, as well as all things grocery and shopping. When she's not writing up our research-based ratings reports, Megan spends her time helping consumers make better purchase decisions, whether it's at the supermarket, other retailers, or online, highlighting the best deals and flagging anything you need to be aware of.