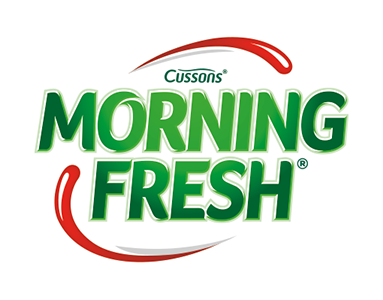 Review of Morning Fresh dishwashing detergents
Morning Fresh has been cleaning Aussie dishes since 1980. It aims to produce products that have you spend less time scrubbing and more time doing things you love. The Morning Fresh product range includes both dishwashing and dishwasher detergents.
For the eco-friendly of us, all Morning Fresh dishwashing detergents use recyclable bottles and surfactants that are biodegradable. All products are greywater and septic tank safe. However, grey water from sinks is not recommended to be used on gardens as food scraps may cause bacterial growth.
All Morning Fresh dishwashing liquids have been dermatologically tested and are not tested on animals.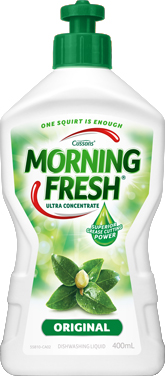 Morning Fresh standard range
The core Morning Fresh dishwashing products come in four different formulas– standard, Ultimate, Advanced and Antibacterial. All products are super concentrated, so that you can use less to get those dishes done. Morning Fresh is suitable for for everyday dishes, cookware, stainless steel, and crockery, and can even be used on your BBQ.
There are several specific fragrances that Morning Fresh infuses in its products. Scent adds a small but significant impact on the cleaning experience. The following scents are available in the standard Morning Fresh dishwashing liquid range:
Original – available in 400mL, 900mL, 1.25L and 5L
Lemon – available in 400mL, 900mL and 1.25L
Lime – available in 400mL and 900mL
Jasmine – available in 400mL
Limited Edition Sweet Pea & Freesia – available in 400mL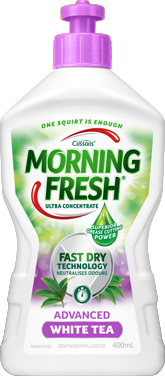 Morning Fresh Advanced
Morning Fresh Advanced dishwashing detergent uses odour control technology to neutralize odours and fast dry technology to leave dishes dry faster. It also has a white tea fragrance.
Standard size is a 400mL bottle.
Morning Fresh Ultimate
Morning Fresh Ultimate uses enzymes to lift baked-on foods and other tough stains in minutes, instead of needing to soak dishes overnight. There are two fragrance options available:
Morning Fresh Ultimate Original
Morning Fresh Ultimate Lemon
Standard size is a 350mL bottle.
Morning Fresh Antibacterial
This detergent is tough on germs as well as grease. There are two fragrances to choose from – Orange & Tea Tree or Lemon. Standard size is a 400mL bottle for Orange & Tea Tree scent and a choice of 400mL and 900mL for lemon scent.
Morning Fresh Eco Range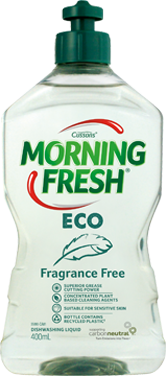 Morning Fresh Eco Dishwashing Liquid is formulated with concentrated plant based cleaning agents. It has been dermatologically tested and is designed to work on cookware, stainless steel and crockery. There are three natural fragrance options in this category:
Lemon & Lime
Eucalyptus
Fragrance Free
Fragrance Free ECO Dishwashing Liquid is pH neutral and designed to be suitable for those with sensitive skin. Standard size for all three types of Morning Fresh ECO Dishwashing Liquid is a 400mL bottle.
Morning Fresh Auto Dishwasher Products
Along with Morning Fresh dishwashing liquids, the brand produces several other cleaning products. If you have a dishwasher at home, you may like to try out Morning Fresh liquid capsules, dishwashing powder or dishwasher enhancers.
Liquid Capsules
Morning Fresh Liquid Caps come in two scent options – Lemon and Apple. Morning Fresh Liquid Caps are designed to dissolve quickly to not leave residue and claim to work in any wash cycle. It has built in rinse aid and is phosphate free. Standard size is an option of a 24 pack or 42 pack.
Dishwashing Powder
Morning Fresh Dishwasher Powder is formulated in a concentrated powder and aims to target food scraps and grease. It is phosphate free and available in a lemon fragrance. Standard size is a 1kg bottle, which is designed for up to 50 washes.
Morning Fresh Enhancers
A couple of other products that Morning Fresh offers are enhancers, including Morning Fresh Dishwashing Gel and Morning Fresh Rinse Aid. Morning Fresh Dishwashing Gel claims to dissolve quickly and work in fast wash cycles, and Morning Fresh Rinse Aid is said to be designed with fast dry and ultra-shine technology to help keep your dishes streak free. Standard sizes are a 450ml bottle for the Morning Fresh Rinse Aid and an option of a 450ml or 700ml bottle for the Morning Fresh Dishwashing Gel.
Should I use Morning Fresh dishwashing detergent?
Morning Fresh has a large range of dishwashing liquids available in a variety of fragrances. All of its detergents are dermatologically tested and Morning Fresh also has an option specifically designed for sensitive skin. Morning Fresh aims to create quality products to ensure less time is used on doing dishes.  You may like to have a look at online reviews and ratings – such as ours – to see how other Australian families find Morning Fresh dishwashing detergents compared to other brands.
About the author of this page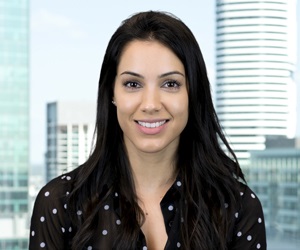 This report was written by Canstar Blue's Home & Lifestyle Content Lead, Megan Birot. She's an expert on household appliances, health & beauty products, as well as all things grocery and shopping. When she's not writing up our research-based ratings reports, Megan spends her time helping consumers make better purchase decisions, whether it's at the supermarket, other retailers, or online, highlighting the best deals and flagging anything you need to be aware of.