Review of OMO laundry powder and liquid
Where dirt is considered to be good, OMO aims to provide stain-busting laundry detergents for those messy stains. Find out everything you could want to know about OMO laundry powders and liquids in this Canstar Blue review.
OMO seems to be a generally trusted laundry detergent brand, with its products taking up plenty of shelf space in your local Coles or Woolworths supermarket. Its product range is suitable for all washing machine types, and OMO apparently embraces the fact that kids should be out and about playing in the dirt, so it's determined to impress parents with its stain-busting credentials.
OMO Core Range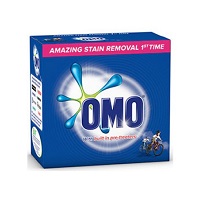 The OMO range is designed to be tough on stains with built in pre-treaters. It aims to only require one dose to remove stains. Standard sizes are 1kg boxes for laundry powder, and a choice of 1L or 2 L for laundry liquid. Some retailers offer larger size value packs.
Omo Ultimate Range
The OMO 'Ultimate' range also has built in pre-treaters, but is designed to tackle 99 tough stains. The OMO Ultimate Powder is said to combine detergent, whiteners and pre-treaters to create an advanced laundry powder formulation. The OMO Ultimate Liquid comes with a stain eraser ball to assist with stain removal.
OMO Sensitive Range
This range is said to be dermatologically tested. It's designed to be tough on stains, but leave clothes gentle on the skin. The OMO Sensitive powder and OMO Sensitive liquid contain no dyes or perfumes. It also aims to only require one dose for stains.
OMO Capsules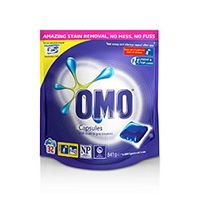 OMO Capsules aim to be a convenient way to do the laundry. No mess, no fuss is what OMO claims its capsules to be. With a measured dose of concentrated detergent that is suitable for all machine types, it aims to reduce wastage. The capsule dissolves with water, releasing the liquid into the wash. They come in 20 and 32 capsule packs. There is also the OMO Sensitive Capsules range available to also reduce the use of laundry detergent, while keeping clothes kind on sensitive skin.
Should I use OMO laundry detergent?
From the OMO ultimate stain-busting pre treaters to dermatologically tested detergents, there is a wide variety of products to choose from. As OMO considers learning through messy play an essential part of child's development, it aims to provide a laundry detergent that is strong enough to get rid of stains in one dose. If you have messy kids or a clumsy spouse, OMO may be a brand to consider. Going by the space it takes up on supermarkets shelves, it must be doing something right.
About the author of this page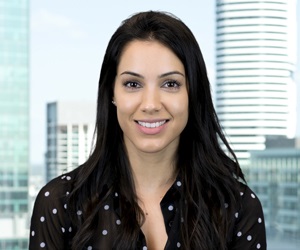 This report was written by Canstar Blue's Home & Lifestyle Content Lead, Megan Birot. She's an expert on household appliances, health & beauty products, as well as all things grocery and shopping. When she's not writing up our research-based ratings reports, Megan spends her time helping consumers make better purchase decisions, whether it's at the supermarket, other retailers, or online, highlighting the best deals and flagging anything you need to be aware of.