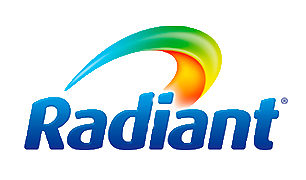 Review of Radiant laundry detergents
Want your clothes to stay 'Radiant'? Check out our guide to the laundry detergent brand that focuses on keeping clothes as vibrant as possible. Does it live up to the hype?
Radiant laundry detergents are said to be designed with Colour Guard technology that aims to keep clothes colourful, even with frequent washing. When garments like work shirts and school uniforms need regular washing, but also need to last a while, Radiant may be a brand to consider.
From an eco-friendly perspective, Radiant packaging is made from 90% to 100% recycled material and is also grey-water friendly. Its full range is suitable for all washer types, both front and top loader washing machines.
Radiant Brilliant Whites Sharper Colours Range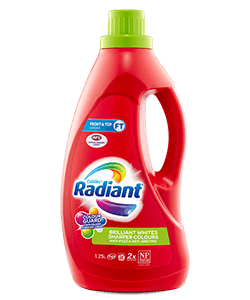 This range aims to give you white and sharp colours. It's designed with several Radiant features, including its optical brightener technology that aims to re-emit light to give brighter whites, anti-greying polymers to help prevent stains to re-deposit onto other clothes, and colour enhancing technology with anti-fuzz protection to remove excess micro-fibres that block light from hitting the surface.
Radiant Liquid comes in 1.25L and 2.25L options, while the Radiant Powder comes in 500g, 1.5kg, 2.5kg and 4kg boxes and the Radiant Capsules are in a 20 capsule pack.
Radiant No Sort Range
The Radiant 'No Sort' range is designed with anti-dye transfer technology that aims to help prevent leaked dye molecules to deposit onto other clothes. This product is intended to be tough on stains and used for everyday washing. Radiant No Sort Liquid comes in 1.25L and 2.25L options, the Radiant Powder comes in 500g, 1.5kg, 2.5kg and 4kg boxes and the Radiant Capsules are in a 20 capsule pack.
Radiant Sensitive Range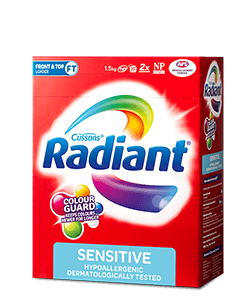 The sensitive range is hypoallergenic and dermatologically tested. It's designed to be gentle on the skin with no harmful dyes and a low allergen fragrance. This range has two options including the Radiant Liquid that comes in 1.25L and 2.25L or the Radiant Powder that comes in 500g, 1.5kg, 2.5kg and 4kg boxes.
Radiant Black Wash
The Radiant Liquid Black Wash aims to keep darks and blacks looking new for longer by being mild and gentle on dark colours and fibres. It is designed to dissolve fast and leave no residue as well as protect clothes from frequent washing. The Radiant Black Wash Liquid comes in a 750ml recyclable bottle.
Radiant Capsules Range
The Capsule range is designed to be the no mess, no fuss solution to using laundry liquid. The capsules come in the Brilliant Whites Sharper Colours range, the No Sort range and the Colour Care range. The Colour Care range is intended to remove stains while keeping colours vibrant with its deep clean formula to. Both the Whites Sharper Colours capsules and the No Sort capsules are in a 800g – 20 capsules pack and the Colour Care capsules are in a 600g pack.
Should I use Radiant laundry detergents?
Radiant has a wide range of laundry liquids, powders and capsules, from colour enhancing formulas to laundry detergents that protect clothes from becoming dull. When deciding if Radiant is an option for you, it would be wise to consider online reviews and ratings – such as ours – to help you compare the brands available. Radiant is big on colour guard, with the aim to enhance colours as well as keep whites and blacks lasting longer. If keeping the colour in your clothes and fabrics is a priority, Radiant could be a good choice.
About the author of this page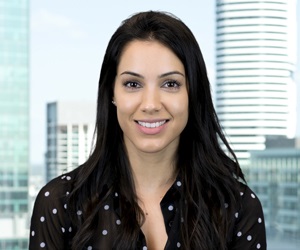 This report was written by Canstar Blue's Home & Lifestyle Content Lead, Megan Birot. She's an expert on household appliances, health & beauty products, as well as all things grocery and shopping. When she's not writing up our research-based ratings reports, Megan spends her time helping consumers make better purchase decisions, whether it's at the supermarket, other retailers, or online, highlighting the best deals and flagging anything you need to be aware of.