Flylite jets ahead in luggage ratings
Time to pack for your next getaway? Can't seem to fit everything in and need an upgrade? In the big, wide world of suitcases and travel bags, it can be a challenge to decide on which luggage brand to go with, especially if you're looking for something lightweight and durable. Beyond that, the decision also involves your personal style and budget, as well as how much you have to pack, so that it meets your needs and the airline's baggage allowance.
So, what's your first destination? Well, perhaps it's right here at Canstar Blue, where we've surveyed hundreds of Aussie travellers and asked them to tell us about the luggage they've recently purchased. A range of luggage brands went head to head, being rated on their durability, design and more. However, only one stood out from the crowd – Flylite. It achieved five-star reviews for overall satisfaction, as well as weight and size, design/style, storage compartments, versatility and security.
Best-Rated Luggage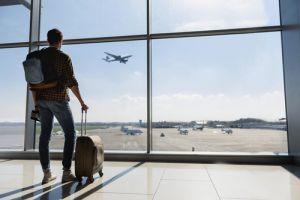 Canstar Blue's inaugural luggage review saw seven major brands compared and rated in the following order for overall customer satisfaction:
1st Flylite
2nd Kathmandu
3rd ALDI
4th Antler
5th Samsonite
6th Kmart
7th American Tourister
Kathmandu, ALDI, Antler and Samsonite all scored four stars for overall satisfaction, while Kmart and American Tourister were left on three stars apiece. Other results of note include Kathmandu securing the only five-star result for durability, while ALDI was the only brand to score top marks on value for money. Both Kathmandu and Samsonite joined Flylite at the top for design.
Other brands are available, but these are arguably the biggest names in the world of travel and are a good first port of call for your next holiday. It's important to note that our ratings include all types of luggage from suitcases to travel packs and duffel bags that are specifically designed for the purpose of travelling.
With the average spend of those surveyed being $158, it would be wise to do your research before you fly down to the shops to pick up your new luggage. Consumers owned their previous piece of luggage for nine years, which may suggest it's important to invest in a suitcase that will be durable enough to last you for years to come. To give you a helping hand with your luggage, below is an overview of the brands featured in our review.
Top Luggage Brands
Flylite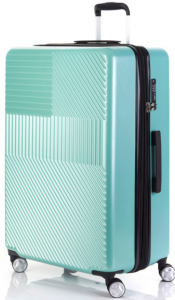 Flylite offers a huge selection of suitcases and duffles, with a range of sizes to suit your travel needs. Expect hard and soft cases constructions designed to be lightweight. The Flylite Tahoe 81cm suitcase weighs just 3.1kg and is capable of holding 101L and expand further to 114L if required. It features two zip pockets on the front and a bright orange trim to help distinguish your luggage with relative ease, plus a built-in combination lock for extra security. Most options have four to eight 360° spinner wheels for manoeuvrability. There's plenty of styles and colours to choose from with prices ranging from around $120 to $330.
Rated five stars in the majority of categories, including overall satisfaction, Flylite was also rated four stars for durability and value for money.
Kathmandu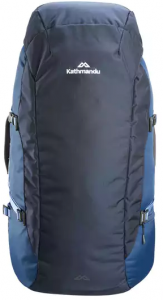 Kathmandu specialises in travel backpacks and duffle bags, with a number of cool designs on offer. Size capacities range from 12L to 100L, ideal for when you're looking for either carry-on bags or something to fit in a couple of weeks' worth of clothes. Its 70L Interloper gridTech Pack is designed with an adjustable harness for long distance carrying, and features a detachable 18L daypack, removable mesh laundry bag, a lockable zipper, and a lower gear compartment for sleeping bags. Kathmandu's largest 100L XT Series Dry Tanker Cargo bag is claimed to withstand temperatures from –30°C to +80° and is water-resistant, according to the brand. Prices start from $50 and max out at $600.
Kathmandu was rated four stars for overall satisfaction, value for money, weight & size, storage and versatility, but achieved top results on durability and design. It was also rated three stars for security.
ALDI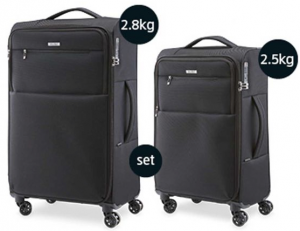 Recent ALDI Special Buys have seen the discount giant sell stylish replicas of pricey big-name luggage brands for a fraction of the price. Its Skylite hard-shell spinner polypropylene suitcase is available in a carry-on ($49.99) and 76cm suitcase ($79.99), weighing 2.4kg and 4.3kg respectively. Each come with TSA locks and double zippers. ALDI has also featured a two-piece Skylite Ultralight Suitcase set available in 78cm (2.8kg) and 67cm (2.5kg) for $89.99 (picture courtesy of Honey Travel). Both are equipped with 360° removable wheels, TSA locks and padded top and side handles.
With budget friendly prices, ALDI scored the sole five-star rating for value for money, with four stars for overall satisfaction and just three stars in all remaining areas, including durability and design.
Antler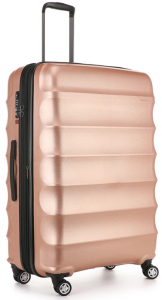 Antler luggage is separated into four ranges, including hardcase, softcase, business and urban. You can also choose your luggage by size – cabin, medium, large or casual. Its hardcase range is designed with a high-shine matte finish and a resilient shell aimed to prevent damage by allowing dispersion of impact during collisions, according to Antler. Its Global Hardcase features double PU wheels and even twist-grip handles for easy movability. In terms of price, suitcases cost around $250-$350, while the smaller cabin and casual bags fetch prices around the $50 to $150 mark.
Antler received four stars for overall satisfaction, durability, weight & size, plus design and security, with three stars in all remaining categories.
Samsonite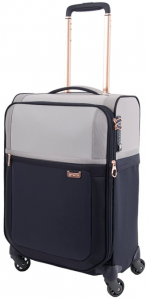 Samsonite allows you to sort your luggage by size or trip, so depending on whether you're going on a business trip or an overseas family holiday, Samsonite aims to have you covered whatever your baggage limit is. In its hardcase variety, you'll find its 55cm Cosmolite 3 Spinner made using Curv technology for added durability and style, with a lightweight design, weighing just 1.7kg. Most of Samsonite's range features 360° multidirectional spinner wheels for easy manoeuvrability and integrated 3-digit TSA combination locks for added security. Its duffle bags can be picked up from $100, while its large suitcases can fetch prices up to $1,215, making it one of the more expensive ranges available.
Samsonite secured five stars for design, but was also rated three stars for value for money. However, it was rated four stars in all other categories, including overall satisfaction.
Kmart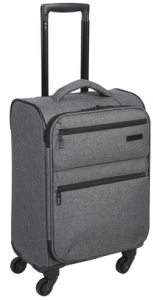 Kmart has come into the spotlight in recent years with a massive online following for its cheap and chic homewares and appliances. It also provides some on-trend and budget friendly suitcases to choose from, ideal for when you've spent more on your flights than you should have. Its 6-Piece Luggage set retails for $79 and includes an expandable upright bag with a retractable handle, a gym bag, a tote bag, a toiletry bag and a laundry bag. Its most expensive in the range is a 2-piece Hard Case luggage set for $89 while its 100L Fold Up Duffle bag can be had for $15.
Rated four stars for value for money, Kmart had to settle for three stars in all other categories, including overall satisfaction, durability and versatility.
American Tourister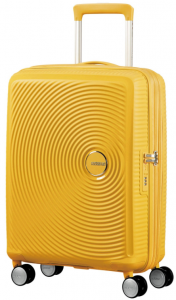 American Tourister features hardside, softside, backpacks and luggage for business in its line-up. Its flagship model is the Curio 55cm Spinner EXP, which can be had for around $240, and is available in a variety of bright colours and has dual wheel spinners, a TSA lock, lightweight frame, plus is expandable for extra capacity. American Tourister also offers duffle bags on wheels for ease movability, coated with a 'Rip Stop Combo' material for durability. Travel duffle bags are priced from around $70 while its 81cm Spinner hardside suitcases can cost close to $400, making it competitively priced within the luggage market.
Rounding off our 2019 review of luggage brands, American Tourister received four stars for durability, weight, design and security but just three stars for overall satisfaction and all other categories.
What to consider when buying luggage?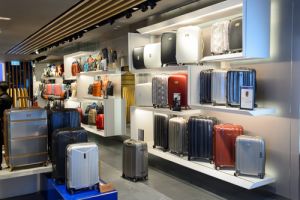 Aside from finding out which brand of luggage Aussie consumers love most, our research identified the following drivers of customer satisfaction:
Durability: 42%
Value for money: 23%
Weight & size: 12%
Design/style: 10%
Storage compartments: 6%
Versatility: 5%
Security: 2%
Luggage can be treated quite rough while on the road, so it's no surprise that durability was the biggest driver of satisfaction for Aussies. Price is also important to consider, because at the end of the day, your budget will have the final say on whether you can afford the latest in design. But that doesn't mean you have to spend a fortune for a quality piece of luggage.
There are plenty of options out there, so it would be wise to shop around. More than half (54%) of survey respondents said they purchased their luggage on sale, meaning there's plenty of reasons why you should keep an eye out for a bargain.
The third most important factor was weight and size. When your ticket includes very limited baggage allowance, you'd want to take a bag that doesn't weigh you down. The weight of your suitcase can be the difference between you just getting through or needing to pay the excess fees. Thankfully, more and more brands are releasing lightweight designs that can weigh less than 2kg, saving you from putting on three jackets to board the plane.
Compare Car Rental Prices
Luggage Materials
When it comes to choosing luggage, the material is as important as the size and weight of your luggage, especially as the material impacts on both the weight of your luggage, and how much you cram in it! Here is a list of some of the more common materials that you'll find when you're looking for your next luggage set.
Soft Luggage
More flexible and forgiving when you're trying to squeeze in a few more clothes, soft luggage often comes in:
Ballistic nylon: one of the toughest materials available for soft luggage, ballistic nylon is durable and more resistant to abrasions than other materials, and is also easy to clean.
Cordura nylon: more lightweight than ballistic nylon, cordura nylon is considered more resistant to abrasion, but may be more likely to tear than ballistic nylon.
Polyester: the cheapest option available, polyester is a good option if you're looking for a standard luggage set.
Hard luggage
Able to take a few more beatings than its soft counterparts, hard luggage offers better protection if you have something valuable inside. However, you won't be able to push the boundaries as much as soft luggage if you're looking to pack plenty for your trip. Here are some of the materials hard luggage is available in:
Aluminum: One of the more expensive options, aluminum will protect your valuables and is commonly waterproof, although is heavier to lug around than other materials.
Polycarbonate: a lightweight but durable material, polycarbonate is able to 'flex' and absorb impact when accidently dropped, or when you have overly-enthusiastic baggage handlers.
Polypropylene: lighter than polycarbonate, but not as durable, polypropylene may be a good 'middle of the road' option for travellers.
ABS: known as acrylonitrile butadiene styrene, ABS is a type of thermoplastic, which is lighter than polycarbonate, but not as durable, and generally one of the cheapest options available.
Hard shell vs soft shell suitcases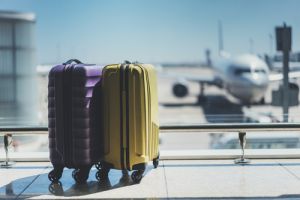 Deciding between the two will depend on what you're looking for in a suitcase. Soft shell suitcases are typically lightweight and allow you to squeeze in just a few more items, ideal for those who overpack or those who pick up too many souvenirs. Two in five (38%) respondents to our survey said they generally pack too much when they travel. In addition, soft shells can generally absorb shock better than hard shells. However, soft shells are not as protective and are prone to ripping if the material is low quality, and often aren't waterproof, meaning if you get caught out in the elements, you may not have any dry clothes to change into!
Hard shell suitcases, on the other hand, are typically waterproof and can protect your packed items better than a soft shell, according to manufacturers. They're also more secure as they can't be torn or ripped open with a blade. The downside is that they can scratch easily and are not as expandable as soft shell luggage, meaning you'll have to be a bit more cutthroat when it comes to what outfits you're taking with you.
So, whichever type of luggage you go with, we hope you've found our ratings helpful and can tick off one more item of the holiday packing checklist!
About the author of this page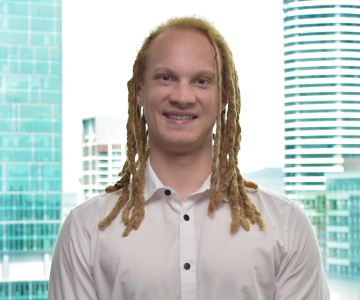 This report was written by Canstar Blue's Content Projects Lead, Dean Heckscher. He's our resident expert on all things automotive, health & fitness, streaming and more. Dean is also one of Canstar Blue's customer research report producers, helping to turn complicated subjects into easily-digestible information for our readers. He's passionate about helping consumers make better-informed purchase decisions on all manner of consumer goods and services.