5G phones are here. They're getting more affordable, and as the 5G network is rolled out across Australia, connection to the 5G network will become essential. But there's something to be especially excited about with 5G – the broadband potential. The ability to hotspot your phone anywhere, and to get a super reliable connection to the internet. The endless scrolling on Facebook and Twitter in public, not held back by loading posts or videos that are slow to buffer.
5G internet will tackle these things head on, by one day becoming the premier phone network in Australia – but right now, we are in the early days.
What is 5G mobile broadband?
5G mobile broadband is the next generation on from 4G mobile broadband, which it will soon phase out. 5G mobile broadband is faster, and if you have the right plan and technology in a 5G area, 5G will replace your 4G mobile broadband connection. It makes a good NBN replacement, and should be great for use in your laptop, phone or portable modem.
What is 5G?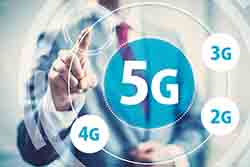 5G offers the next generation of mobile network coverage, onward from 4G, the current standard, and 3G, the standard of about six years ago. It's a mobile network that allows for faster speeds, reliable connections, and ultimately a big upgrade from the 4G network.
When will 5G broadband be available?
5G has only been switched on in some limited areas like in major cities by Telstra and Optus, and Vodafone has begun rolling out its network out this year. We've prepared an explainer on Telstra's 5G network here, including maps of where 5G is in Brisbane, Sydney and Adelaide. We've also prepared an explainer on Optus' 5G network, including the telco's 5G home broadband solutions.
It's tough to say when 5G will be available Australia-wide, although it is a priority of the big three to get Australia covered. The network is being rolled out across Australia by Optus, Vodafone and Telstra, and it's been made a priority by all of them. Being connected and offering fast speeds is the goal, but right now most of Australia can't actually jump on board the 5G bandwagon.
That said, it will be coming, and you should get ready — it's just a matter of time when one of the big three telcos rolls its 5G network into your area and 5G-capable devices become the norm.
5G mobile broadband plans
Telstra offers 5G mobile broadband plans. To access 5G, you'll need to combine your plan with Telstra's 5G Wi-Fi Pro, which you'll pay off over 24 months and you'll then bundle with a month-to-month plan. Apart from this option, there isn't many 5G mobile broadband plans on the market, and you might have to settle for a 5G mobile plan or a 5G home wireless plan. 5G network access is available with Telstra on Large and Extra Large plans, but not on Small or Medium plans – which only have 4G access.
Following Telstra's lead, Optus has also opened up 5G access to customers on data SIM/mobile broadband plans – but only on its Large and Extra Large options. If you're ready for Optus 5G mobile broadband, you may want to pair a 5G-ready plan with the new ZTE 5G Portable WiFi Modem, available to bundle with an Optus data plan on payment terms of 12, 24, or 36 months.
Will 5G replace mobile broadband?
No, not for some time. As the new technology is phased in, the old technology is phased out. 3G will be the first to go before 4G, the current standard. 4G will stick around as more people upgrade and as 5G-ready phones become more affordable and mainstream.
Can I use 5G internet instead of NBN?
You can, but 5G is not an end to the NBN. Although 5G networks are much faster than the NBN, it's likely that it will be more pricey. There are pros and cons to both the NBN and 5G, but overall it's unlikely 5G networks will replace the NBN as a go-to broadband service.
If you are unhappy with your NBN speed or service, you can switch to a 5G home internet plan if you live in an eligible area. Here are a range of 5G home internet plans from Telstra, Optus, Vodafone and more:
How do I know if I can access 5G?
You won't need to change your SIM card to access 5G coverage! It all comes down to what your device is – if it's 5G-compatible, it will automatically connect to the faster network. Easy! It's like when you go through a low-coverage area and you switch from 4G to 3G, or from 4G to SOS. You'll be able to seamlessly access the network without any trouble.
We've put together a list of all of the 5G-ready phones you can use when the network is turned on across Australia. You might own one right now – essentially, more and more phones being released from here on out will most likely have 5G compatibility, as it's becoming the international standard.
4G Mobile Broadband Plans
Not yet covered by Telstra or Optus' 5G networks? 4G data is still widely available as an on-the-go alternative to fixed broadband. The following table shows a selection of published mobile broadband plans from leading providers on Canstar Blue's database.
What should I do to prepare for 5G?
There's not a whole lot you can do until the network is ready! Until it is, you can make sure your device is compatible with 5G. Below is a list of 5G-ready phone plans for you to check out.
5G ready phone plans