Aussie Broadband MyAussie App: Canstar Blue Innovation Award Winner
With so much confusion still surrounding the NBN, Australians need an easy, self-service way to access support and keep track of their service. Aussie Broadband's 'MyAussie' app not only gives customers hassle-free access to account and billing management, plus technical and plan troubleshooting, it also provides valuable real-time data as to how Aussie Broadband's network is performing – making the app an easy pick for a Canstar Blue Innovation Excellence Award.
What is Aussie Broadband's MyAussie App?
First launched in March 2019 (along with a matching online portal), the MyAussie App is Aussie Broadband's self-serve solution for customers who want a simple alternative to calling customer support. Available for both Android and iOS (Apple) devices, MyAussie is a free app combining account maintenance with general service help, and up-to-date network information and data.
Once the app is downloaded to a compatible device, Aussie Broadband customers can access and update their account information, including adding new services to their plan or switching products completely. Customers can also edit payment details, make one-off account payments, or set up a payment plan for their account.
Impressively, the MyAussie App offers technical support, including the option to find self-help info, and run the telco's troubleshooting wizard to diagnose problems. Customers can lodge a support ticket via the app, saving them the time and effort of calling Aussie Broadband's customer service team directly.
Most impressively, Aussie Broadband's MyAussie App includes a range of diagnostic tools and network information, plus updates and alerts about service outages. Customers have access to connection tests, speed tests, port resets, and more, along with easy-to-understand explanations of how each test reflects on their broadband performance. Users can check their home's NBN point of interconnect, and view daily CVC graphs to track network congestion.
Also offering service fault and internet speed test histories, and the ability for customers to initiate the maintenance process by applying their own stability profiles, the MyAussie App is a comprehensive all-in-one tool that's a step beyond similar telco apps.

Why do we like Aussie Broadband's MyAussie App?
Aussie Broadband reports that in addition to empowering customers to manage and monitor their own accounts independently, the MyAussie App has also cut down on call centre demand, meaning shorter wait times and a less overwhelmed customer care team. Since January 2019, customer service calls per 1,000 Aussie Broadband customers have dropped by 26%, the telco says, as more customers move to self-serve problem-solving.
The app has also led to a huge increase in payment plan use – up by 45% – as well as a massive jump in internet connection tests. According to Aussie Broadband, connection test rates have skyrocketed, with around half of tests now performed by customers using the MyAussie app.
"With so much jargon around NBN plans and performance, Aussie Broadband has made it easier for the average customer to understand and evaluate their home NBN service, in a simple, plain-English format that won't add to the confusion," said Canstar Blue Telco Editor, Tara Donnelly.
"Many Australians still don't feel confident when it comes to home broadband, and the MyAussie App gives them the tools to take control of their account and plan. Instead of calling customer service at the first sign of slow speeds, customers can now run their own diagnostic tests and check for outages and congestion on the spot – a huge win not only for Aussie Broadband users, but for the company's employees."
Aussie Broadband NBN Plans
The following table shows a selection of published unlimited Aussie Broadband plans on Canstar Blue's database, listed in order of standard monthly cost, from the lowest to highest. Use our comparison tool to see plans from a range of other providers. This is a selection of products with links to a referral partner.
What are our Innovation Excellence Awards?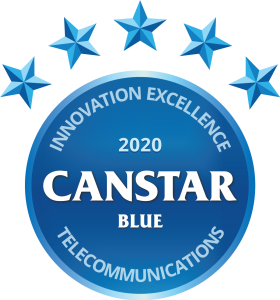 Canstar Blue's Innovation Excellence Awards involve a sophisticated rating methodology, unique to Canstar, which compares submissions we receive from Telecommunications and Energy institutions throughout Australia. Canstar Blue's Innovation Excellence Award winners represent a selected group of innovative products within the Energy and Telecommunications industries over the most recent year which have all been reviewed, assessed and ranked based on the degree of innovation and impact it could have on consumers.