So you've just found a new SIM-only mobile phone plan that you're really pleased with – that's great, but how do you keep your existing number?
Keeping your phone number has obvious benefits — it eliminates the need for notifying your contacts about the number change and memorising a new number. In order to keep your number when you switch providers, you'll need to 'port' your existing number. There are some steps that both you and your provider will need to take, but they're certainly not complicated. Follow our guide with some helpful tips and ticks to make porting your phone number simple and stress-free.
How do I port my phone number?
You'll need to have your new SIM pack from your new provider ready, and usually there are instructions on the back of the SIM pack to guide you. The steps are generally the same across all telcos:
You'll need to 'activate' your new plan on your new provider's website, which you might need to request at time of plan purchase
Say you want to keep your number when activating
Don't cancel your current service – your new service will cancel it out automatically
That's it – the provider does all the leg work. You are advised to keep your current provider's SIM card in your phone until your phone's signal disappears or it displays 'SOS Only' or similar. Once the signal is lost, simply turn off your phone and insert your new SIM card and restart your phone.
If you don't see a loss of signal straight away, or you don't see your new phone signal, don't panic. The time it takes to port a number varies from telco to telco and it also depends on the hour of day. However if you feel you've been waiting for a while, there may be a couple of answers and solutions.
How long does it take to port a mobile number?
Anywhere from less than an hour, up to seven business days. While seven business days might seem like a lot, it all depends on which network you're porting from. There are three networks in Australia – Telstra, Optus and Vodafone. While there are a bunch of great mobile virtual network operators (MVNOs) to choose from, the fact is they all use wholesale versions of these three networks, which can make things a little problematic, even when porting between providers on the same network.
Why is same-network porting an issue?
It's a bit of a mystery, but when porting from the same network, that same network then has to manually configure your new number to your new MVNO, instead of automatically if transferring from one network to another, such as Telstra over to Optus. Various telcos say on their websites that porting can take up to five business days, which is obviously a long time to be without a phone number. All of this begs the question: is there an easier way?
How to Prevent Porting Delays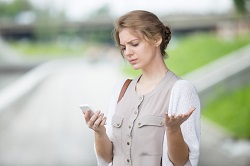 One way to get around porting delays is to avoid going from one network to an MVNO that uses the same network. However, this is not always convenient because you may well like the network you're currently on or live in an area where there is only one network available or with reliable coverage. Or you've seen a great-value phone plan that's perfect for you and you don't want to compromise on a great deal simply for porting issues.
One of the easiest ways to work around this is to buy a cheap prepaid SIM from another network, port your number to it, then port out again to your provider of choice. Total time spent porting should ideally be no longer than a few hours or so.
As an example, if you're on the Optus network and wish to switch to another plan on the Optus network, you would need to either port to a Telstra or Vodafone SIM and vice versa. Cheap SIM cards are available from $2 and can be found in all the major supermarkets, such as Coles and Woolworths, not to mention the providers' shopfronts themselves. So, while you will need to pay a few dollars to work around the lengthy porting times, it could be money well spent.
However, do keep in mind that some providers may require a minimum recharge amount before you can activate a prepaid SIM and port your number over. This is usually around $10, so you may want to double check activation requirements before you try porting with a cheap SIM card.
A prepaid workaround can require a little legwork, but it's certainly better than waiting for a week for number to be ported. However, this won't work if you have already tried to port and your phone number is still in the process of switching over. The best way to avoid this is to be prepared  — porting to another network before you port to your new phone plan can prevent some headaches later on.
Another thing that could prevent timely number porting is if your identification information is incorrect. Upon application of your new phone plan, you'll need to make sure your details match that of your current phone plan. Some steps you might need to take include:
Checking your name and date of birth is listed the same; do you go by a different name, or maybe your current phone plan is under your partner's or parent's details?
Your current account number — having access to this is useful and may speed things up a bit
Get in touch with your current provider to confirm your details before porting
Ensuring your information is correct and that you are porting from a different network are two of the simplest ways to ensuring a timely porting experience.
Telstra, Optus and Vodafone Porting Hours
One other thing that may delay your porting is the fact that the porting services from the networks will generally run on set hours:
Mon to Fri: 8am to 8pm AEST
Saturday: 10am to 6pm
No porting on Sundays and or national public holidays
If you port outside these hours, this means you won't be able to be ported until you're in the next porting window. For example, if you go to port at 7pm on a Saturday, you may not get ported until Monday at 8am. If Monday is a public holiday then you'll probably have to wait until Tuesday. While there have been some cases of customers being ported outside these hours, to ensure the best results, make sure you're porting within these hours.
If you're interested in switching phone plans, the table below shows a selection of month-to-month plans from Canstar Blue's database with a minimum of 10GB data, listed in order of advertised standard cost, lowest to highest, then by data allowance, largest to smallest. Use our comparison tool to see a wider range of plans from other providers. These are products with links to referral partners.
Is porting my number worth it?
Porting your phone number is definitely worth it when done correctly and despite all the talk about porting nightmares, if you take steps to ensure you do it correctly, you're likely to be all done in just a few hours. The steps include:
Not porting to the same network
Ensuring all personal details needed for activating are correct
Keeping your current SIM in your device until loss of signal
Restarting your phone
Porting is a simple task, but the smallest issue can easily draw the process out by ridiculous amounts. If you've been waiting an unreasonable amount of time and the steps above do not work, you'll need to get in touch with the telco you're leaving and the telco you're switching over to. While it may be frustrating, the convenience of keeping your phone number may ultimately outweigh the wait times, especially once you're on your new phone plan of choice.
You may also be interested in: