Dodo $5 Phone Plan: Canstar Blue Innovation Award Winner
Note: Since winning our Innovation Award in 2020, Dodo has discontinued its $5 no-data plan. Current Dodo mobile plans begin at $10 per month for 2GB of data.
In a fast-paced telco market that's frequently throwing extras at customers – extra data, extra features, and often extra fees – it's no surprise that many of us are ready to step back and simplify. And when it comes to keeping kids, the elderly, or the less tech-savvy connected, it seems Australians have been crying out for an affordable, flexible and back-to-basics mobile option. Dodo's $5 mobile plan is filling that gap, impressing Canstar Blue's Innovation Excellence Awards judges with its ease of use and no-fuss plan structure.
What is the Dodo $5 postpaid mobile plan?
Dodo's $5 postpaid mobile plan is a SIM-only service aimed at parents, older Australians, and vulnerable or low-use members of the community. Priced at only $5 per month, the plan includes the following:
Unlimited standard national talk and text in Australia.
Unlimited standard international text.
No lock-in contract.
Free SIM card and shipping.
Access to the My Dodo self-care and account management app.
At the entry-level $5 price point, Dodo's plan doesn't include data. If you do want a mobile data option, customers can add 2GB for $10, either as a one-off purchase when needed or an auto-renewing feature (bringing the plan cost to $15 per month). Additional extras – such as international calls, or MMS – are also available as optional add-ons from $5 monthly.
As the plan is contract-free, you're free to cancel or upgrade at any time with no penalty. And because calls and texts are already unlimited, and add-on data is capped, there's no stress about bill shock due to surprise overages – you know exactly what you'll pay each month, and have the peace of mind that your talk and text inclusions won't run out unexpectedly.
Dodo's mobile service runs on Optus' 4G network nationwide, covering 98.5% of the population. The $5 SIM-only plan is available to all new and current Dodo customers – all you need is a network-unlocked smartphone.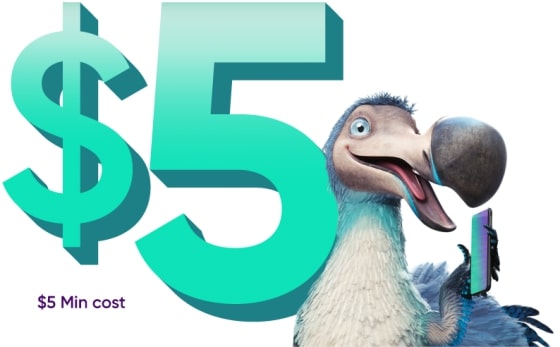 Why do we like the Dodo $5 postpaid mobile plan?
While Dodo's plan isn't the only entry-level mobile option on the market, it's the first at the $5 price point to offer unlimited calls and texts, rather than 'pay-as-you-go' inclusions. This makes it a seriously attractive prospect for Australians looking to stay connected on a budget, particularly the elderly or parents looking for a child-appropriate mobile plan.
The plan's suitability for children was particularly impressive to our Innovation Excellence Awards judging panel. With guaranteed unlimited calls and texts each month, it offers security for parents wanting to stay connected to their children, without the hassle of frequent recharges or worry over surprise fees and charges. As the base plan doesn't include any mobile data, parents can choose for themselves whether to grant data access to their children, and all add-on data is capped and safe from excess usage fees.
In short, the simplicity and price certainty of Dodo's $5 plan make it a stand-out product, especially for customers wanting to ditch the bells and whistles and avoid paying for features they'll never use. With a near-unbeatable price, no lock-in contract and no frills, Dodo's offering addresses a long-overlooked segment of the Australian mobile market.
"At a time when mobile plans are getting bigger and more attractive with so many different features, it may seem unusual to celebrate a plan that comes with no data and costs only $5 – but that's exactly the point," said Canstar Blue Telco Editor Tara Donnelly. "Mobile users with modest needs have largely gone overlooked in recent times, and products aimed specifically at children or elderly Australians have been few and far between as the telcos focus on the plans that make them the most money, so this offer from Dodo is a refreshing change of pace."
Dodo Mobile Plans
The following table shows a selection of Dodo postpaid mobile plans on Canstar Blue's database, listed in order of their standard monthly cost, from the lowest to highest and then by data allowance, largest to smallest. Use our comparison tool to see plans from a range of other providers.
What are our Innovation Excellence Awards?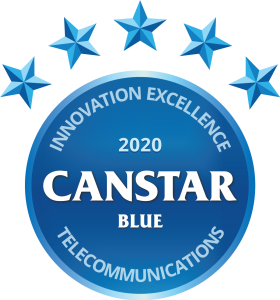 Canstar Blue's Innovation Excellence Awards involve a sophisticated rating methodology, unique to Canstar, which compares submissions we receive from Telecommunications and Energy institutions throughout Australia. Canstar Blue's Innovation Excellence Award winners represent a selected group of innovative products within the Energy and Telecommunications industries over the most recent year which have all been reviewed, assessed and ranked based on the degree of innovation and impact it could have on consumers.