Have you ever had a notification on your phone telling you an update is available? You might be wondering what an update is and how accepting an update will change your phone. This article will answer those questions, as well as giving you tips on when and how to update, as well as how to check the current status of your phone's operating system. Learn more in this Canstar Blue article.
What is an update and why is it important?
The hardware of your phone requires an operating system to function. Android is the name of the operating system on phones like Samsung, Oppo, Microsoft and Motorola, along with plenty of other brands. Updates are software improvements developed by phone companies in order to keep devices running smoothly, helping eliminate bugs, fix security issues and offer you additional or improved features. There are two types of updates offered to your phone: version updates and security updates. Version updates are operating system updates, and include major changes and are usually offered a few times a year. Security updates are smaller and may be offered less often.
How to update an Android phone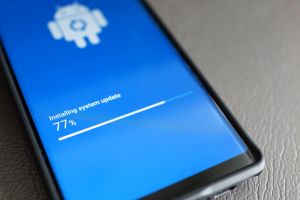 Follow these simple steps to update your Android and keep your operating system up to date:
Step One: Ensure you're connected to a Wi-Fi connection.
Step Two: Open Settings on your phone.
Step Three: Select System – Advanced – System Update
Step Four: View your status update. If there's an update available, follow any steps which appear on screen. If there's no updates available, your phone is running the most up-to-date version.
How to check what operating system your Android is using
Android models update their operating systems regularly, and generally do so automatically. But if you're looking to update your operating system manually, it is helpful to know what operating system your Android currently has. Follow the steps below to check which system your Android is using:
Step One: Open Settings on your phone
Step Two: Select System – Advanced – System Update
Step Three: View your model's Android Version and Security Patch Level. This will tell you what operating system your phone is currently using.
What is the current Android operating system?
The current Android operating system is the OS 11, which was released in September, 2020.
What happens when you update your phone?
Once you initiate an update, your phone will ask you for permission. After you accept, the update will begin installing, with it generally recommended that you charge your phone at the same time as an update to ensure it doesn't run out of battery.
Why isn't my Android phone updating?
If you're having issues updating your Android phone, it's recommended to ensure your device is connected to the internet, restart your phone and try to manually update via the Settings. In some cases, your phone may not have enough storage space to complete an update, meaning you'll have to delete larger files or apps to allow your phone to update.

Photo credit: DANIEL CONSTANTE/shutterstock, TY Lim/shutterstock.com