Finding a good quality phone isn't hard these days. The market might seem saturated, but the plus side is that so many of the devices being produced are excellent quality and do exactly what you need from a smartphone these days, writes Emma Bradstock.
Enter challenger brand, Realme. While the name might not be too familiar, this tech company has its origin tied to popular smartphone brand OPPO. After launching in Australia in 2019, the brand has released a series of budget phones, but the Realme X3 SuperZoom is one of the more premium devices from the manufacturer.
Realme has a focus on the younger demographic, and you'll find much of its marketing aligns with this. There is a real focus on quality cameras, with the X3 SuperZoom's quad rear camera setup, including a 64 MP ultra high resolution wide-angle lens.
So, just how 'premium' does a premium smartphone get from a brand like Realme? In this review, we'll talk about how these features stack up when it comes to functionality, design, and of course, those impressive cameras.
Realme X3 SuperZoom features and specs — quick summary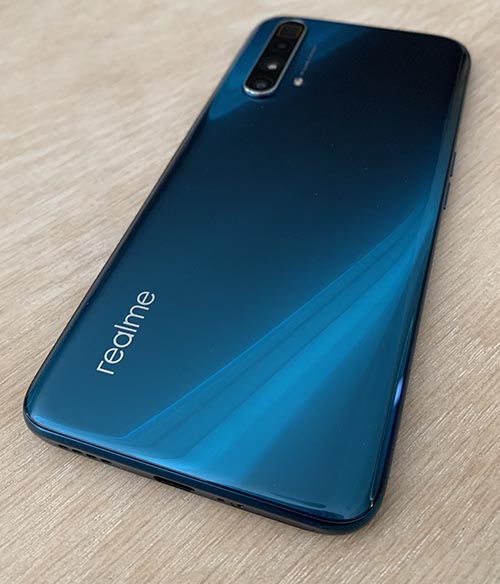 Before we get to the hands-on part of this review, let's take a look at the features and specs of the Realme X3 SuperZoom:
128GB model with 8GB RAM is $699 RRP
256GB model with 12GB RAM is $799 RRP (JB Hi Fi exclusive)
Available in Arctic White and Glacier Blue
Quad rear camera setup with 64 MP ultra high-resolution wide-angle camera + 8MP periscope lens with 5X optical zoom + 8MP ultra wide-angle lens + 2MP macro lens
Impressive photography functions including Starry Mode, Super Nightscape, panorama, expert mode and portrait mode
Dual in-display front-facing camera with 32MP high-resolution camera + 8MP ultra wide-angle camera
Qualcomm Snapdragon 855+ CPU (central processing unit)
4,200 mAh battery
Runs the Realme UI operating system based on Android 10
Includes liquid cooling system to reduce core temperature to combat overheating for improved performance
Realme X3 SuperZoom pros:
Camera quality is excellent
Super fast-charging battery
Fingerprint reader easy to set up
Beautiful finish on the back of the phone
Realme X3 SuperZoom cons:
Fingerprint on the lock button can be inconvenient at times
Pinch function on screen a little clunky
Large phone size requires 2 hand use if you have smaller hands
Using the super zoom for taking photos requires a very steady hand
Design and functionality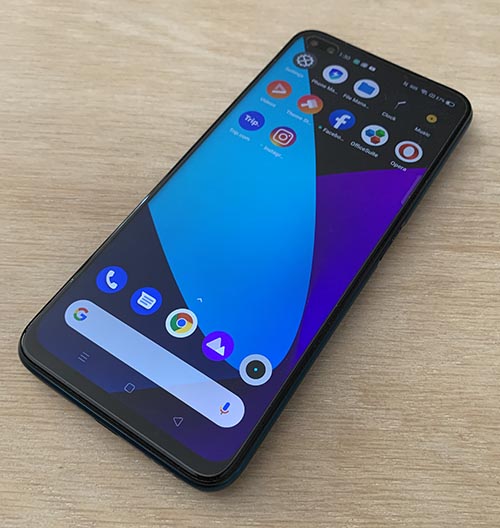 First up, this is a beautiful phone. The back of the phone has a holographic and reflective finish, but fingerprint smudges are very obvious, even after short use. The 'Glacier Blue' colourway is stunning, and makes this a very sleek looking device. A clear jelly-style case is included so you can protect that beautiful finish from smudges and scratches. The rear camera layout is quite simple compared to other brands, keeping in tone with the overall appearance.
The display is sharp and vibrant — photos look stunning on this device, whether you're scrolling through social media or looking at your camera roll. The size of the phone is also great for watching videos and playing games, although the 168.8 mm high by 75.8 mm wide size (6.57 inch display) is quite big if you have smaller hands. However, even with small hands, the on button/lock button with fingerprint scanner is quite well placed when scanning your thumb or fingerprint.
The in-screen notch for the dual front-facing camera isn't as minimalistic as other phones, but that being said, not many phones include two front-facing cameras, so it's a small sacrifice. You might not even notice when watching videos, as the video ratio doesn't always take up the whole screen unless you choose it to.
Performance
Keep in mind that the Realme X3 SuperZoom is a premium smartphone for the manufacturer (despite costing significantly less than premium devices from other manufacturers — I'm looking at you Apple and Samsung). It includes a Qualcomm Snapdragon 855+ processor and a liquid cooling system to reduce core temperature. It comes preloaded with a range of Google apps, making setup easy.
Performance-wise, it is a fast, seamless and easy to use device. Apps like social media are fast to load, even with a high volume of pictures. The 4,200mAh battery performance is also exceptional and it can charge from 0% battery to 100% in an hour, easily. High volume usage like video watching doesn't drain very much at all — around 5 minutes of video streaming uses around 1% of battery. If you are looking for a quality device and battery performance, you won't be disappointed with the X3 SuperZoom.
There are only a few teeny issues I found with the performance — the pinch function, whether its resizing an image in social media, or to zoom in and out when taking a photo, isn't as intuitive as other devices. It works, but doesn't feel as seamless or precise as on other smartphones. The fingerprint scanner on the on/lock button can also be a bit frustrating at times as the scanner is so sensitive, it starts reading your fingerprint when all you want to do is to press it to look at the screen. However, these are both really minimal issues and doesn't affect the overall experience. Some people might love the button fingerprint scanner, while others might find it an inconvenient position — it is all about personal preference.
Cameras
This is where the X3 SuperZoom really shines. That quad rear camera setup has some pretty impressive specs — 64MP ultra high-resolution wide-angle, 8MP periscope lens with 5X optical zoom, 8MP ultra-wide angle and a 2MP macro lens. Plus, it has a 60X Super Zoom function, which is as impressive as it sounds, allowing you to zoom in on details that are way off into the distance.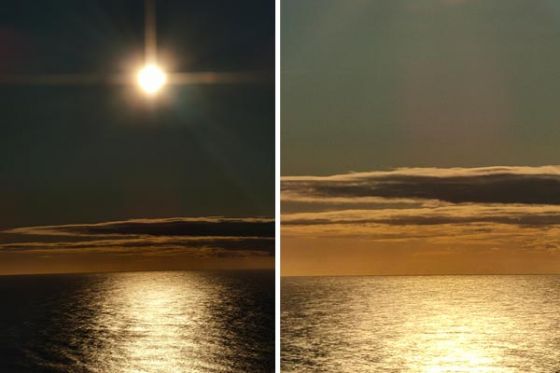 This super zoom function does come with a catch — the quality is a bit blurry and pixelated, but that's pretty typical of a digital zoom function. You will also need a very steady hand to take these photos, as the slightest movement can not only make the photo quite blurry, but you can easily lose track of where the object is that you were trying to snap a photo of. These downsides are simply a product of that kind of super digital zoom function and realistically, you won't use the function very often for it to be a problem.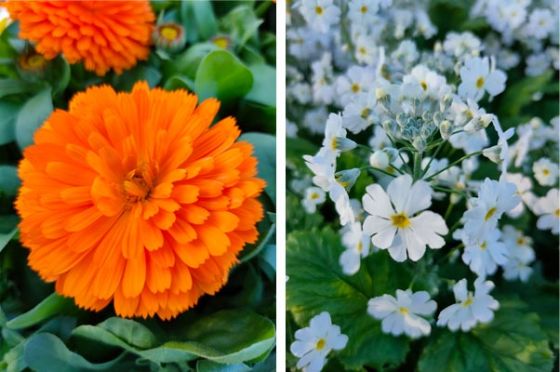 This phone does take some seriously impressive photos. The indoor and outdoor quality is excellent — the colours are vibrant and the detail is impressive. Even the most amateur phone photographer will be able to take some stunning shots. The macro lens is especially spectacular, picking up on the tiniest of details — every vein in a flower, every speck of pollen. It's the kind of quality you'd expect from a DSLR camera, not from a camera phone. Viewing these photos on the phone's vibrant display proves just how much detail you can get in.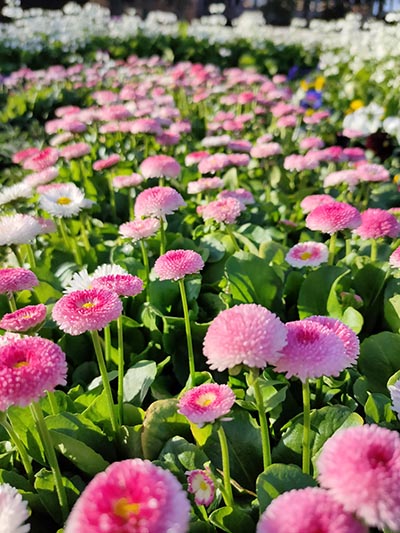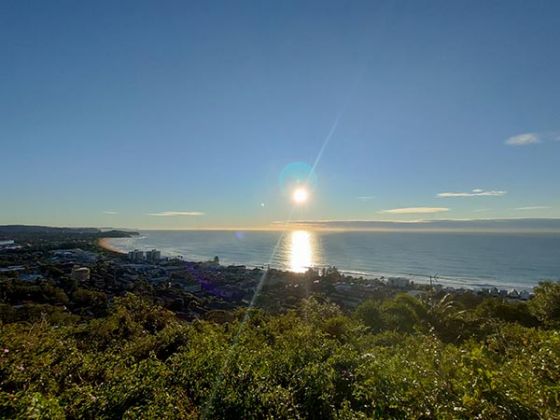 Other outdoor photos, including wide-angle and landscapes, are just as vibrant and stunning. If you're into taking photos, particularly outdoors, this might be a smartphone worth considering. Often to get this kind of camera quality, you will pay over $1,000. The X3 SuperZoom does an excellent job at packing in a quality set of cameras for under $1,000.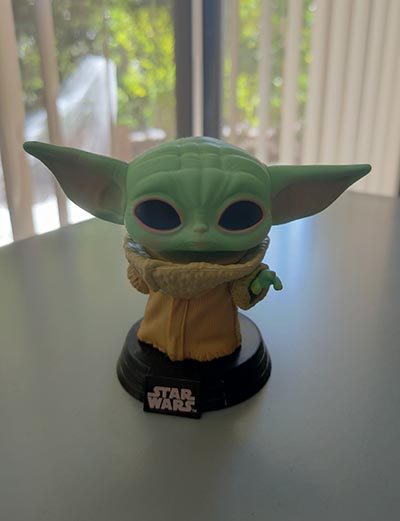 Low light photos are also impressive, considering how grainy and dark low-light photos tend to be. Typically low light photos are where you can tell the biggest difference between a budget and a premium device. You can pick up details reasonably well, although, as with most low-light photos, a steady hand and some patience is required. It can be a bit slow to focus, but that is pretty typical when taking photos in low light.
If you tend to take a lot of portraits, you'll be pretty happy with portrait mode on the X3 SuperZoom. Like with most other devices offering a portrait mode where the background is blurred out, you get a nice focus for your portrait, even if you're taking it indoors.
The front-facing cameras also take a decent selfie, and automatically smooth out your skin and remove blemishes. If you want to take your selfie editing even further, there are a bunch of editing functions, such as to smooth your skin, remove blemishes and to remove dark circles under your eyes. This might be a bit much for some users, but it does prove that the camera's intuitiveness and the technology is quite impressive.
SIM-only plans for the Realme X3 SuperZoom
Considering you can only buy the Realme X3 SuperZoom outright from retailers, such as JB Hi Fi, you'll need to pair your device with a SIM-only phone plan, whether thats's a prepaid or postpaid plan. Here's a look at a selection of postpaid SIM-only plans from a range of phone plan providers.
Here is a selection of postpaid plans from Canstar Blue's database with a minimum of 10GB of data, listed in order of standard cost, lowest to highest, then by data allowance, largest to smallest. Try out our comparison tool for mobile phone plans to see a range of offers from other providers. This table includes products with links to referral partners.
The following table shows a selection of SIM-only postpaid plans with a minimum of 60GB data on Canstar Blue's database, listed in order of their standard monthly cost, from the lowest to highest and then by data allowance, largest to smallest. Try out our comparison tool for mobile phone plans to see a range of offers from other providers. This is a selection of products with links to a referral partner.
Is the Realme X3 SuperZoom the best phone for me?
If you're in the market for a premium smartphone, the X3 SuperZoom is definitely worth considering. While you will need to buy it outright (and the 256GB model is exclusive to JB Hi Fi), the price tag for either storage size is under $800. There aren't many premium smartphones around that come in at under $1,000. With the X3 SuperZoom, there are enough premium features that do the trick. You won't find any issues with performance and the camera quality is exceptional. If you're not too familiar with Realme as a phone manufacturer, there isn't anything to worry about — this challenger brand knows how to make a decent smartphone. Plus, it's a really beautiful device both in look and feel, with the finish on the back quite mesmerising to look at.
There are very few downsides to this device, apart from a few functional kinks, but really, even the most expensive premium smartphone isn't free of its faults. Some of it also comes down to personal preference, such as the fingerprint scanner. Overall, there isn't really anything about this device to turn you away. If you want a premium phone without the premium price tag, the X3 SuperZoom definitely does the trick.
The most impressive part is the cameras and that's why it's called the SuperZoom. Keen phone photographers should find the cameras up to the challenge, and the large, vibrant display really amplifies how impressive the camera quality is.
All in all, for the price compared to premium devices from Apple and Samsung, the Realme X3 SuperZoom definitely stacks up when it comes to quality and value for money.