Migrating all your data from an old iPhone to a new one can be a painful process. So how can you move everything to your new phone quickly and easily?
Apple knows how annoying it can be to copy all your contacts, apps, files and more over to a new phone, and thankfully the company provides several methods to speed up this process. You can utilise backups on iTunes or iCloud to complete the process, or use the new Quick Start feature to transfer data wirelessly. Let's delve into each of these in detail.
Transfer data between iPhones
To transfer data between your old iPhone and your new iPhone, you have multiple options to try, including using iCloud, iTunes or through the Quick Setup feature on the iPhone itself, with each process outlined below.
Transfer data with iCloud backup
An iCloud backup is probably the most straightforward method of copying your data over to a new iPhone. The first step is to backup your old iPhone if you haven't already – for help doing this, check out our guide on how to backup your iPhone.
Once you've done a full backup of your old phone, set up your new iPhone by following the prompts and connect to the nearest Wi-Fi network – ideally your home network. Once you're connected to Wi-Fi, navigate to the Apps & Data screen in Settings and select 'Restore from iCloud backup'.
You can now sign into iCloud on your new device and select a backup; the most recent backup is likely the one you want, but make sure to check the date of each backup in case you want to use a specific one.
At this point, all you need to do is download the selected iCloud backup to your new iPhone. This will take several minutes, so make sure you stay connected to Wi-Fi. After it's done, your new phone will have identical contents to your previous phone – all your apps and data will be copied over!
Transfer data with iTunes backup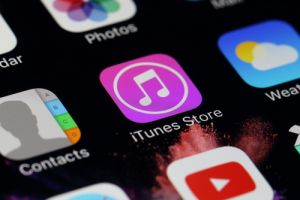 If iCloud isn't your thing or you don't have access to Wi-Fi, then restoring a backup from iTunes could be a good option. Once you've made a backup of your previous iPhone on your computer using iTunes, you can restore this backup to your new iPhone.
Assuming you've made a backup already, first set up your new iPhone by following the prompts, before navigating to Apps & Data and selecting 'Restore from iTunes backup'. Now you can just connect your new iPhone to your computer with the USB cable and open up iTunes; select your device when it comes up, press Restore Backup and then choose which backup you would like to use (usually the most recent one).
Now simply sit back and wait as your previous iPhone's settings, apps and data are all copied over to your new phone – this should take a few minutes, so remember to keep your phone connected to your computer throughout the process.
Transfer data with Quick Start setup
If your new iPhone is running iOS 11 or later (if it's brand new, almost certainly) then you can utilise the iOS Quick Start feature. This just enables you to copy over data to your new device simply by starting it up and placing it near your old device – the NFC chips in both phones allow them to connect and transfer data.
To use Quick Start, simply turn on your new iPhone and place it next to your old iPhone, making sure the old device has Bluetooth turned on. The Quick Start screen should appear on your new device, prompting you to point your old phone's camera at a picture on the new phone's screen (to verify that it's yours), followed by prompts to restore or update your latest iCloud backup.
Once you've followed the prompts, such as signing in with your Apple ID and picking the apps and data you'd like to transfer, your backup will be restored to your new phone in minutes. It's a quick and easy way to transfer your data without delving into your new phone's settings.
With so many features being added to smartphones, it's really no surprise that brands make it easy for you to transfer data to your new model, but considering how many memories your phone can hold, it may appear to be a daunting process initially. Thankfully, you can get your new phone up and running in a few minutes, giving you more time to spend using your new purchase.