Review of Goodlife Health Clubs
Goodlife Health Clubs aspires to encourage people to live healthier and more active lifestyles with its programs, equipment and a variety of gym membership options. Goodlife has 76 locations across Australia and more than 200 000 members. Let's have a look to see if a Goodlife Health Club may be a choice for you.
Goodlife Health Clubs
Choosing the right gym should take into consideration exactly what you are looking for and if the particular club is able to offer this for you. Goodlife Health Clubs have started to provide 24/7 access across many of its gyms. There are also certain Goodlife gyms that have swimming facilities. You will need to call your local Goodlife Health Club to check for this.
Goodlife Health clubs caters for mothers with a 'Mums and Bubs' class as well as Active Kids class. Goodlife gyms also offer an 'Active Adults' class, which incorporates low impact exercise for those in their golden years.
Goodlife Health Programs
Along with its basic facilities and group fitness classes, Goodlife Health Clubs also offer several programs for a variety of health and fitness goals at an additional cost.
12 Week Challenge (starts every February): part of the package includes a workout program, meal plans and recipes, training singlet and group training sessions
8 Week Challenge (starts every September/October): there are 2 categories including 'Transformation' and 'Fitter Faster Stronger'
Small group training: with a Personal Trainer
Goodlife Games: consists of 4 workouts over 4 weeks in teams of 2
Emily Skye Ignite: 30 minute functional group workout designed by a fitness role model, Emily Skye
What facilities does Goodlife offer?
Basic facilities include cardio and strength training equipment, group exercise classes and Personal Training
Goodlife specific services include 'Emily Skye Ignite' group workout class, 'Mums and Bubs', Active Kids and Active Adults class
Extra facilities include 24/7 access and child minding (at selected clubs only)
How much does Goodlife membership cost?
Goodlife membership prices vary depending on the membership type and your location. The price starts from $14.95 per week with a $99 admin fee for 24/7 clubs and $89 admin fee for all other clubs. Goodlife memberships include:
Active Plus: 12 month membership with access to all clubs
Active Home: 12 months membership at a home club
Active Advantage: 18 month membership at a home club
Active Flexi: month-to month membership with access to all clubs
Goodlife Health membership T&Cs
Those between the ages of 13-14 have restricted access with supervision. Children 15 years or older can join as a member with a guardian authorisation but may have restricted entry to certain areas without supervision.
Special Offers
The Active Plus membership includes a free guest pass for use every Friday to Sunday during staffed hours, 20% fitness programs, free suspension and transfer, and a health consultation and fitness program.
Club Access
Certain clubs are now 24/7. You will need to call your local Goodlife Health Clubs to check. The Active Plus and Active Flexi memberships allow access to all Goodlife gyms. Other memberships allow access to other clubs for $20/visit. Non-members also have the option to visit a club for $20/visit.
Contract terms
Contract terms are available in 18, 12 and month-to-month packages. If you are unsure if you can commit to Goodlife Health Clubs, it offers a 5 day free entry pass to experience one of its gyms before making a decision. When going away, you are able to put a membership on hold 2-4 weeks per year with a weekly fee of $5. You will need to notify your club at least 10 days prior.
Cancellation policy
There is a 7 day cooling off period if you decide to change your mind about your membership. There are fees that apply. Goodlife requires a written cancellation request form to be completed. You will need to contact Goodlife Health Clubs for further details.
What group classes does Goodlife offer?
Goodlife Health Clubs offer a large variety of group fitness classes. For a full range of classes visit the Goodlife Health Clubs website or give your local Goodlife gym a call to find out if it offers the classes you are looking for. Some of the classes include:
Zumba
Yoga
Pilates
Tai Chi
TRX
Cycle Class
HIIT
Boxing
Boot Camp
Body Attack
Body Pump
Aqua Class
Barre
Should I choose Goodlife Health Clubs?
There are a lot of factors to consider if Goodlife is right for you. You may like to contact your local Goodlife gym to discuss the details. Some key considerations to keep in mind when choosing a gym are the equipment and facilities it offers, as well as group training, staff availability and contract flexibility. You may also like to consider what the social atmosphere is like at Goodlife Health Clubs before making a choice. All this may add up to keeping you motivated to stay at a gym – or just the opposite.
About the author of this page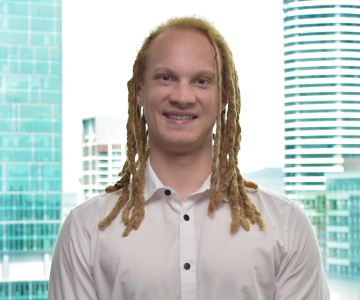 This report was written by Canstar Blue's Content Projects Lead, Dean Heckscher. He's our resident expert on all things automotive, health & fitness, streaming and more. Dean is also one of Canstar Blue's customer research report producers, helping to turn complicated subjects into easily-digestible information for our readers. He's passionate about helping consumers make better-informed purchase decisions on all manner of consumer goods and services.